This is one of my dearest friends, Lizzie <3 (Her mom hates when I call her that).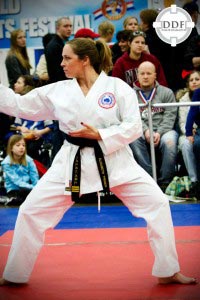 She's clearly kicking butt and taking names here. —->
So don't call her "Lizzie" unless she says it's okay. Got it?
Her awesome photographer sister* took this photo (and I stole it off her Facebook page) while Elizabeth was testing to become Master Elizabeth Treger. She made it, of course, with her infectious laugh, humongous heart, and no nonsense attitude that gets pointedly more polite the more mad she gets, all rolled into one bad ass package wrapped up in a black belt.
Elizabeth and her husband own a AAU Tae Kwon Do and Karate Olympic Training Center where they teach everyone from little bitties to little old ladies the art of self confidence and self respect, all while keeping fit and kicking higher than a Rockette.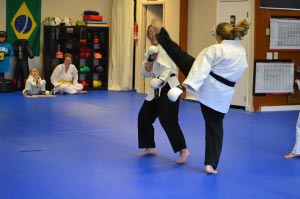 What you can't see in this photo is that she's also in the homestretch of another Master's program, her Masters degree in social work, which happens to be her second career. Studying and practicum time is also taking up both brain space and serious real estate on her daily schedule.
Before her practicum began (btw, she drives over an hour each way to go a job that she does for no pay), she worked in a preschool by day and juggled school coursework while teaching and running the martial arts studio at night. She's a mom to two, but not long ago she was also a foster mom to two young girls in addition to her own.
Sometime during all that, she also managed to be a Girl Scout troop leader, serve on her PTA board, and a hundred other things that seem like silly incidentals at this point.
Elizabeth is an inspiration to me in so many ways. While she is extraordinary, no doubt she is in good company. Take a second to think about the many women you know who making the world better each day by juggling a thousand things for their families and their community. I think you probably have a Lizzie in your life too, one that perfectly embodies Vanity Fair's new nationwide LIFTtour campaign, "Women Who Do."
The Women Who Do initiative is a partnership between lingerie company Vanity Fair and charitable organization Dress for Success and is aimed at celebrating the everyday triumphs and perseverance of women everywhere through foundation donations. Vanity Fair is inspiring this movement where women always feel supported and lifted in their daily lives (get it, bras… lift….) by cheering each other on, two cups at a time all over the country. God knows we need a little more cheering and a little less hating these days.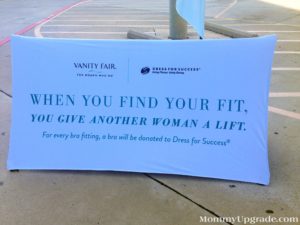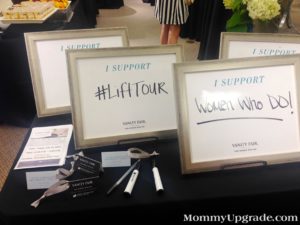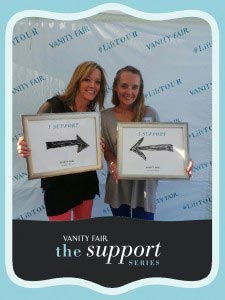 Dress for Success is the perfect benefaciary for the LIFTtour as this organization provides disadvantaged women the essentials they need to get back on their feet, to regain their economic independence and the support (again, get it? Bras… support?) they need to be successful.
I had special opportunity to participate in the LIFTtour when it came to JCPenny in Frisco recently, and brought my plus one Sabrina, another Woman Who Does. Vanity Fair donated a bra to Dress for Success for each of us who participated in a complimentary bra fitting (that's probably a whole other blog topic right there). What was even more special about it was that we were able to write a note of encouragement that was then tied to the bra that was actually going to a woman who needed it. Knowing that I was putting a smile on her face, and her tatas in a pretty new hooter harness was a really cool opportunity that doesn't come around very often.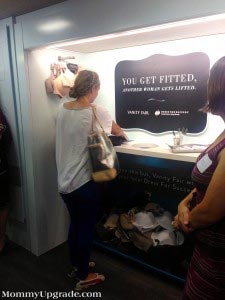 That's not a special blogger thing, that's a nationwide tour thing. Just by getting a bra fitting you too can have a bra donated for free that will go to a woman who really needs a lift, and you can tie your own special note to it. And no you prude, you don't have to get naked for the fitting. They can fit you over your clothes. Bonus: you'll solve the eternal mystery of what size you REALLY are after you've had your litter and get those knockers back up to where they're supposed to be, with a coupon.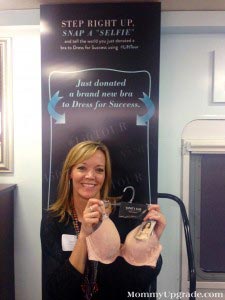 Grab the girls, and some girlfriends, and find the tour in your area or I promise to send Lizzie after you. Even if the tour isn't coming to your area, tell your friends who are there to go or I'll send Lizzie after them too. The bra bus will be outside various JCPenny, Kohl's and Sears locations. Here are the remaining dates:
San Diego: August 5 – 8
Los Angeles: August 11 – 28
Milwaukee: September 2 – 6
Chicago: September 9 – 12
Detroit: September 15 – 19 (Meet Lizzie at this one!)
New York City: September 23 – October 3
Philadelphia: October 6 – 10
Cleveland: October 14 – 17
Atlanta: October 21 – 24
Miami: October 28 – 31
*Donna is a talented photographer. You shouldn't steal her photos like I did. Visit her DDF Photography webpage here to see more of what you can't steal.