If you're traveling to Tulsa, I'd recommend a side trip 57 miles to the northwest, landing you in Pawhuska, Oklahoma. Pawhuska is just a dot on the Oklahoma landscape but rich with history, both old and new. It's most famously known now as the place where Ree Drummond of The Pioneer Woman lives and films her Food Network show. And while I think that's reason enough to visit, our trip to Pawhuska was made even richer by a jaunt into Tall Grass Prairie Nature Preserve.
The Joseph H. Williams Tall Grass Prairie Nature Preserve has nearly 40,000 acres of protected land. To get to it from Pawhuska, you drive straight north out of town and on what seemed like endless dirt roads. We were one of only a couple of cars during our 2-hour visit, maybe because the buildings and visitor center were closed (Covid). We were lured there with the idea that we would see some of the 2500 free-range bison, but me and my tweenager sidekick loved the expanse of nature, and that was almost enough for us. Just being in the middle of nowhere was so refreshing for we Dallasites who hear sirens and car congestion every day. She was perfectly content, just driving deeper and deeper into the preserve.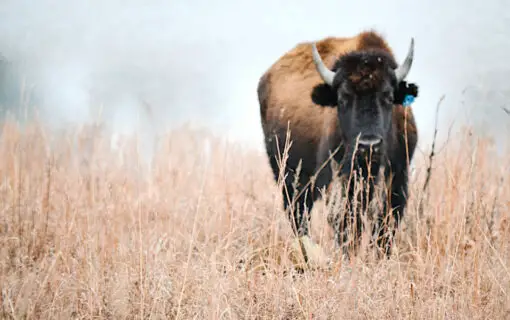 It was really interesting to see the patch-burn areas throughout the preserve. I learned that this is done purposefully to encourage grazing pressure to different areas of the land. The wildlife and the bison prefer the recently burned areas to graze, allowing the previously burned patches to recover. It has numerous benefits to plants, insects, and wildlife. (It's cool science, you can read more here.)
We didn't hike but could see several opportunities to do so. We stopped at most of the scenic overlooks on our way to the visitor center and found no other humans in-sight. I was disappointed that we had were so deep into the preserve and hadn't seen any of the bison – not ONE. We decided to chalk it off as good as it would get and head out so we could still make it to the Pioneer Woman's lodge and leave town before dark. I was feeling like I let her down by not being able to show her the bison. As we pulled out of the visitor center, there was one turn of the road we hadn't taken. It was taunting me, and I felt like it would be a waste of time.
"Five minutes, and we head back out," I told her. Hoping this last-ditch effort was as good as a lottery ticket.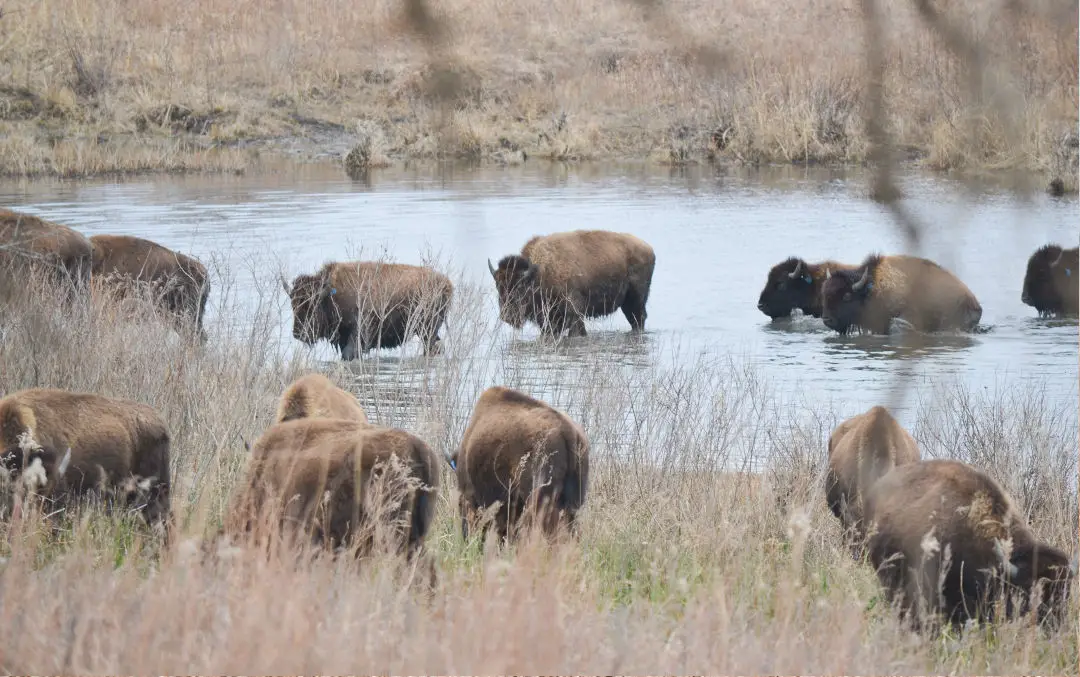 Yeah, it paid off. We rounded the curve, and it was like we were in a secret garden: a watering hole with maybe 100 bison just relaxing in the breeze. It was incredible to see these majestic animals in their untouched environment.
We must have sat there for 30 minutes, whispering to each other and taking turns poking our heads out of the roof of the car to take a gazillion photos, waiting for that perfect shot. When a group of the bison crossed the water, I nearly fell out of the window – words can't describe what a magnificent scene it was, or the sound of their bodies crushing through the pond. We could have stayed there all afternoon. I'm sharing photos, but they don't do it justice. You can see my full unedited album below. Click on the image to go to the flickr feed.