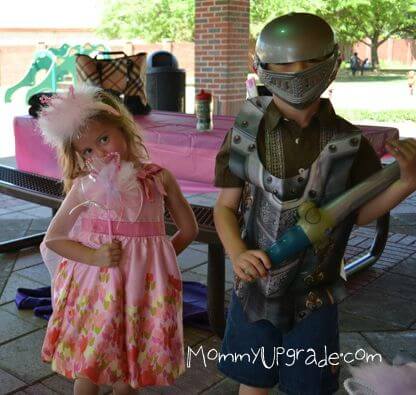 The Princess Cupcake should be a party planner. Months before her big 4th birthday, she pronounced that her royal celebration (as it became known), would be held at our neighborhood park and everyone would dress as princesses. Even the mommies.
"What about the boys? Don't you want "Lil' Mozzie" and (fill in the rest of the class and soccer team boys) to come?"
"Oh yes. They will be knights."
Alrighty then.
Nothing more challenging than to plan a birthday party with essentially two parallel themes. Now I was tasked with favors for both the princesses and knights.
Planning a Princess and Knight Birthday Party
Yes, we could have switched the theme to something like My Pretty Pony or Strawberry Shortcake, but where's the challenge in that? Princess and Knights party it was. So off I went to find princess and knights invitations: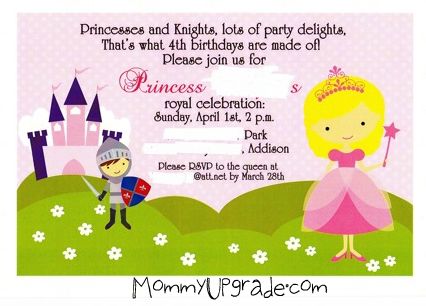 I found these birthday party invitations through an awesome seller on Etsy from the Netherlands.
I highly recommend N's Little Shop for party invitations and favors. She also designed the paper banner, the table top characters, the stickers, the food cards, water labels, thank you cards, … and so much more that I ran out of time to be able to use. She's also done additional work for me since the party and continues to impress me with her prompt response and reasonable prices.
Once the initiations were out, we were locked in and ready to roll.
A Tale of a Princess and Knight Party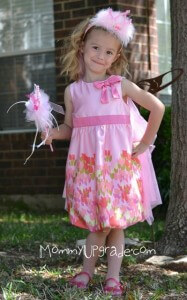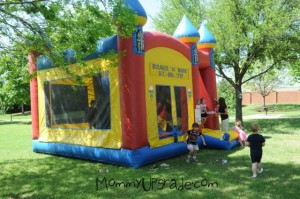 I will have tutorials on each of the items I made over the next couple weeks. Be sure to subscribe to the blog (top right of page) so you don't miss any of them.
On our way – the princess was wearing a new crown, compliments of our favorite "wench" from Medieval Times in Dallas! (I swear that trip to Medieval Times laid the groundwork for the theme.) She heard about the party and sent some goodies to make it extra special. Don't you love the fluff?! We heart Medieval Times…
Entertainment:
The party was at the park, so we had built in entertainment for the kids. But just in case, I rented a castle themed bounce house and a bubble machine from Bounce N More. The bounce house was awesome – it had a slide, bounce area and basketball hoop. Bounce N More were fantastic, very professional. The only issue I had was they showed up about 45 minutes early! And since we couldn't leave anything at the park alone, our loading in schedule was completely messed up. We ended up still setting things out as people arrived. It was delayed even more because it was so unpredictably windy that we had to start tying everything down and retape the banners and other decorations. I had to ditch the pink "carpet" for the arrival. ARGH. And I HATE to be late.
Our family friend "Deep Moz" brought his DJ equipment to rock the pavilion with preschool dance tunes. Sweet.
Playtime Accessories: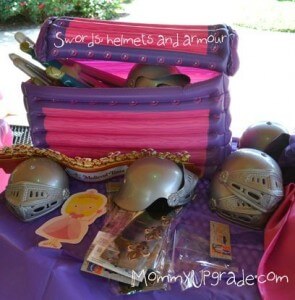 When the Princess Cupcake's royal subjects arrived, they donned a few accessories from the wardrobe table to set the mood: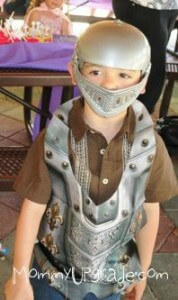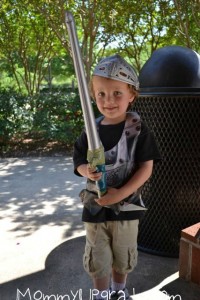 Knight accessories – "authentic" plastic knight hat (they rocked!), vest and swords, inflatable of course, the palace is full of 4 year olds today. The vests were awesome. I thought they were going to be hard plastic, but they were more like the fabric they make recycle bags from.
At first when I received them, I was a little disappointed, but it worked out great. We could tie the neck to fit the armor around their chest. It was mid-80's outside, hard plastic armor would have been terrible.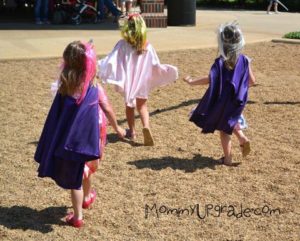 Princess accessories– Satin princess capes in purple, fuchsia and light pink, princess hair and pink tulle crown wands – tutorials on both of these later this week. I bought the princess hair, but made the capes and wands. The little princesses taught us later that the capes could also double as a skirt!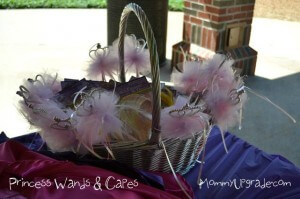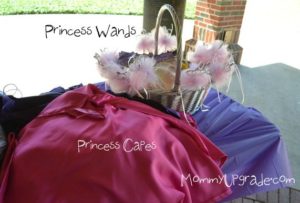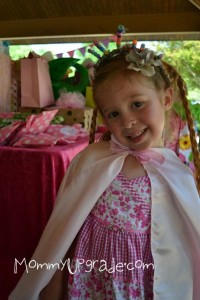 Paper crowns – My friends at Medieval Times sent a slew of paper crowns for the party with COUPONS on the back! How cool is that?! I couldn't get the parents to wear them so we actually sent them to school with the Princess to accompany her crown cupcakes during the Princess Cupcake's party later that week.
Crafts:
For the boys, I purchased craft kits where they could make their own knights shield. It came with stickers, but I also threw some washable markers into the mix. For the girls, they had Snow White crowns to make with pipe cleaners and beads.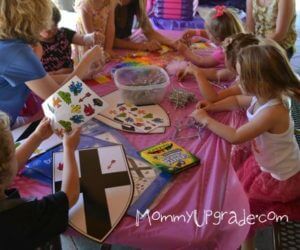 Decorations:
Fabric Banner- Pink and white polka dots and purple pink and green paisley pennant banner. This was so super easy to make, in fact I made it the morning of the party. What wasn't easy, was keeping it taped to the pavilion in the wind.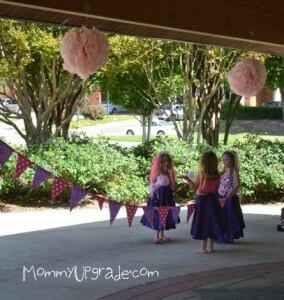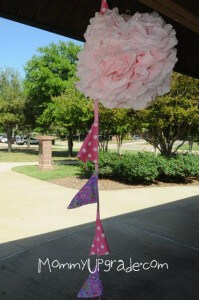 Tissue Pom Poms – our house literally was covered with tissue pom poms weeks before the birthday party. The hubs thought I had completely gone off the deep end until the moms wanted to take some home. Ha!
I had table princess and knights but it was too windy to stand them up. I also had an adorable paper banner with the Cupcake's name, but I tangled it before the party and couldn't get it untangled in time. 🙁
Food:
Dragon utensil holders – Saw these as monsters on Pinterest and decided to dragonize them. Turned out awesome and the Princess Cupcake really liked making them. In fact, a month and a half later and we aren't allowed to throw them away…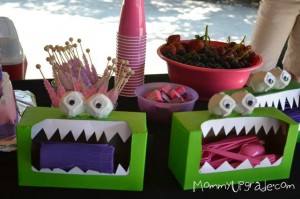 The party was at 2 p.m. so I didn't go all out with a full meal. It was also outside so melting spring temperatures in Texas was a concern. Sticking firmly to the pink and purple theme, we had bowls of pink "ice cream" flavored Oreos, pink marshmallow candy pops, pink and purple rock candy on sticks, pink and purple nerds, pounds and pounds of strawberries and blackberries in bowls and on a strawberry tree, and of course strawberry ice cream to go with the birthday cake.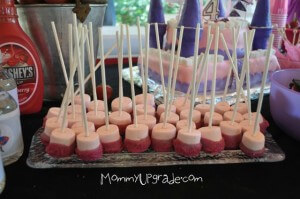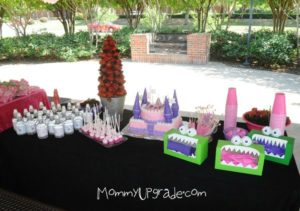 Castle Cake – This was a 6 layer strawberry cake covered with strawberry butter cream frosting and homemade marshmallow fondant. It also had a purple banner that draped across.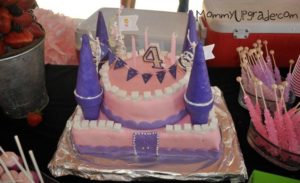 Drinks:
We had "dragon juice" (limeade) and "princess punch" (pink lemonade) and water wrapped in princess and knights labels.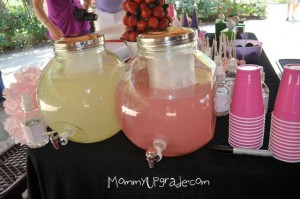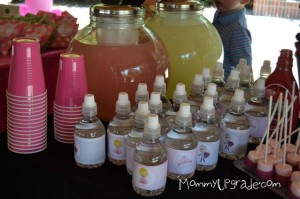 Drinks were served in princess and knights goblets with pink and green paper straws with princess and knights flags.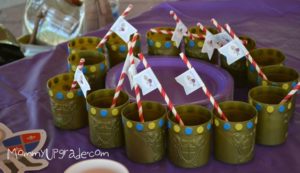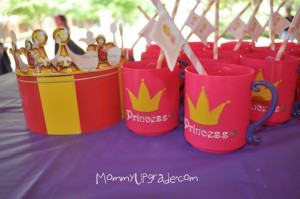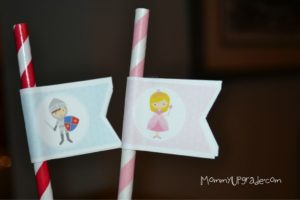 Tables:
So I mentioned that it was windy right? Well, we couldn't get anything to stay on the tables, but we managed to duct tape down the table covers. They tables were covered in pink and purple, the food was on a black covered table. The presents table had an inflatable dragon duct taped on top, but quickly got camouflaged by all the gifts. Oh, the gifts!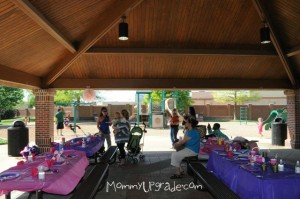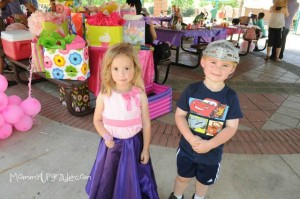 Treat Bags with Princess and Knights Party Favors: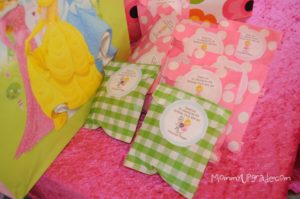 Knight treat bags had 2 plastic knights, purple and yellow whistles, purple and blue crown lollipops a sour patch candy.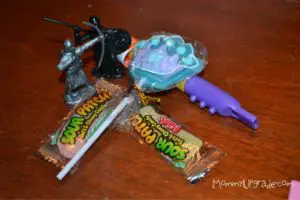 Girl treat bags had a fairy tale finger puppet, a mini crystal tiara, a giant "crystal" ring, pink and purple crown lollipops and sour patch candy.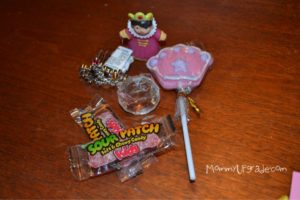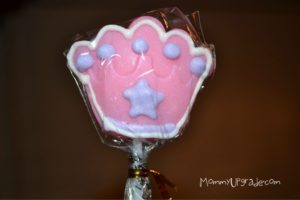 What a great day! Just a few more fun photos: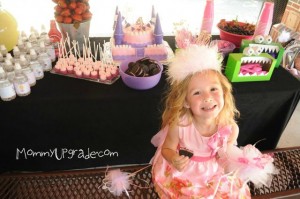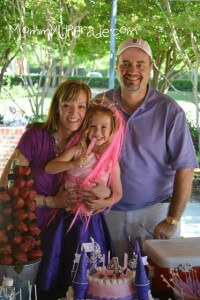 I'll have tutorials for all of the handmade items you see in the photos over the next couple of weeks. Be sure to subscribe to the blog in the upper right of the page so you don't miss anything!