Today I woke up with a pug helmet on, her squishy face nestled into my ear and snoring loud enough to wake the dead, or me in this instance.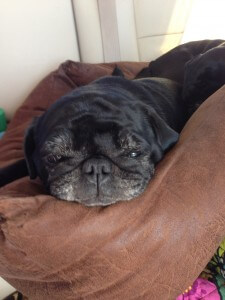 It certainly was not the first and most definitely won't be the last. She is a snuggly one, that pug.
Mon Petite Beignet, my sweet little Beignet (translated from French to "my squishy donut") is only half of my pair of pillow pals, the other neurotic pug Augustus Beaureguarde, prefers to sleep under the covers and on my legs. And thankfully he, "Beau Beau", doesn't snore. (Most of the time.)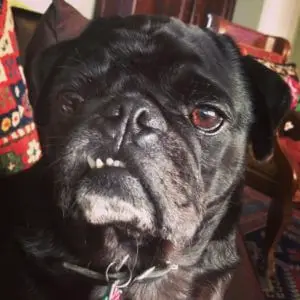 They are my first children, adopted from the same litter months prior to the Princess Cupcake joining our family. Maybe because they came first, or maybe because we are just crazy pet people, our little 5-some stick together like glue. We love to bring them with us wherever we go. They even have a yearly photo with Santa Claus at the holidays, we're THAT kind of pet family.
So that may be why I was so excited to hear PetSmart is having a pop-up Pet Party on Wednesday, May 14th at 10:30 a.m. at Klyde Warren Park for pets and their pet parents. The "Inspiration Waggin'" is part of the North American puppy tour aimed to surprise and delight pet parents by creating fun and giving out toys and other pet products. And better yet, the event is free! Bring your pets and have a puppy perfect day together!
The fun doesn't stop there! You can be part of the online fun by uploading a photo tagged #inspiredbypets to Instagram, Facebook or Twitter. Each social media post using the #inspiredbypets hashtag will be posted to www.inspiredbypets.com. MommyUpgrade readers who participate in the campaign have an extra bonus! You will also be entered to win a $30 gift card to PetSmart so you and your furbaby can have fun shopping together. And really, what's better than that?!
Here's how to enter:
Post your photo tagged #inspiredbypets and telling how your pet inspires you.
Leave a comment below with the social media address embedded, or send me a screen shot of your entry to trista (at) mommyupgrade (dot) com by May 18th. I'll pick a winner on the 19th. You can enter as many times as you want.
That's it! Good luck 🙂
*** THE CONTEST IS NOW CLOSED. CONGRATULATIONS DORIE H. IN NY FOR WINNING! You can follow Dorie's adorable Chi on IG at @chloekardoggian****
If you'd like to follow our puggies adventures, you can find them on Instagram @BeniAndBeauBeau and Tumblr at Life With Pugs.