The non-scotch drinker's guide to one day on Islay, Scotland
I'll wager a guess I'm not the first non-scotch drinking tourist to visit Islay accompanying their whisky-loving better half. I'll also go out on a limb and say we probably covered more peat-covered ground than most 1st time visitors on Islay do in a single day.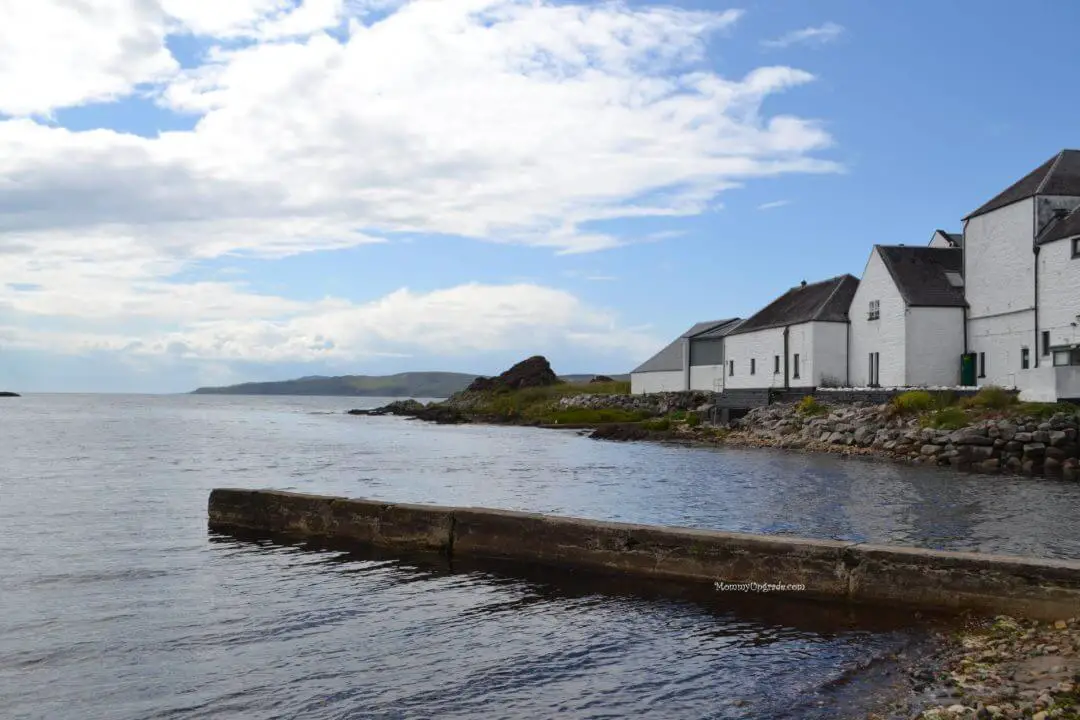 Islay is one of the southernmost of the Inner Hebredean Islands off the west coast of Scotland, which makes it a bit of a challenge to get there. The proud home of 8 distilleries, it's one of five regions of Scotland that's protected by law. Whether you visit Islay for a day or a week, here is my short list of highlights that you should take in before you CalMac yourself back to the mainland.
Our self-guided tour began at Bruichladdaich, the little distillery that could. I adore the vintage vibe of the equipment, the nostalgia and tradition balanced with the coolness of hip graphic design and innovation. Unique in that the tours here allow photos (I'm told many distilleries do not), you'll learn the engaging history of the company that rose from the ashes, and visit my favorite: Ugly Betty who is the black sheep of the whisky making world. Betts is a rescued Lomond pot that was refurbished to make gin. Yes gin.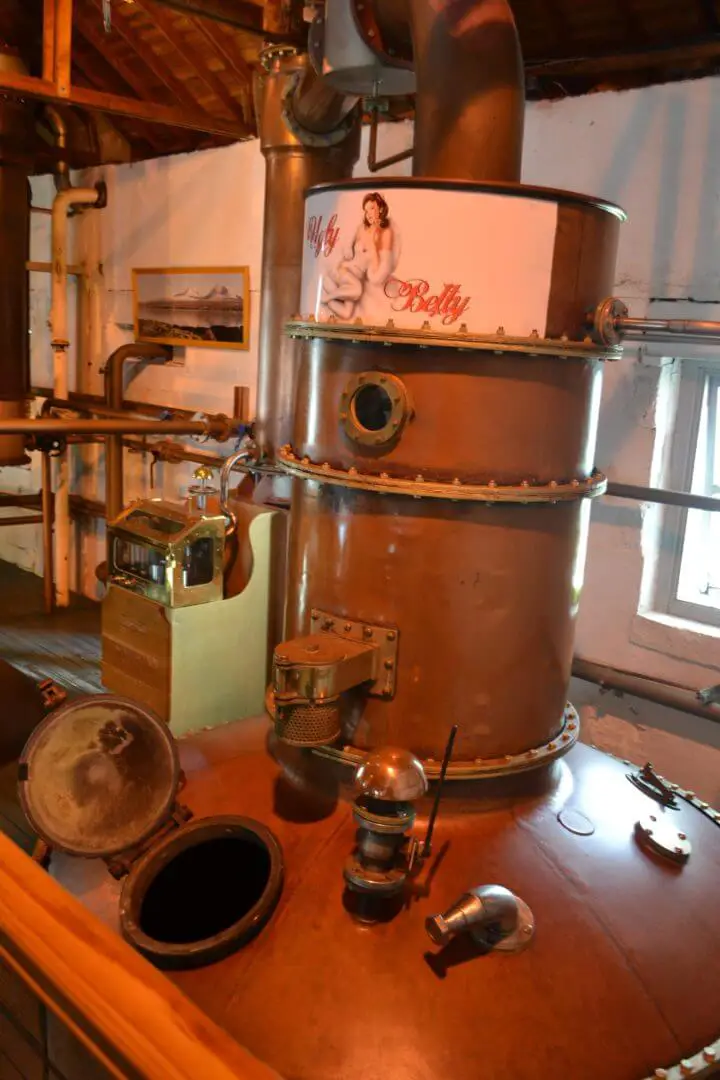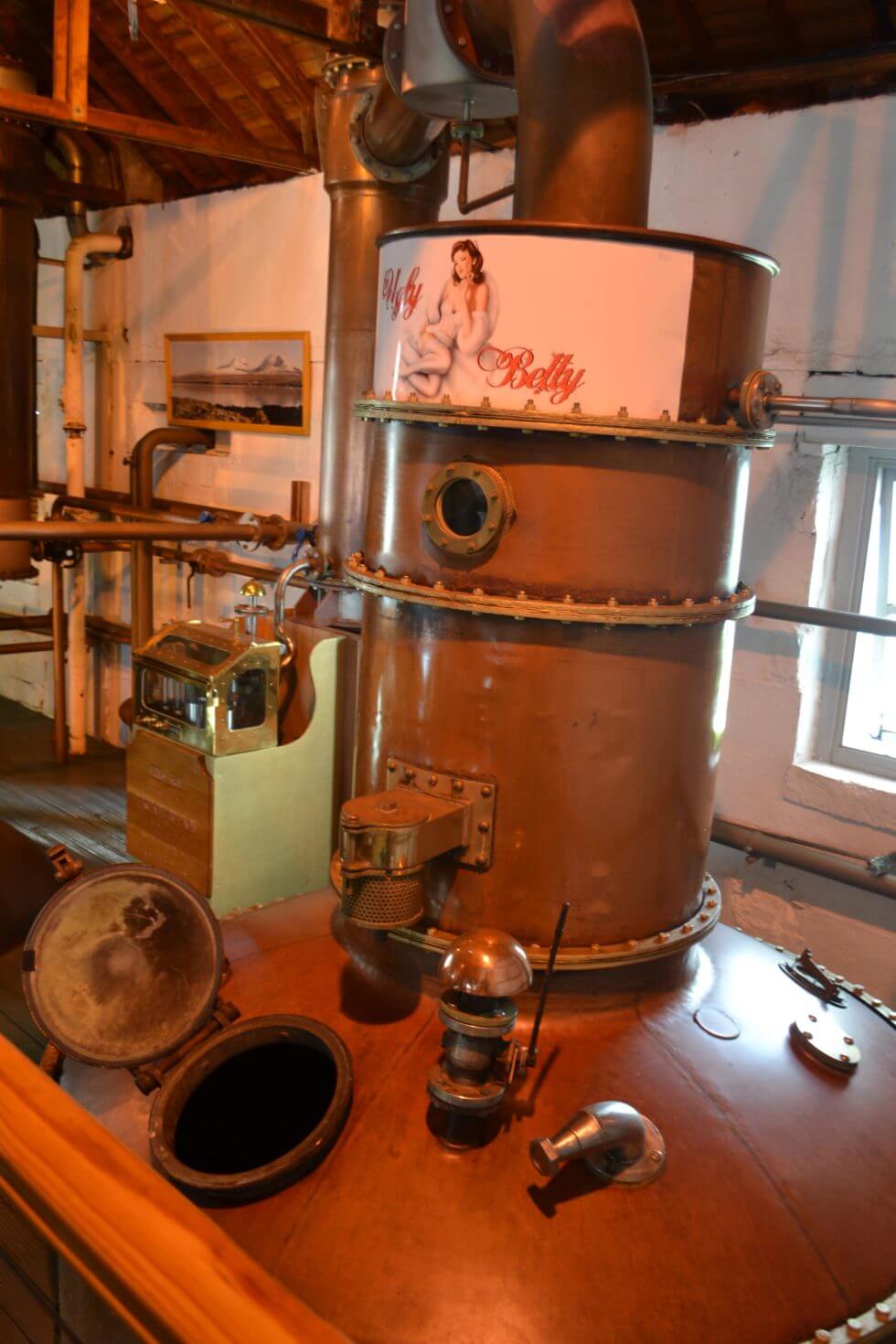 That in and of itself is a reason to hit up Bruichladdaich as it will turn the staunchest hater of gin (me) in to a fan with one smooth sip of it's florally goodness. You can read more about our visit to Bruichladdaich here. And my flickr album of Bruichladdaich here. After Bruichladdaich, we made a pact that no other "tour" could compare and collectively opted for quantity of distillery visits over duration of each visit.
But first up… lunch.
I know, again, you think… ? That's not what visiting distilleries is about! Well, let me tell you – I was in it for the views, the retail, and the food. And to be a good sport, I tasted – or at least smelled – something at each distillery. If they had both – it was a bonus round. On the way to find food, we ran across some of the locals to ask them where we should eat.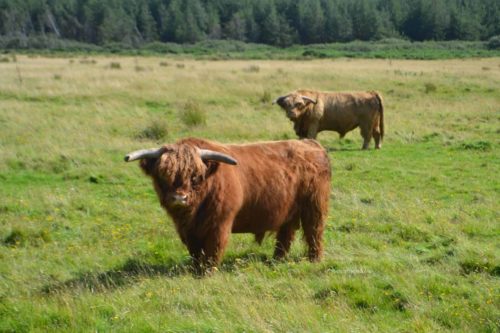 But they suggested we call someone with a similar palate.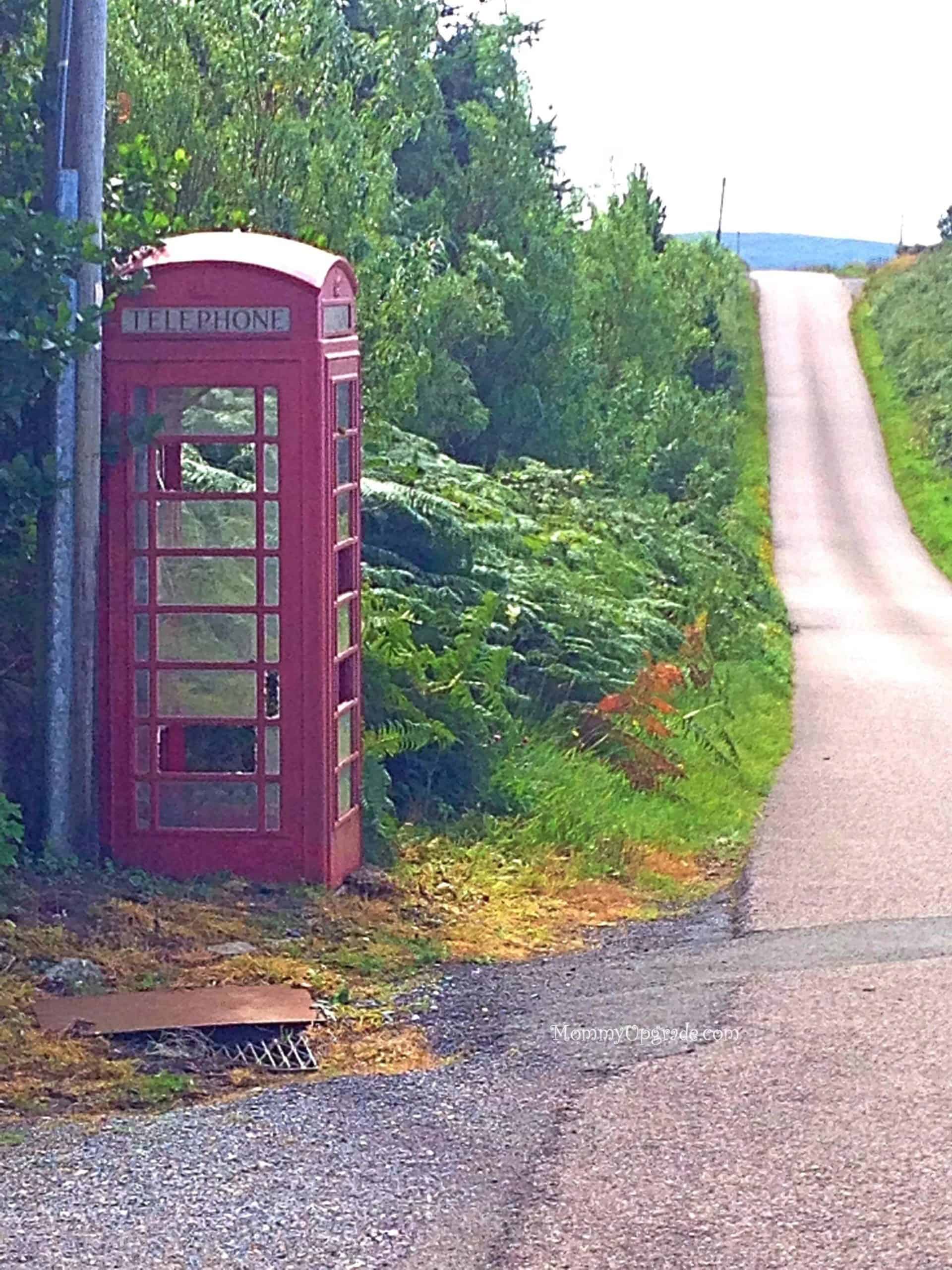 Undeterred, our bellies took us to the southeastern coast where Ardbeg, Lagavulin, and Laphroaig all call home. All three distilleries are known for their peaty scotch, which is not for the faint of taste. Ardbeg is also known for having a delicious restaurant on their grounds, and a coffee bar with barista within the tasting room.
My steamed mussels were fresher than fresh and I dare say no-one had a better lunch than me. I loved that the retail was in the same room as the dining, allowing for a quick pop over to admire their wares between salad and main.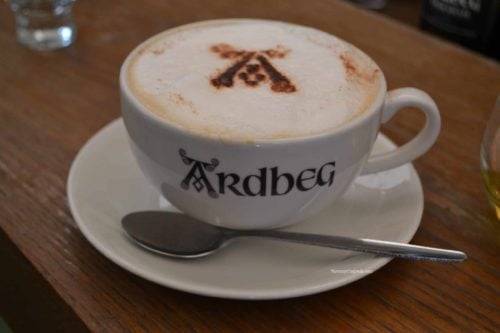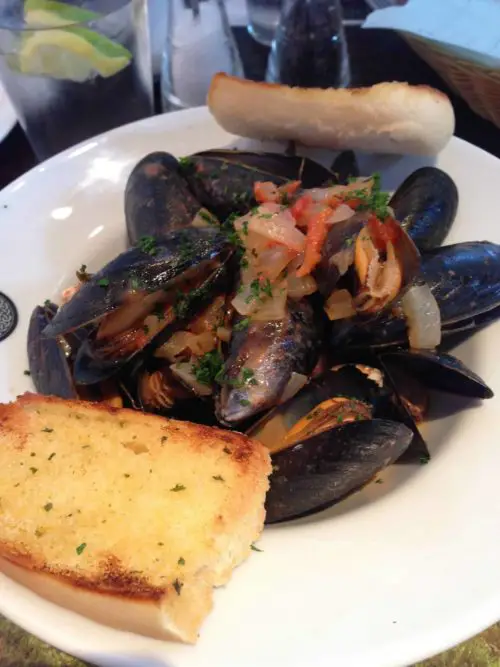 As I quickly learned, all but one of the Islay distilleries are on the coast so nearly every one had breathtaking views paired with their infamous drinks. Here are a few photos from Ardbeg. You can find more from here and the other distilleries on my flicker album.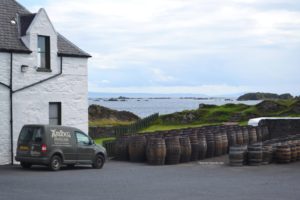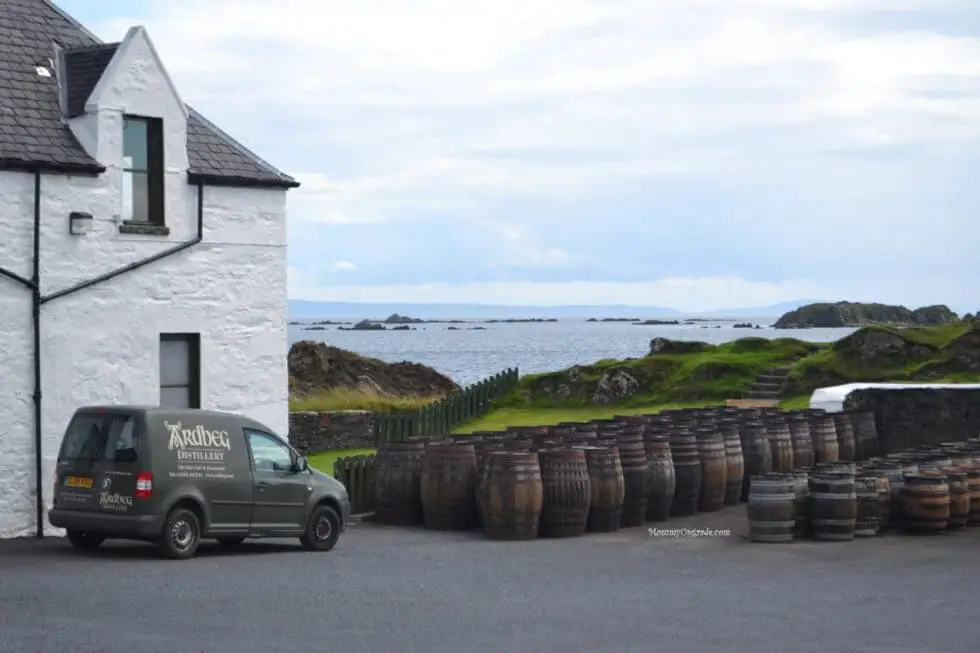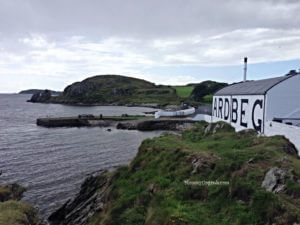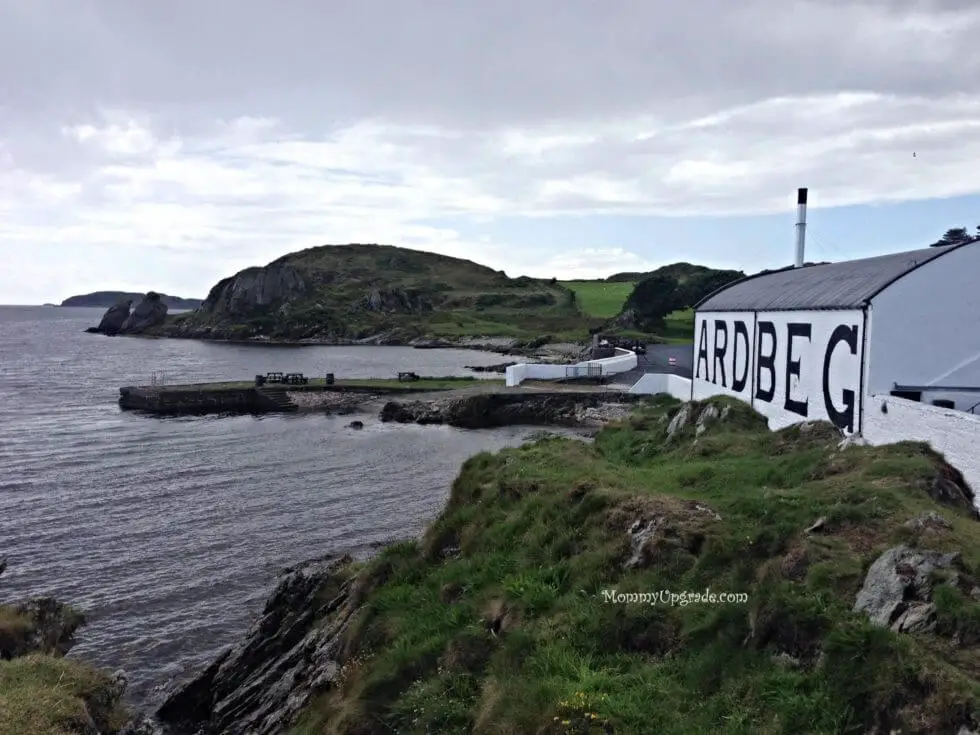 After we were stuffed ourselves full, explored the grounds, knocked back some caffeine (delicious cappuccino's by the way), we forgot that our time zones were a mess and caught our second wind for further distillery exploration. Lagavulin is just south of Ardbeg and next on our list. While it has no restaurant and the retail not as intriguing, its exterior views were stunning all the same.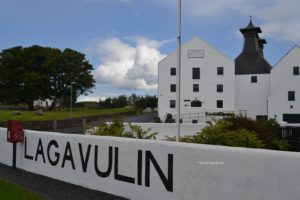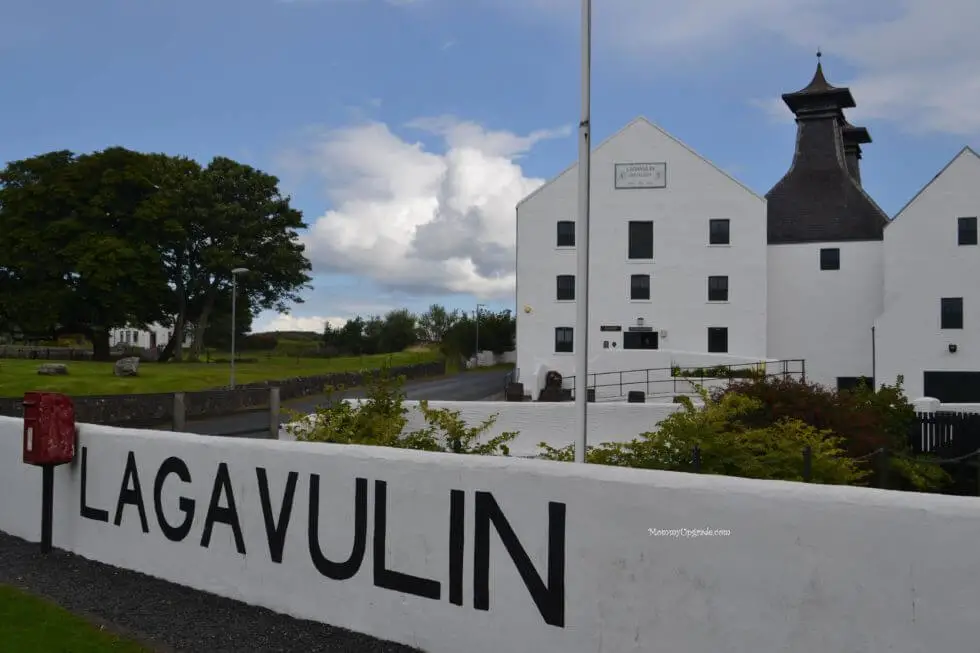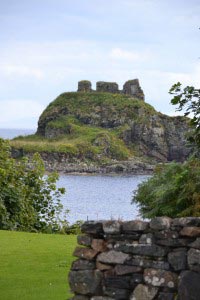 All the distilleries are awash of white facades, but thankfully they put their name on them so when you revisit your photos, you have a cheat sheet of who's who. 🙂
One more stop south and we found ourselves at Laphroaig. This distillery had a nice self-guided history tour in the back and a well-rounded retail area.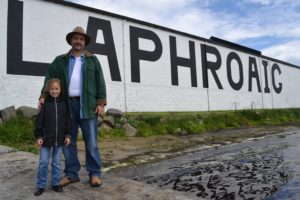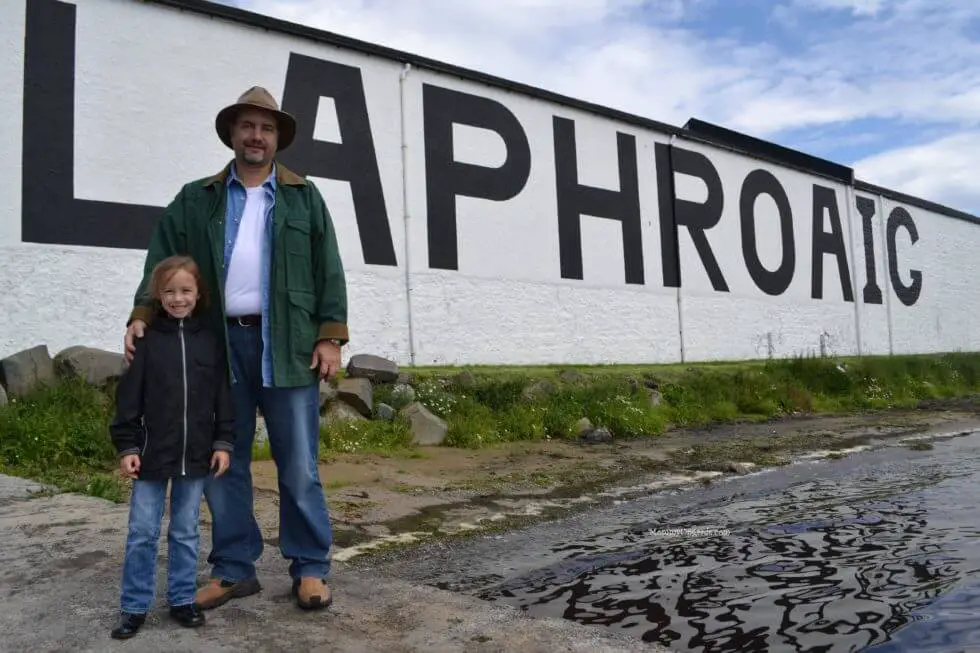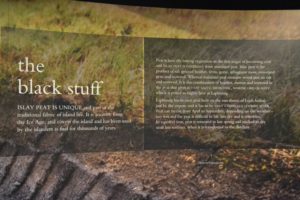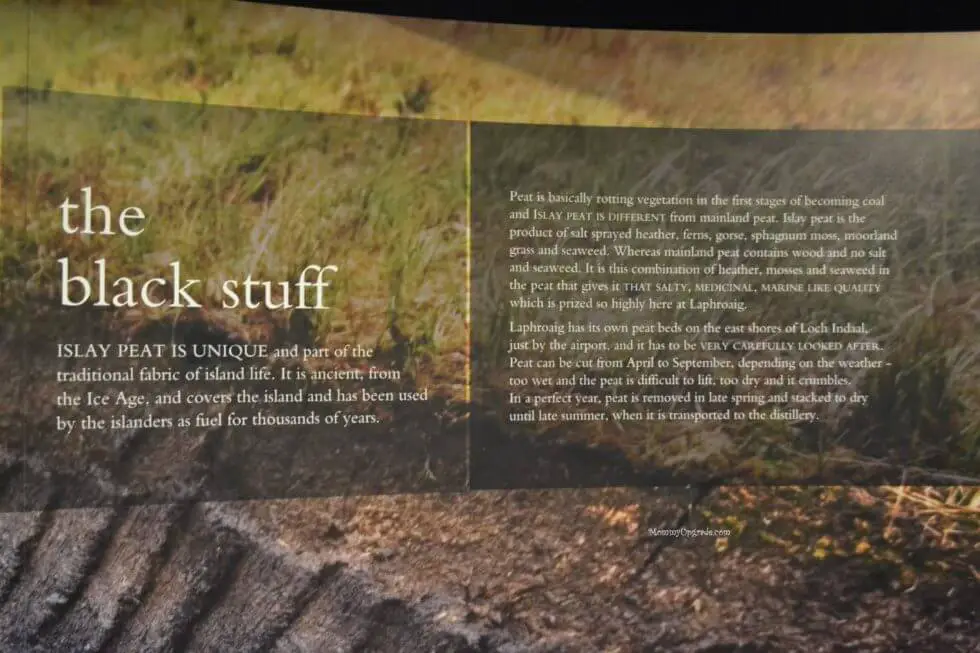 I was especially intrigued by the jams and whisky cake, not to mention the private club area. Owned by Beam Inc, it seems they've learned how to cater to their customer.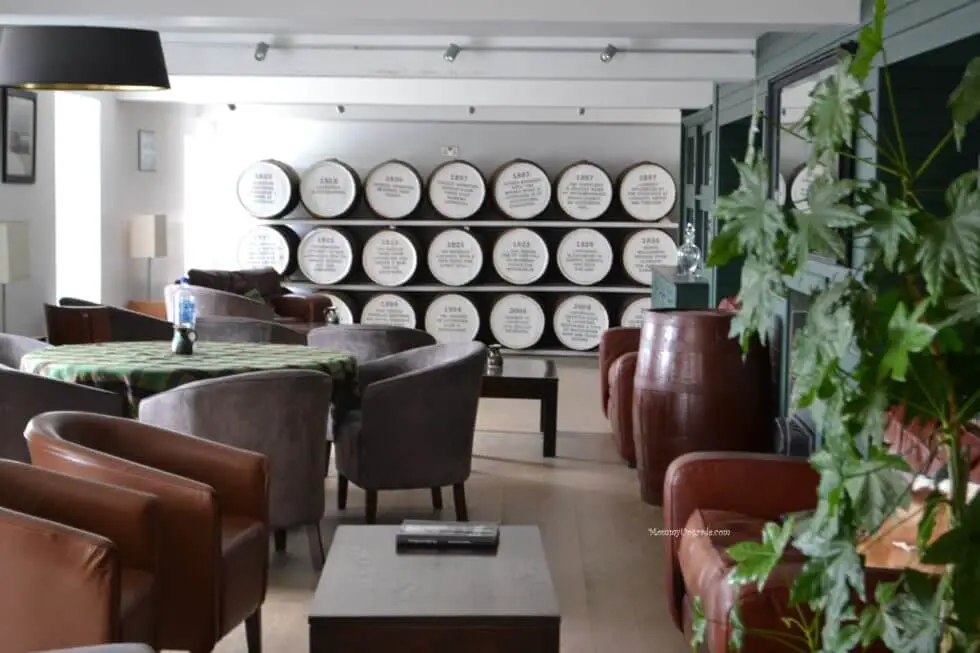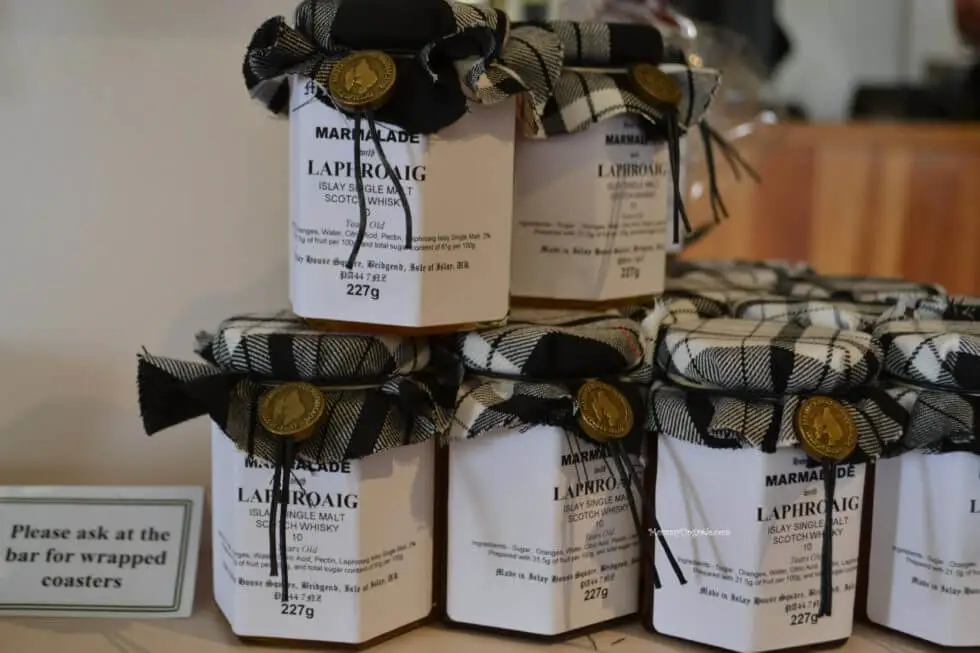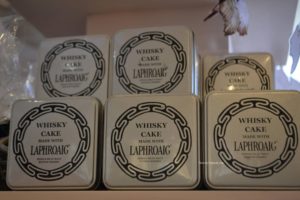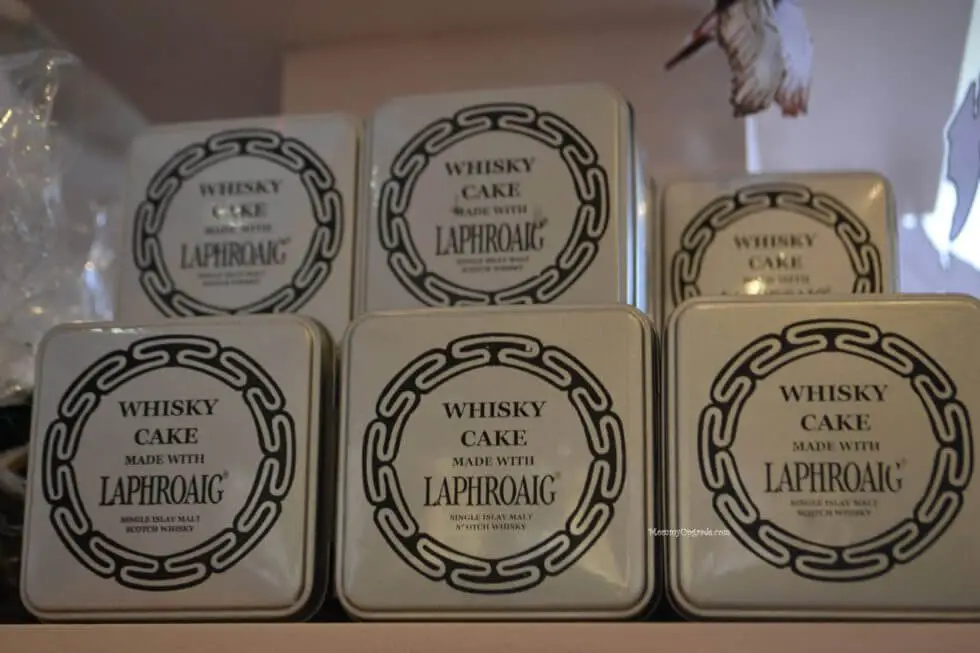 In looking at the map, it probably didn't make sense to go in direction, but next we drove back north through peat covered hills to Bowmore where Jim McEwan spent 38 years prior to joining Buichladdaich.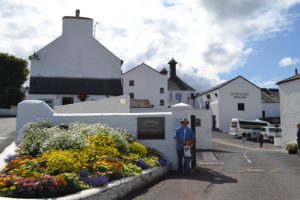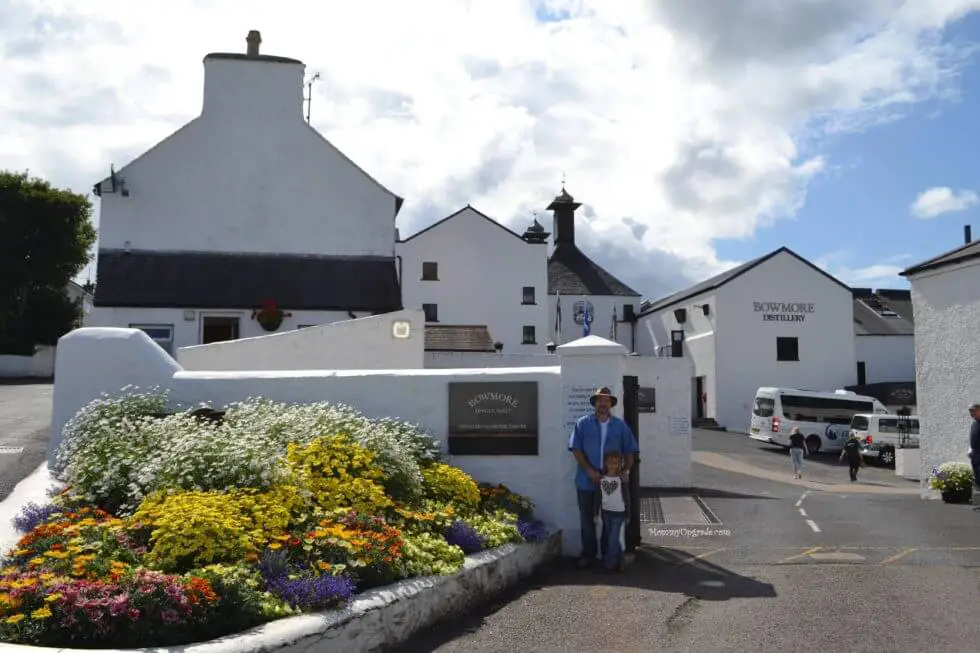 One of the interesting things he did was to make use of the recycled water from the distillery for a heated public pool next door.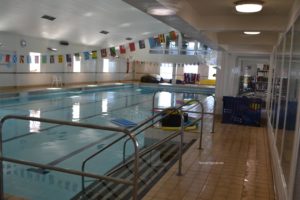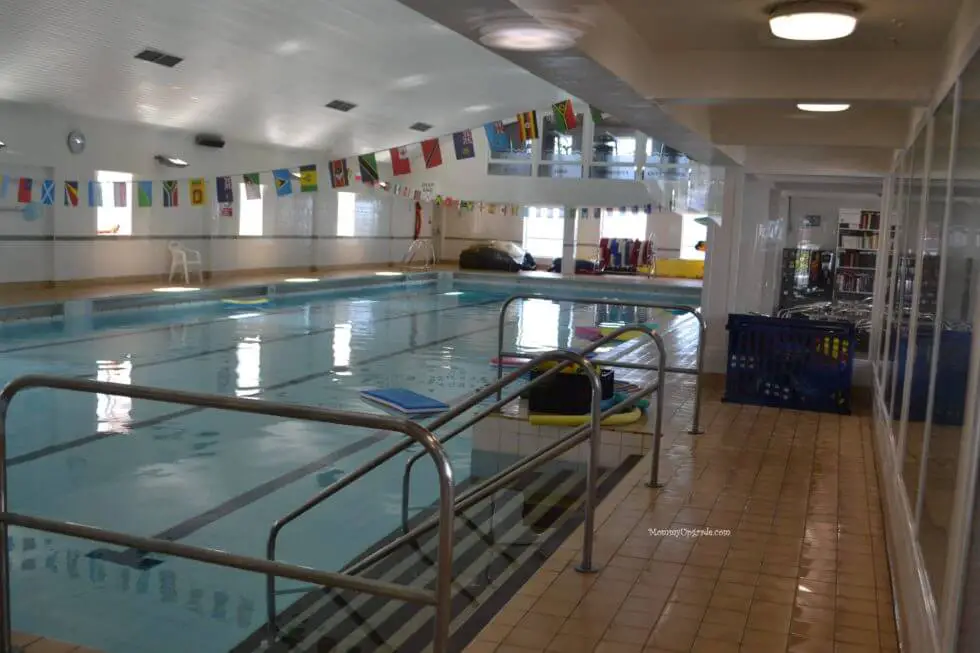 Bowmore – also the Island's capital — has a slick presentation, from their contemporary fountain out front, to their retail area, and upstairs where their vintage bottles on display in rotating glass cases.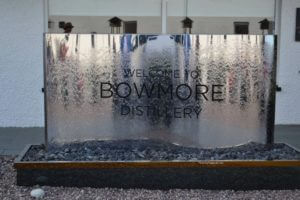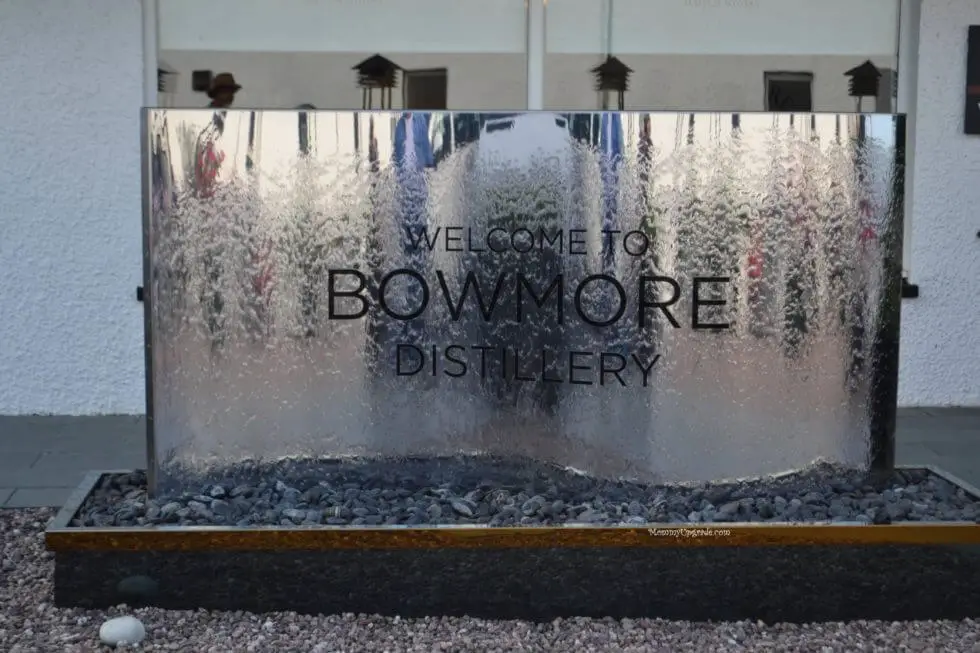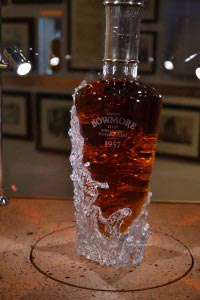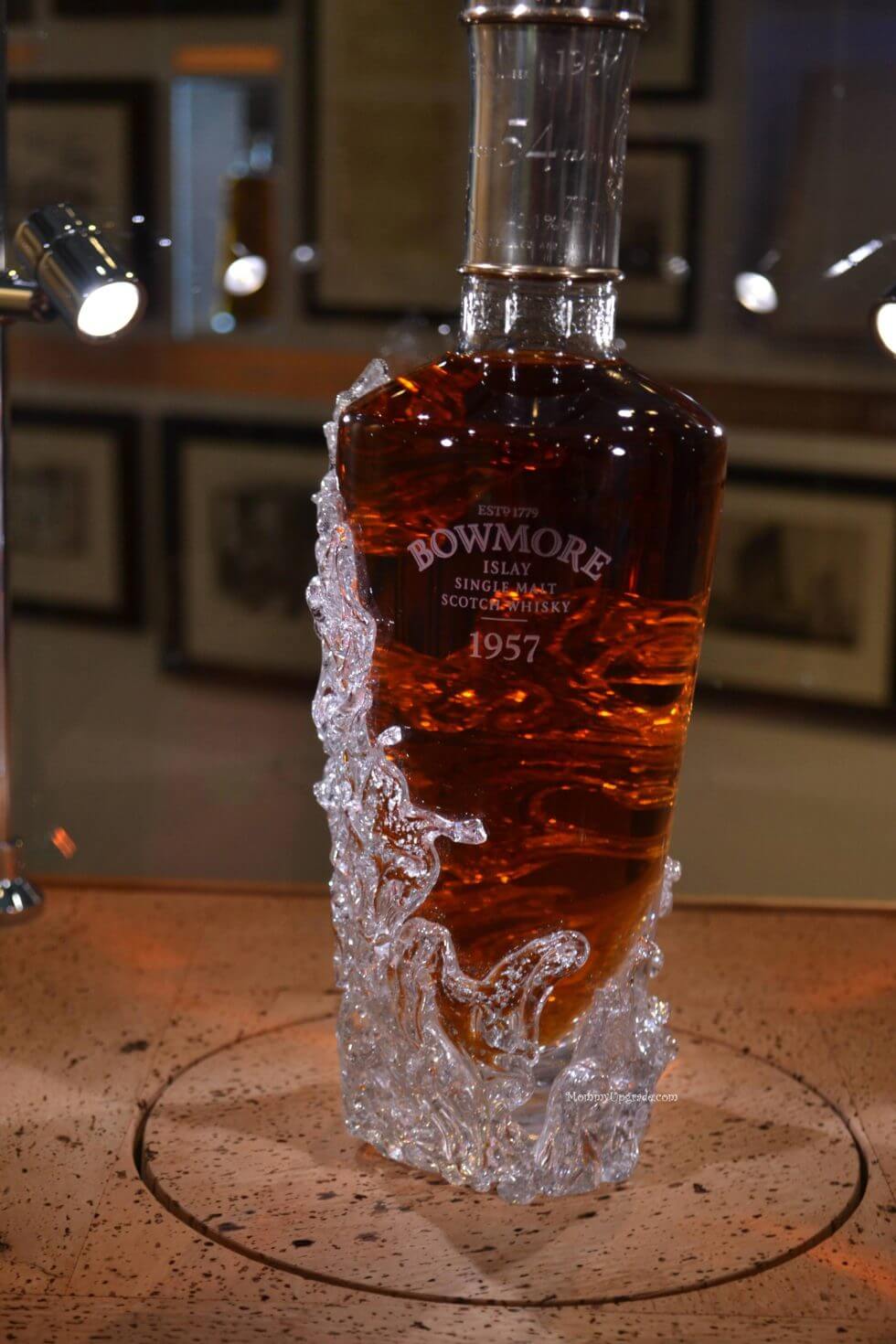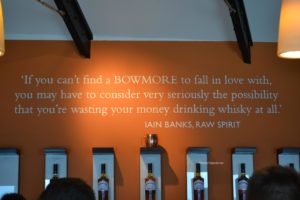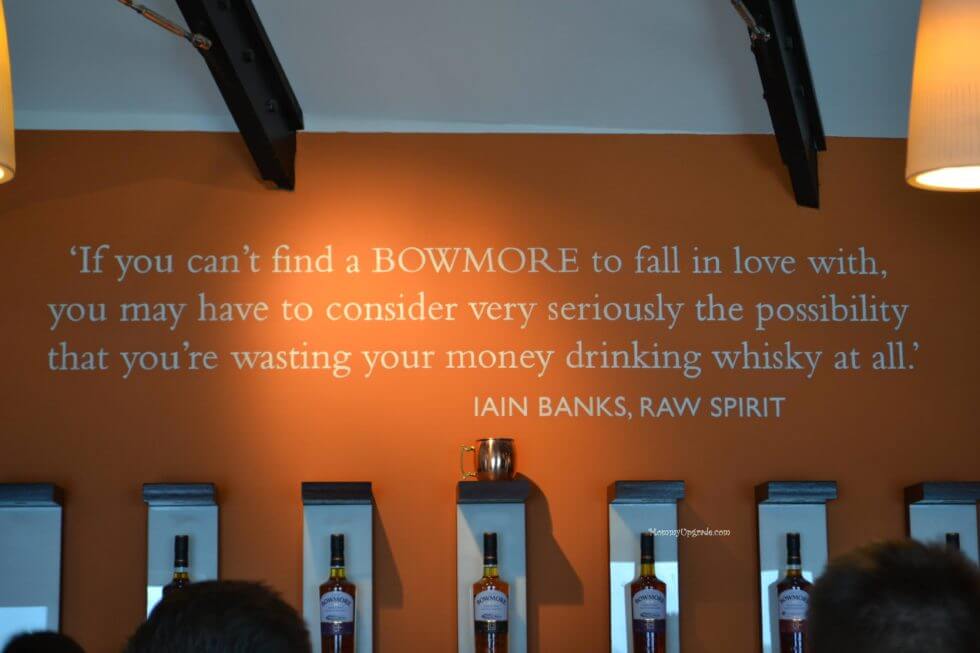 Known for their sherry cask maturation and a medium-stong peating, they had a modern vibe with a balcony view of Loch Indaal. (My hubby and daddy)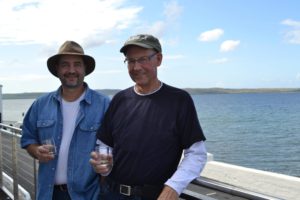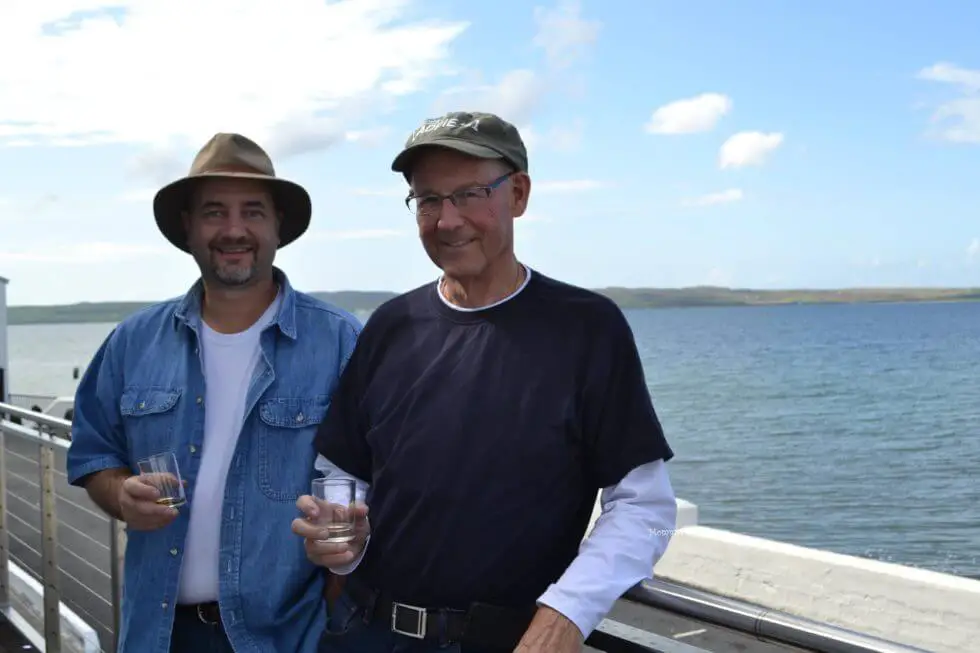 We came home with two things from Bowmore: real Scottish shortbread (heavenly) and a beanie hat. And I took a photo of this scotch as a something I may be coerced to drink if scotch was the only option. I can't pronounce it, it reads like a sneeze.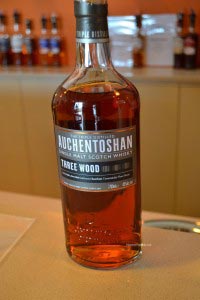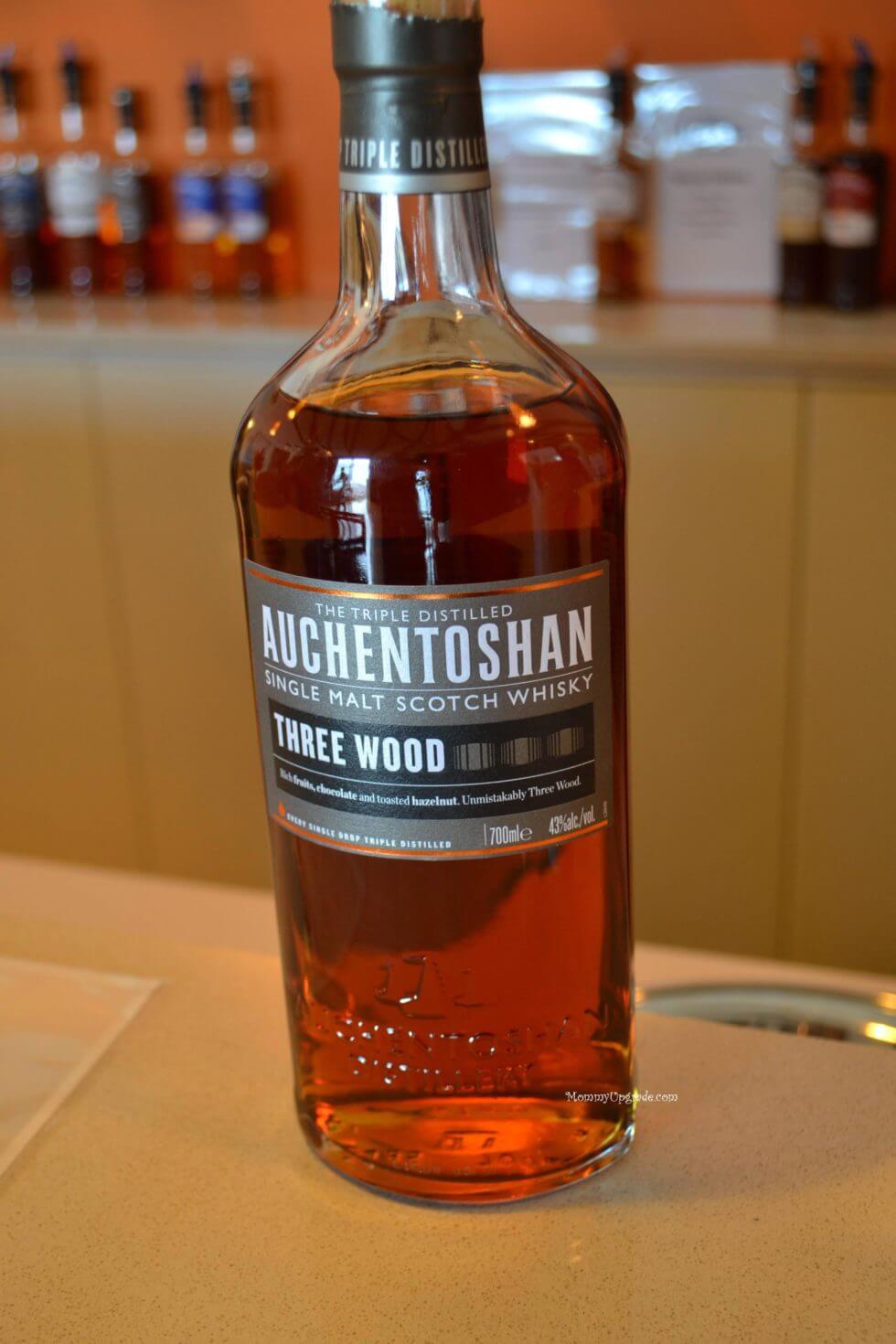 By this time it was rush hour,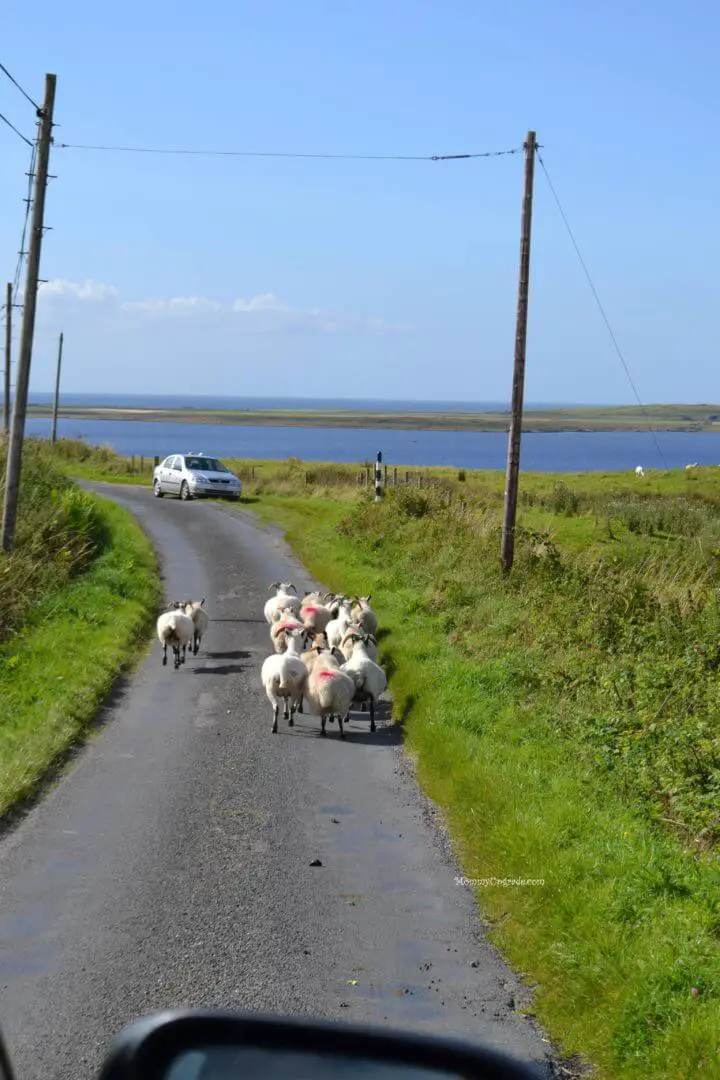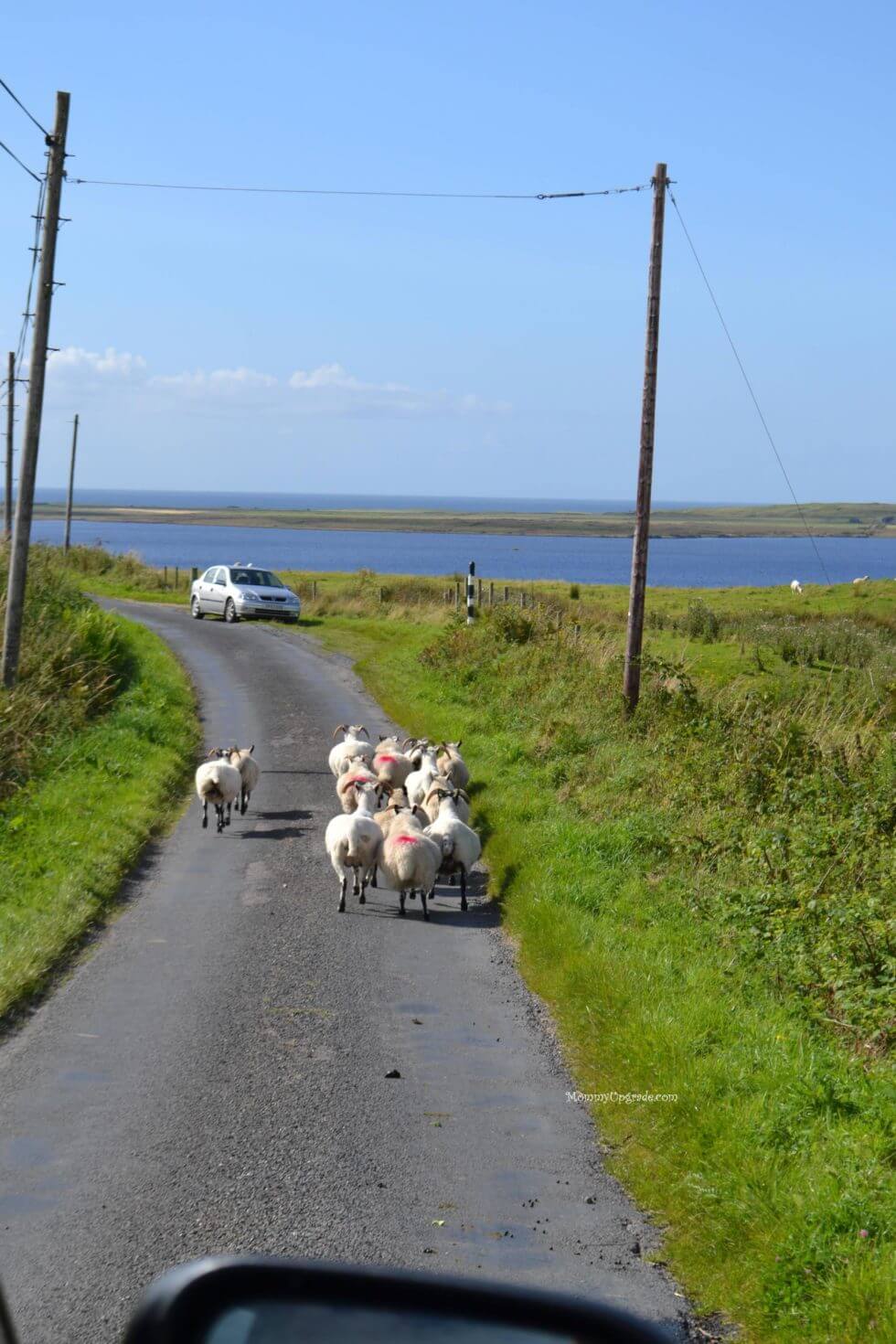 but we headed to the Atlantic coast to stick our boots in the water.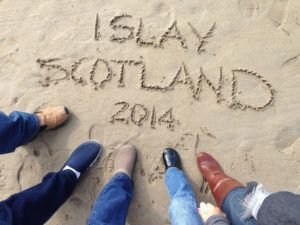 From grass-covered hills emerged an emerald green sea that made your heart skip a beat. I could have stayed right here all day. Pick me up when vacation is over, k?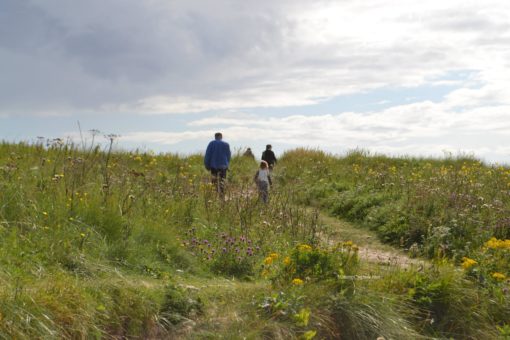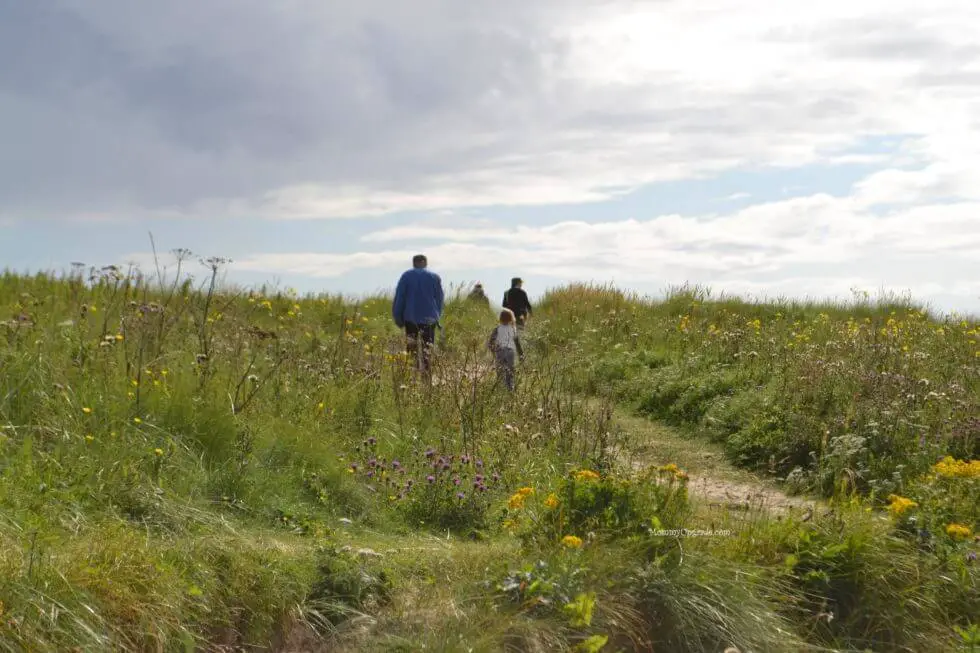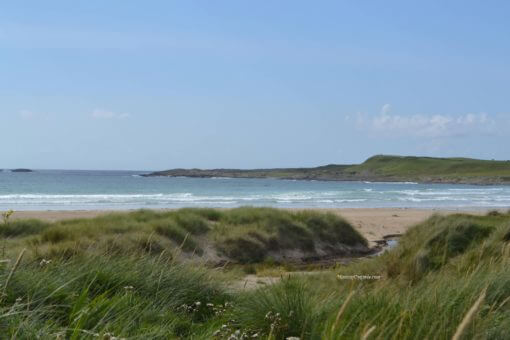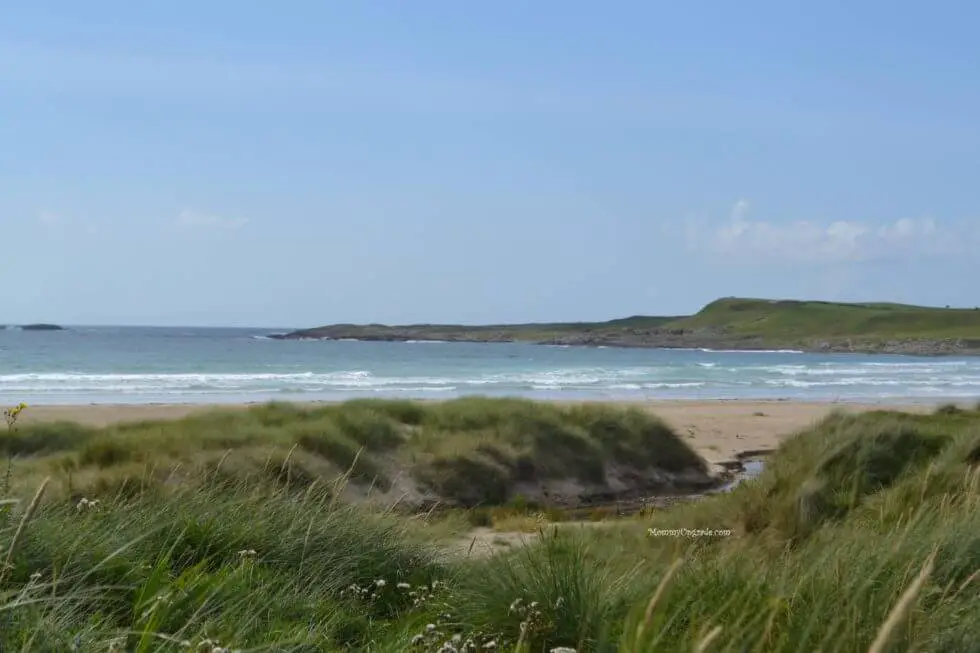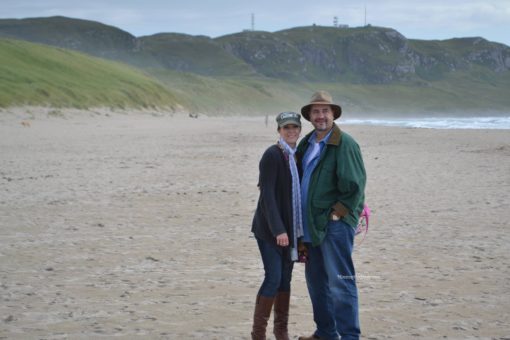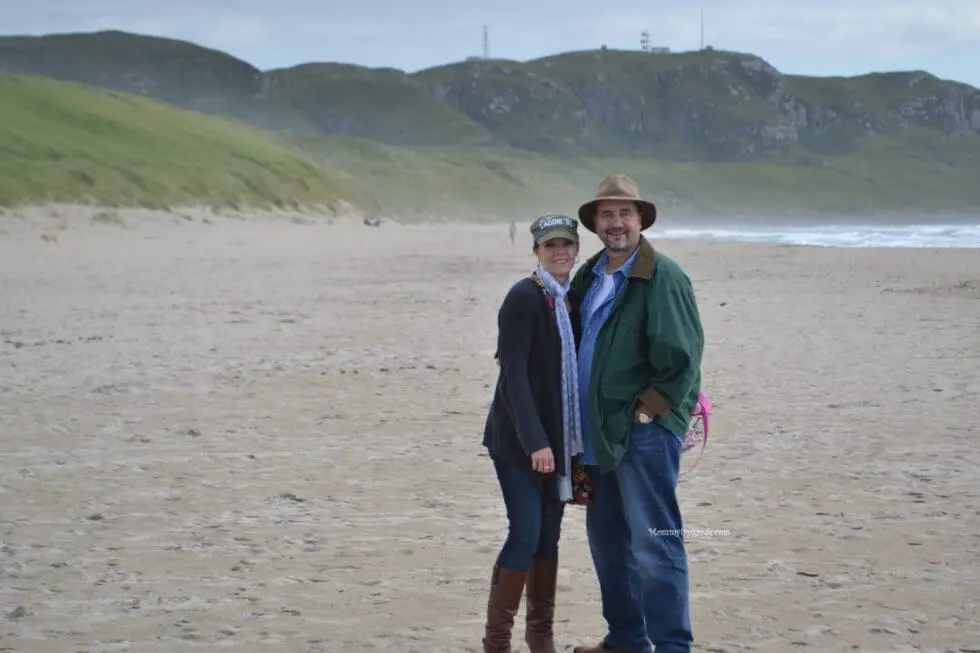 Unfortunately for me, the scotch aficionados in the car wanted to squeeze in one last distillery, so we managed to sneak through the door at Kilchoman as they were locking up for the night. This distillery also had a small restaurant and an eclectic retail area. The new kid on the block, Kilchoman has only been open since 2005 and not quite as tricked out as their seaside counterparts. No beachside view, but I did get a picture of this lazy cow and its pretty jewelry.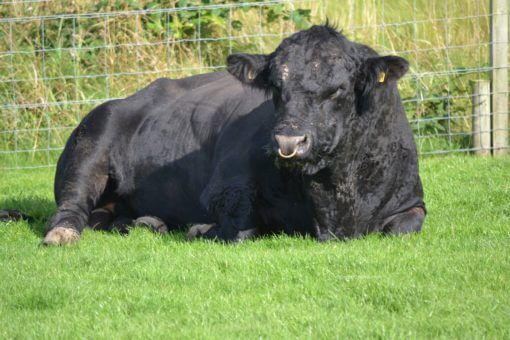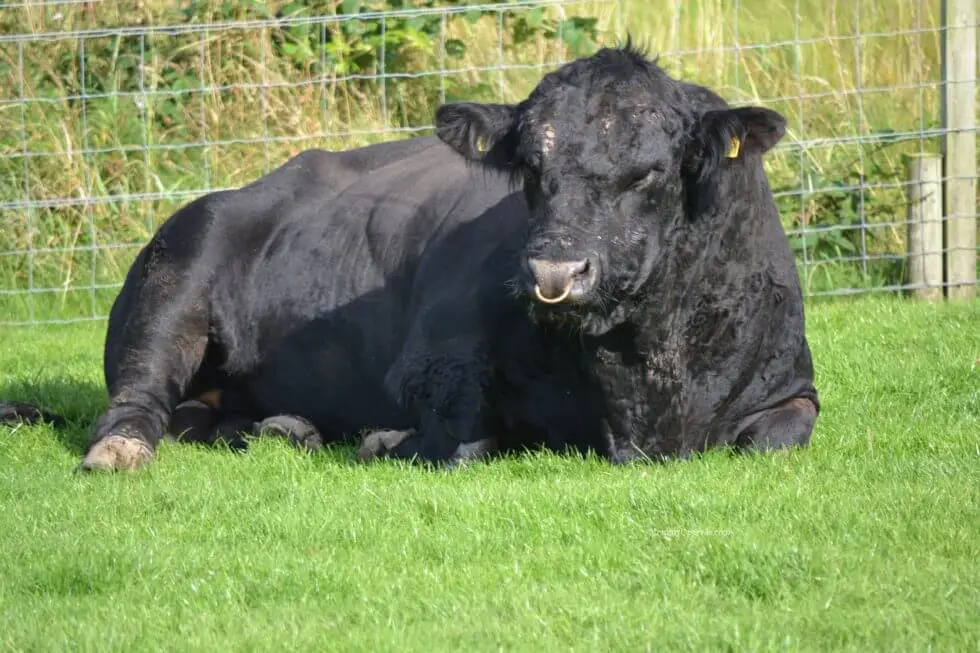 We battled a bit of road rage (it seems they do not like tourists, especially crazy American ones that shove a camera in their face) on the way back to Bruichladdaich,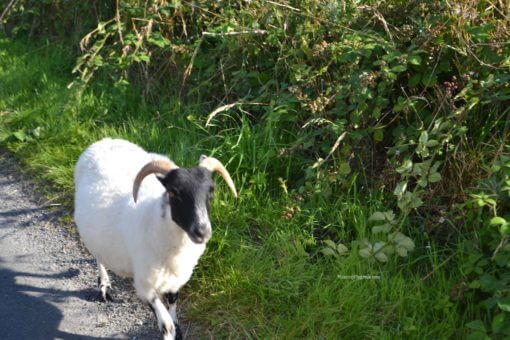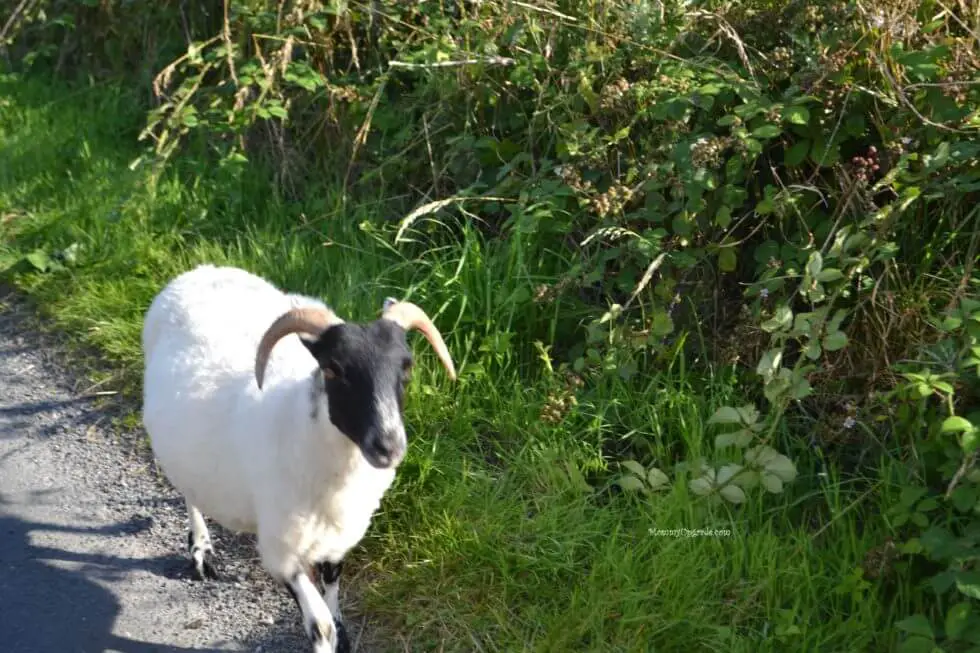 but made it safely for a delightful dinner in town at the Port Charlotte Inn.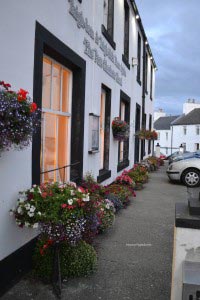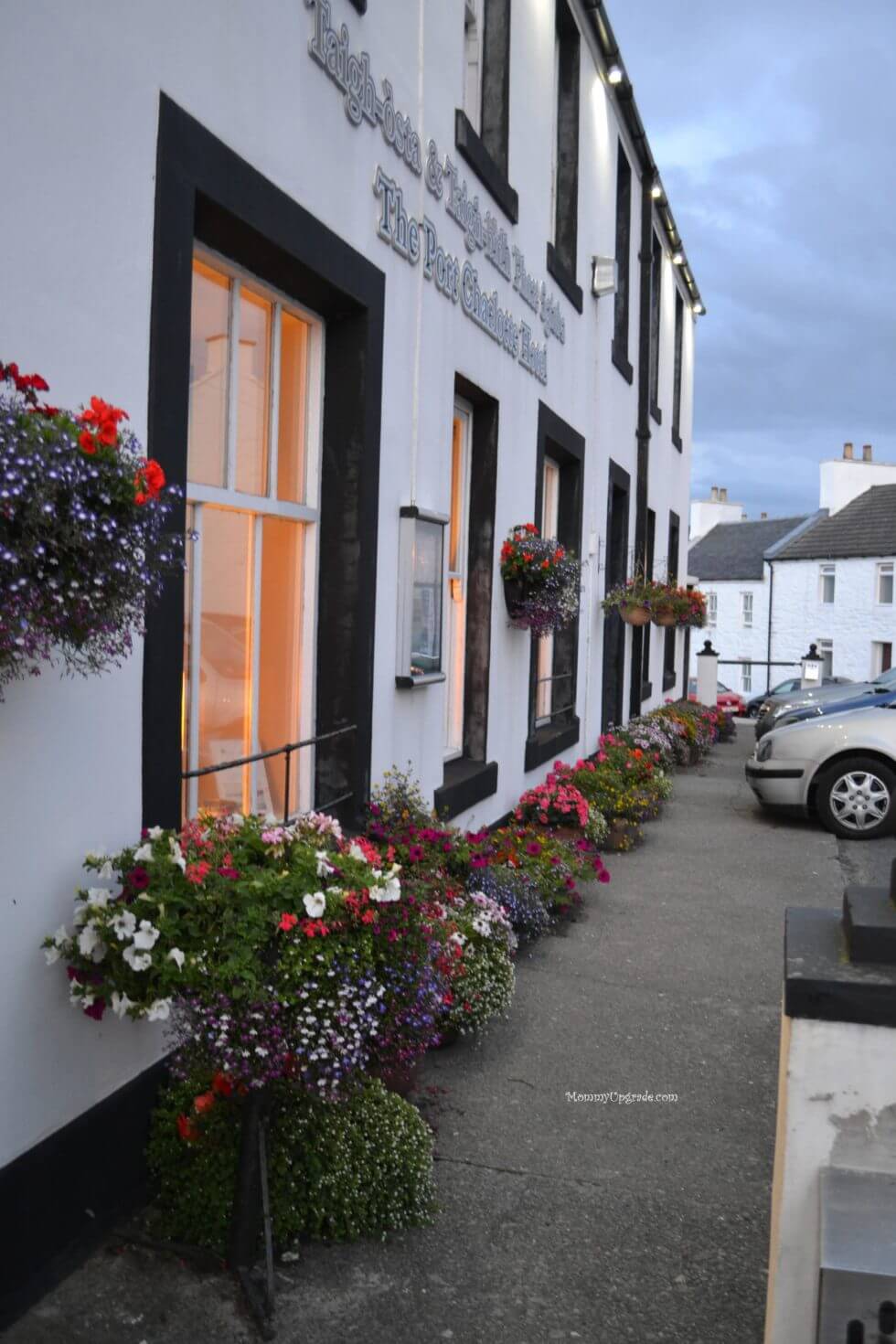 And that's how you do 6 distilleries (or pistil-lies" as the Princess Cupcake called them) plus one beach when you arrive on Islay. When we weren't belly up to the tastings bars, we were taking in the Scottish countryside. Special thanks to my poor Dad and his superb chauffeuring skills. As he was singularly focused on trying to cram in as many venues as possible during our tour, the Cupcake and I were yelling, "STOP!" from the backseat so I could hang out the window to capture these pictures of the locals. Perched on Loch indaal and the Irish Sea, this journey to the birthplace of scotch was no suffering thanks to the breathtaking views and lovely people.
View more from our day on Islay here.