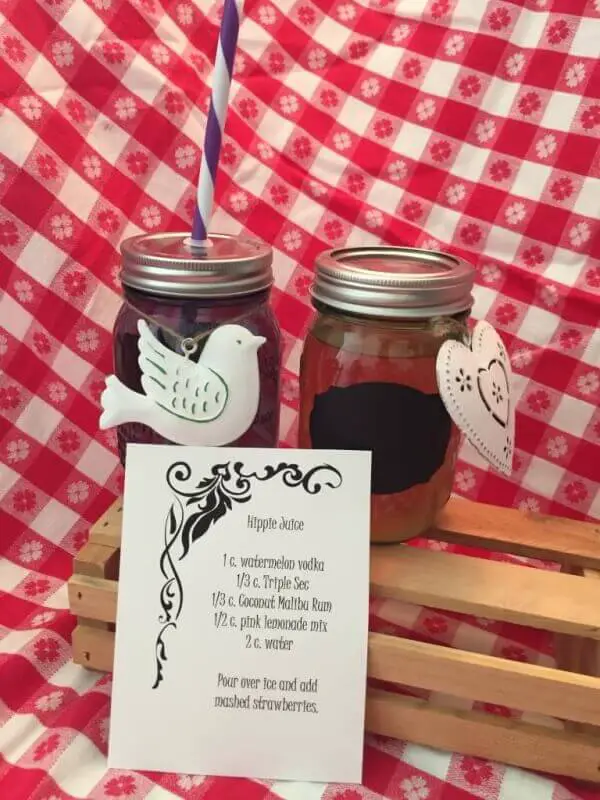 My friend Anna made these cute mason jar drink glasses and adult bevvy for our recent craft exchange, and I thought they were the perfect summertime hostess gift. What friend wouldn't love getting a fun jar of hippie juice of their very own? Below you'll find Anna's info on how she made it, the inspiration… and of course, the recipe!
Why did you choose it? I immediately thought of something from my past that would remind me of a nostalgic Americana theme. 
What materials did you use? I used the tinted mason jars, grommetted lids with straws and chalk labels.
Where did you get your materials? Michaels, Hobby Lobby, Walmart & Goody Goody.
Cost of materials: Approx. $80 (including liquor) for 6 sets.
How did you make it, step by step? I changed out the lids for those with a grommetted lid, added the chalk label, and filled with alcohol. 
Here's the recipe for the "Hippie Juice"
1 cup watermelon vodka
1/3 cup Triple Sec
1/3 cup Coconut Malibu Rum
1/2 cup pink lemonade mix
2 cups water
Mix all together! Pour over ice and add mashed strawberries.
How long did it take per item? It only took me about 15 min./item.
What was the hardest part about making this? Coming up with an idea.
What was the funnest part about making this? Tasting the drink!
Do you like it? Yes, I love them!
If you made it again, what would you change? I would paint on the chalk label – I just ran out of time.