I'm raising a tiny athlete. She loves sports and has an insatiable appetite for soccer and basketball. Though this summer, she asked to add track and field into her sporty mix. Having been a track junkie growing up, I wasn't about to say no – although I had some concerns, namely:
The Princess does NOT like to run in circles. She complains about PE constantly and how boring running laps are.
The Princess does NOT like to sweat outside. She refuses to do any outdoor camps for this very reason. I mean, who can blame her. Texas.
So you can see why I was a little hesitant to fork up the money for track season. I thought for sure it would be me dragging her sobbing self in circles, drenched in sweat each night.
She promised me that would not happen. But… she's nine… and I still took the bait.
It wasn't the easiest to find a club – it's weirdly like this secret that there are actually kids track clubs all over DFW. The first one — and most geographically convenient — that I reached out to closed registrations before March 1, the day I contacted them. Apparently they train year-round and try-outs were over.
Try-outs.
WUT?!
Yeah, I was naïve to the whole track culture apparently. Thankfully, we know people, the kind of people who also raise tiny athletes and we got connected with the Prime Time Elite Track Club out of Coppell. It was such a blessing – God really has a way to directing you in the path that's best for you.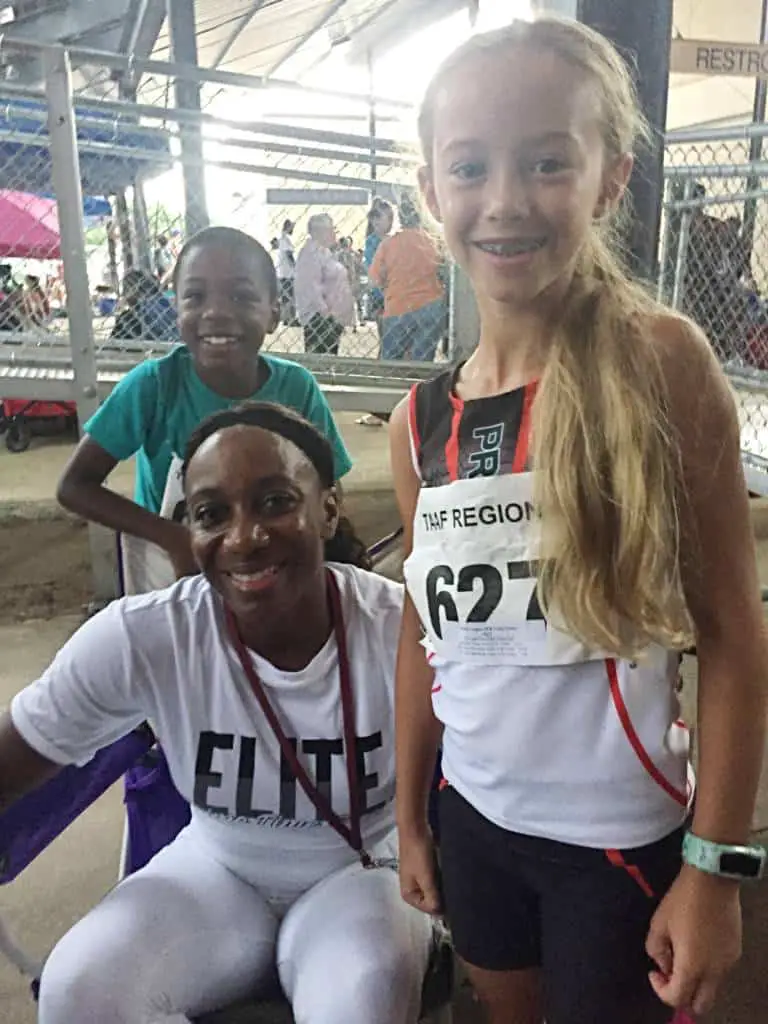 This team has an incredible line up of coaches. Head coach Chessna Davis is the TCU standout record-holding hurdler and holds a TAAF state record for the 100 m hurdles, add in a long list of state championships,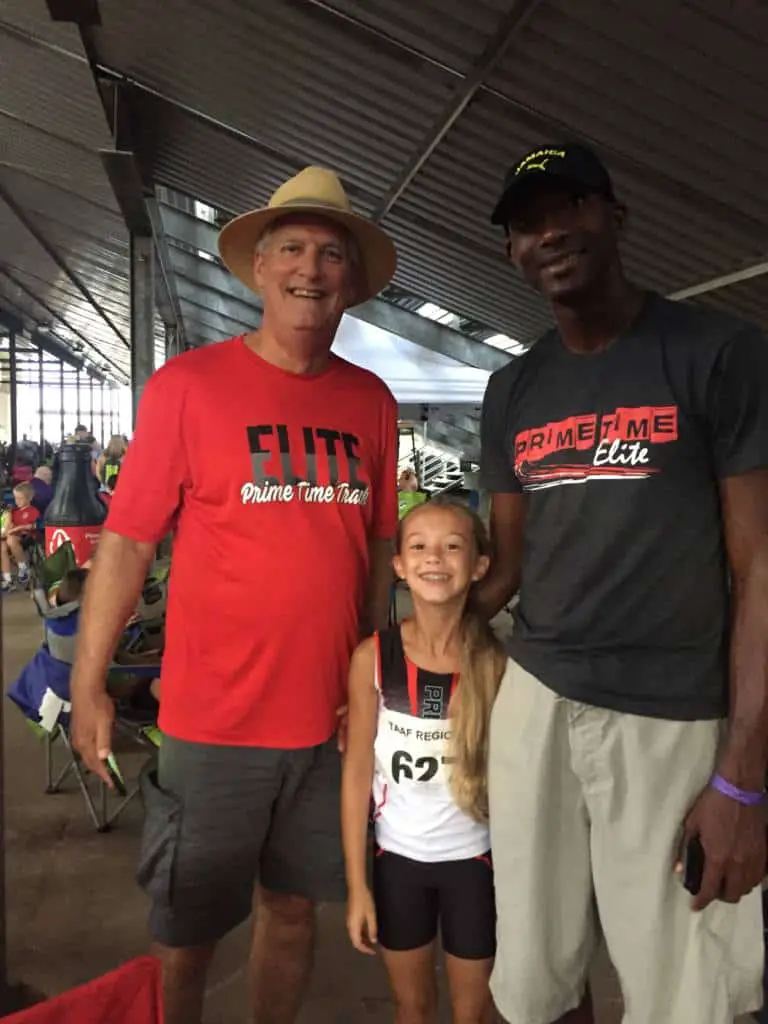 And her co-coach Michael Blackwood is a 3 time Olympian (team Jamaica), former world #1 400 m sprinter, and legend from OU by holding the Big 12 NCAA conference record (still standing). (I'm selling him short – check out his accomplishments on Wikipedia.) And Coach Kirk is an accomplished athlete and coach in his own right.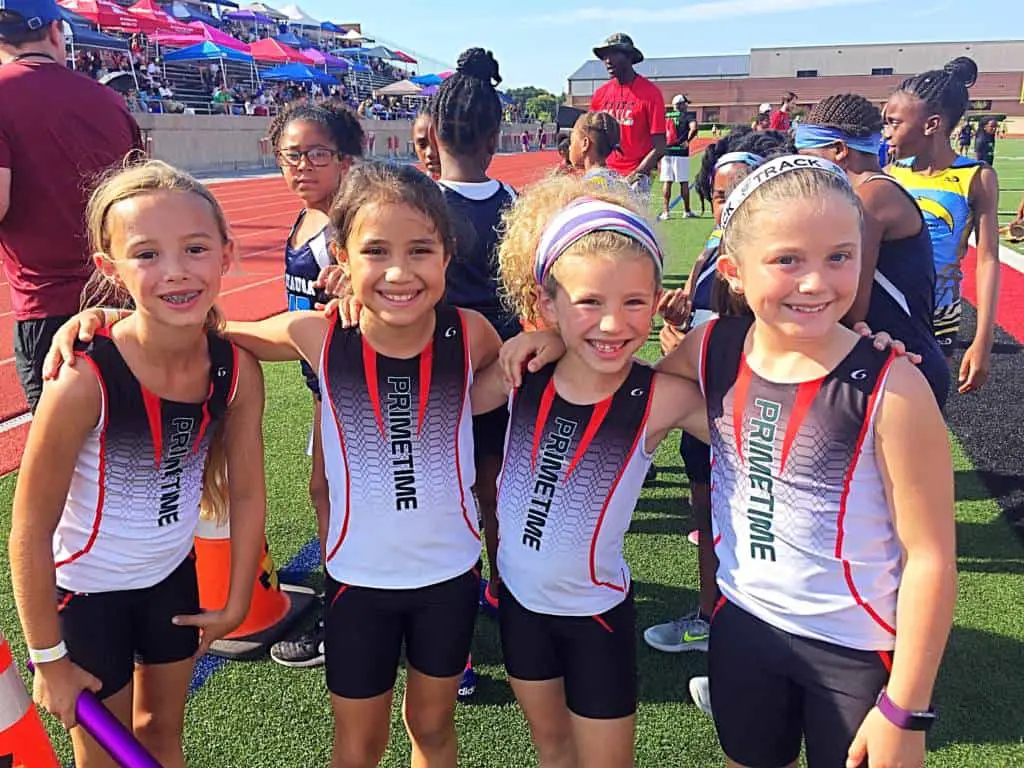 Obviously from the photos, I signed her up. She had two soccer sisters on the team too, so that helped a lot with the monotony of running laps (and truthfully, there were not many just plain, boring laps). And the fact that they train together as a club – the bitties run with the high schoolers so my niner thinks she's something special when she is training with the bigs. And no surprise, track conditioning was excellent conditioning for soccer and basketball because now when she plays indoor, she's barely winded.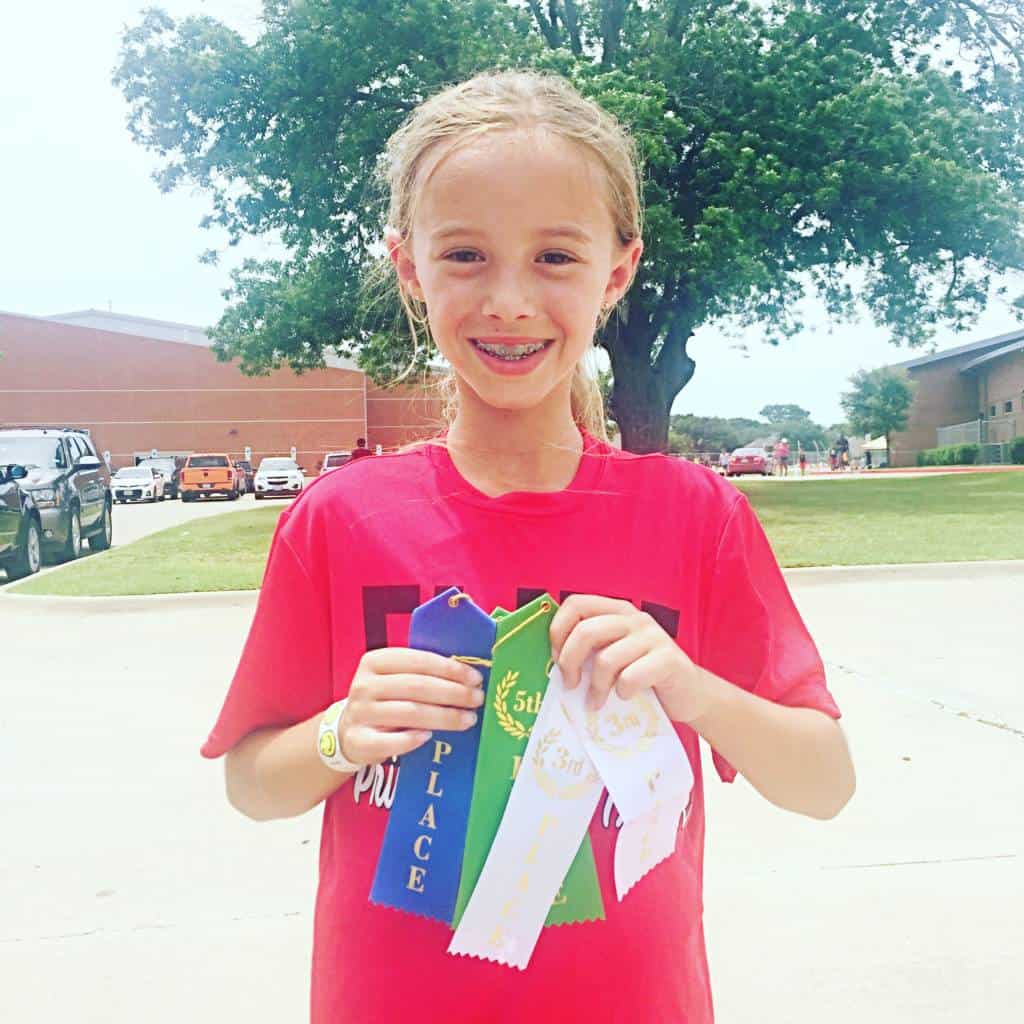 She ate up the instant gratification of TAAF practice meets where they ribbon each heat. Although from a parent perspective, we know placement is truly luck of the line up as to whether they get into a fast or slow heat, but it was great practice for regionals where all the runners are actually timed and recorded. And that's exactly what the practice meets are designed to do: practice.
Are you ready for the greatest part about being a track mom? The parents. Everyone is cheering for their own kid – not screaming at a ref or other kids for inappropriate shoving or other fouls on someone else's person. They're not screaming at each other and trying to start fights in the stands which sucks all the enjoyment out of youth sports. They're just so much more chill. I'm not saying there isn't a single crazy one out there (there are), or that they don't cheer like a maniac for their own kid, (they do) but it's a refreshingly different vibe.
I loved it too – and I wasn't the one competing. Just watching her hustle and try and best herself, was really, really fun, and inspiring at the same time.
The coaches at PTE encouraged the parents to use the track to exercise (as long as we didn't interfere with training), so I laced up and started running again. It's been a long time since I was a regular runner (like 10 years, do the math with how old she is) and my joints aren't as limber as they used to be, but I have been an avid runner on and off since I was in high school and it felt really good to get back in the groove. On off practice days, I'd take the puppy running in our hood, which made our home life better. The monster is so much better behaved, eliminating lots of stress at home. I feel better. Everyone is happier.
Except that it was just summer track and now it's over and we're sad, but mama and the beast are still sweating it out on the trails. In fact, I just found my new kryptonite with a running store that opened near our home. So for now, me and four paws are still hitting the pavement but our countdown clock is officially set to next May when we can train with Prime Time Elite again.