Harry Potter is a pretty big deal around our house, so when the Cupcake was turning 8, this mom knew exactly what cake to conjure up for a magical Harry Potter birthday theme. I found a butterscotch cake on the Pinterwebs and despite my hesitation to try a new recipe for a birthday (that's a big risk)– I went for it. As long as it was Harry Potter, she'd forgive me if the taste was as bad as a surprise Bertie Botts Every Flavor Bean.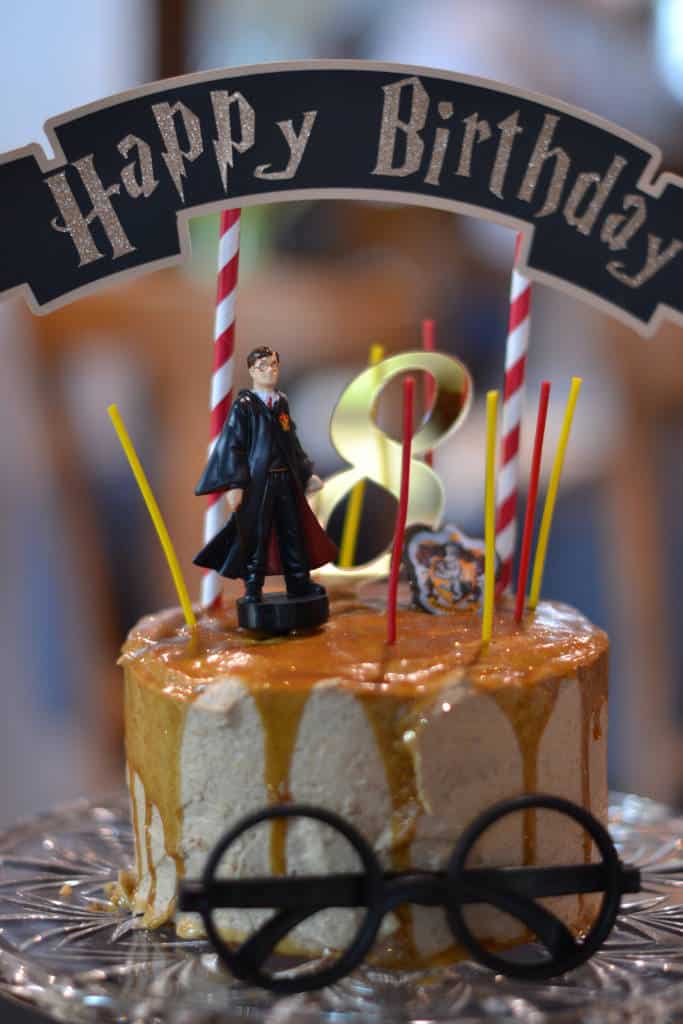 The recipe I used was from Eat and Say Yum: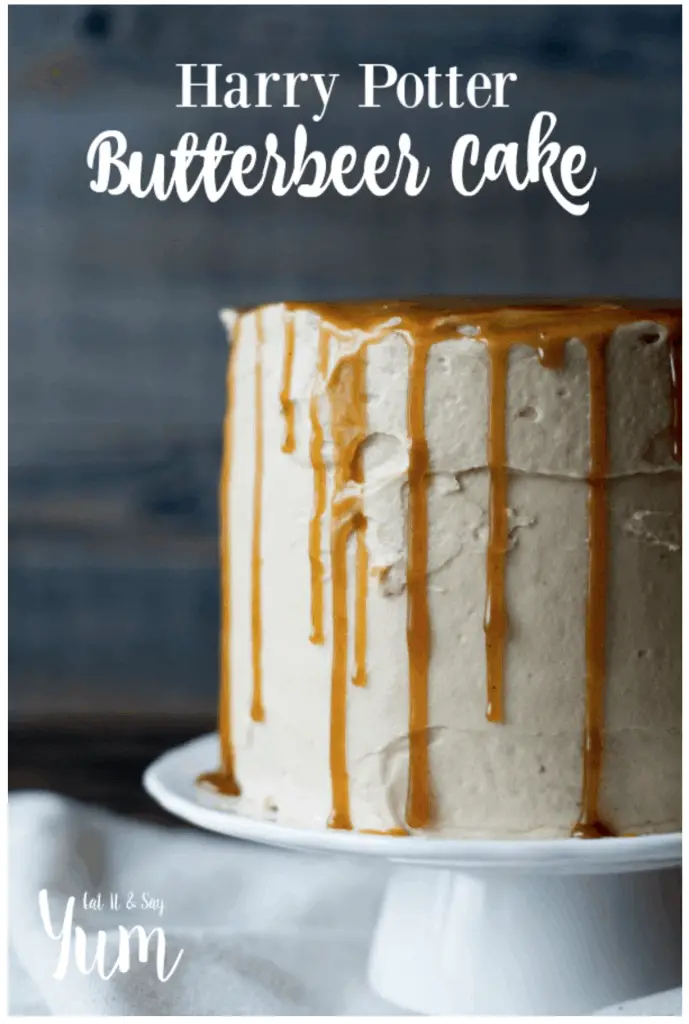 The gamble paid off, it turned out DELICIOUS, but there are a few things I did a little bit differently to adapt it to our tastes:
For the cake part, I followed the recipe closely with the exception of using regular flour instead of cake flour, which, if you read online, you are not supposed to do. (I'm such a rebel.) In this case, it turned out fine – but if you want to make it the right way and don't have cake flour, just replace 2 tablespoons of flour in each level cup of all purpose flour with cornstarch. Like I said, I didn't do this and it might be why my cakes fell a bit after I took them out of the oven. They ended up a little dense and short, but so moist and delicious that it didn't matter.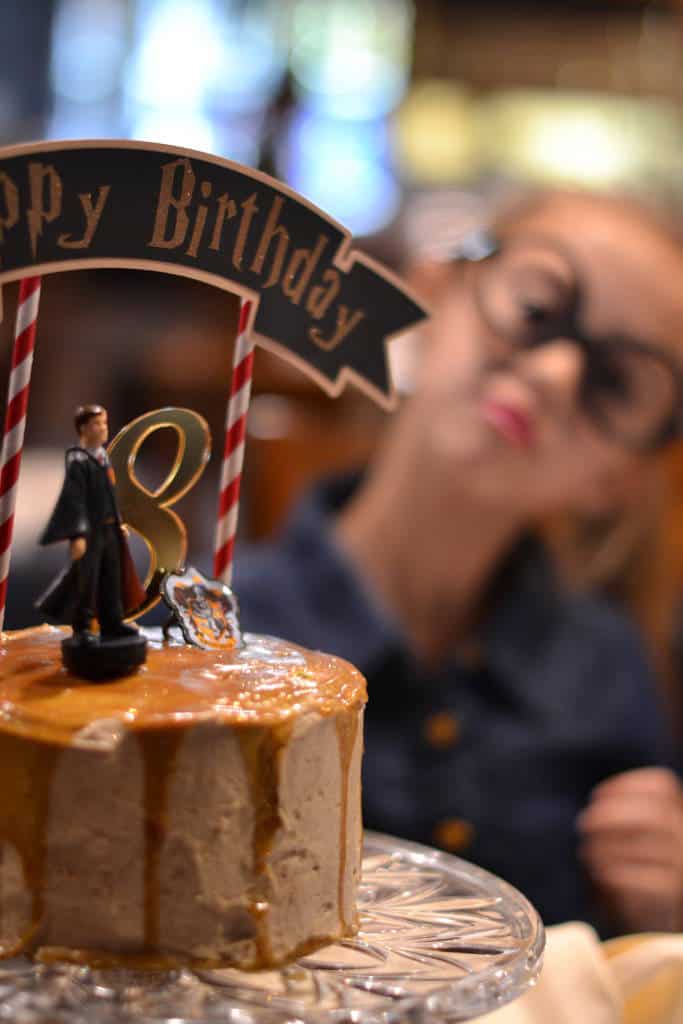 Also, the recipe calls for 3 six-inch rounds. That's a small pan people! This cake had about 8 servings so if you're planning for a party, you may want to double the recipe.
I tried the brown butter frosting in the link, but I didn't love it so I completely reworked it. I followed the recipe exactly, then I added ½ bag of powdered sugar, another 1/3 cup of brown sugar, 2 tablespoons of molasses, ½ a stick of butter Crisco, and a lot of salt from our salt grinder. The end result was a frosting that tuned out more like a salted caramel frosting and was really, really yummy. Even if you double the recipe and use 9-inch pans, my frosting recipe will be plenty to cover the three-layer cake.
I also used the recipe from the Eat & Say Yum for the butterscotch glaze, but before pouring it on top, I chilled it in the refrigerator for a couple of hours. Don't forget to cover the cake plate with parchment or waxed paper so you can keep your edges clean. Immediately after pouring it on top, I sprinkled gold disco dust on it, so that when it dripped perfectly down the sides, it brought the gold glitter with it. Magical.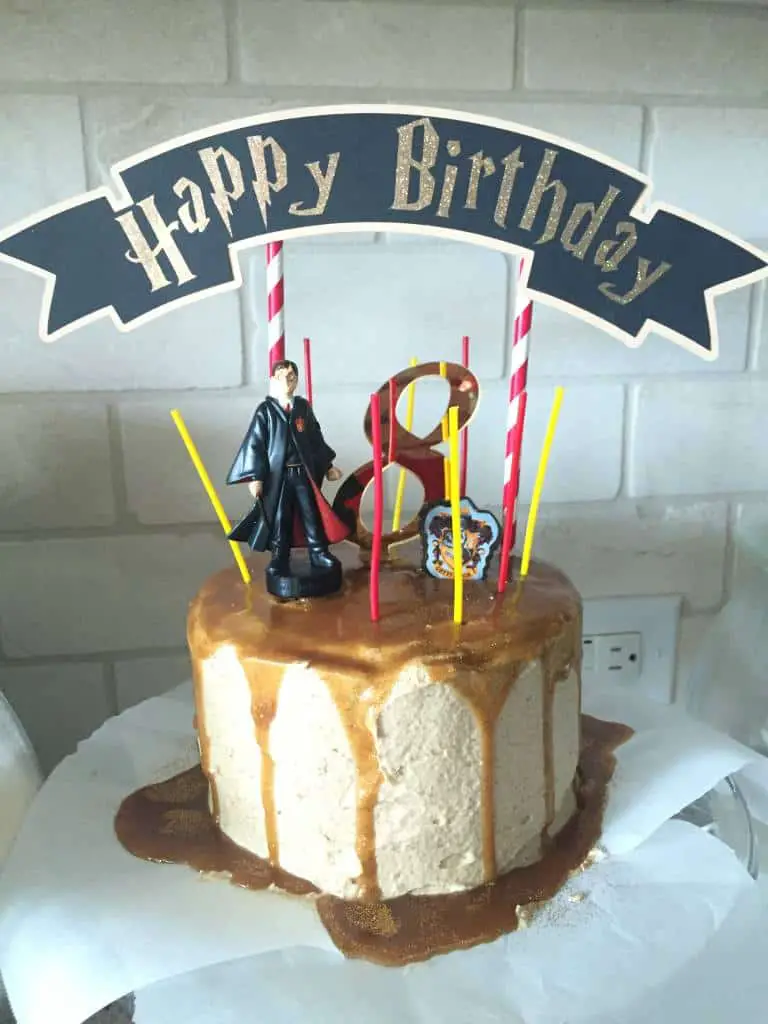 A birthday cake isn't a birthday cake without candles and toppers soooooo….. I grabbed a topper that I had ordered from Amazon eons ago,
fished out our Harry Potter glasses from the costume stash, added a mirrored 8 similar to this one (click to order one – affiliate link)
and made a sign with my Silhouette Cameo using cardstock, glitter vinyl and paper straws, and stuck in some sparkler candles.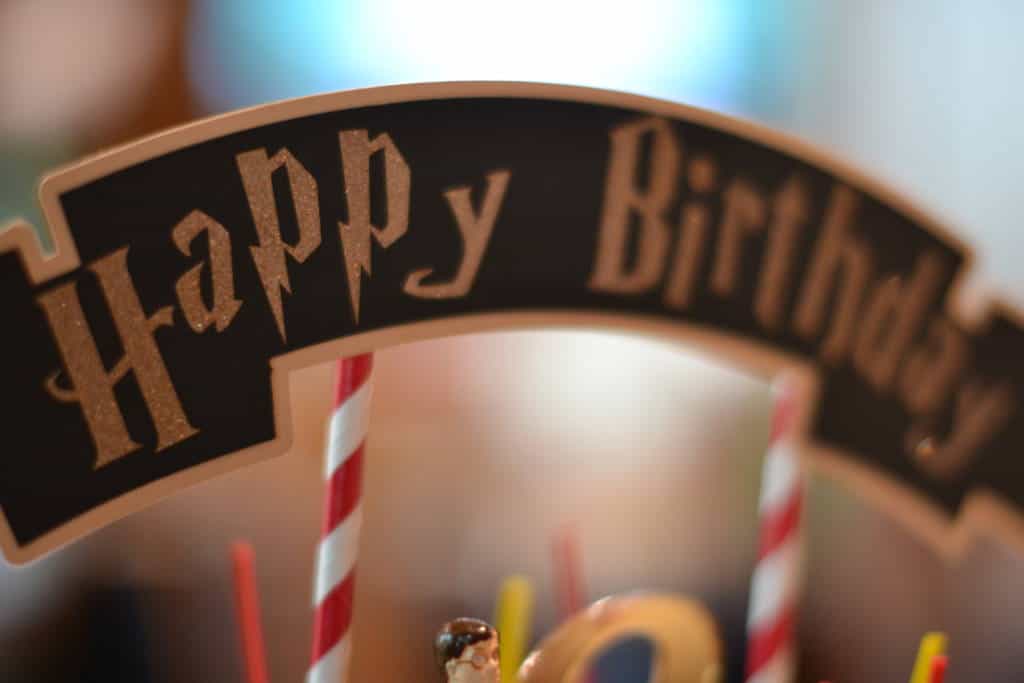 It wouldn't have turned out better if I had used a wand. Happy Birthday Cupcake!