I received a complimentary product to review. All opinions are my own.
I'll let you in on a secret. Sometimes I find it really difficult to be creative on demand. I'd love to say that I can just twitch my nose like Samantha (for those of you old enough to remember Bewitched) and make it happen, but true story, some days, it is HARD. And then some days your fairy Godmother (aka The Spa Girl Life) swoops in and sends you a Creativity Magnet kit as happy mail, and you're instantly inspired.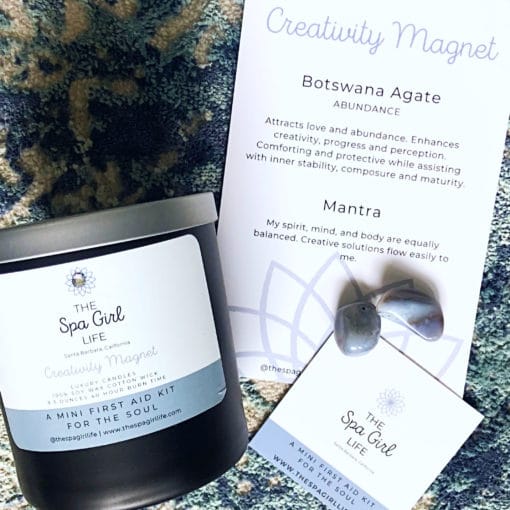 This "luxury first aid kit for your soul" from The Spa Girl Life includes the MOST AMAZING smelling soy candle and two Botswana agate polished crystals. They're all gorgeous. I keep them on my desk, and I can't tell you how often my hands reach for these cool grey stones to rub between my fingers while I'm trying to figure something out.
Why candles and crystals?
I'm guessing you're no stranger to the benefits of aromatherapy on your health and well-being. There's been much hype about it in recent years, but with good reason.
"Smell is the strongest of the senses and the only one that's directly connected to the brain. The smell receptors in the nose communicate with the same parts of the brain where memories are stored, where emotions are governed. It also impacts certain reactions in the body. This is why the inhalation of an aroma can instantly stimulate appetite, evoke a strong feeling, or remind us of a person or a place." — Puneet Nanda, quoted in Inc Magazine
Or.., in my case, offer a moment of instant relaxation to encourage those creative juices to start flowing again.
As for the crystals, this is a new realm for me. I've read that different crystals contain different healing properties. "According to experts, crystals act as a power hold for healing as they allow positive, fruitful energy to flow into the body and do away with the negative, toxic energy. Like other forms of alternative therapy, crystals work by channelizing your energy levels, thereby, focus on healing your body from the inside." (Read more: The science of crystals explained)
Yes. That, please. I'll take more of that positive, fruitful energy to drive out the insanity that is 2020. (Pinning this next: 9 Crystals You Should Keep At Your Desk)
So back to these gift sets. The Creativity Magnet that I received includes one 8.5 ounce (40 hour burn time) candle with soothing smells of clean cotton, lily of the valley, and hyacinth. Honestly, I don't even have to burn it. Just smelling it makes me pause and reset. If a candle could speak to you, this one would sing me a lullaby for days. I know not everyone loves every smell; however, this is a scent that I would put in my top handful of scents that I love the most. Remember how we talked about scent invoking a memory? This candle takes me back the smell of the lobby of the Fashion Island Hotel in Newport Beach, California — which is a highly secretive scent that they will not share with guests, no matter how many times you stay there or how much you beg to find it. Speaking of Beach, all of the Spa Girl Life products are from Santa Barbara, California, which is probably one more reason why I have an instant connection to it.
In addition to the candle, the Creativity Magnet gift sets contain a journal card that offers a mantra (if you're into meditating) and details the characteristics of the accompanying crystals. Mine included the Botswana agates, which are (according to The Spa Girl Life), "a crystal often used to enhance creativity, progress, and perception. They are comforting and protective while assisting with inner stability, composure, and maturity. It helps you to become more solution-oriented, which will, in turn, attract greater abundance." I'm a total noob with crystals, but I will say that they've found their way into my hands way more often than I ever would have predicted they could. And they're beautiful and match my decor. 🙂
Wellness gift sets for everyone
IMO, these sets would make the ultimate girlfriend gift at $39.95. With seven different versions, I bet you could choose the perfect one for your bestie:
Cosmic Karma – eucalyptus and mint candle + amazonite crystals for calm and harmony
Day at the Spa – island botanicals candle + sodalite crystals for intuition and insight
Glow from Within – ylang-ylang candle + citrine crystals for clear thinking
Hawaiian Sunset – sunny beach scent candle + amethyst crystals for healing
Moonlight Reflections – crisp linen scent candle + white howlite crystals for clear thoughts and organization
Radiant Love – gardenia scent candle + rose quartz for love
Sunrise on the Mountain* – plumeria scent candle + clear quartz for memory and inspiration
*Writing to Santa for this one because plumeria, jasmine, and lily of the valley are my jam. This set comes with clear quartz crystals which "helps with concentration, increases inspiration and creativity. Use it as a sponge to take away dark thoughts." Don't we know that 2020 needs a dark thoughts eraser more than anything?
You can find more about The Spa Girl Life at their website, or on their social media: Facebook, Instagram.
Do you collect crystals? Which ones? Which set speaks to you the most? I'd love to hear from you in the comments below!