Flowers for Teacher Appreciation Week are a fat-and-calorie-free way to say thank you. They are cute for sure, but if you'd prefer something that is cute and sweet, take a look at my apple cupcakes.
Sometimes, the Princess Cupcake and I don't see eye-to-eye on our creative endeavors.
Like I REALLY wanted to put a photo silhouette of her in these flower for Teacher Appreciation Week (like the soccer ball cake). I had two copies of the perfect photo of her in a pink flower dress with her pink cowboy boots on…
"NO MOMMY. The picture will get dirty!"
She would not be swayed. Believe me, I tried.
And that's okay. These were HER gifts for Teacher Appreciation Week. She picked out the flower pots. She picked out the flowers. It was Teacher Appreciation Week, Princess Cupcake style. All she needed me for was to pick up the bill.
And a couple other little details. Like I replanted the flowers and made the tags and the vinyl letters after she went to bed. I should have known that was my opportunity to make the photo silhouette darn it. Not in the morning after she saw it all looking pretty on the counter and stuff.
Next time…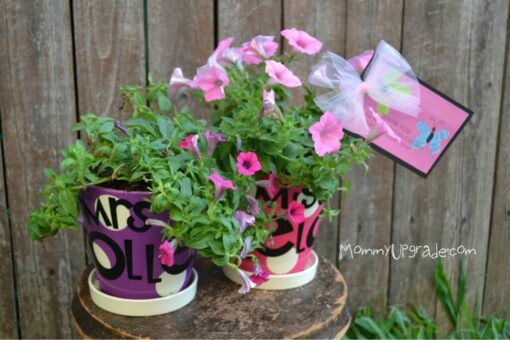 here's what you need:
Cute flower pot – these are from Michaels and are on sale this week for $3.99
Pretty flowers – these are from Home Depot and were $4.48 each
Scrapbook paper – I used butterflies but you can use anything
Cardstock – I used black
Lollipop stick or similar
Printer or pen
Glue stick
Holepunch
Tulle – approximately 12 inches
Tape
Cricut Machine (optional)
Vinyl Letters – I cut these with the Cricut but you could buy sticker letters or rub ons, use a Sharpie to draw it on or leave them off entirely.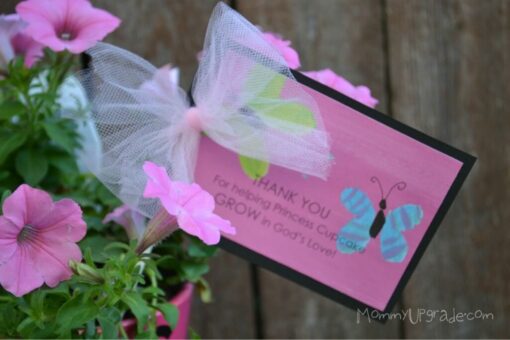 Here's what you do:
Replant the flowers into the pots.
Print on scrapbook paper, "THANK YOU for helping (fill in child's name) GROW smarter!" Ours says, "THANK YOU for helping Princess Cupcake GROW in God's love" because she goes to a private Christian school. But I realize that may not fly in public school but maybe if your child goes to Sunday school you could use it for a special teacher there.
Cut your scrapbook paper out and with the glue stick, glue it to the black cardstock
Punch two holes on the left side in the middle of your flag about ¼ inch apart.
Pull your tulle through the holes and tie a pretty bow on the front of your flag
Tape the lollipop stick to the flag
Stick flag in flower pot
I cut the letters out on black vinyl with my Cricut using the Holy Cow (ha, ha, no pun intended) on the Cuttin' Up cartridge. My settings were all on two. The Miss and Mrs were at 1-1/4 inch and the names were 2 inch.
Stick the letters to the pot and rub down with a popsicle stick.
Adorable flowers for Teacher Appreciation Week!