First Day of School Photo Frame
4:58 a.m. my eyes shot open. I had forgotten to set my alarm.
It's here.
Five years, 4 months and 5 days ago, I couldn't imagine this day ever coming.
In a blink of an eye, it's here.
It's the first day of school. I've never been more nervous.
I should clarify. It's the first day of school for the Princess Cupcake. Kindergarten to be exact.
Outside I'm all, "It's so exciting!" Inside I'm all, "Where did my little baby go?!"
Since I was up so early, I made her eggs and pancakes and took them to her in bed, helped her put her uniform and new tennis shoes on. We packed her "personalized" (read, covered in pink cheetah and zebra paper) school clipboard in her new My Little Pony backpack, and blankie just in case she got scared. But best of all… we couldn't forget to bring the photo frame for the first day of school pictures!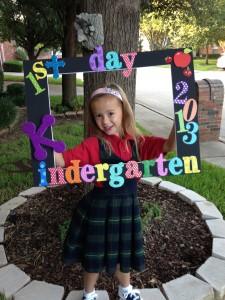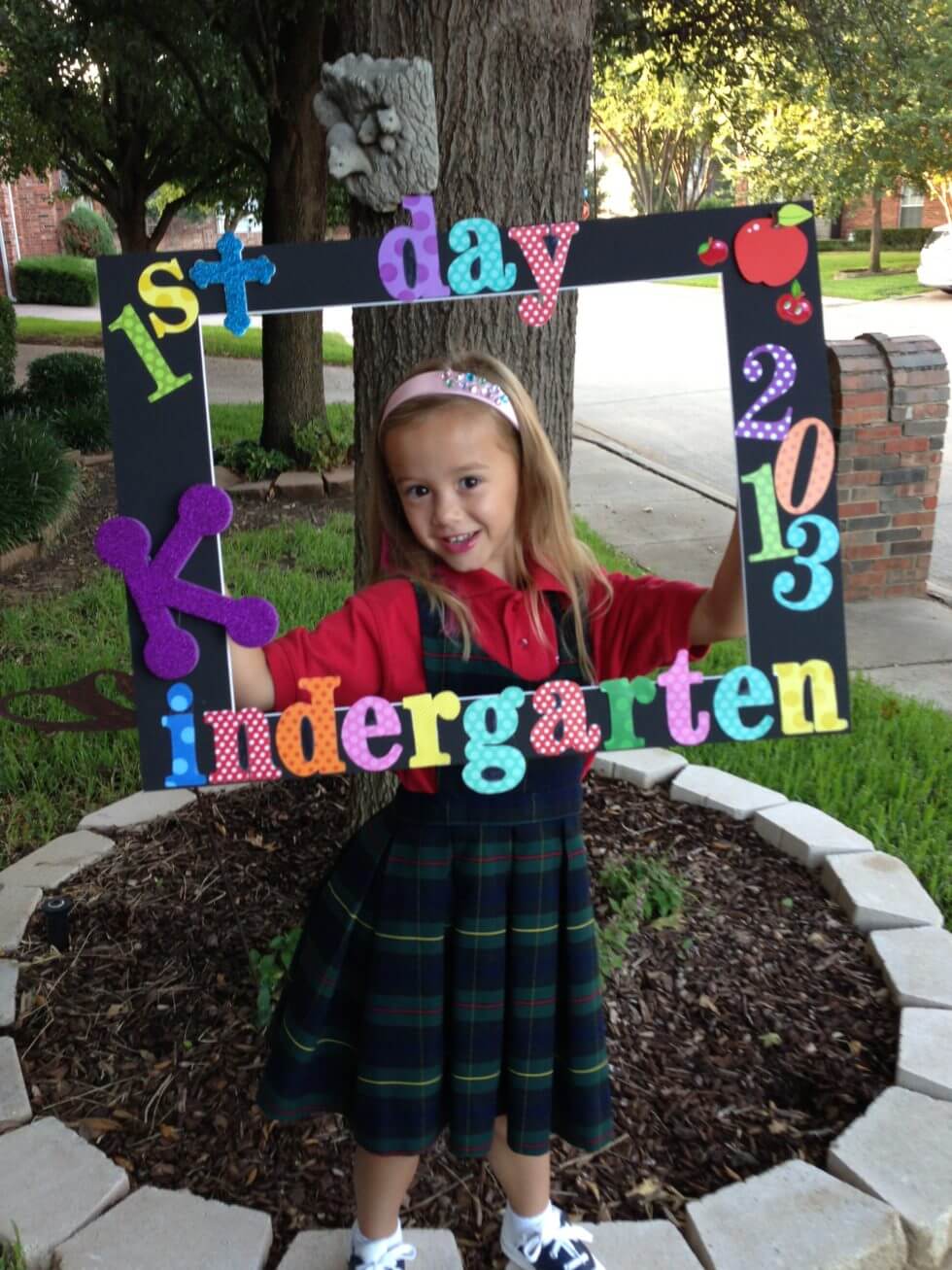 It's super simple to put together and so fun. My friend Christina actually set an reminder on her calendar a YEAR ago for us to make these. So going against my natural tendency to start a project like this at 10 p.m. the night BEFORE I need it, we got everything ready ahead of time.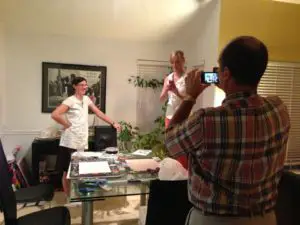 Look at us. We're so proud of our planning selves, we took pictures.
This was simple, you can do it too. Here's how:
Go to the craft store and buy the biggest packaged black mat from the photo framing section. (Alternatively, you could get foam board and cut out the middle with an Xacto knife, but this was way easier.) Grab some large alphabet stickers and apple stickers from the scrapbook section, a few wooden accents and an oversized letter from the wood crafts section (I glittered the crosses), and some mustache duct tape from the kids section. Well, it doesn't have to be mustaches but who doesn't smile when they see mustaches???
We cut out the letters we wanted to use and arranged them before sticking them down. (Heaven forbid you have a green next to a green…) Hot glue your wood accents, stick down your stickers, then flip it over and make handles on the back of each side for them to hold onto.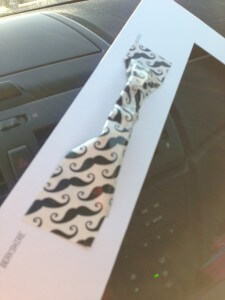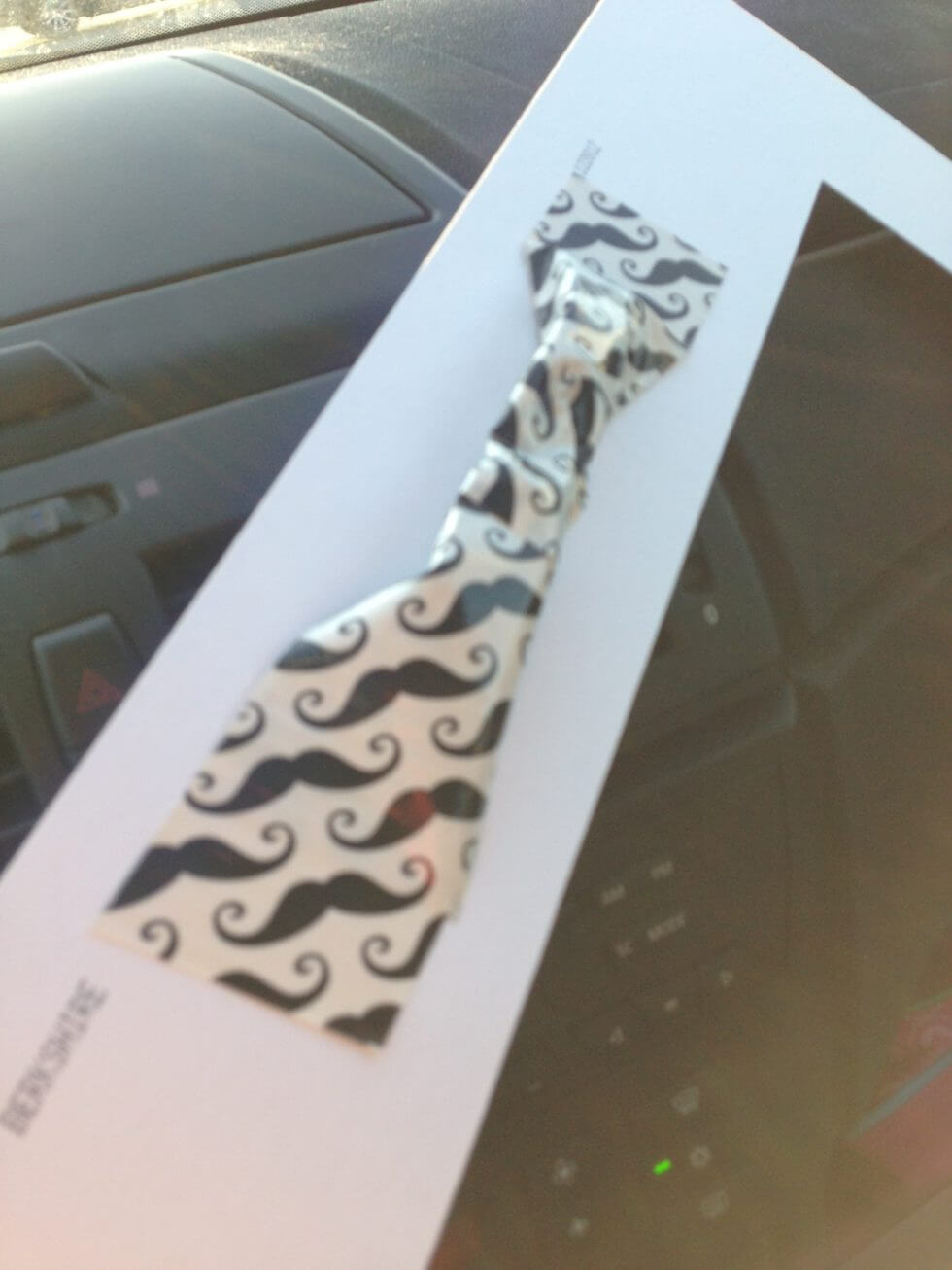 Remember to share you super cute frame with the other parents.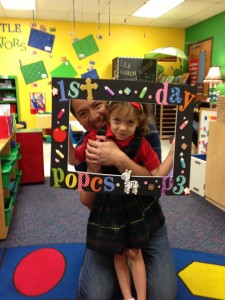 And it's more fun when you put friends in the frame too.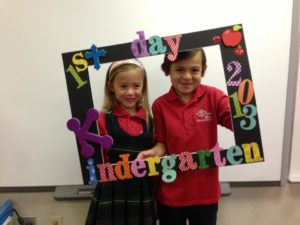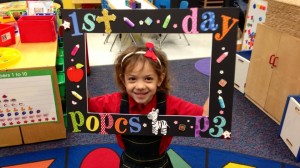 And the teacher. 🙂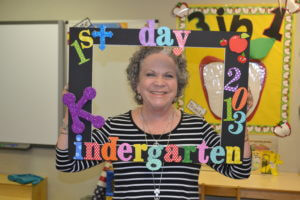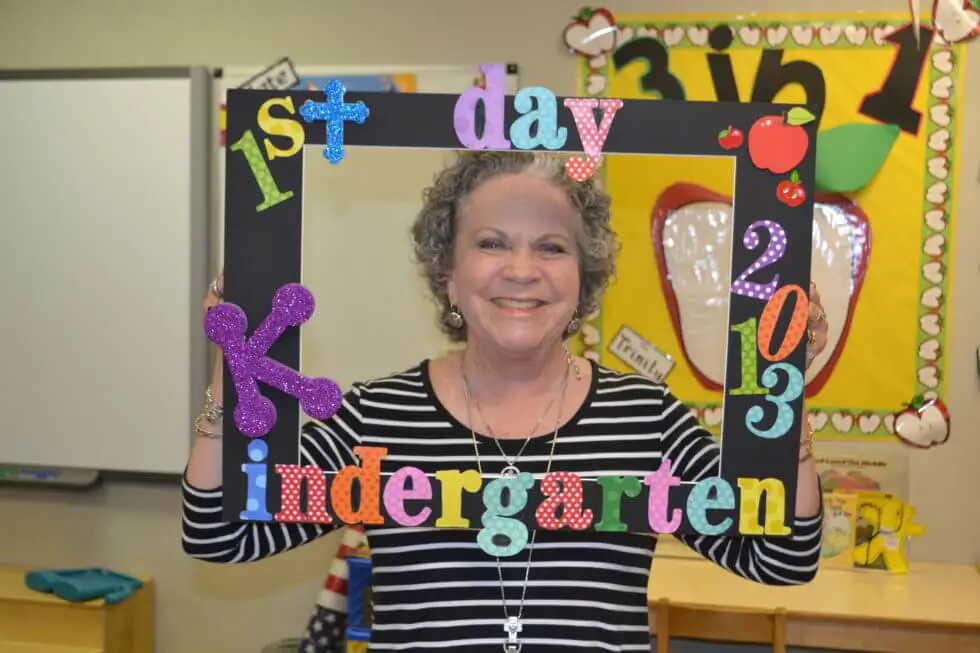 Happy 1st Day y'all!