When my friend Camille Burgoyne started asking 1001 questions that can only be described as a "This is Your Life" type interview, I had no idea what she had up her sleeve for our latest Craft Exchange. Her last Craftmas project was handmade baskets from outdoor chair straps. And she had a broken arm when she made them. Like, I'm not worthy of her, she's in another DIY league than me!
When she told me that what she made me took her 10 hours, I nearly fell out. My mind was spinning as to what she was putting together.
Then I saw what she had done.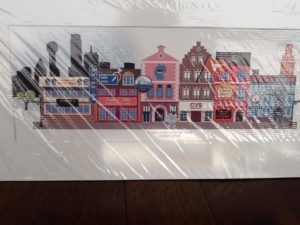 She took all these little bits of me and put them into a walk down Memory Lane. It's truly one of the coolest gifts I've ever received.
And all I could think of was how thoughtful it was and how much care she put into it. And where should I hang it?
Here's what Camille had to say about her project.
What did you make?
Memory Lane Pictures
Why did you choose it?
My sister ordered one for her husband and I loved it. I went to order one and saw it was $400. Like any good crafter, I thought "I can make that!" 
What materials did you use?
Adobe CS, mat board, and paper
Where did you get your materials?
I own the software. Hobby Lobby for the rest. 
Cost of materials:
$50 but I had to buy a mat cutter which was $20.
How did you make it?
I did most on the computer and then printed them out and made mats for each one. Each mat should be 10"x20" but each one came out a different size! Fyi…10"x20" is standard if you want to frame it. You may have to cut it down.
How long did it take per item?
It took about 10 hours for the first one and then 2-3 hours for each additional one.
If you made it again, what would you change?
I wish I had started it much sooner. I had big plans to do different buildings for each one, and find more images but I just completely ran out of time! 
Would you make it again and why?
Yes, I have had several people request one. So, I figure this will be my new go to bday gift for friends and family. I hope they weren't just being nice and saying that! 🙂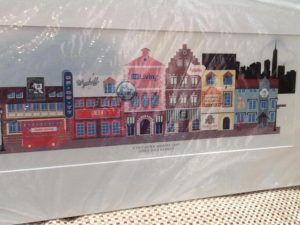 Uh no Camille, I can assure you, they are not!