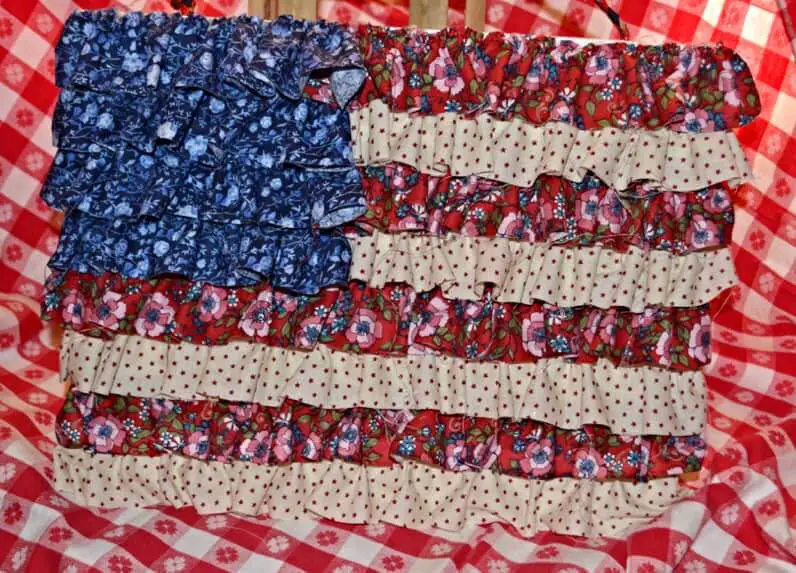 I love featuring my Craft Exchange peeps and their incredible projects. Here's the latest one from Debbie — she's one of our expert sewers, but this project doesn't HAVE to use a sewing machine. You can make this by hand, it would just take a little bit more patience. Remember, our theme for this exchange was 'AMERICANA' so Debbie made these pretty vintage vibe ruffled flag decorations that would be great for July 4th, Memorial Day, Labor Day…
Here's the side view.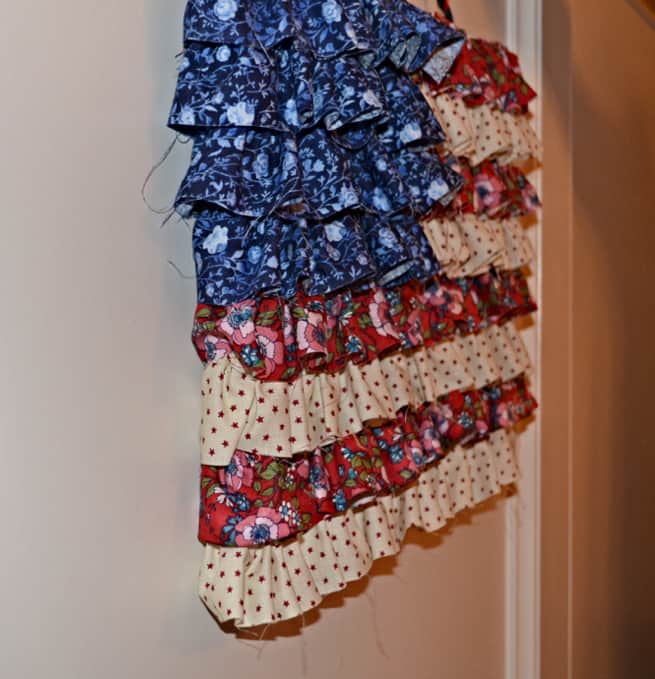 Aren't they just too cute? I love these!
In her words, here's her inspiration and how-to tips!
What was your inspiration for this project? 
 I thought it was cute! This was my "pinspiration" from Crafts 'n Coffee. 
What materials did you use?
Fabric, and a canvas backing 
Where did you get your materials?
Jo Ann & Hobby Lobby & my closet for fabric and Hobby Lobby for the canvas
Cost of materials?
About $8 to $10 per Flag. As usual I have too many supplies left over!
How did you make it, step by step?
Cut the fabric into strips and then cut the correct length
Basted one edge of the fabric strips
Ruffled the fabric, measuring to make sure I had the right length
Glued the fabric strips to the canvas
Made a hanger out of burlap, ribbon, scraps of fabric
Done!
How long did it take per item?
1 ½ – 2 hours. The first one was a fail as I tried to use lightweight foam for the backing but it was too floppy. I did not want to use the Styrofoam as it showed in the Pinterest version as I worried about breaking during shipping. The canvas was just the right touch.
What was the hardest part about making this?
Not really anything although ruffling the fabric was time consuming.
What was the funnest part about making this?
It may sound weird but I liked ruffling the fabric, which I did while watching TV
Do you like it?
I do, but not quite as much as I thought I would
If you made it again, what would you change?
I would make a   larger flag, and would wash the fabric strips so they would soften and fray more. I was hoping for more of a Shabby Chic flag look 
Would you make it again and why?
I would – it's a cute Holiday decoration and also suited for my parents room at the retirement home and nursing home.
LOVE THESE! Thanks Debbie!!!