Guess what I'm doing this week. Taking a vacation (YAY) but we aren't going anywhere (BOO), thank you COVID-19. It's not awful, I mean DFW is a pretty fabulous place to live and lots of people come here to visit, so I can actually pretend to be a tourist and take a staycation right here on the cheap.
If you're like me, and the walls are closing in on you at home, but you still want to socially distance, you DO have some pretty cool options. My friends at hpd architecture + interiors put together a fabulous self-guided tour of the art and architecture in DFW. Given their knowledge of and passion for historic preservation, you can bet their list makes a great primer in the design and architectural history of the area.
Will the pandemic rules ever end? We know you're looking for interesting things to do that don't warrant a crowd and still allow you to socially-distance from others. As architects, we have a passion for art and design, so we thought we'd share our list of architectural and artistic interests so that you can use it to prepare a self-guided design and architecture tour of DFW for you and your family. Here are our 18 outdoor design picks: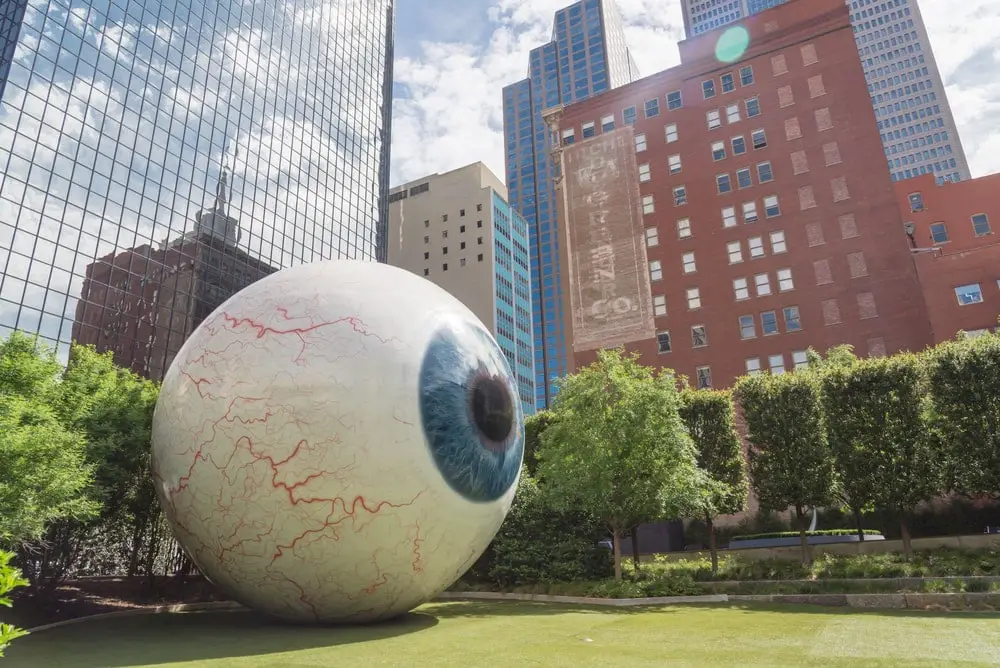 THE "EYE" SCULPTURE ON MAIN STREET
Ever feel like you're being watched? Well if you take a walk along Main Street in Dallas, a 30-ft. tall, realistically rendered fiberglass sculpture of a human eyeball will watch over you. The "Eye" sculpture was created by contemporary artist Tony Tasset and sits across from The Joule Hotel. The sculpture is modeled after the artist's own eyeball! It joins the hotel's collection of contemporary works, including Dan Rees' "Shaker Peg Painting," Tony Cragg's "Outspan," Callum Innes' "Untitled," Andy Warhol's "Electric Chairs," and more.
BUSH LIBRARY TEXAS ROSE GARDEN
The George H.W. Bush Presidential Library and Museum is the presidential library and burial site of the 41st President of the United States, and his wife Barbara Bush. The museum includes family-friendly and educational exhibits that tell the story of the life and times of President Bush. The interactive tour includes replicas of President Bush's Camp David Office and White House Press Room. Guests can also receive a briefing on the Gulf War in the Situation Room and have their picture taken while seated at an Oval Office replica desk. There is also a special section dedicated to First Lady Barbara Bush. You can click here to check the status of the reopening of the Bush Library and Museum following COVID-19.
CEDAR HILL STATE PARK BIKE TRAILS
The Cedar Hill State Park includes the Dorba mountain biking and hiking trail, and the Overlook, Duck Pond, and Talala hiking trails. The paths of the Dorba Trail pass through wooded areas but are fairly open for much of their length and is touted as one of the top mountain biking trails in the state. Overlook Trail includes a nice view of Joe Pool Lake from its lookout, while the Talala trail winds through open fields, wooded areas, and small gullies. The half-mile Duck Pond Trail passes through small open fields, forest habitat, over a few bridges, and along the edge of Duck Pond. It is the shortest hiking trail in Cedar Hill State Park. Dogs are allowed on the trails provided they are kept on a leash. Check the status of the trails before heading out by calling 972-291-3900.
DALLAS ARBORETUM & BOTANICAL GARDEN
This 66-acre urban oasis located on the shores of White Rock Lake includes a complete life science laboratory with endless potential for discovery. The Arboretum has been listed among the top arboretums in the world and has received numerous accolades. It also has one of the country's premier children's education programs. Families will find many family-oriented activities. You can view their events here.
The Arboretum reopened on June 1st and they have temporary guidelines for visitors on their website including the requirement for pre-purchased tickets. Visit their Know Before You Go FAQ page for more information on reservations.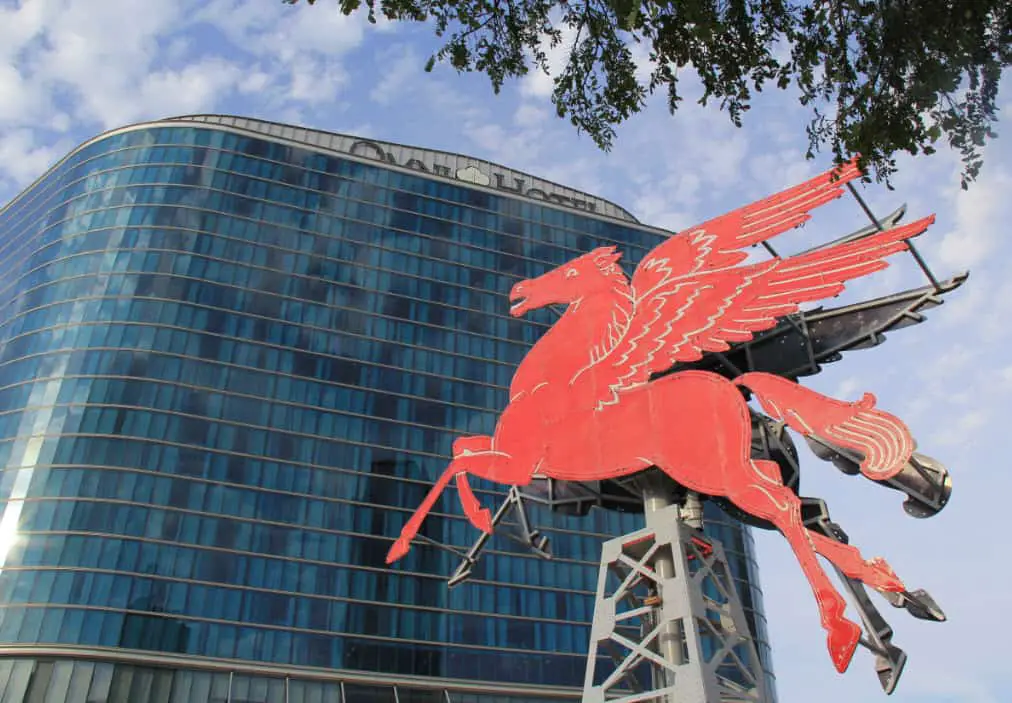 The restored porcelain and neon 1934 Pegasus sign that now stands outside of the Omni Dallas Hotel used to soar over downtown Dallas from atop the 29-story Magnolia Building. It was the highest point on the Dallas skyline for many years. Rusted and decrepit, the sign was taken down from the Magnolia Building in 1999, and a new $600,000 Pegasus sign took its place on January 1, 2000. In a wonderful recovery effort recounted here, the original sign (comprised of three dozen massively oxidized pieces), was found, restored, and ultimately installed on a makeshift oil derrick in front of the Omni. Originally conceived as the symbol of Magnolia Oil, the "Pegasus" has become the emblem of Dallas' – its Gateway Arch.
DALLAS CITY HALL PLAZA & THE "DALLAS PIECE" SCULPTURE
Construction on Dallas' City Hall began on June 26, 1972, under the direction of Contractor Robert E. McKee and Architect I.M. Pei. Pei's inverted pyramid design was a result of space requirements imposed by Dallas' city government. The city also acquired the six acres in front of the building to be used as a plaza. You'll find Henry Moore's three-piece abstract bronze sculpture (resembling vertebrae) titled "The Dallas Piece" outside of City Hall. It was cast in 1978–79, specifically for Dallas' City Hall.
DALLAS HERITAGE VILLAGE AT OLD CITY PARK
Walk in the footsteps of North Texas' early settlers at Texas' largest and finest collection of 19th-century pioneer and Victorian homes and commercial buildings. The buildings are authentic, historic structures that were moved from areas around North Central Texas to Dallas' first city park. The museum was called Old City Park when it opened in 1969. It is currently a living museum where first-person interpreters speak in the roles of people from Dallas' pioneer days. Approximately 50,000 people visit Dallas Heritage Village every year.
Fair Park is the most visited attraction in Texas with over 5.3 million people visiting annually. It is also a State and National Historic Landmark. It is located two miles east of downtown Dallas and is home to the Texas State Fair and other park attractions including Music Hall, Dos Equis Pavilion, Band Shell, Texas Discovery Gardens, Cotton Bowl Stadium, the Children's Aquarium, and the African American Museum.
Be sure to check out the creative statue, Woofus, which stands outside of the Swine Barn (Livestock Building No. 2). According to Friends of Fair Park, it is, "a mythological chimera made up of the main staples of Texas livestock" including, "the mane and neck of a horse, a turkey tail, pig body, duck wings, a sheep's head, and of course, a pair of Texas longhorns." The statue was created in 1936 for the Texas Centennial Exposition in Dallas.
Guests will also enjoy visiting the Saggitaria Platyphylla statue by Patricia Johanson at the Leonhardt Lagoon. This walkable sculpture bridge is internationally known as an influential piece of Eco-Art.
Finally, be sure to build in some time to visit the Hall of State, a building that commemorates the history of the state of Texas. It was also designed and built for the Texas Centennial Exposition. It is considered one of the best examples of Art Deco architecture in the state.
Founded in November 1988 by William E. Cooper, Kay Bailey Hutchison, and Jan Collmer,
the Frontiers of Flight Museum features early biplanes, and historical military, commercial, and general aviation planes, as well as a World War II exhibit. Guests can take a chronological walk through the development of human flight, enjoy viewing airline artifacts, and also learn about the history of Southwest Airlines. The museum is also an affiliate of the Smithsonian Institution.
JOHN F. KENNEDY MEMORIAL PLAZA & MUSEUM
This monument was erected in 1970 in honor of President John F. Kennedy. It was designed by noted architect and friend of the Kennedy family, Philip Johnson. It is a very important part of Dallas' urban landscape and cultural heritage. The Museum, located within the former Texas School Book Depository building, chronicles the 1963 assassination of President Kennedy. The
Museum's store has items inspired by the 1960s, books, documentaries, and special gift items. You can plan your visit and review special exhibits and museum events here.
John Neely Bryan was a Tennessee settler who built his cabin near the Trinity River in hopes of establishing and developing a permanent settlement in North Texas. He has been credited with organizing Dallas County in 1846. The pioneer cabin named after him located in Pioneer Plaza is a replica of Bryan's tiny, one-room, house. The original home was destroyed by a flood in the 1930s. The cabin can only be viewed from the outside since its door is locked. However, visitors can also visit the nearby Sixth Floor Museum at Dealey Plaza, the Old Red Courthouse, and the Dallas Holocaust & Human Rights Museum while in the area. Be sure to check out their individual websites for reopening information.
Designed by award-winning landscape architect Jim Burnett, this 5-acre deck park was built over a recessed eight-lane freeway. According to the Klyde Warren Park website, Burnett's design is, "meant to create a sense of discovery as you move to the different "rooms" throughout the 5-acre park." Check here for daily events and upcoming movies in the park.
Note: Game cart operations are suspended, and the Children's Park remains closed at the time this blog was posted.
PENN FARM AGRICULTURAL HISTORY CENTER
This history center located in Cedar Hill State Park pays tribute to the disappearing Texas family farm. John Anderson Penn settled in the rugged, cedar-covered hills of the Cedar Mountains in 1854 and established the Penn Family Farm. Remnants of his original farm are still intact at Cedar Hill State Park. The center gives guests a glimpse into rural life from the mid-1800s through the mid-1900s, including farm machinery, as well as reconstructed and historic buildings.
This large public park is located in the Convention Center District of downtown Dallas and features sculptures, a waterfall, man-made cliffs, native plant life, and the adjacent Pioneer Park Cemetery and Confederate War Memorial, Pioneer Plaza was initially owned by the Texas Trees Foundation and was given to the city years ago. The bronze art sculptures depict a cattle drive featuring three cowboys and a herd of forty longhorn steer.
SWISS AVENUE HISTORIC DISTRICT
The Swiss Avenue Historic District is a residential neighborhood in East Dallas consisting of the Munger Place addition, one of East Dallas' early subdivisions. The four-block-long 57-acre district runs between Fitzhugh Street and a little north of La Vista. The District contains America's largest number of Prairie-style homes (inspired by Frank Lloyd Wright), as well as
Colonial Revival, Tudor, Italian Renaissance, Spanish, Queen Anne, and Craftsman homes.
The Trinity River Audubon Center is a large urban open space and the gateway to the 6,000-acre Great Trinity Forest— the largest urban hardwood forest in the U.S. According to their website, the Audubon Center boasts of a "diverse community of plant and animal species and contains a unique mixture of bottomland hardwoods, wetlands, and grasslands." Visitors will enjoy an array of birds and wildlife, as well as hardwood forests, ponds, wetlands, and prairie ecosystems.
TURTLE CREEK PARKWAY
Established in 1913, Turtle Creek Parkway is a 23.7-acre linear park almost two miles in length that connects more than 86 acres of parks and playgrounds. The Parkway was a key component of George Kessler's "A City Plan for Dallas," and local landscape architect Joe Lambert, Jr. was instrumental in creating the experience. Turtle Creek Parkway includes a nature observation platform, trails, benches, and drinking fountains. Guests will also find limestone outcrops, dammed lakes, and parks, and forest areas along the path of the creek.
Get out and get active in an urban setting complete with natural and wildlife areas. Located approximately five miles northeast of downtown Dallas, White Rock Lake is one of the most heavily utilized parks in the Dallas Park system. Visitors can enjoy the following during their visit:
9.33-mile hike and bike trail
Paddleboard, canoe and kayak rentals at Winfrey Point and Big Thicket
Bath House Cultural Center (one of the first Art Deco buildings in the southwest)
White Rock Lake Spillway
Audubon Society bird-watching area
Wetland
Dog Park
Picnic areas
Pavilions (available for rent)
Piers
Boat ramps
Kayak concession
Thank you to hpd architecture + interiors for putting this great list of recommendations for a self-guided architecture tour of DFW and thier permission to republish it.
If you enjoyed this list, also check out this new website featuring art in Plano. You can choose "walk with kids" or "walk with adults" to customize your self-guided tour. You might also want to take a look at our Out and About in North Texas section for other things to see and do in the surrounding area.
Do you know of other family-friendly outdoor tours? Share them in the comments below!