Oh, Summer.
How we love your sun-drenched 100+ degree days. Jumping into that pool is so much more refreshing when you can sweat your patootie off from just standing still.
Everyone wants to a dip in the pool or lake to cool off – and that includes our four-legged fur family. They love to play in the water just as much as we do.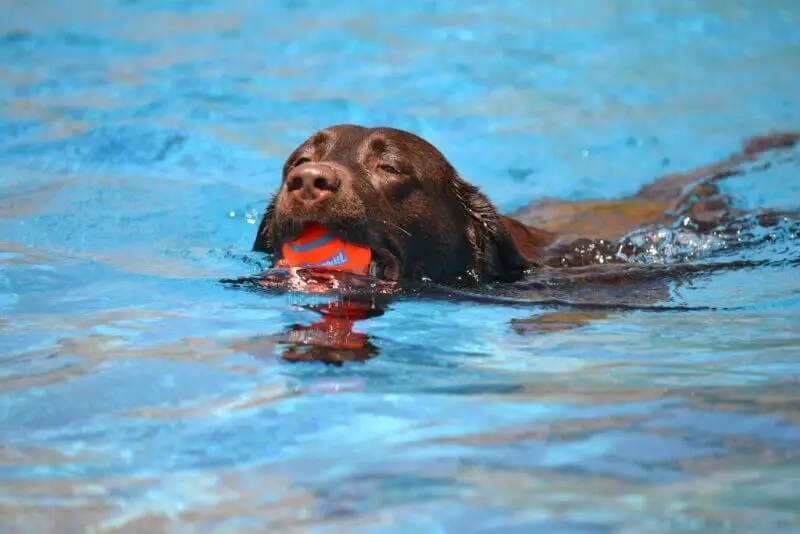 Sometimes even more. And we love to have them a part of our summertime fun. Just as you'd keep a keen eye on your little one around the water, you need to keep the same watchful eye on your pets. And that's why we're talking about Pet Pool Safety today. Here are 5 essential things to remember for pet pool sawhen your pups are poolside with you.
1) "All dogs can swim" is a myth. Some dogs can't swim. Some dogs… like our pugs (and other short nosed dogs)… are not really built for swimming. Their barrel chests make them very top heavy and therefore a bit panicky when they venture into the water. That doesn't mean they can't have fun too though. Patience to get them used to the water, and these fab life vests from PETSMART give me the peace of mind that the if the puggies fall into the pool by accident, or even if they want to swim independently, they can.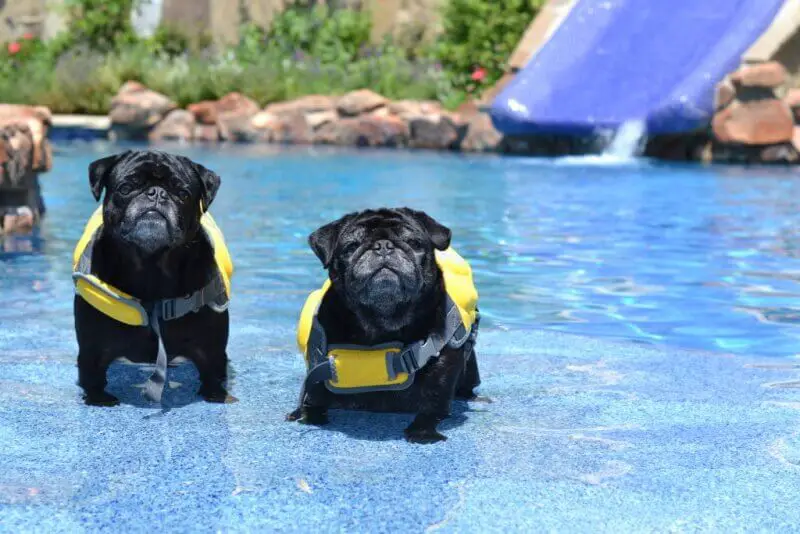 I love the bright color and handles on the back. If we were to go boating, I'd relax about bringing them along knowing they are wearing floatation devices that I can easily grab if they were to go overboard. You can find these neoprene vests from Top Paw® on PETSMART.com.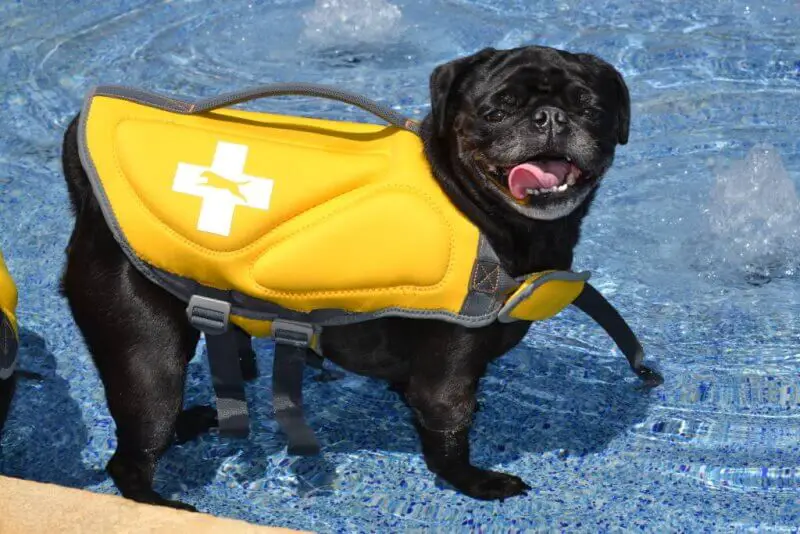 2) Dogs love water toys, but they get tired in the water too. Just like your kids can swim and swim and swim and swim and not realize how tired they are or just don't want to get out even though they are beyond exhausted… the same for dogs. If your dog loves to swim with your family, make sure you have regular breaks for him to catch his breath and not over do it. Tired dogs are more susceptible to drowning so NEVER leave your pet swimming alone, but by all means, include him in the fun when you're there! Here are a few of Delilah's favorite Chuckit!® Toys.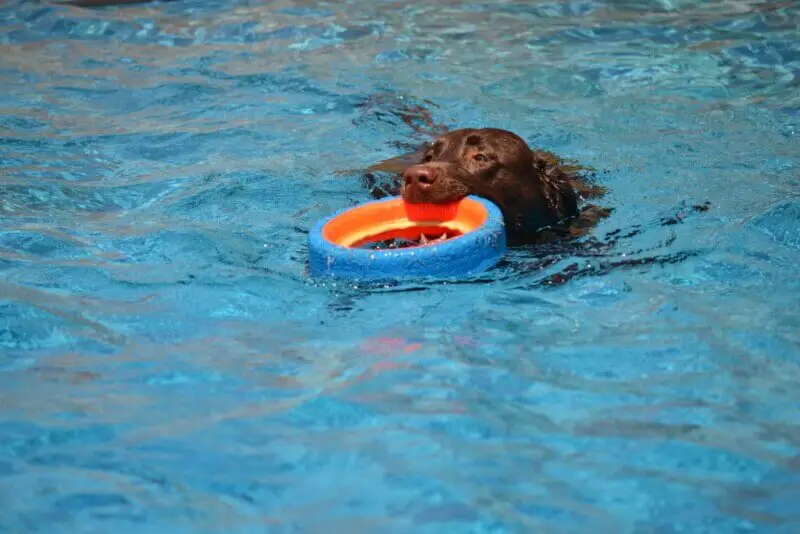 Don't even think of keeping the Fetch Wheel dog toy from her.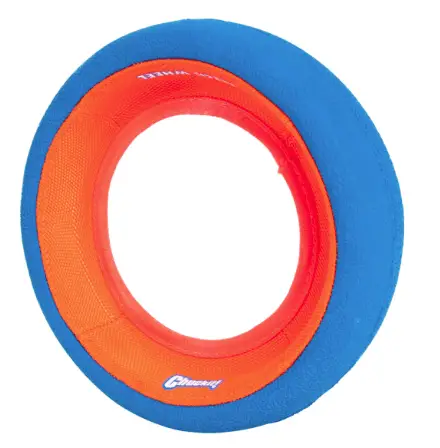 I love them because they're so brightly colored. She loves them because they're so fun to hold.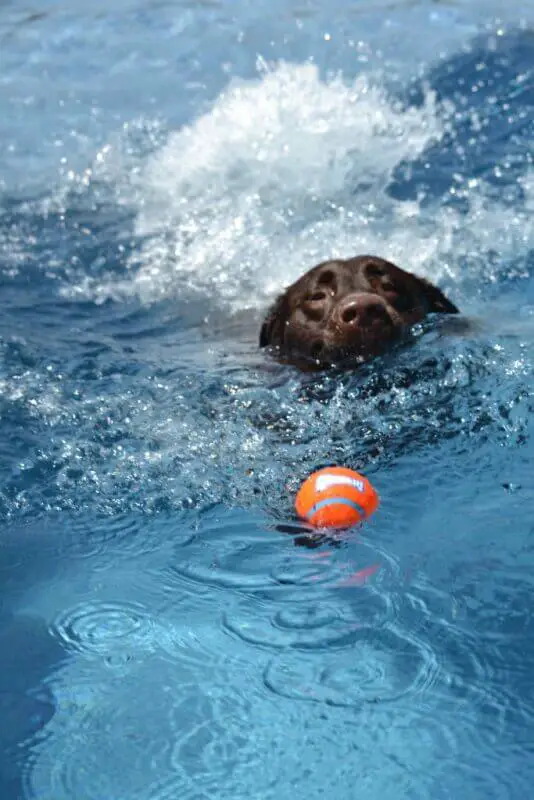 I think the Zipflight Dog Toy is fun to play with and I love that it comes in puggie size, and Delilah size.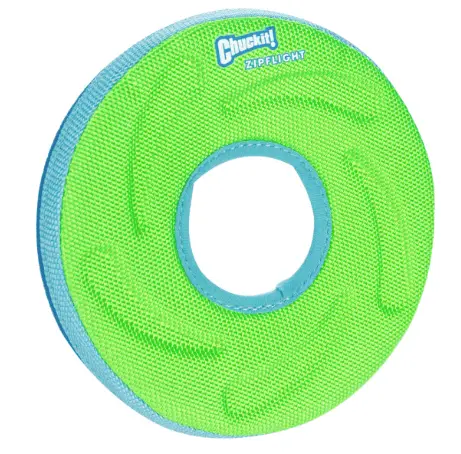 3) Summertime tile and concrete is SUPER hot on little paws! Ever seen your dog dance around on the hot flagstone? Beignet jumps like she's walking on a stove. Their feet are sensitive like yours but unlike you, your puppy doesn't have flip flops to wear. Check out these Top Paw Soft Sole Fleece Outdoor Dog Bootie Set. They could save the day for the summertime walks around the neighborhood.
4) The sun can hurt their eyes. Pools, lakes, oceans are super reflective. If you're squinting, it's a good bet your dog is squinting too. They don't have the option to throw on a pair of shades, but you can help them by getting them some Top Paw® K9 Goggles.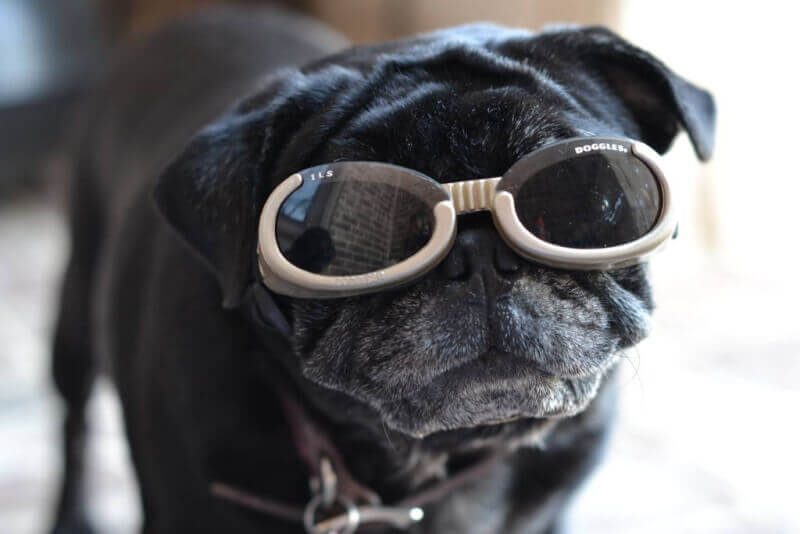 I'll admit, these are somewhat of an acquired taste for some dogs, (bribing with dog cookies helps) but once they see how much they help in the blinding sun, you'll probably have them convinced. Try these from Top Paw®: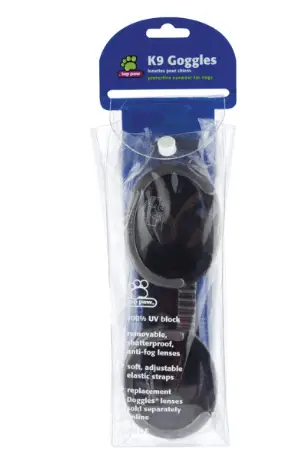 5) Dogs can get sunburned. For realz, your dog can get a sunburn. The puggies LOVE to sunbathe, but we have to watch how long they're in the hot sunshine. Black fur just soaks up the sun and the white furred puppys have skin that's super pink and especially sensitive.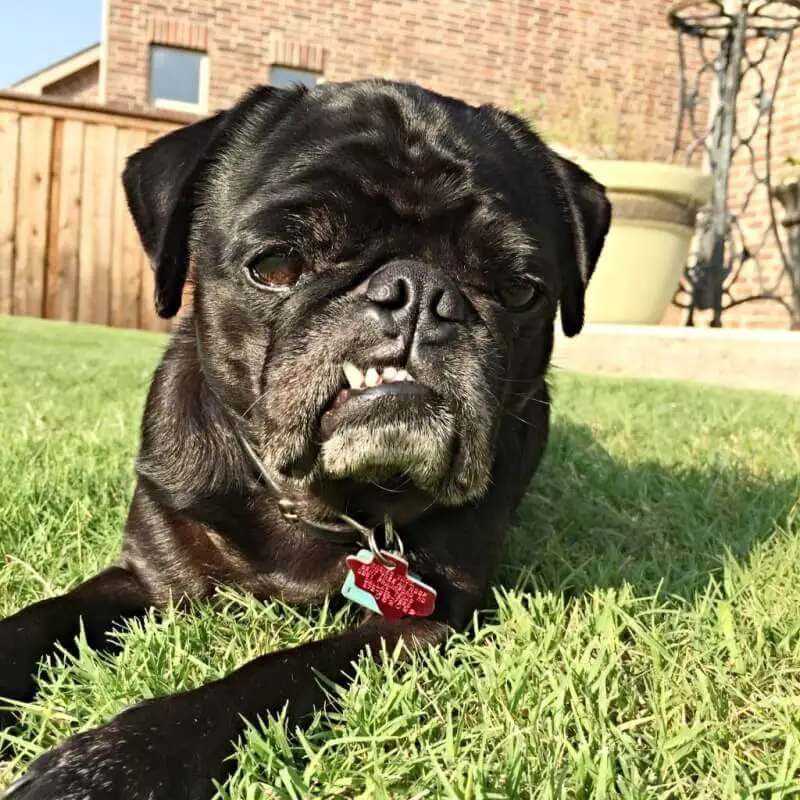 Try this GNC Dog Essentials Sunscreen made with natural ingredients to protect your dog's skin from the harmful rays. Remember to reapply as often (or more) as you do your own sunscreen.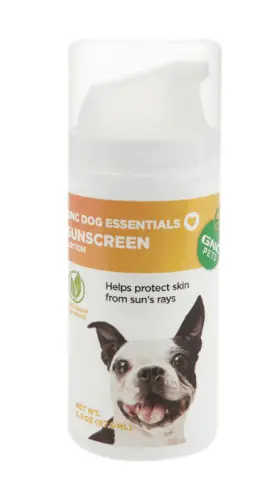 If sun shirts are more your thing, you could also get one of these cute swim tanks for your littlest fashionista from Martha Stewart Pets.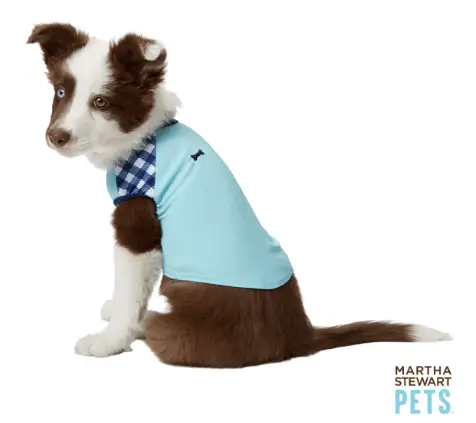 Dogs + Pools are fun for the whole family. Check out PETSMART's Passport to the Dog Days of Summer with lots of fun activities and products to keep your pets safe and happy all summer long! Want more helpful tips about keeping your dog safe around water? Or how to keep them cool? They have that too.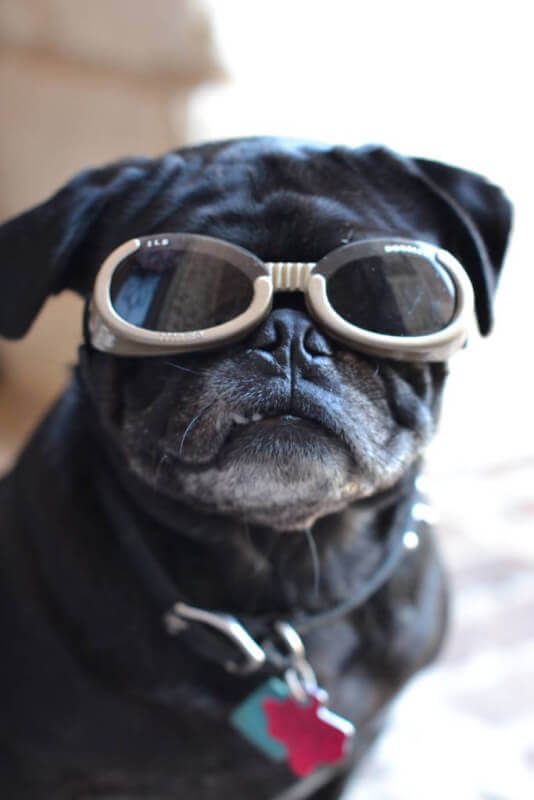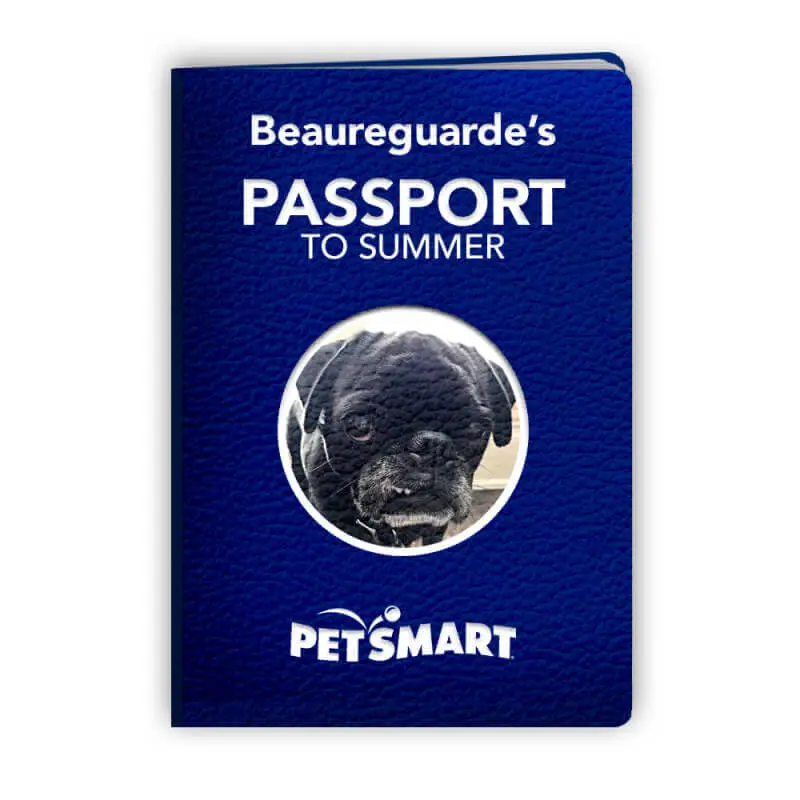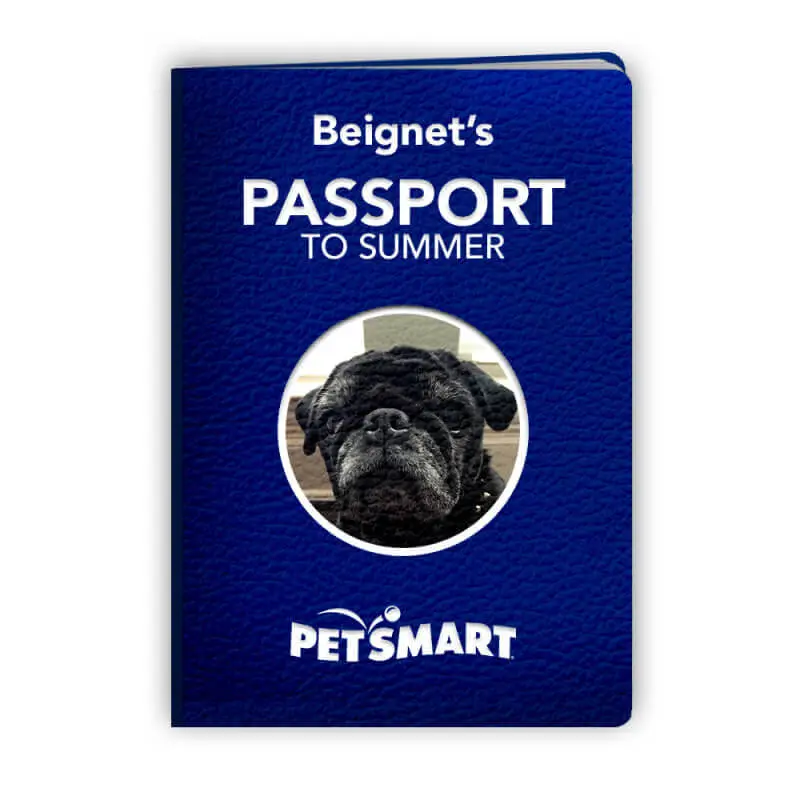 THANK YOU to PETSMART for sending the puggies a summer fun box of toys, safety floatation devices and gift card! Even though we received these as compensation, all opinions and tips are my own. I want to also thank Delilah and friends for helping with our photo shoot. Muah!