Does the Zodiac Academy series deserve its description as the adult version of Harry Potter?
Ok, so I'm more than four books and 2,430 pages into the massive Zodiac Academy series co-written by sisters, Caroline Peckham & Susanne Valenti, who define their writing as, "…dark romance and characters who will break your heart, stomp on it and laugh over the pieces before putting them all back together in the end." I mean, if that doesn't get your attention, what will?! 
Anyway, these are my early takeaways to pass along to any potential readers who've not yet started—with "early" being somewhat relative considering the aforementioned number of pages I've already consumed.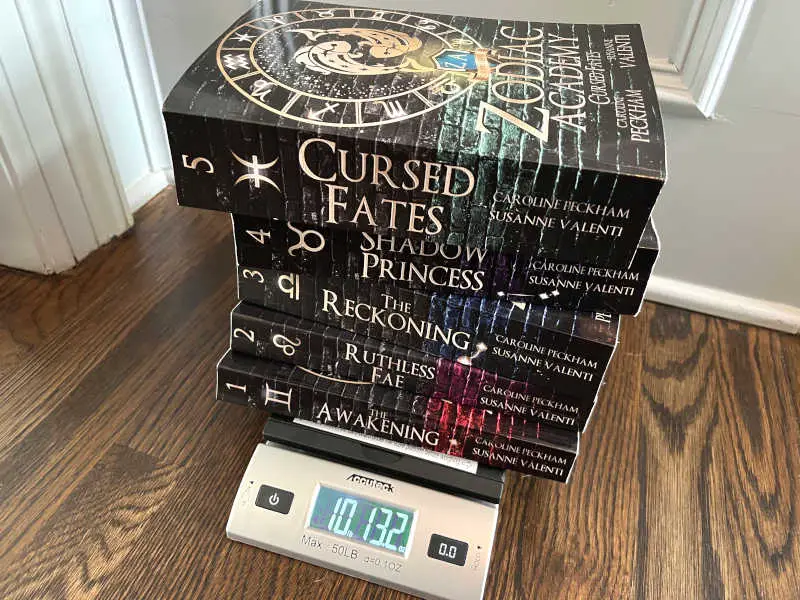 Big, heavy books
Allow me to open with a comment completely unrelated to literary analysis yet essential to know for any readers who, like me, tend to walk around or travel with several books in their backpack, purse, or satchel. These books are heavy, like…really heavy. If you decide to get invested, then be prepared to beef up those biceps and shoulders. The first one will get you hooked and it's normal size but watch out as you go in deeper. On the plus side, carrying these books around qualifies as legitimate exercise, but you may exceed the bag weight limit at the airport. Obviously, the books are heavy because they contain so many pages. I guess we should appreciate the tremendous commitment of these authors to tell a full story, but be forewarned, the size of each book can make it challenging to hold—especially if you enjoy turning the pages of a novel with one hand while holding a latte or a glass of wine with the other. You'll need to monitor weight distribution to avoid dropping either the book or the drink or, in the worst-case scenario, both. Been there; done that. More than once.
Cost per book
While I'm focused on this aspect of the Zodiac Academy series, let's talk about cost. Those of us enthralled with the series are now a captive audience, and the longer the book the more expensive it becomes. I paid $30 for book #5, and that was with a discount. Granted, it's 900 pages which is essentially three "normal" books, but if you're committed to the series in its entirety, the costs add up. Thank goodness they aren't in hardback.
Readability
Ok, one more comment disconnected from the literary merits of the book(s). This criticism may sound petty, but the quality of the books as a manufacturing product was disappointing – at least initially. A decent chunk of pages from my copy of book #1 fell off the binding the second I started reading it. Hoping this copy was an outlier, but I wasn't too pleased when it happened. And, while I'm fixating on design choices, two more points. Why are the pages of the books different shades of white? Furthermore, each chapter begins with a dark charcoal-colored page featuring the reverse, white font with a constellation design on top of it. By "it," I mean the words too. Stylistically, I'm here for the departure from the typical but….(here's where I sound whiny) I usually read at night which makes reading those pages even more difficult. Granted, I'm also old enough to need readers but still…the publisher made an artistic decision that didn't account for every reader's experience. Maybe I'm not the target audience?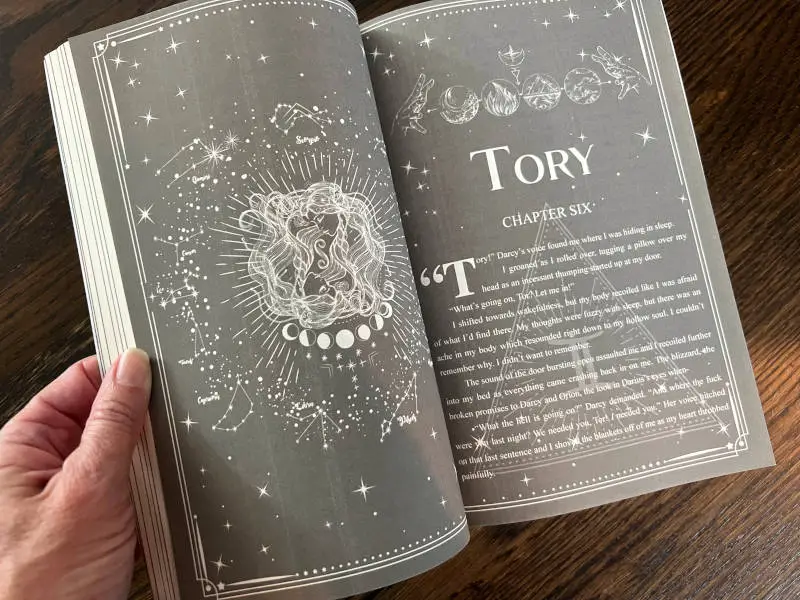 A spicy version of Harry Potter
Alright, that's enough focus on the tangible aspects of the series. Let's dive into a literary review. Yes, the books are physically heavy, but so, too, is the narrative heavy in that other, metaphorical way which matters even more. The Barnes & Noble bookseller introduced the series to me as "the adult version of Harry Potter," and I can see where she was going with that, but I wasn't prepared for how spicy they were going to be. If you like that kind of thing, then you'll be tingling to know that the more you read, the spicier they become to the point that if you're reading them in public, you'll want to hide the raunchy pages from nosey onlookers. Or not, you do you. When I purchased the first book, it was located in the bookstore's fantasy section. I've noticed that since then, the series has been moved into the romance section – a section which I have never, not once, purchased a book from until now. I've seen B&N do this with another series so we'll just leave it at the books are progressively, um… more steamy. #spicytok indeed. 
Too much filler?
These books read a lot like a reality TV show. Lots of shallow episodes, but not a lot to advance the plot. In this way, as the series continues, each book seems to get longer. Unfortunately, the extra pages don't necessarily invoke a deeper story or character development. I found myself getting bored at various points in book #4 in particular. Look, these novels going to become a part of the Western literary canon but they are addictive and entertaining. They're a quick, easy, read that just keeps getting longer for… I'm not sure what purpose. I've just started book #5, and it's 900 pages. Book #4 was 700+ pages. If the next one is 1100 pages+, I'm out. 
Familiar themes
Stylistically, the Zodiac Academy books feature several popular motifs seen and loved in other fantasy series. Like so many other creative efforts within this genre, the authors have remixed popular tropes. I don't offer this as harsh criticism. Rather, it's refreshing for fans of this type of fiction when writers know what moves the proverbial needle and don't feel pressured to re-create the wheel or diverge too far away from what works. They're definitely checking the boxes on the standard fantasy order form, you know? A Phoenix? Check. Unicorns and Hydra and Medussa? Check. You even have the classic four houses as displayed in Harry Potter and so many other stories following kids in boarding schools. Finally, you've got all the magic that these characters can wield, and the main characters are all Fae. There's an appreciable symmetry these books offer when compared to so many of the other popular series within this genre. 
Salty language
Brace yourself for a lot of cussing. While reading book #1, this salty language felt forced, even verging toward gratuitousness in the sense that it doesn't serve any useful purpose. Then again, I suppose it's not unusual for young adults to test language the same way. Teens tend to push the boundaries of taboo words and expressions to the point of sounding ridiculous, so maybe these YA protagonists are speaking exactly as their real-life counterparts would. Anyway, as the series continues the cursing relaxes a bit, or maybe I just numbed to it. Ultimately, though, if you're sensitive to foul language, these books are probably not for you.
Multiple points of view
It's worth mentioning that the books are written from multiple points of view, and that's not typically my favorite way to read a story due to the complexity such an approach can add. That said, the narrative comes mostly from the twins' POV, often switching back and forth between them, and that's easy enough to track. However, as the series progresses, we are introduced to the perspectives of additional characters more and more and it's becoming more of an ensemble cast. Will it continue? I don't know as I'm only ½ way through the series.
It is an intriguing change in approach and style reminiscent of the extremely popular Game of Thrones series which offers a different character's viewpoint with every chapter (and there's many characters to track in that series). If you're not a fan of this narrative strategy, then the series might prove frustrating to you – but I doubt it. The story is not that complex. Along these lines, I'm curious about where the series will go from here. I was told by the bookseller that the companion series by the same authors features the same story from the point of view exclusive to just the boys in Zodiac Academy. This seems a bit odd to me as the boys are allocated chapters in the books already. Perhaps it won't be as drastically different as I assume, or maybe this is an attempt by the authors and publishers to engage more young male readers in romance novels? 
Overall, I'm enjoying Zodiac Academy, but it's not a series I would return to read a second time. I mean, good gosh, life is too short to read that many pages again! It's also not a series I'd hand off to my tween/early teen. In my opinion, the story is fine for that age group, but the language and the sex is entirely inappropriate. Don't even try and get AR points for this one, it's a hard pass from this mama. 
Finally, if this series continues to grow in popularity (thank you Tik Tok), someone will probably  try to create a movie trilogy out of it, much like the mashup of Leigh Bardugos books in the Grishaverse. IMO, the depth of the storyline doesn't reach the epic status we witnessed with Harry Potter or The Lord of the Rings. 
As stated earlier, I think that the comparison to an "adult Harry Potter" (which was the original selling point for me) should have come with an "explicit" rating. In light of the relative success of such TV series as Pretty Little Liars, Vampire Diaries, Euphoria, and Gossip Girl, I can envision a decent Netflix series coming out of Zodiac Academy, (think an alternative universe Bridgerton with Vampires and other Fae) but I'll always choose a good book over an average television show.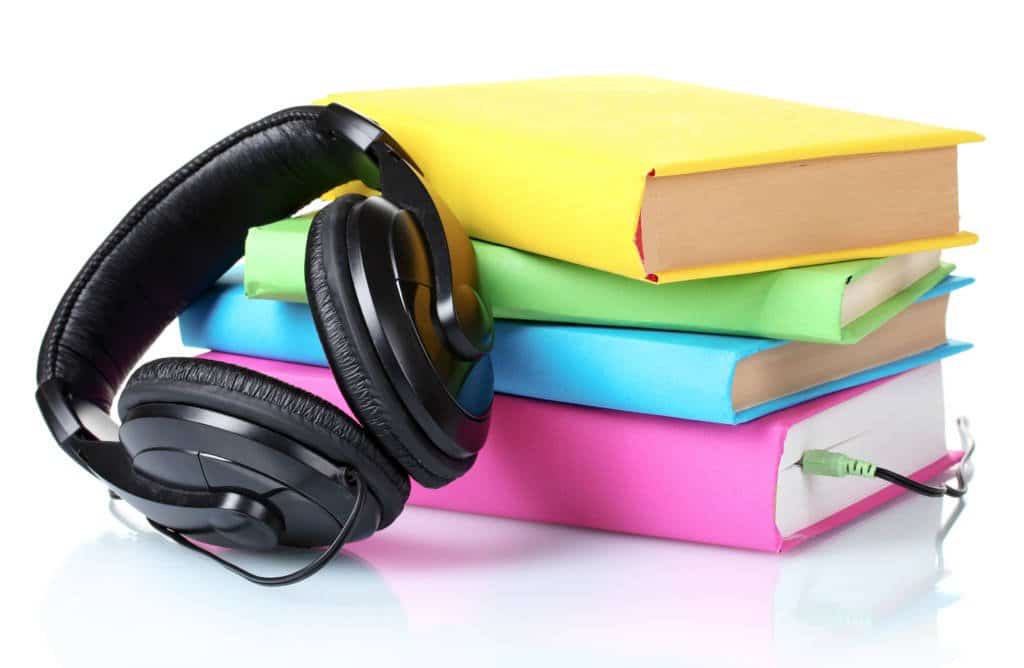 The Cupcake and I are ROAD WARRIORS, so we really enjoy audiobooks together. (And, she doesn't like reading chapter books.) Here's a list of our favorite audio books for kids, including series and authors (yes, I've left a few off that we didn't care for) – most of...
read more