This post is in partnership with Design and Mine. Jennifer and Morgan hosted me to showcase their amazing studio, fun creations and regular workshops. All opinions are my own.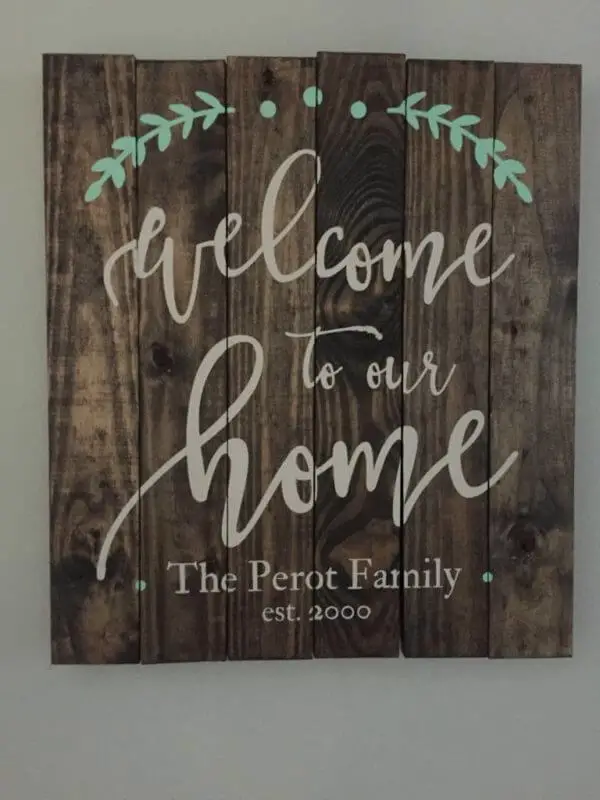 Scroll through my Instagram feed, and you'll see that I follow several accounts that are wood signmakers. Wearing our thoughts on our walls is so on trend, I'm totally in love with it and I hope it lasts forever. Whether the panels are inspirational or welcoming, or holiday themed, decorating with words is my jam and I'm clearly not alone.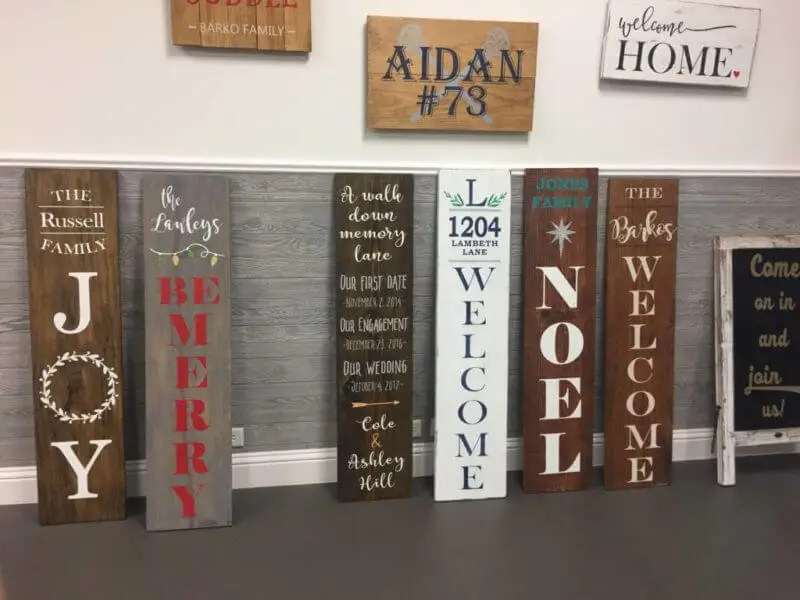 If you have a Pinterest board full of wood signs too, you'll want to check out this super fun home décor workshop nirvana in Plano called, Design and Mine. You too can find your happy place here where wood, and wood stain, and templates and paint come together in harmony (and maybe some wine too), to make magic for your walls.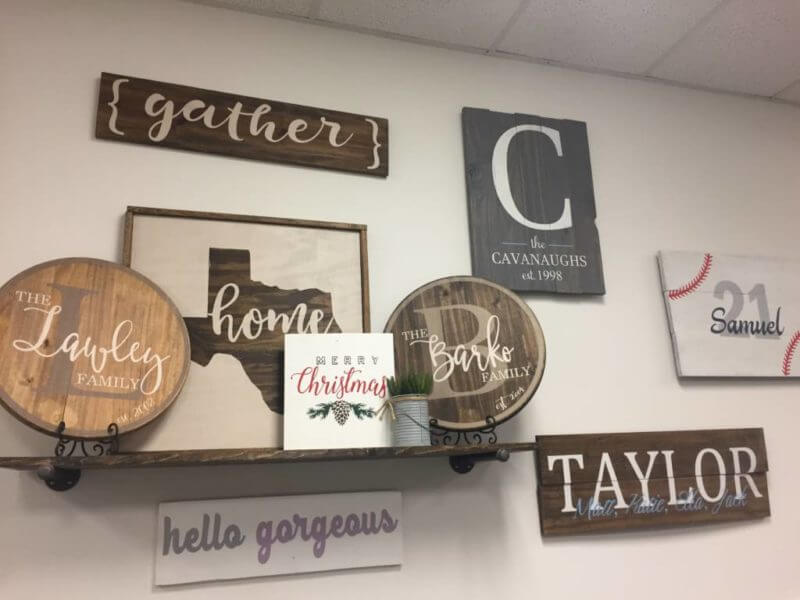 I had some of my craft exchange girls in for a holiday sign workshop and I was delighted with how it works: Each person picks their OWN sign. I love this, because we are all so very different, we all chose a different sign to make from the gallery online (you can also customize them somewhat), but the beauty of it is, that we all made them side-by-side. Isn't that awesome?! Owners Jennifer and Morgan had the templates and wood organized and waiting for us at our tables when we arrived, and guided us through the process which, yep, included power drills. We were able to choose our colors of paint and stain to further personalize our signs for our own homes.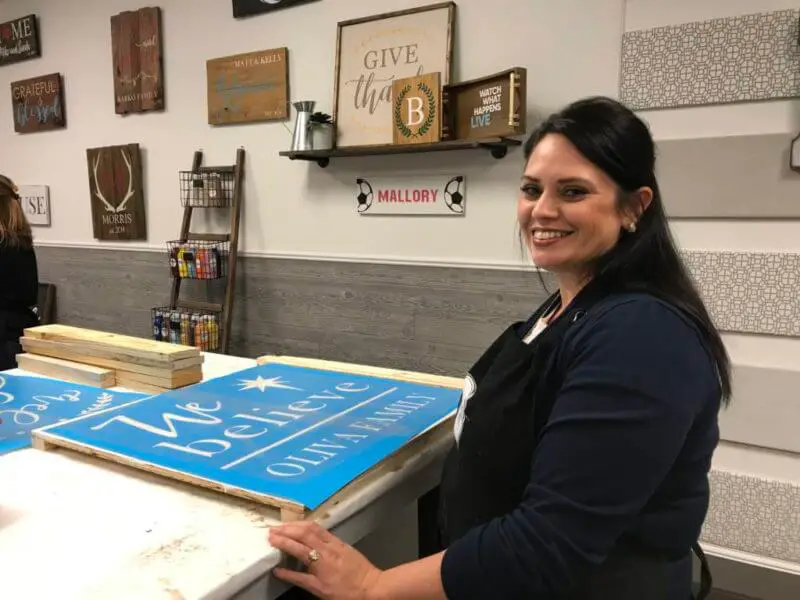 The process is similar for each sign, no matter the size. First you need to make your wood smooth. They've got your pieces stacked and ready for you. I was making a pallet sign, so I had pieces. If you had a panel, yours would be different, obvs.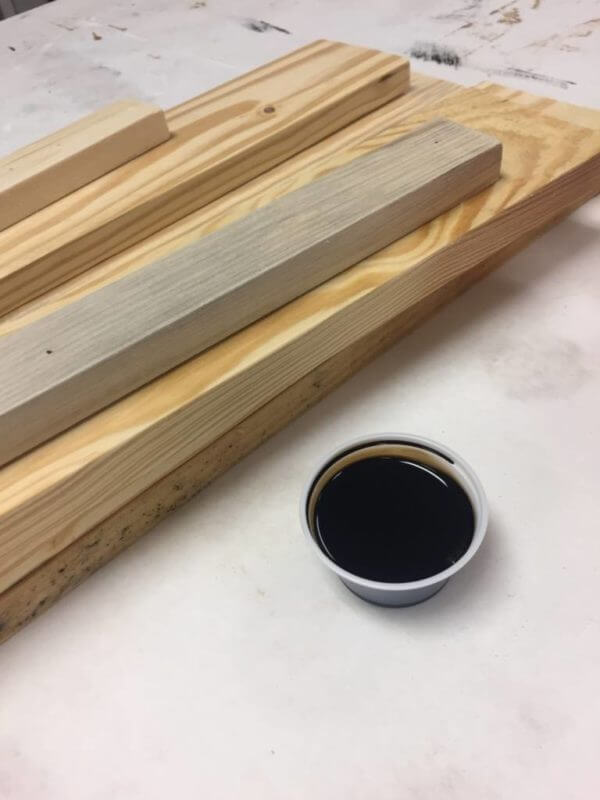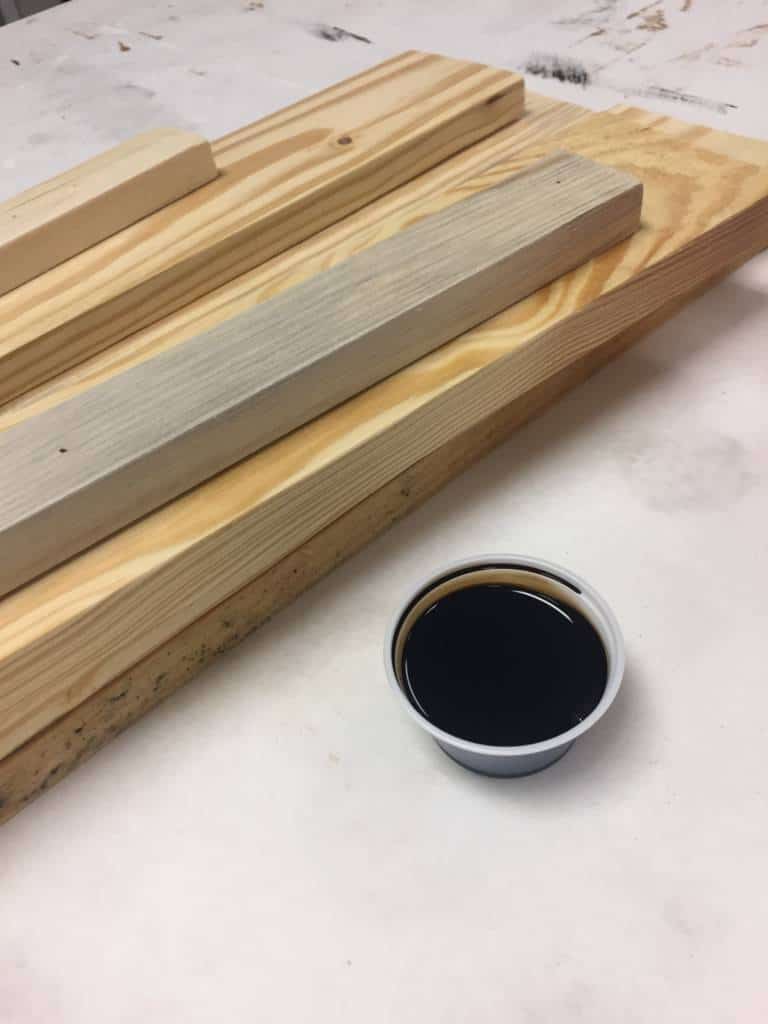 Next, you'll stain it with a color of your choosing — or maybe you're doing a paint background? Either way, it dries super quick. Like as quick as it takes for you to grab a bite to eat and take a sip of wine. Did I mention, this is a BYOB and BYOF? Yep, bring your own snacks ladies (and gents), this workshop is what you make of it!
After you've stained, you'll assemble your sign – if there are pieces. Mine was a pallet-style sign so we had to fix the slats together. The back wood piece that held the slats had drill marks already so it was so easy to know where to drill. Jennifer showed us proper drilling technique and we thought we were cool, y'all.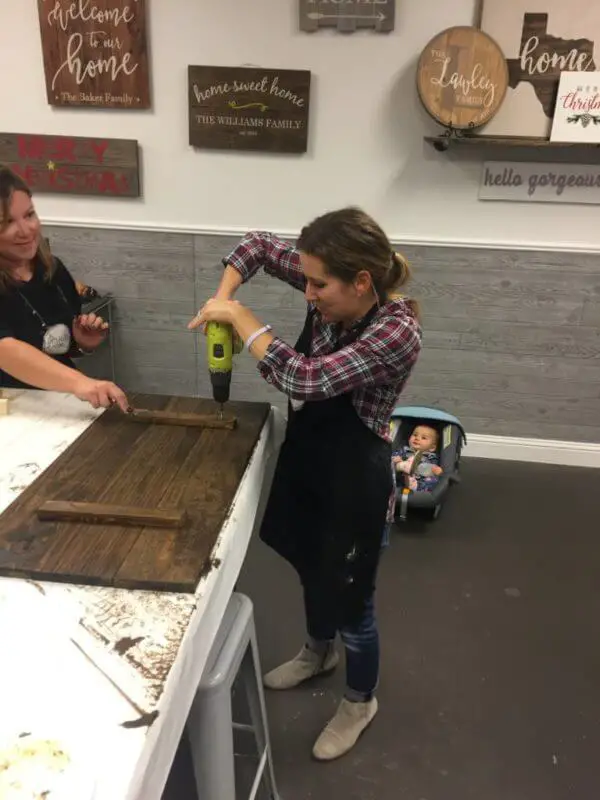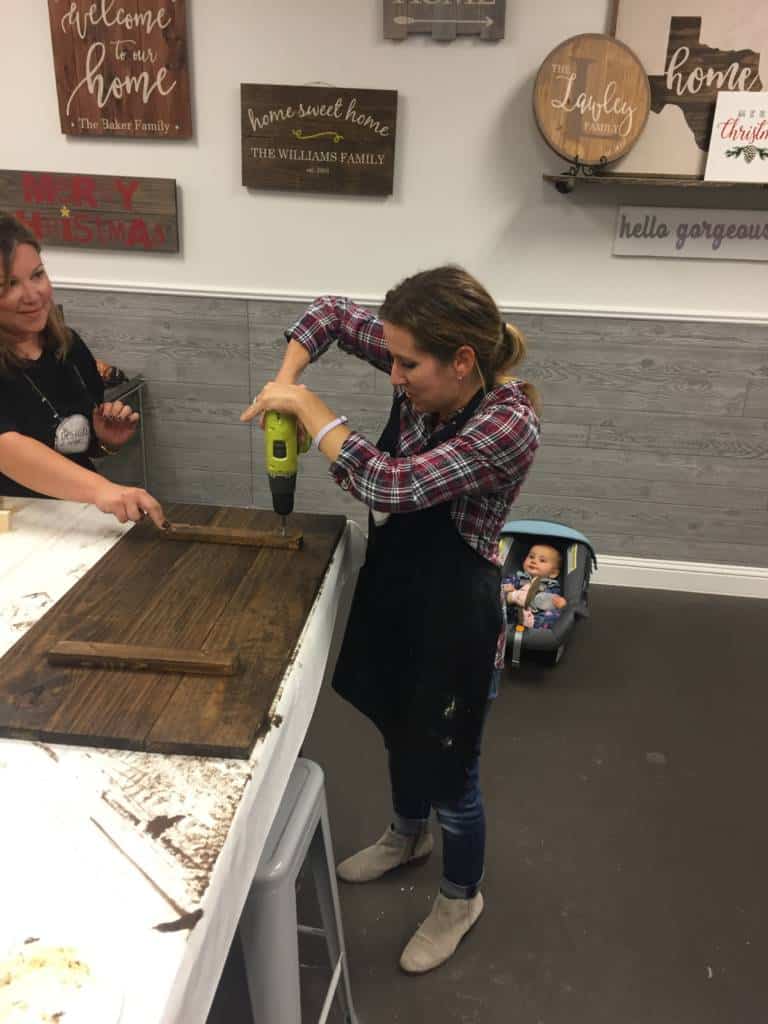 Next up, laying the template down. Jennifer and Morgan will help you with this because it's big and you need extra hands. If you have a Silhouette, it's basically a giant vinyl template. Smooth it out and you're ready to paint.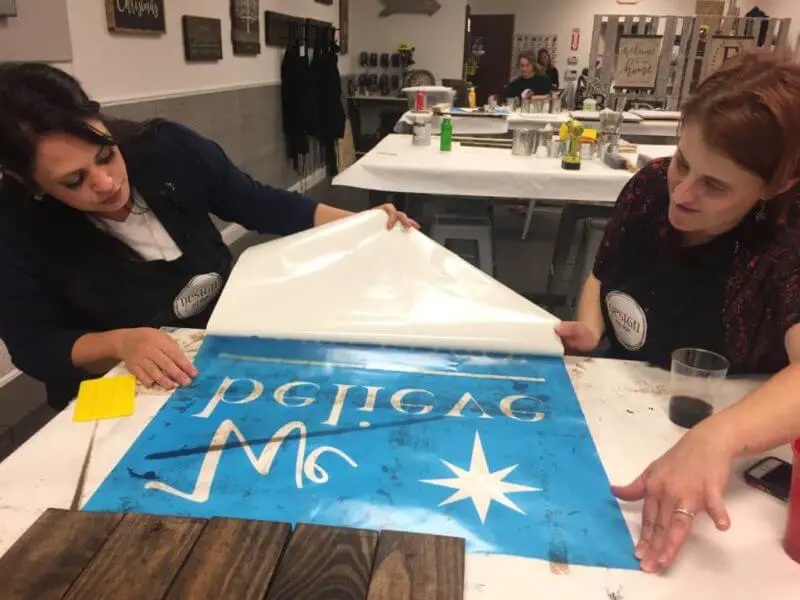 They've got plenty of colors to choose from, and they even have glitter. And y'all know – glitter loves me, lol.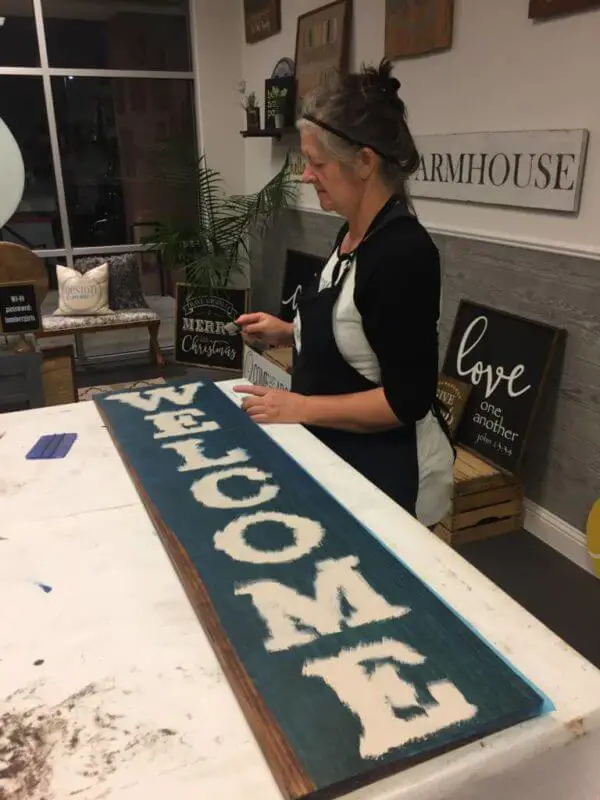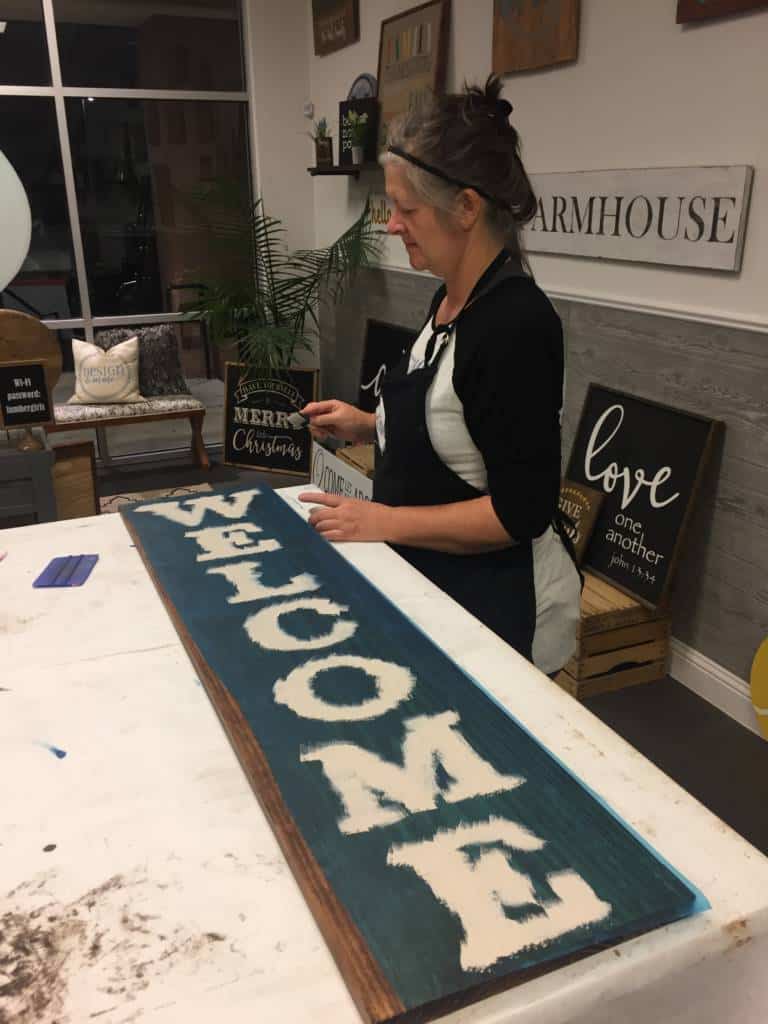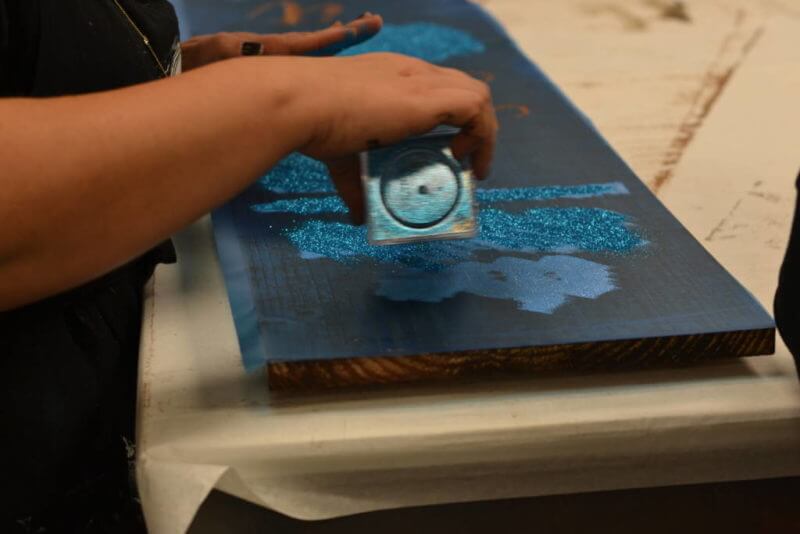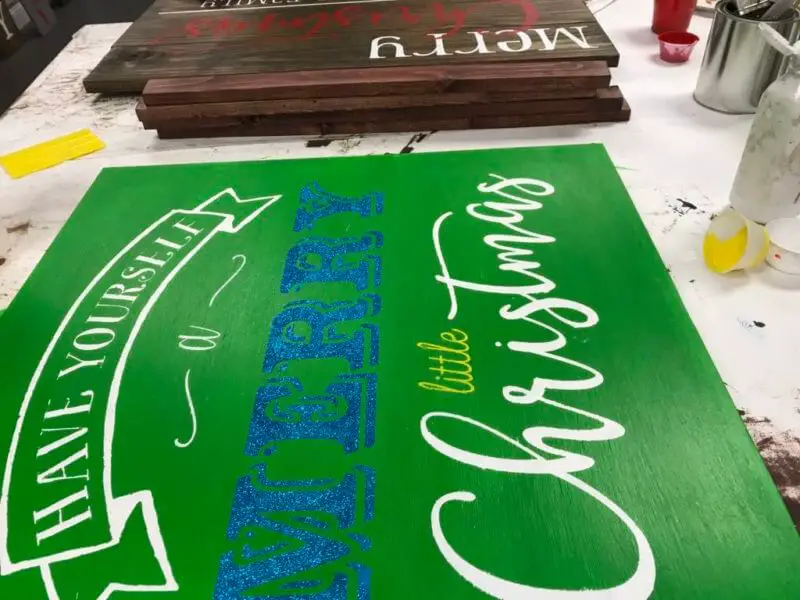 Don't worry if you paint isn't perfect. (Mine wasn't) You can still touch it up.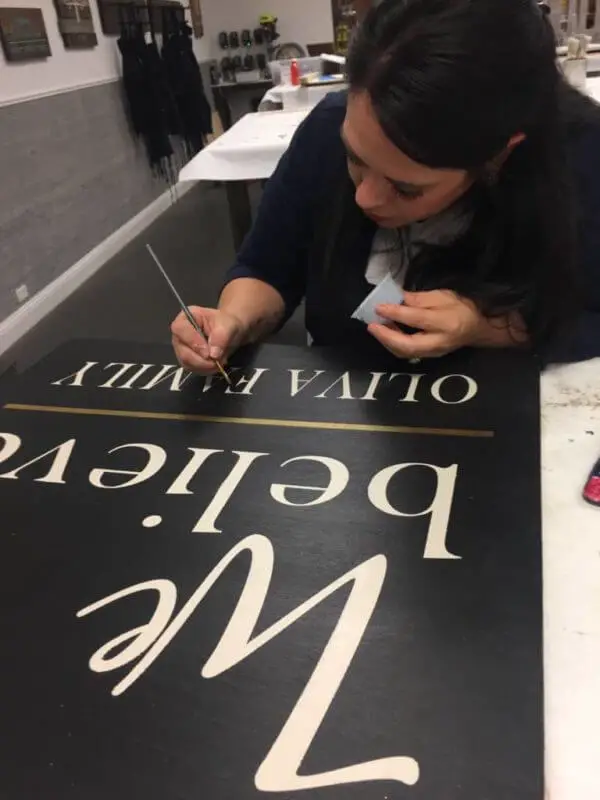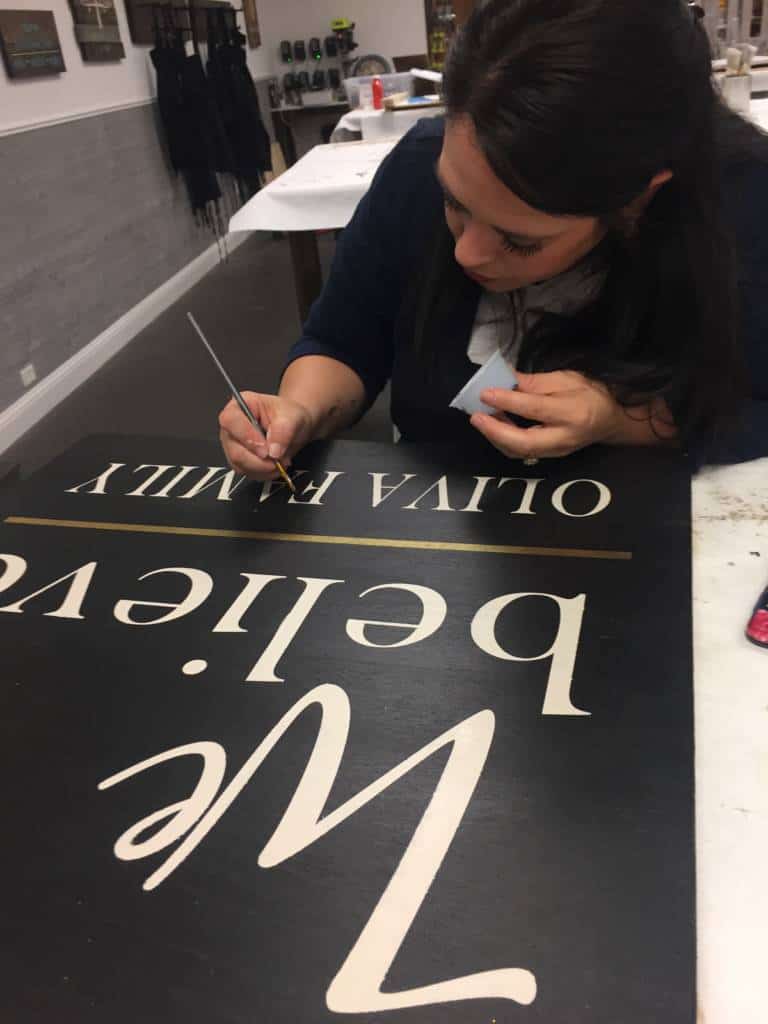 Or Jennifer can make it so.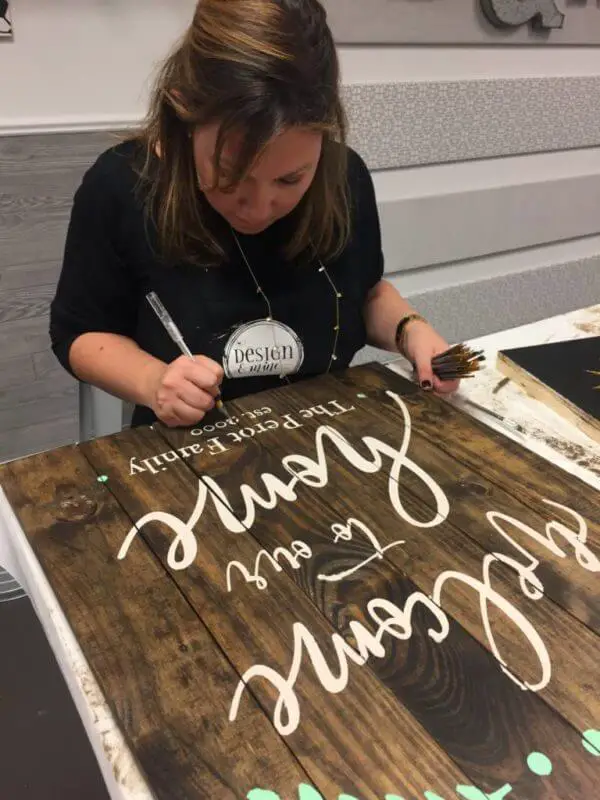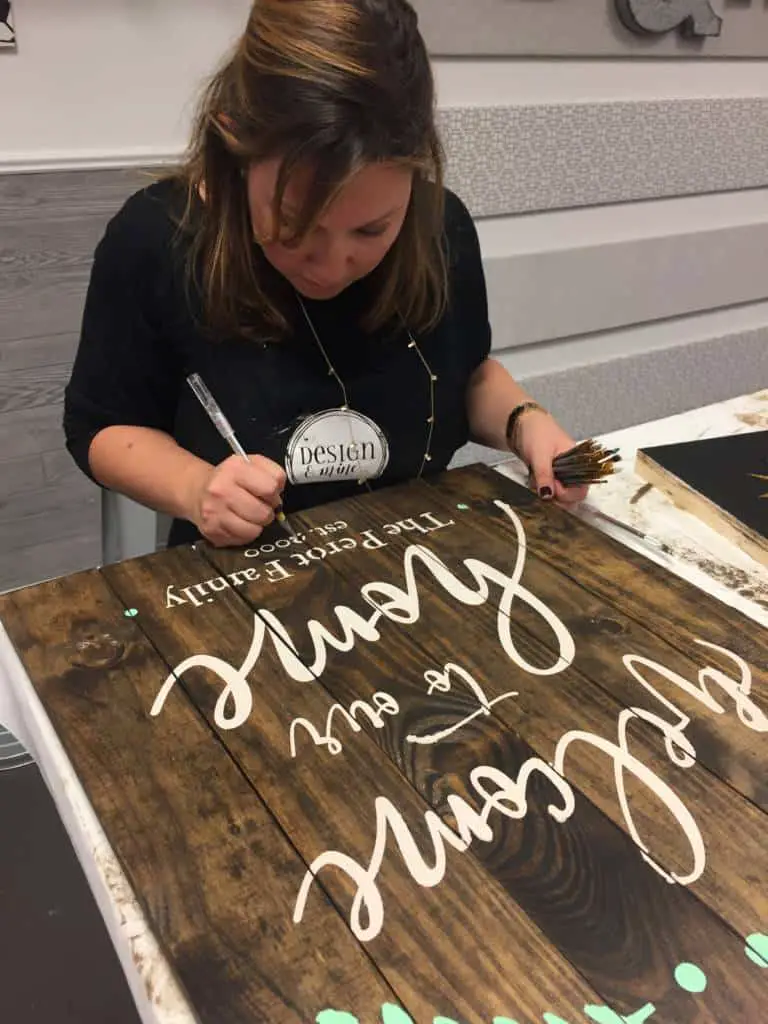 Here's our little class' finished projects.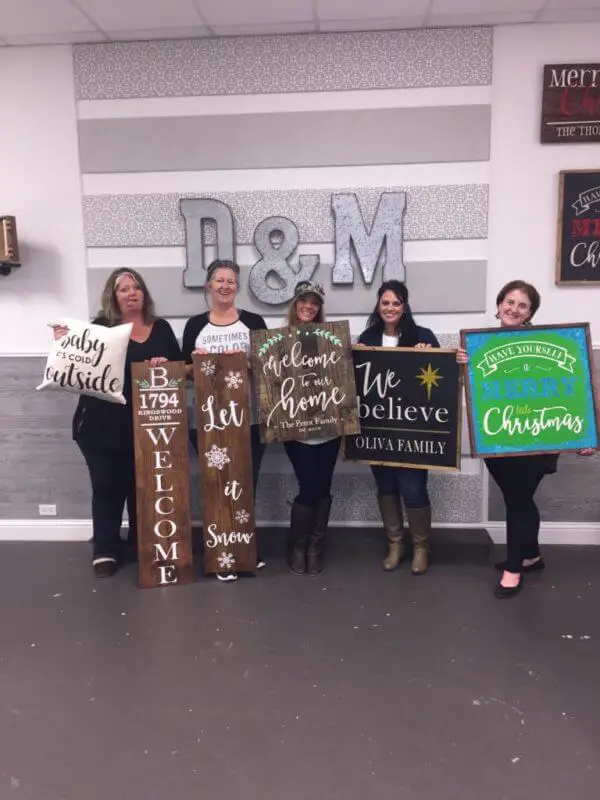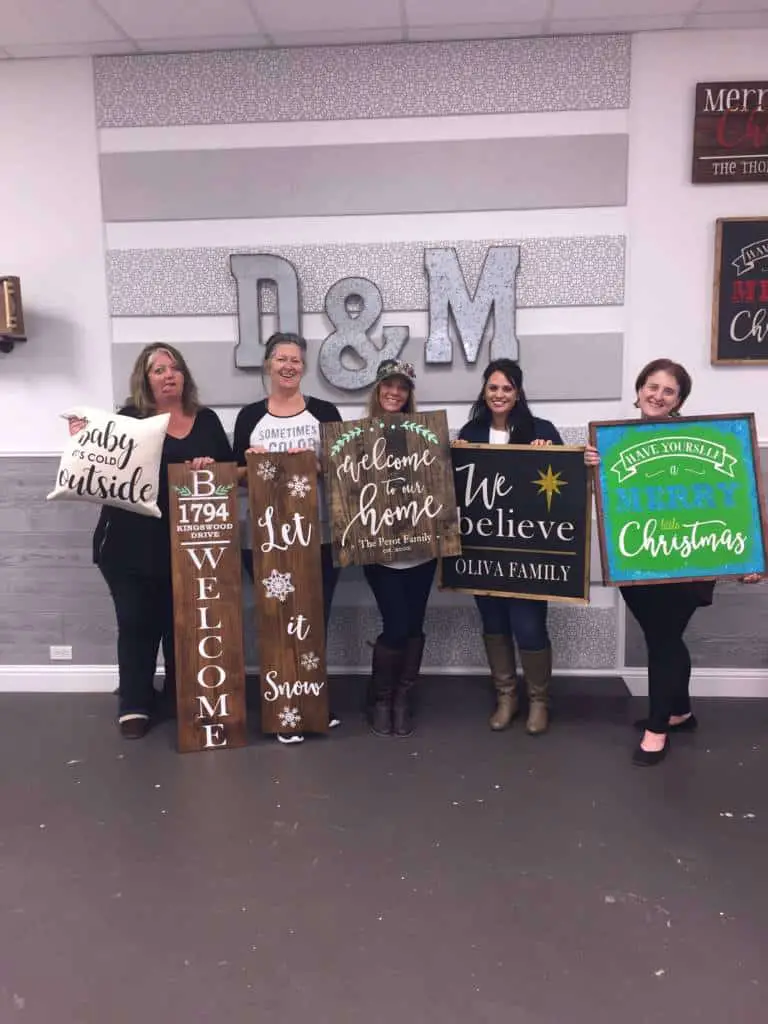 And then they surprised our group (because we're so crafty!) with an extra craft and if we weren't completely giddy about it. These pillowcases were just too dang cute. (I've got mine in the chair in my kitchen.) Same process but with cotton pillowcases instead of wood. Yeah, we were all gushing about how much fun we had.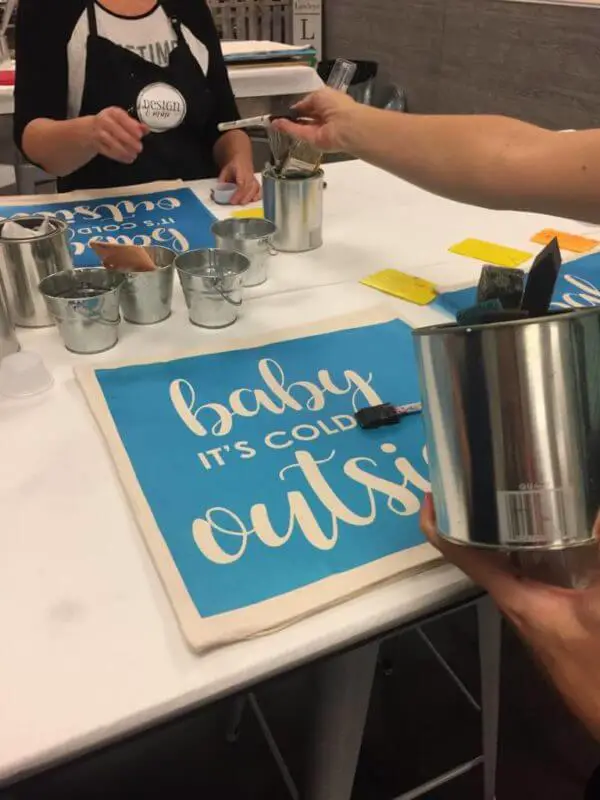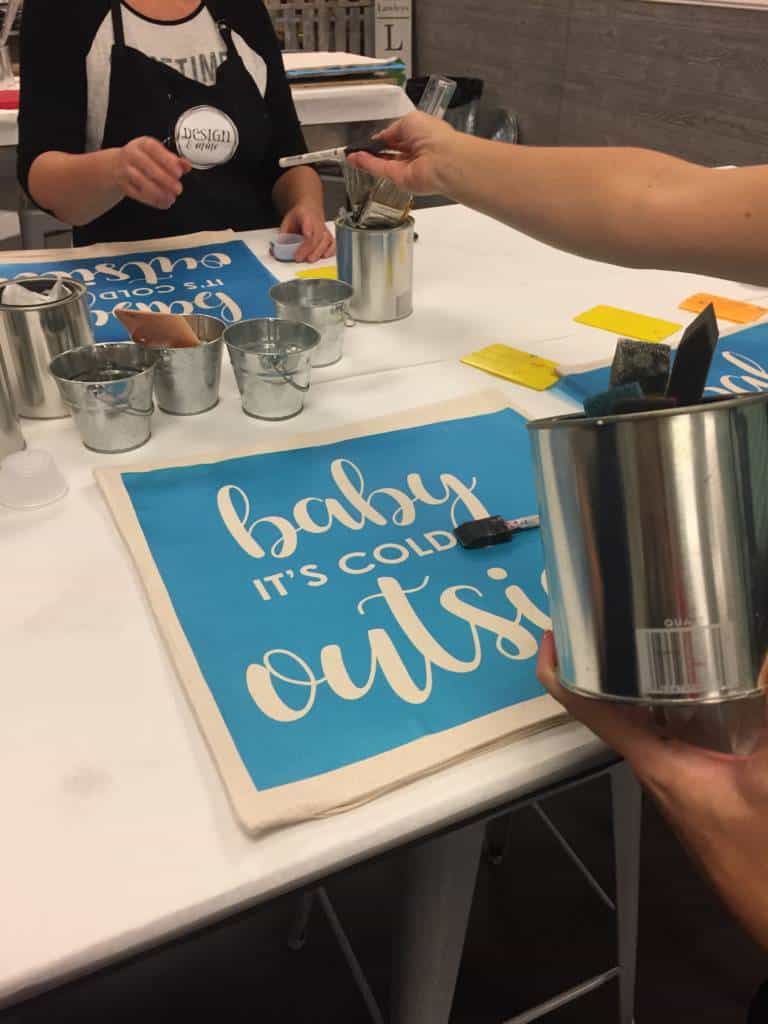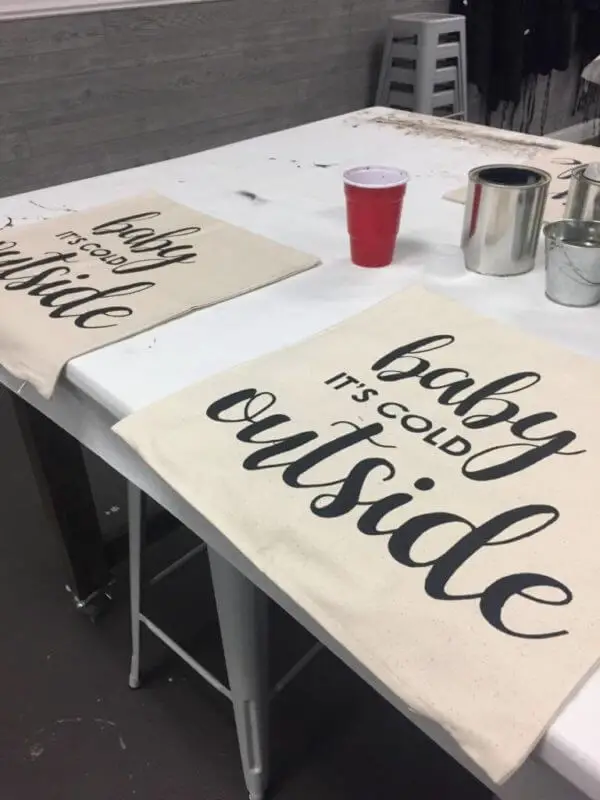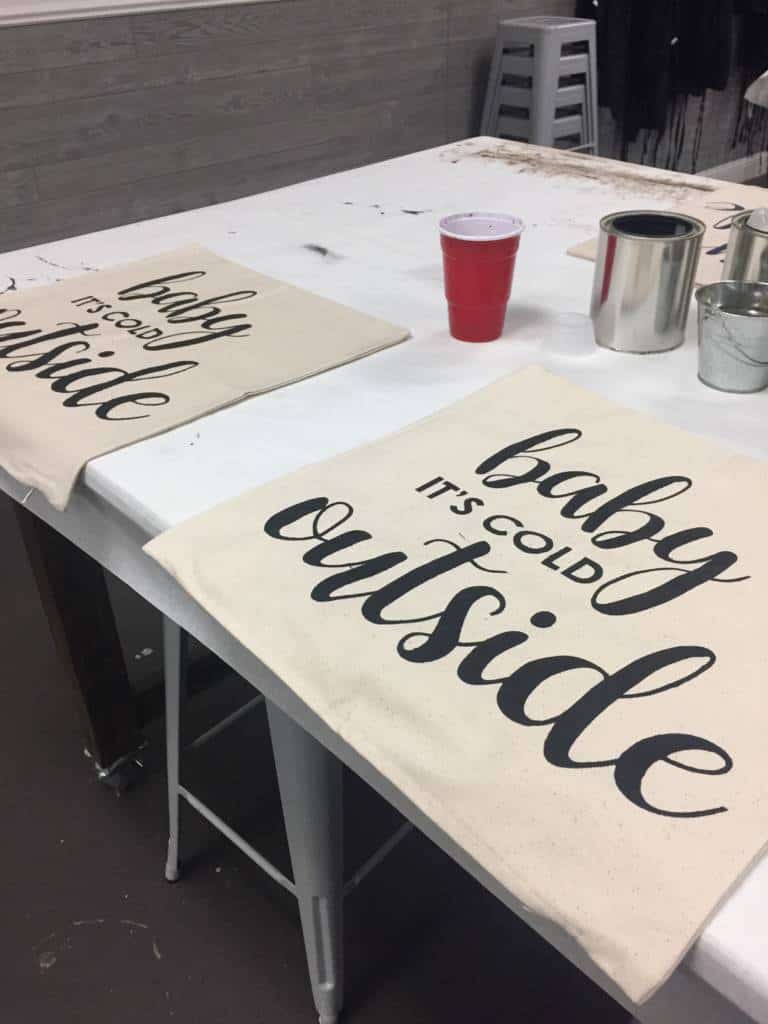 I'm totally coming back. Funny enough, a mom friend of mine saw our photos and told me she keeps a list of the signs she's going to make there and goes on a regular basis. I LOVE that idea!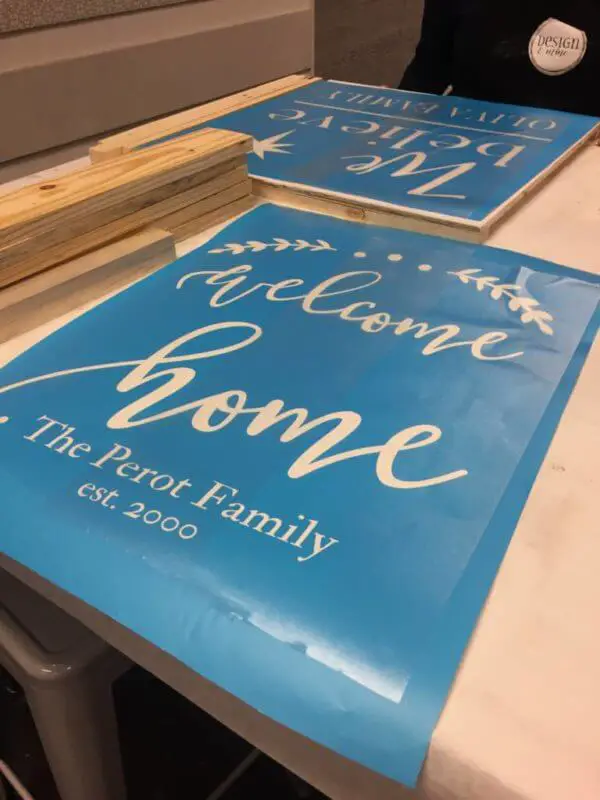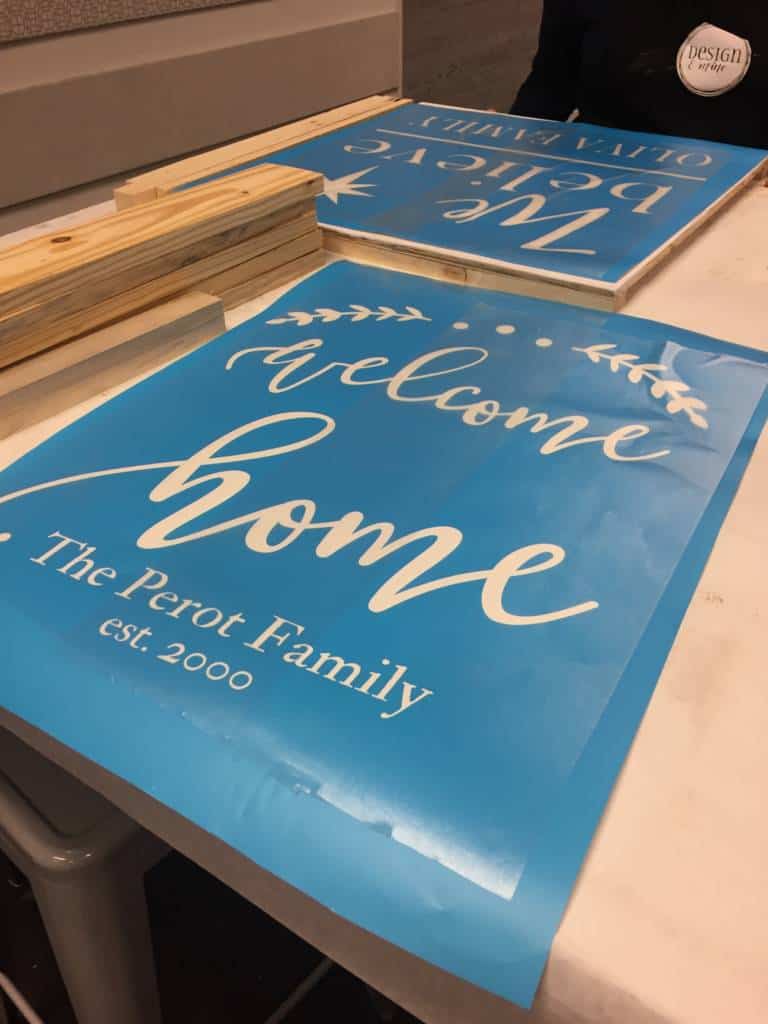 Check out the Design and Mine website for open workshops or hold your own! These are perfect events for Team Building, Girls Night, Bachelorette Party, Fundraising, and Corporate Events. They'll even host kids groups (over age 7 please) so I'm thinking of bringing my girl scouts in. How cute would it be for them to make a surprise Valentine's Day project for mom? Check out their gallery for the different sizes and design options (prices start at $25). Don't see exactly what you want? They may be able to either customize your sign or come up with your idea. Just ask!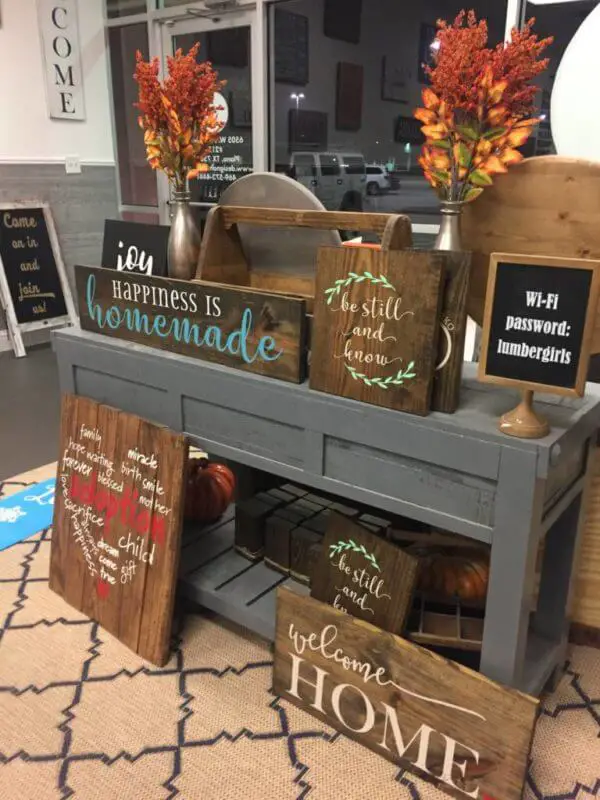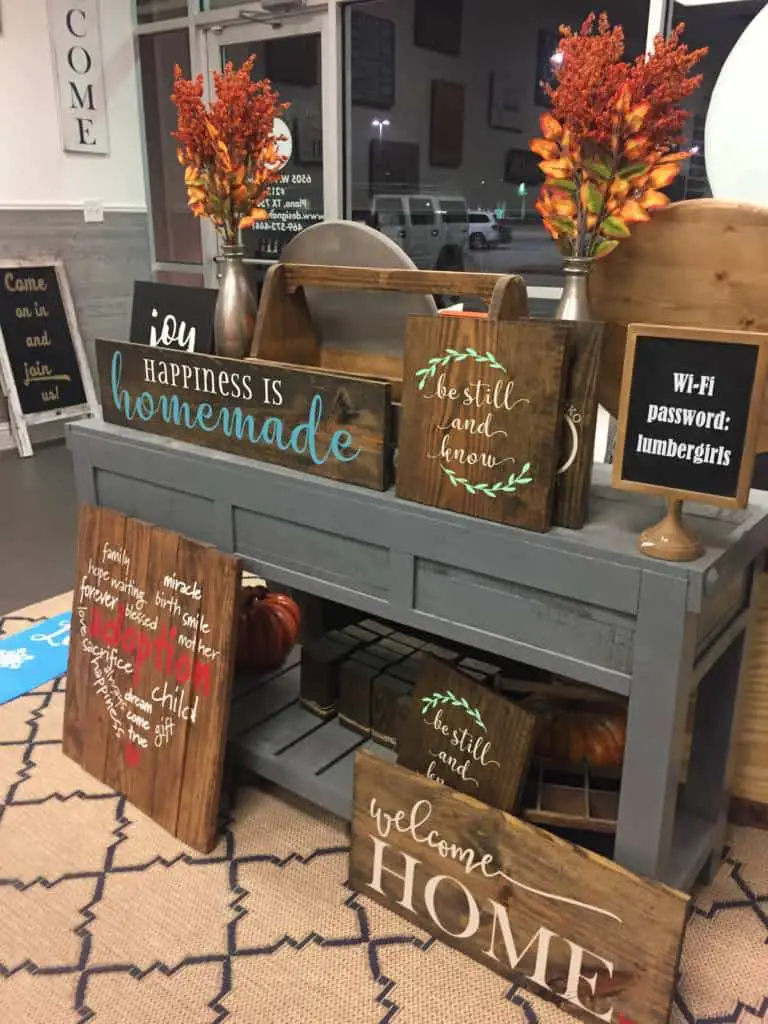 I'm totally hooked – and the best part about it is the mess is at someone else's place. YAAAAASSSS!!!! It's a good thing we have a bunch of walls because I'm starting my own list of signs to make too, and what a great gift idea! I may even bring my family in when they come to visit as an afternoon activity.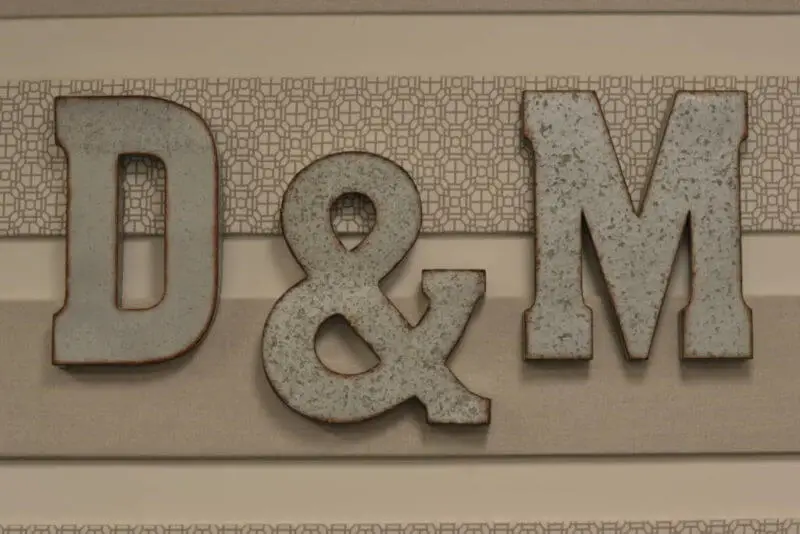 Thank you Jennifer and Morgan at Design and Mine!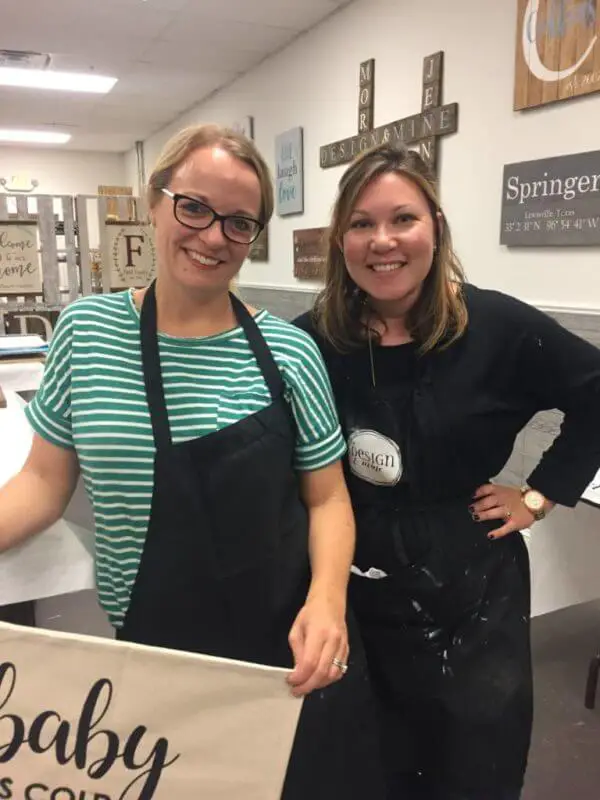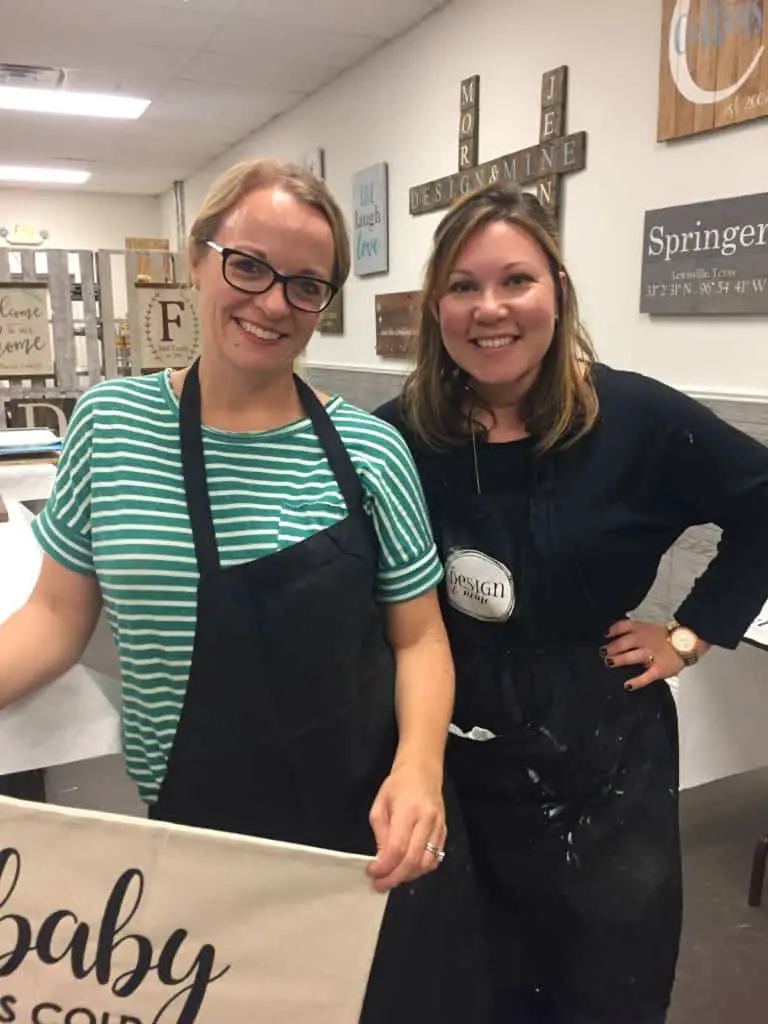 Check out this fun Mommy and Me workshop coming up December 3rd!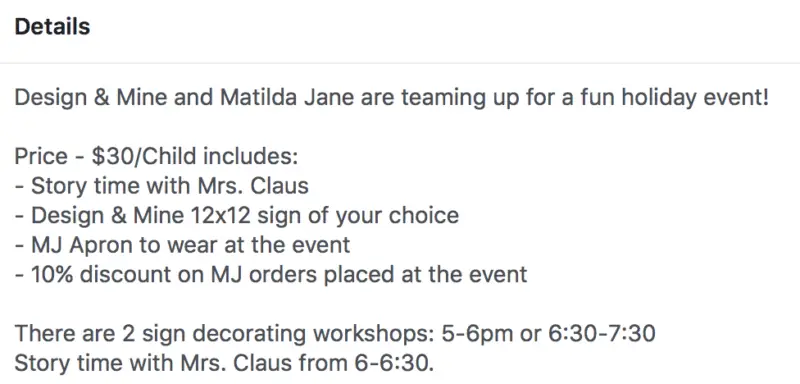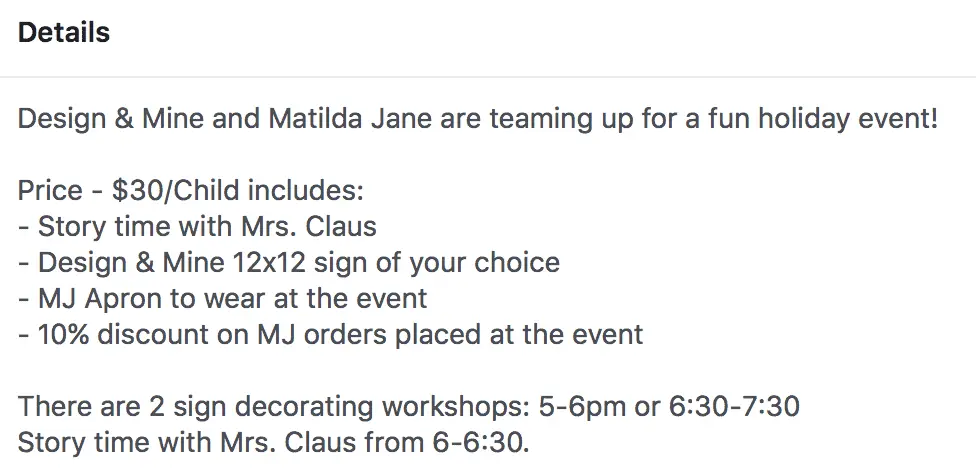 Here are some of the cute signs they can choose from!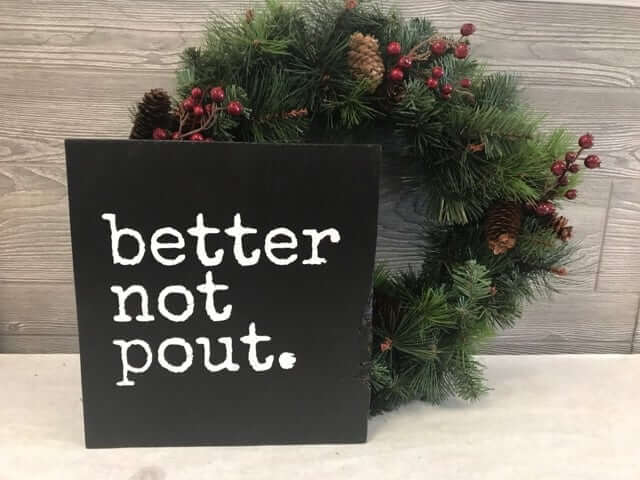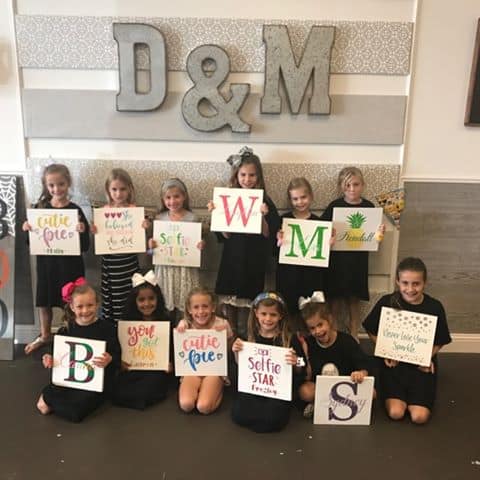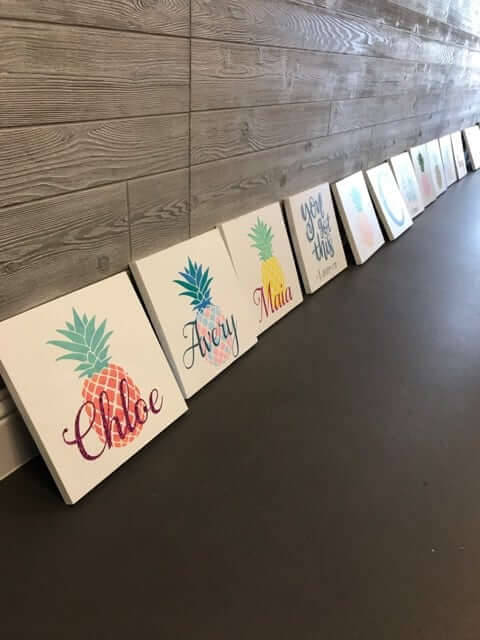 Register here!