This post is sponsored by King of Christmas. All opinions are my own.
The holiday countdown has started… It's time for your annual tree-wrestling match where it's you vs. the stairs to bring that bad boy down from the attic onto center stage. Maybe you even have more than one tree? Maybe you have dozens! Whether you're a tree hoarder or just a one-tree kind of girl, this is the time of year where we each have to make the call: will this tree make it another year or do I need to get a new one? (See my new tree in the video below)
I can't tell you how many people (men) I hear saying they'll wait "until they go on sale at the end of the season." That's so funny. Every craft store shopper knows, Christmas trees are on sale NOW and they'll be totally gone in seconds!
Let's talk quality for a second though. Those craft store trees just aren't quite up to your standards, are they?
Truth time: My husband thinks trees should be a once-in-a-lifetime purchase. Several years ago, we bought a new 9 ft tree with lights. We spent a few hundred on it and that seemed like a LOT at the time, and he's smug, thinking he's checked that box for the rest of his days.
Guess what happened the next year? You know it. One whole section of lights went out. Yes, we tried to replace the light – well good luck finding the guilty one. There was a short in that light strand somewhere. Shaking the branches got us through the season. The next year, when we plugged it in, another section was out. At this point, someone (I won't name names but it wasn't me) snipped EVERY SINGLE light off the tree. Someone (me) had to go and buy new LEDs and string them on.
So fast forward and here we are, in a different house but with the same tree that's now too tall for the new room. And it's starting to shed — a lot. But not as bad as the other tree that circulated out of the attic. So many of the "needles" shed off of it, it was nearly bald. You can see straight through it even with ornaments.
You see where I'm going with this? YES, trees need to be replaced.
Here's how you know you should be replacing that old Christmas tree:
If your tree still has the regular lights all entwined in it, you need to switch your tree to one with LED's. It will save you so much time in the future. You won't be replacing bulbs, or snipping strands like my frugal man. You may even want to consider one without lights!
When you put your tree up, are there more "needles" on the floor than if you'd had a dried out live tree? Then you know it's time to part ways. A whole dustpan full of "needles" is not good. Your tree will look scrawny, not to mention the dry needles can be unsafe for lights and pets.
Does your tree require assembly? Yes, they all require at least a good fluffing, but I mean… are you so old school that you're placing branch by branch into the base? If yes, you are WAY overdue for a new tree. Look for a tree that has interlocking pieces that let gravity do the work by simply dropping into place.
Does it fit your room? You want your tree to be tall enough that it fills the space between your floor and your ceiling WITH a topper, but maybe you're like us and found yourself in a new house that couldn't accommodate the 12 foot ceilings we had previously? Good time to get a new tree.
Has your taste changed? Tree styles – and there are MANY – have evolved. You can choose your needles, your flocking or no flocking or light flocking, the width of your tree… It's like ordering a Starbucks, all the options you have these days! Changing tastes is a legit reason to pass on that old tree and invest in a new one.
So what should you look for in a new tree?
Well, first… a discount, lol. Christmas trees are expensive! But totally worth the price IF you get a quality tree with a 3-year warranty like those from King of Christmas – AND they're on sale right now!.
I LOVE all the trees (and wreaths) from King of Christmas. When I say they have an impressive selection of styles and sizes, I'm not kidding. The trees range from 6 foot to 15 foot, green or flocked, lit or unlit, and three different shapes! They EVEN have PINK flocked trees!
I also appreciate that the flocking is a cotton-based material that is non-toxic for pets and children!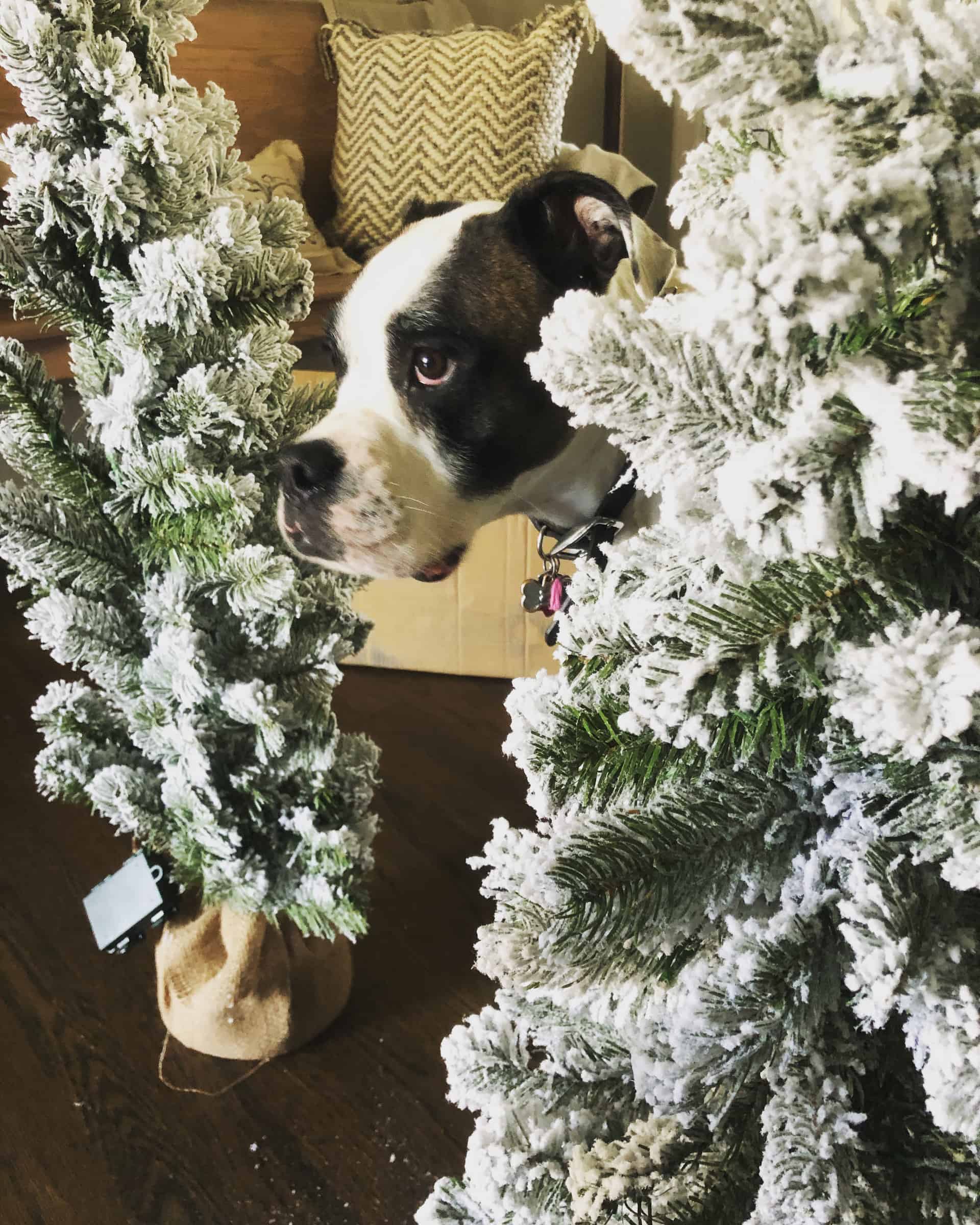 I got my first set of tabletop King of Christmas trees last year and I fully intended to put them on the dining room table. When I got them out of the box, they were so gorgeous and barely needed any fluffing, that I couldn't banish them to a room I'm never in, so now they flank my fireplace. I didn't even put any ornaments on them because they are stunning by themselves! (Okay, and maybe I still have pumpkins out…not ornaments yet but whatever.) I love that they have battery-operated LED lights (I chose warm white) with a timer. They totally need a mama tree though so I've been shopping on the King of Christmas website to find the perfect one to compliment them.
Turns out, a 7 ft. flocked Prince tree was exactly the tree I needed. Check out my Instagram to see it all decorated!
You can find your perfect tree at KingofChristmas.com! (Here's a link to their FAQ's about their warranty, lights, and products.)