It's MUM season in Texas, y'all! I know that if you are a mama and have a kid at school in Texas, you are buying your heart out with ribbons and streamers and other homecoming mum supplies. If this is your first time as a homecoming-mum-making-mom (and even if it's not), you may be tempted to buy way too much. (I always do.) But throw away the guilt — not the extras. I have the perfect project for you to use up those odd leftovers. It's super cute and would be great for sports banquets, locker art, memory boards, and more.
So, after you've finished making this season's mums for your kids, (maybe even using one or two of my homecoming mum tips and tricks?) and you assess the pile of ribbons and chains and streamers and you think what can I do with my leftover mum supplies?
Start with a canvas board. They cost a dollar (stock up at Dollar Tree – no need for art level quality for this project). I covered the one in the video above with Admiral Blue, Apple Barrel Paint because the color matches my daughter's soccer team perfectly. Obviously, you can go with any color that matches your kids' school or team colors.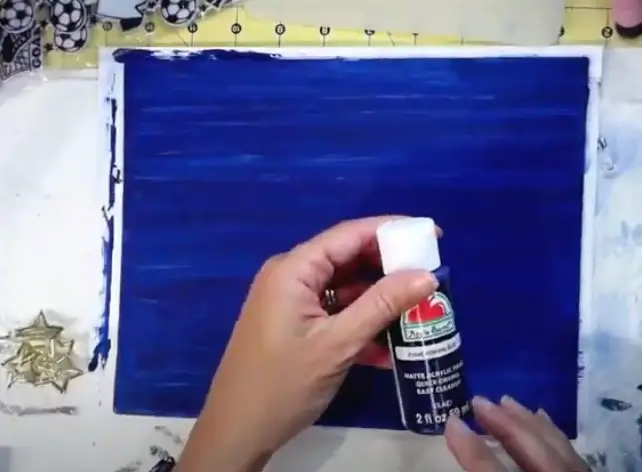 Select a few pictures to layout on the board. In my case, I chose three photos of my daughter at her soccer team's signing day party. I turned the board to portrait orientation which I think gives more flexibility for my layout, given the size of the photos I chose. I changed the pics around until I was happy with the placement and then sorted through my leftover mum items.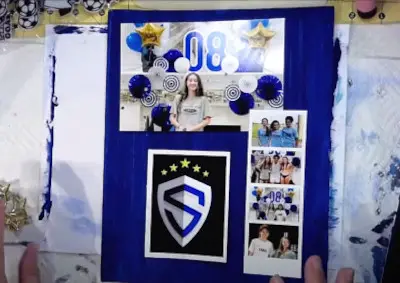 I grabbed a finger mum, some leftover star chain, and a soccer mum jewelry chain. I'm laid these items and some other bits and bobs I have and lay them out on the board. 
You can choose your decorations and the colors that suit your kid and their school or team colors.
Now you'll see in the video, that I am definitely going for a collage look. If you are a minimalist you might be cringing about now, but that's what is so great about this craft. You get to make your mum board as simple or fancy as you like. I like a full board!
Once you've selected all your decorations and jewels and found a layout you like, then it's time for the glue gun.  Everything on your board is probably layered, so before you get started, maybe take a quick picture on your phone so you remember where you liked all the things to be.
For what it is worth, the pictures I've used are all printed from my phone to a Canon Selphy.  I don't know if you guys have a little photo printer, but it's amazing to just do a one-off picture really quickly. And I love it. We both love it, actually. My daughter prints out stuff for her room all the time. 
When you have everything glued in place, give it a little time to dry, and then you have a  cute little signing day collage, all with leftover mum's supplies. Think beyond HOCO though, and use pictures from a family get-together and make a memory board, or get a couple of them ready for the Sports Banquet or Senior Night. You could even use your supplies for a sporty vision board to kick-off the season.
Whatever angle you take, this is such a simple and easy craft but versatile too – and did I say cheap? So don't worry about overspending on your mum supplies. There's all kinds of things you could do with the leftovers.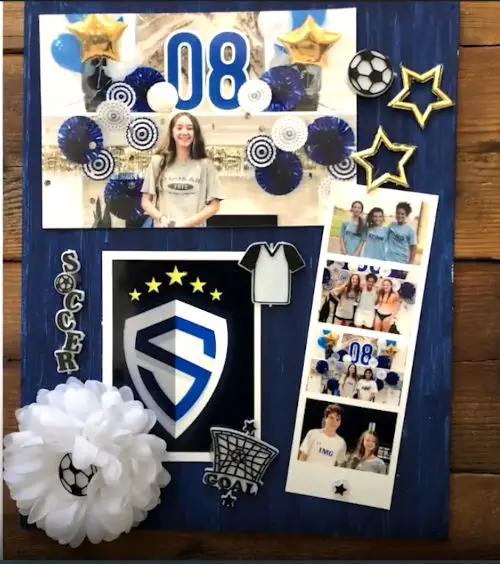 More Homecoming Mum Related Content