As I stood in the living room, my place in a make-shift receiving line to say my good-byes, my brain raced with what to say.
The line wasn't moving so I had some time. Everyone wanted to stretch those last precious moments with Cindy, so it was totally believable that this line would not budge (time-stamped evidence in my many texts to the hubs). The chatter immediately surrounding me was filled with ideas on what each guest would do if given the same sentence, how they'd prefer to go quickly, and sad stories of those who had passed before them.
The rest of the room was swirling with so much love and fun stories of our dear friend who was undergoing a journey none of us could relate to. In true Cindy-style and as a classic demonstration of her faith, she had accepted that she was soon to leave our earth, and in her last days wanted to surround herself with those she cared about, seeing them for a final time in a party of all parties.
It was heart-warming. It was tough. Bittersweet has never had more meaning.
It was overwhelming to see her surrounded by so many people who loved her so much, I hated that this was the last I'd see her.
You'd really think I'd be better at final good-byes by now. It's not like it was my first time doing this. In our family we've lost my mom, the hubs' Dad, his step-dad, brother, and mother, all to extended illness — much of it cancer — so this is a position you'd think I'd have more expertise. Unfortunately the loss of my mother-in-law and brother-in-law were very very recent, and it was everything I could muster to show up to my sweet friend Cindy's Celebration of Life party. Those raw feelings of loss had me completely tongue-tied and honestly, I wasn't really in the mood to make small talk with the rest of Cindy's circle of friends.
So I did what any mom would do, I took the munchkin with me to the party. Nothing like a 5 year old to ensure that you can't have a meaningful conversation with another adult human being! And the Princess Cupcake's unwavering faith and matter-of-fact reminders that Cindy was going to heaven was exactly what I needed in this very moment. That little Cupcake will never know what an incredible rock she was for me at that party — or over the past few months for that matter. As selfish as my needs were, I honestly wanted the Cupcake to witness the celebration of friendship and love that was the premise of the party. I regretted the Princess Cupcake hadn't spent more time getting to know sweet Cindy Lou, what a role model she was.
A photographer worked the crowd, having each visitor hold a sign in their photo with a message for Cindy. My head said, "Smile – you love her!" My heart ached that I would never see her again. I should get an Oscar for that picture right there.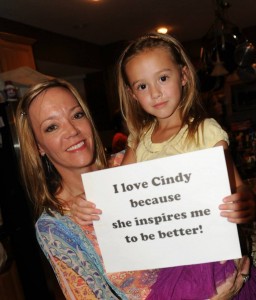 Understandably, Cindy was growing weak and a time limit was soon imposed on each of us for our well wishes.
"10 seconds. Say 'Hi, you look great. Good luck," were the instructions we were given from the "bouncer" as the line picked up speed.
As we were closing in on our turn, my mind was grid-locked. I still had no idea what to say and the suggested script  seemed a bit too shallow.
Cindy wasn't able to say much by this time, but her face lit up when she saw the Princess Cupcake, no doubt amazed at how much she'd grown.
Choking back tears, I grasped Cindy's frail hand and squeaked out, "You do everything with such grace. I am so inspired by you. I love you." A tender hug, and a deep breath. A brief eye lock of understanding between us, and the Cupcake and I moved on to let the next friend have their moment.
Despite the Cupcake's desire to fully embrace the dessert table at the party, we made our way to the door. I've never seen so many cars parked in a neighborhood for a get-together. I'm pretty sure I didn't breathe during the incredibly long walk to our parking spot. I managed to not cry at the party, but all bets were off in the privacy of our car.
My tears were dry by the time we got home, but ironically enough the next day I was cleaning out boxes from the garage (we're moving!) which threatened the faucets again. One box was filled with my Mom's will and several cards sent to her in her final days. The words seemed so perfect – I wished I had them just 12 hours earlier so finding words for Cindy might have been easier.
Just wanted you to know I'm thinking of you and praying for your comfort.
A wish for peace, courage and strength as you face one day at a time.
Your strength and courage through all this has been inspiring.
If I said I understood just how you're feeling, you'd know that would not be exactly true. There's no way that I could comprehend completely everything you must be going through. But I can say how much I care and that when you're hurting, I hurt too.
One thing you will learn if you've ever been in this situation is that some people do not have the fortitude to accept the impending death of a loved one or friend. They will stay away, attending a party like Cindy's would never cross their mind. Unfortunately, it's confusing and hurtful to the person who is ill, and their family is often stunned by the behavior. One of my mom's most dear friends distanced herself from my mom when she got closer to the end of her journey. We were so offended and disgusted at the time, thinking it so selfish of her to be a "fair-weathered friend."
Ma received this letter from her just a couple of days before she passed. I'm sharing it with you because I do believe it was written from the heart and I found the raw honesty eased the disappointment we felt towards her at the time. If you are struggling with the passing of a friend, perhaps you can find comfort from it and use it as inspiration to write your own good-bye letter (but deliver it in person!).
Dear Pam,
I write this letter so you will know that I have had a problem knowing that your health is failing. We lost (husband's name) sister the week of Thanksgiving to cancer. We had gone home the last week in August and she was doing so good. I was not ready for her passing. The memory I have in my mind of her is not who I saw in August.
I don't want such a memory of you. Dear friend, I want to let you know I love you. You have been a good friend. I shall treasure our memories together forever. You showed me how to really enjoy so many things in life – ballet, to love my animals, enjoy travel, and to enjoy close friends. For all these things, I thank you.
Please forgive me, but I want to remember you during all the times we shared. You are in all my prayers. I'm so happy you have Charles, your brother and Trista with you.  I hope that God will not give you more pain than you can endure.
I have a candle to St Jude lit to help you during this difficult time. You are in a special place in my heart.
Love,
(Her friend)
It certainly softened the ill-will we had felt towards her earlier. Even more so for me 14 years later while I'm in her shoes.
And the last card I found was actually one sent to me:
When things are bad and getting worse, keep a cookie in your purse.
LOL! Naturally the card was accompanied by a box of chocolate chip cookies from a Bestie. Not only were the cookies much appreciated, it made me laugh then — and now again — remembering how we would always find wrapped up cookies in my grandmother's purse that she had no doubt lifted from dinner tables and restaurants.
It's difficult to say good-bye to our loved ones. My hope for you if you're faced with your own 10 seconds, is that you have the courage to speak from the heart, tell them why they are special to you, that you will watch over and care for the family. Tell them it's okay to let go, how the "cookie" memories will live on, and how they've changed your life for the better.