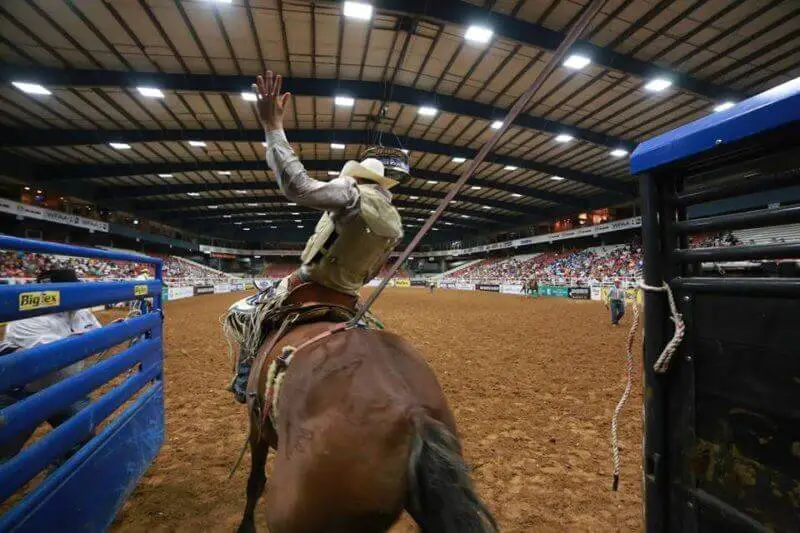 This post is hosted by the Mesquite Pro Rodeo. All opinions are my own.
The rodeo is so quintessential Texas, you simply have to get your suburban butt out to Mesquite and go.
Seriously. I mean it. The Mesquite Championship Rodeo is good clean fun for the whole family. There are bucking broncos, bull riding, sheep riding (for the littles), and my favorite: barrel racing. They have glitter tattoos for the kiddos, and little vendors set up with western stuff. And before it even starts (doors open at 6, show at 7:30) attendees are invited down to the dirt on the rodeo arena to meet the cowboys and cowgirls, enjoy free pony rides, roping demos, stick horse barrel racing and bull riding lessons.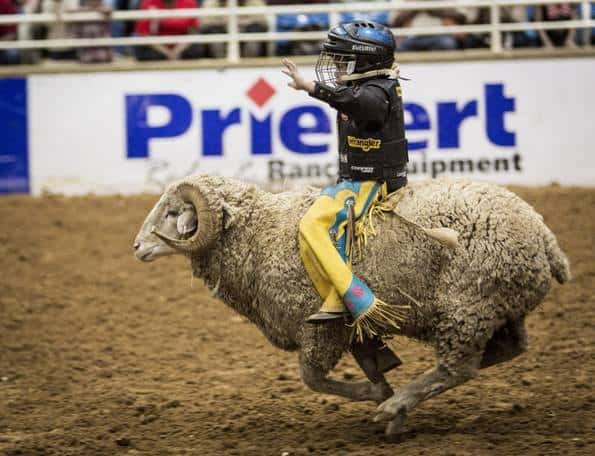 But let's talk about rodeo for a sec. Those guys are crazy good athletes. And I do mean athletes. You can't watch the beating they take on those broncos without appreciating how good your own back will feel in the morning. And, you didn't have a bull chase you out of the ring with its horns either. And yes, we cheer for the cows when they escape the roping, because cows are cute and I'm sure they don't like being hog-tied, but they shake it off and it's been cowboy life for a hundred years and I still can't get enough of it.
[embedyt] https://www.youtube.com/watch?v=-Jk3MgoleDU[/embedyt]
Actually, the Mesquite Pro-Rodeo is celebrating their 60th anniversary. SIXTY YEARS people! Every pro-rider you see on TV has come through those iron gates at some point. Again, why haven't you gone yet?
You still have time this summer. Just 15 minutes from downtown Dallas, the Mesquite Championship Rodeo Series is held every Saturday night July 8th through September 30th in the climate-controlled Mesquite Arena at 1818 Rodeo Drive.  Founded in 1958 by Neal Gay as a permanent rodeo (as opposed to many other rodeos that would move from town to town), it grew as the city of Mesquite grew. By 1970, Interstate 635 was constructed, allowing everybody in the Dallas area to be able to easily visit the rodeo. Today, attendance now soars to more than 200,000 spectators during the season.
I was happy to see that the rodeo has police on site, but even though there's plenty of liquor, beer and wine for sale, you don't see crazy drunks like you see at other sporting events (I've been to the rodeo twice, and neither time did I see people lit up). AND, it's reasonably priced. Hello, Dallas indi-cinemas who charge $21 for a glass of wine?! Same pour for under $10 at the rodeo! Get excited people!
Even better, they have Eddie Dean BBQ. You haven't had good BBQ until you've tasted Eddie Dean BBQ. Go to the all-you-can-eat buffet, get a sample of everything: the briskit, pulled pork, ribs, turkey, and sausage. I'm drooling just remembering it. End it with a slice of dreamy buttermilk pie. Or chocolate pecan. Or both, if you can fit them into your waistband. The Cucpake just kept saying how good it all was. We asked — as we waddled to our seats — if "all you can eat" means we can come back during the show, and she said yes, just show her your receipt.
It's super easy to get to the rodeo so grab your cowboy hat and boots and get over there. It's right off of 635 in Mesquite, one exit south of 80 East. For more information visit www.MesquiteRodeo.com or call 972-285-8777/ Tickets are available online at www.TicketMaster.com or by calling 1-800-745-3000.