Sometimes you have to make your own Island Time.
Like when it's hump day and tropical storm Bill foils your best laid plans to be on TV.
Or when you make the hubs some righteous banana bread — the best in the history of Chez Perot banana bread — and it slips out of your hands and shatters the glass pan with it in it all over the counter.
Or when your seven year old finally learns how to whistle and doesn't stop day and night for nearly a week.
All good reasons to catch a flight to Margaritaville. But sometimes, it's still only Wednesday and floating away on a raft with a beach drink in your hand isn't gonna happen. Then next best thing to do is turn up a little Cheeseburger in Paradise and impose your own Changes in Attitude.
C'mon, you know it works.
Jimmy Buffett once said, "I sell escapism."
Well, thank God for that because I'm buying during this crazy flood.
No seriously. Tradewinds Teas has partnered with Margaritaville Enterprises, LLC to bottle up just what you need to have a mental getaway and all you have to do is pour. Have you seen this new line of tropical fruit flavored bottled iced teas?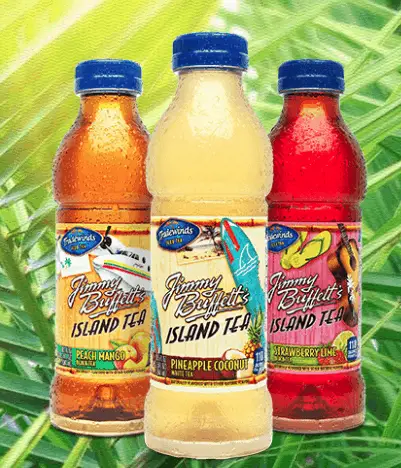 For realz. I was sent a box of them to sample and I have to say, you can't really be in a bad mood when you're sipping anything with Jimmy Buffett's name on the label. Now thankfully, you can make your own miniature paradise any time of the day with these five delicious Tradewinds slow-brewed teas:
Peach Mango Black Tea
Pineapple Coconut White Tea
Tropical Citrus Green Tea
Paradise Punch Hibiscus Tea (flower for behind ear not included)
Strawberry Lime Black Tea
Sweetened with natural flavors, these refreshing teas have been a huge hit in my house.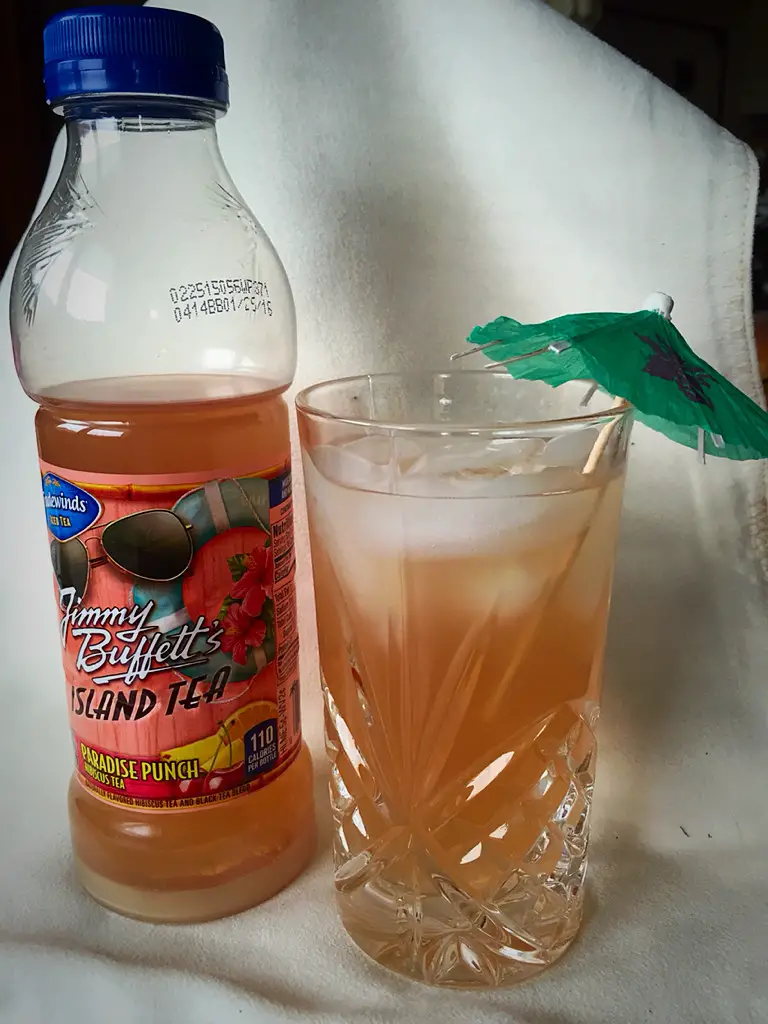 I had to fight Big Daddy to keep his paws off so I could take photos before he slugged them down, and even the Cupcake was stealing sips.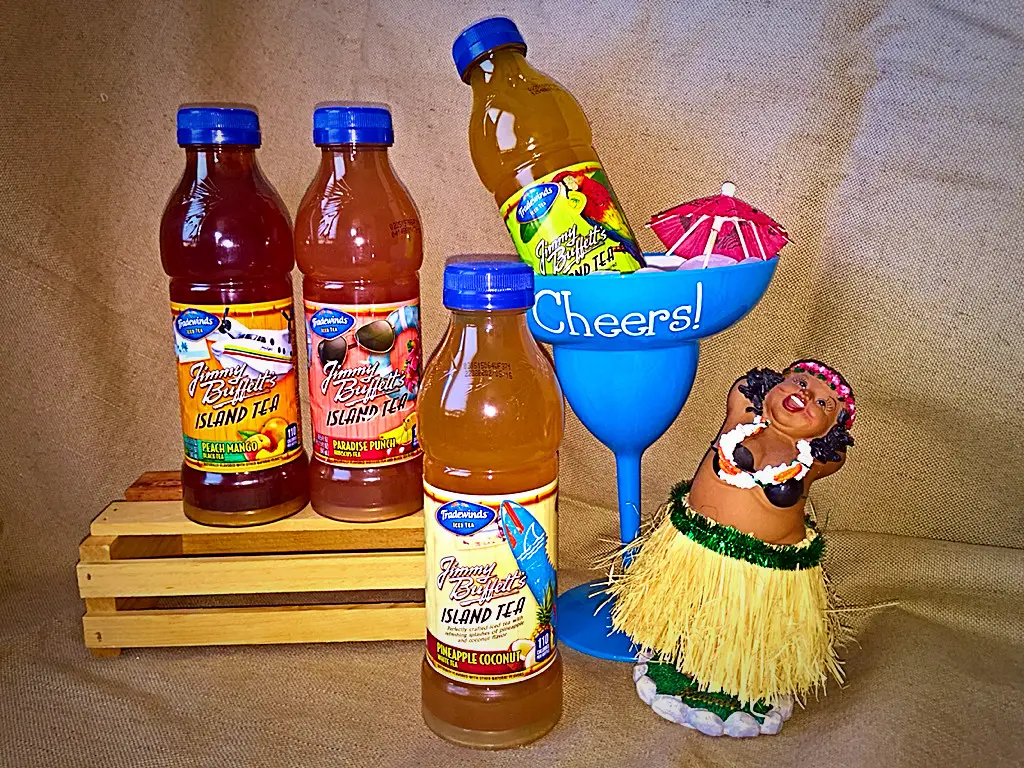 And I know what you're thinking….if it does happen to be Island Time, the Tradewinds website has adult bevy "recipes" to even further enhance these delicious flavors. 😉 Cheers!
You don't have to be a parrot head to want to try these — and here's how you can for free. I'm giving away two  Tradewinds "Sip & Sing Your Way to Paradise" Swag Boxes, filled with must-haves like shirts, cozies, sun glasses, towels and of course the new brew! (Enter at the bottom of this post)
And if you're so swept up with the Island attitude, you can even enter a separate nationwide contest by submitting your best rendition of "Cheeseburger in Paradise"at  www.tradewindstea.com/jimmybuffett (Don't worry, it's Karoke. They have it all teed up for you!)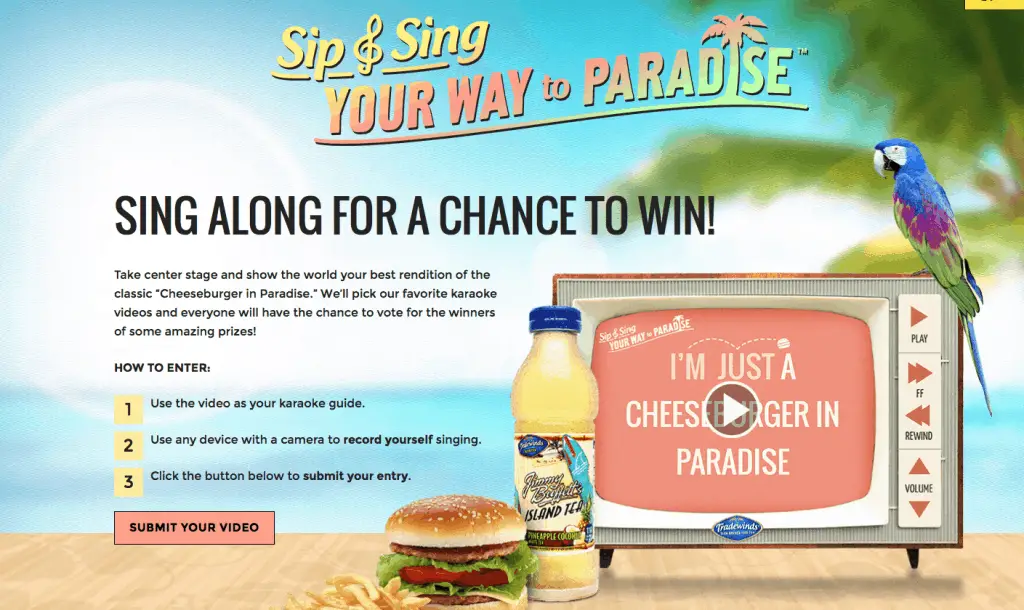 At the end of the summer, the top 25 finalists will be awarded amazing prizes, including one grand prize trip to Margaritaville's new flagship luxury resort  in Hollywood, FL; two runner-up trips to Las Vegas, NV for a Jimmy Buffett VIP experience; a year supply of Tradewinds® Jimmy Buffett's Island Tea; and paradise packs filled with goodies for kicking back! ABOUT THE Karaoke CONTEST: NO PURCHASE NECESSARY. LEGAL RESIDENTS OF THE 50 UNITED STATES (D.C.), 18 YEARS AND OLDER WHO DID NOT PURCHASE ANY EQUIPMENT FOR PURPOSES OF ENTERING THE CONTEST. VOID WHERE PROHIBITED. Enter Contest by: 7/30/15. For Official Rules and prize descriptions, visit www.tradewindstea.com/jimmybuffett. Sponsor: Nestlé Waters North America Inc., 900 Long Ridge Road, Building 2, Stamford, CT 06902.
Looking to buy these teas? Use their store locator here or order online, however it looks like most of the Krogers in the DFW area have them.
Do you love these teas? Tell Jimmy about it on social media with #TeaTimeSomewhere and follow Tradewinds Tea on twitter at @tradewindstea and on Facebook.
I was provided a sample pack of Tradewinds Jimmy Buffett teas so that I could provide a contest and giveaway. All opinions are my own.