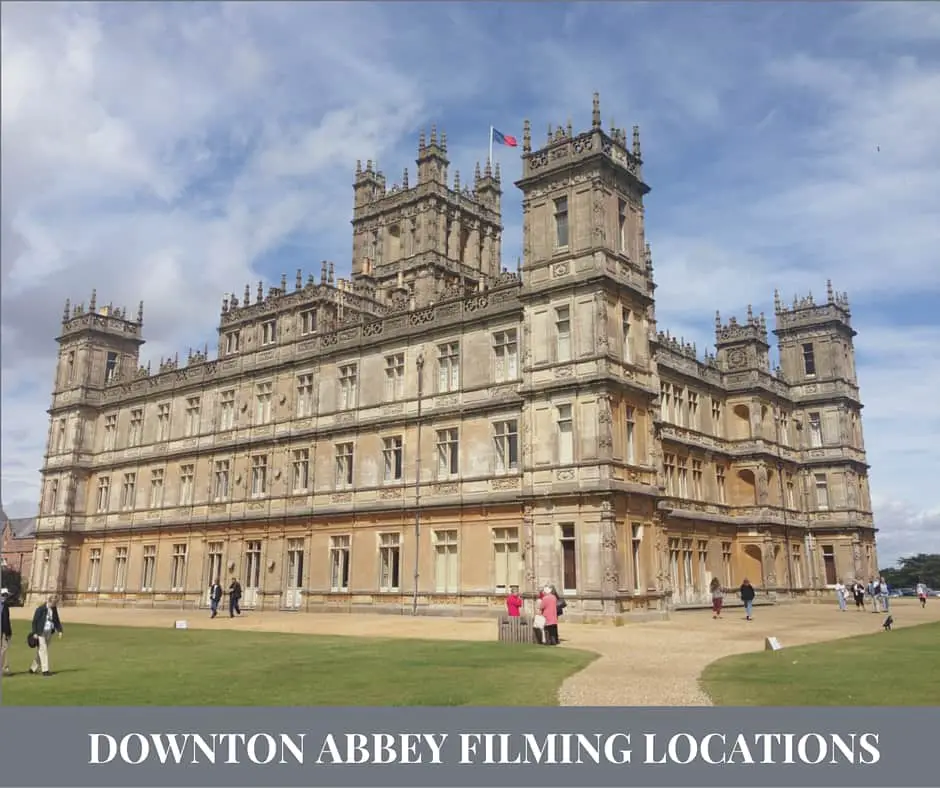 The premier of season 6 of Downton Abbey aired in the US last night. I won't give away any spoilers, but it certainly moved the stories along in the sweetest and most fulfilling way. If only Masterpiece: Downton Abbey Season 6
" target="_blank" rel="nofollow">my discs would arrive from Amazon so I could binge watch the remainder of the season! Some of my favorite quotes from episode one of season 6 are:
"Does it ever get cold on the moral high ground?" – Violet to Isabelle
I swear that one will slip out of my mouth one of these days!
"Is this a refrigerator?" – Lord Grantham
Replace "refrigerator" with "dishwasher," and this is my life with Big Daddy. I swear, you'd think he'd never even heard of such a modern convenience.
"Sometimes it's good to rule by fear." – Violet to Isabelle
The context of this scene is priceless. If you've ever wanted to see a no-gooder get a dose of their own medicine, this is it! I'm still chuckling this morning.
Until those DVD's arrive though, I'll be reminiscing our visit to Highclere Abbey – truly a Downton fan's must-do when visiting the UK. Sadly, they don't allow photography of any kind INSIDE of Downton, but we had plenty of photo opps on the massive grounds surrounding it. And since we chose (much to Big Daddy's chagrin) the tour bus trip,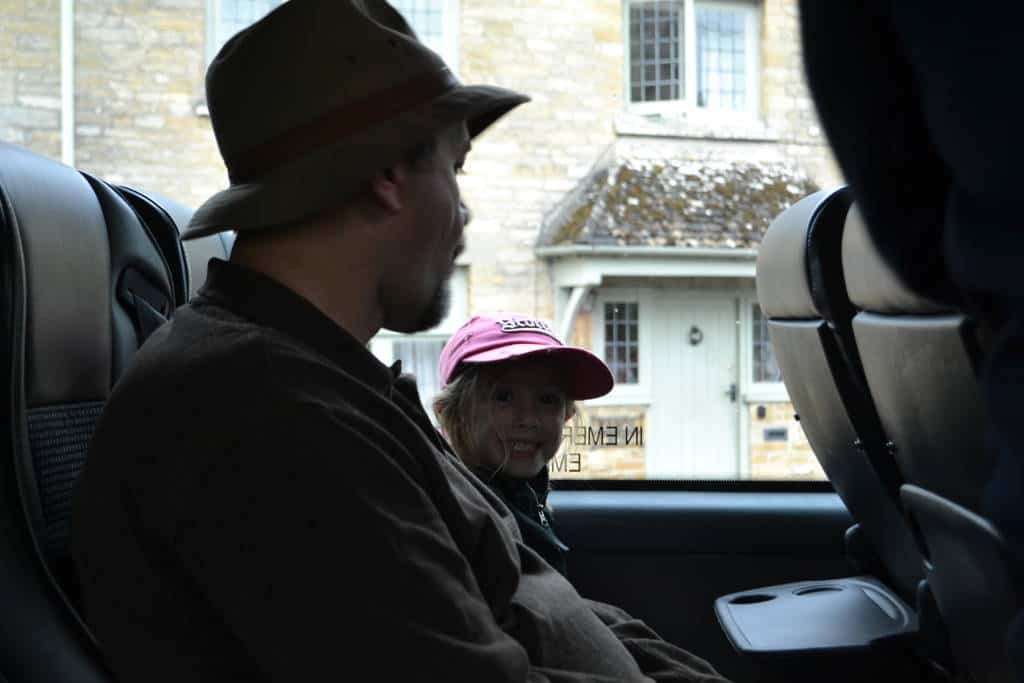 we got to not only the visit to Highclere Castle, but also a visit to charming Cotswolds main street (for a different post, I promise) and a walk through its village of Bampton, which you may recognize as "Yorkshire Village." Thankfully, no photo restrictions in this historically preserved town.
Shall we have a look?
Highclere is teaming with tourists, however it's majesty is unmistakable despite the throngs of people.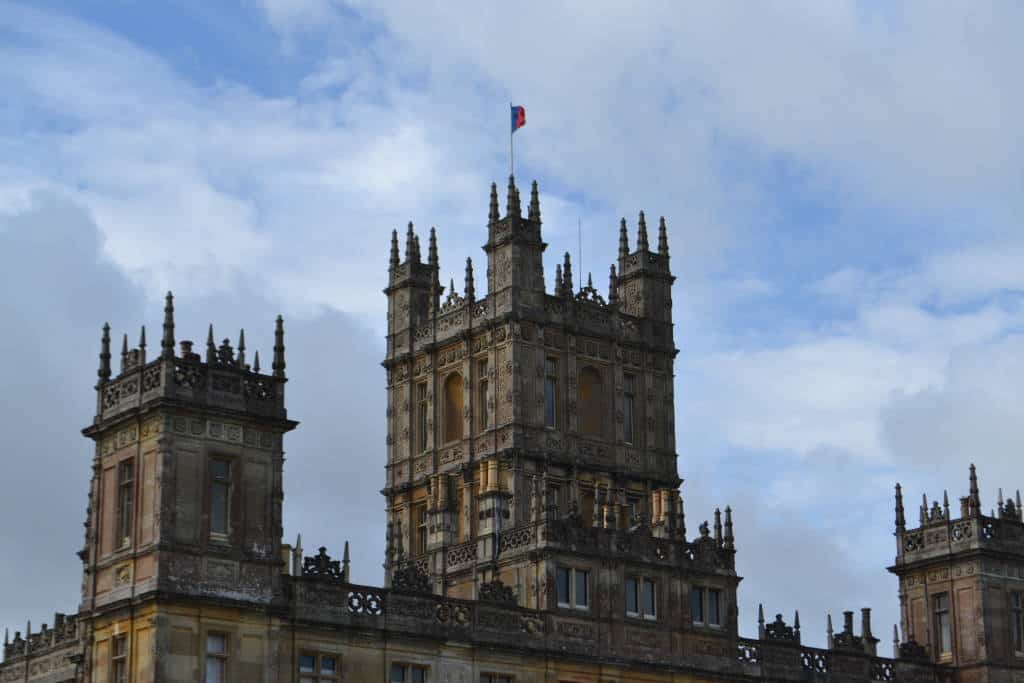 Even the door is dramatic.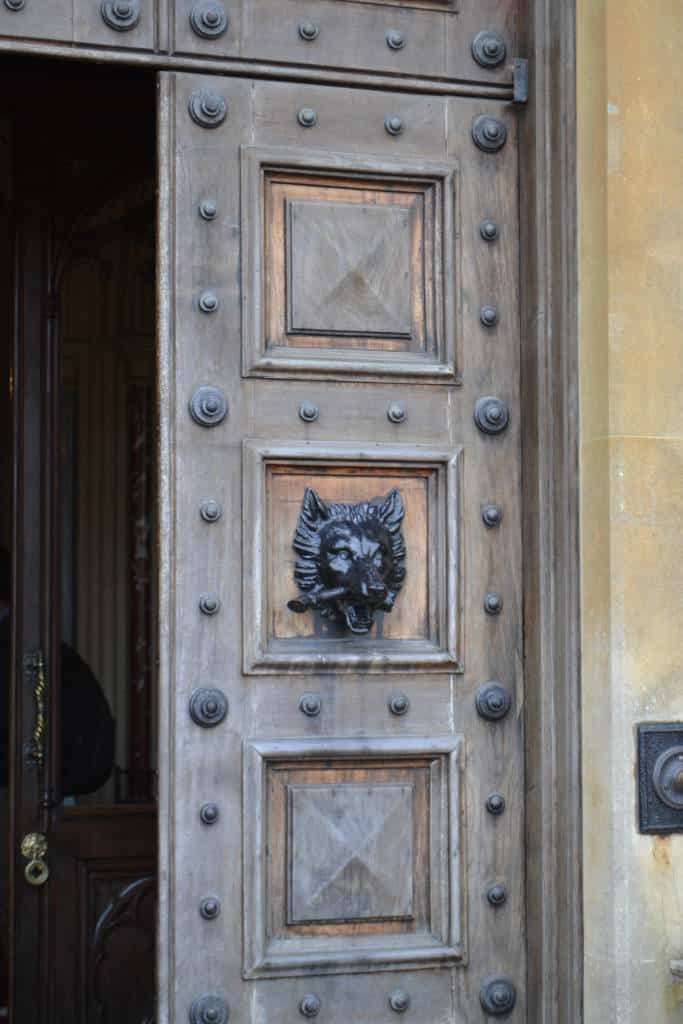 Wouldn't you love to have a formidable door knocker like that?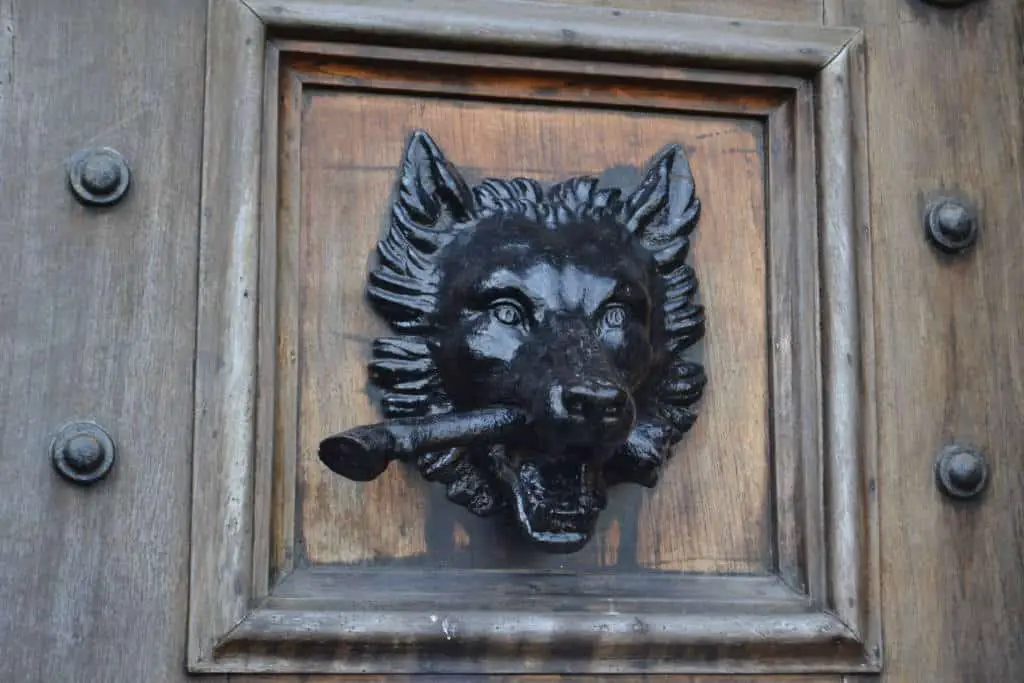 Look above as you prepare for just how grand this trip inside will be.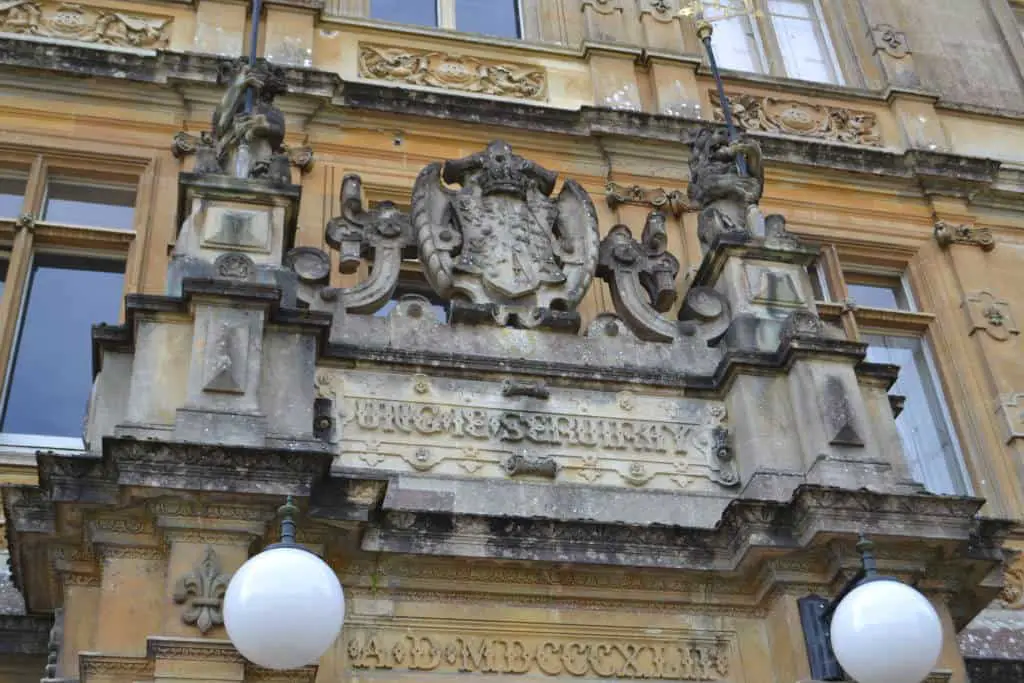 And sadly, like a blacked out NFL game, there were no cameras allowed of any kind inside. It's just as well because it was wall-to-wall people so getting a good shot would be terribly frustrating. Even so, I got goosies when we came down the grand staircase and that I'll remember even without a digital file as proof. Most of the castle is shut off to tourists as the Carnavrons actually live there (see my post about the Inverary Castle which also has royal inhabitants). No worries though, the tour still takes you through to peek in on the red bedroom where Kemal Pamuk famously stayed, stroll through Lord Grantham's stately library and drink in the detailed and massive dining room fully set for guests. The house tour goes quickly – for a Downton fan, much too quickly. I suggest timing your visit during an off-hour so you can linger with the docents and enjoy more of it without prodding shoulders edging you forward. When you go though, don't shrug off the basement that contains archeological finds from King Tut. The Castle was the seat, 100 years ago, of the 5th Earl of Carnarvon, who famously discovered the Tomb of the Egyptian Boy Pharaoh, Tutankhamun, in 1922 with his archaeological colleague, Howard Carter. These are equally as fascinating despite having nothing to do with our love of the show.
Once back outside however, the 5,000 acre grounds will beckon you for a stroll. Maybe have some tea? With a scone and lemon curd? When in Rome…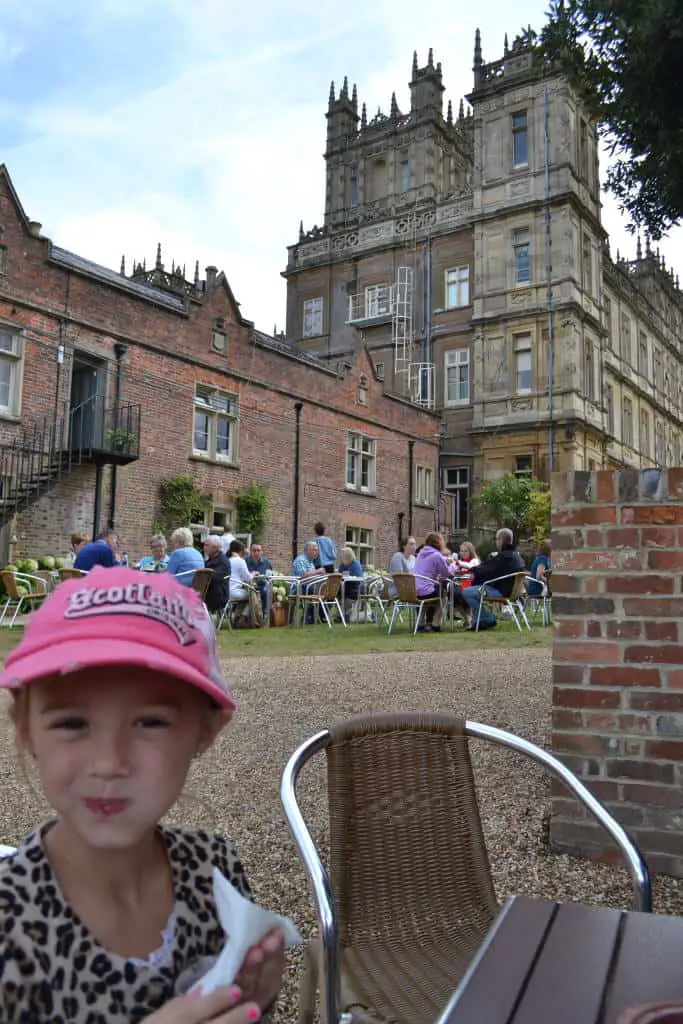 Walk it off and explore the grounds. I know you'll recognize this stately tree.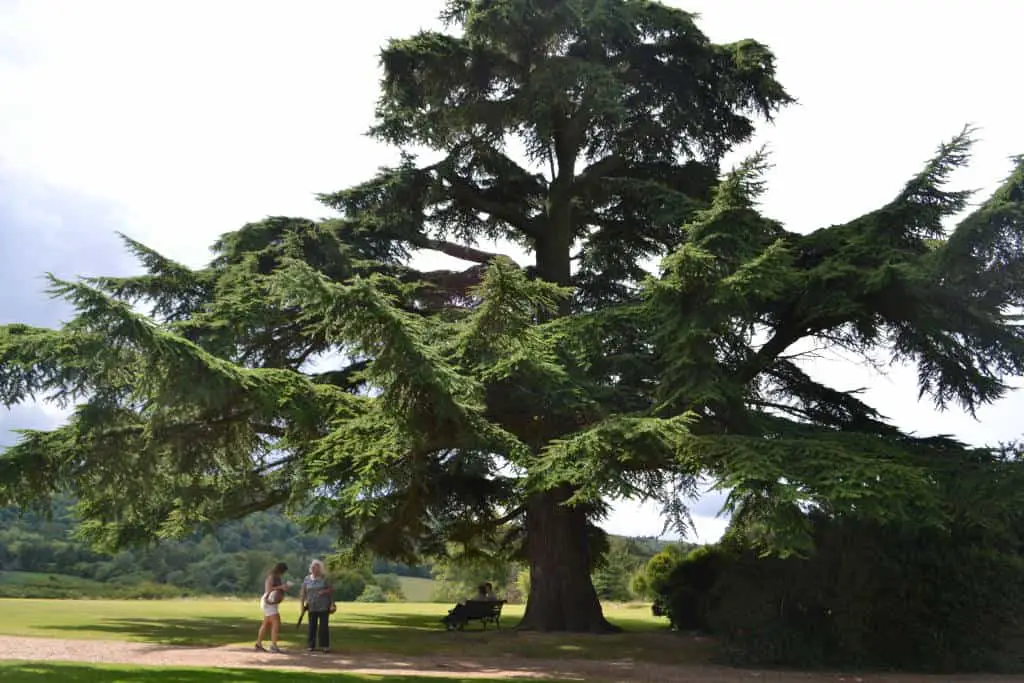 The view was simply gorgeous.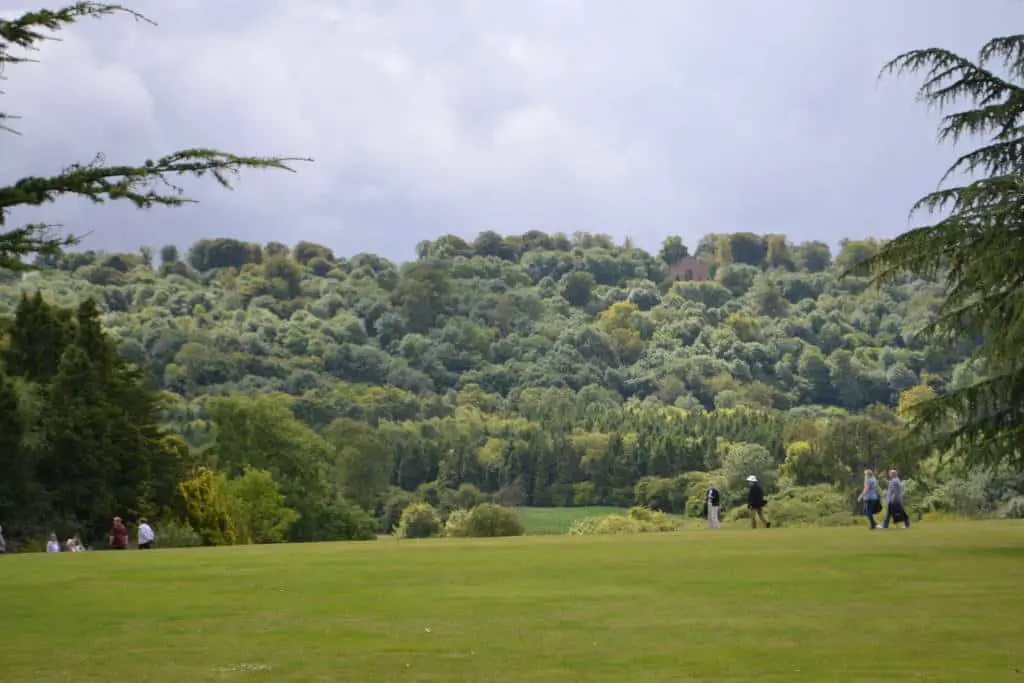 With ample room to do cartwheels.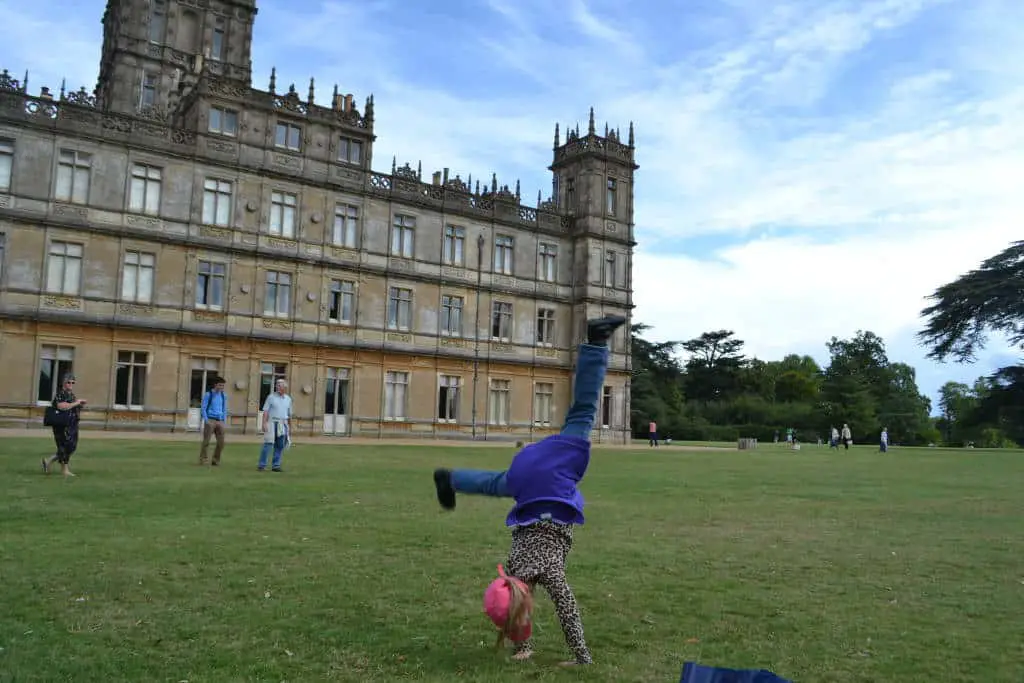 And check out the architecture.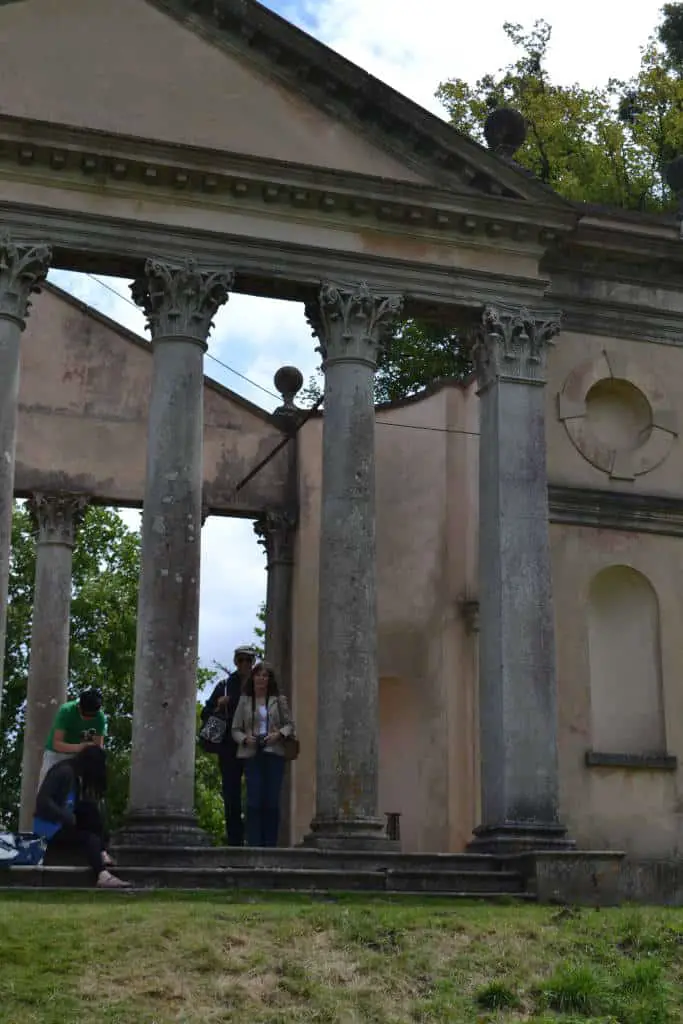 You simply must get a family photo before you leave.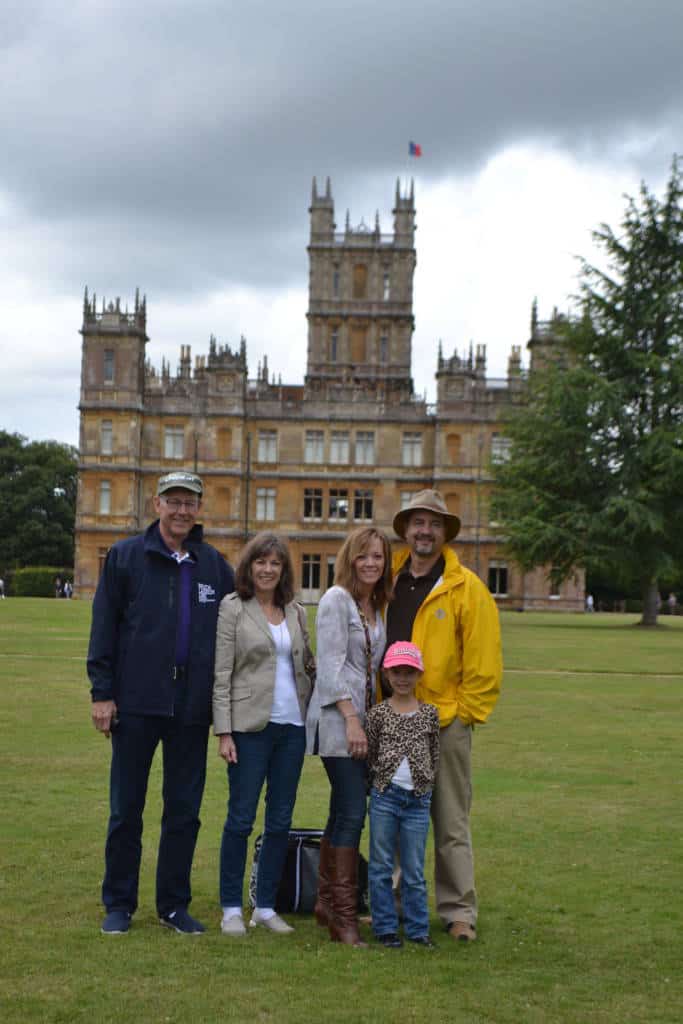 (Side note. Always dress your spouse in brightly colored clothing when being tourists. Makes it much easier to locate him in a crowd.)
We were downright giddy after the Downton Abbey tour, and hungry for more. I'm so glad we had a full day planned. Just a bit down the road was the Cotswolds and Bampton, two other production sites for us to take in.
While the Cotswolds was idyllic and beckons a return visit, it's village of Bampton was packed with recognizable landmarks and proved to be a real treasure because there were hardly any other people in sight. Do you recognize the church where Lady Mary and Matthew were wed, and later his (spoiler alert) funeral service? On the show it's known as "St Michael" but in reality it is St. Mary's Church.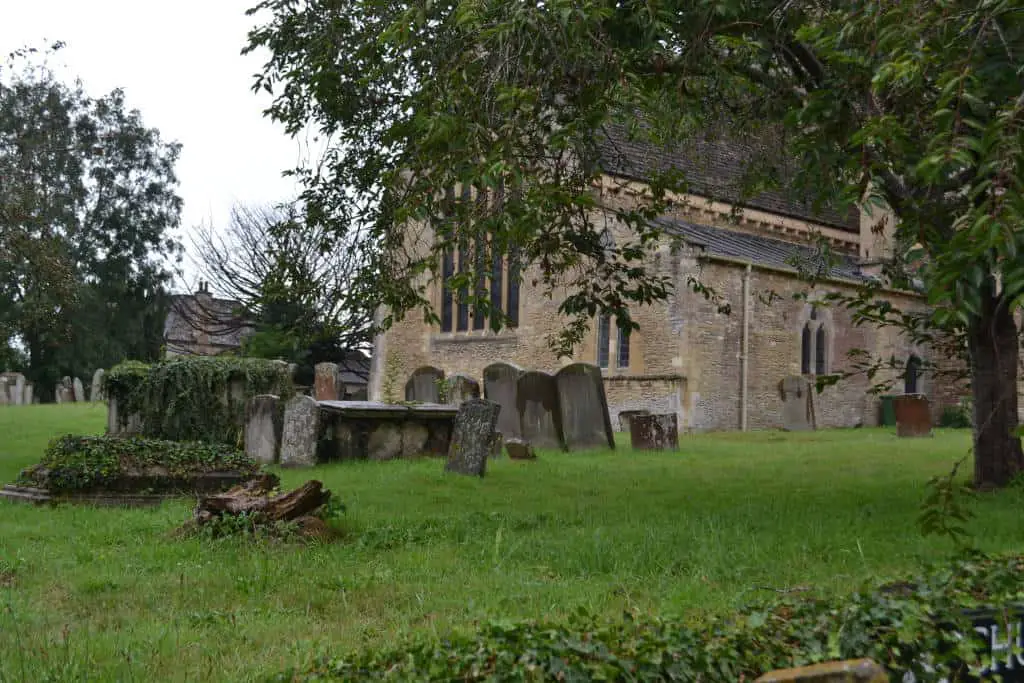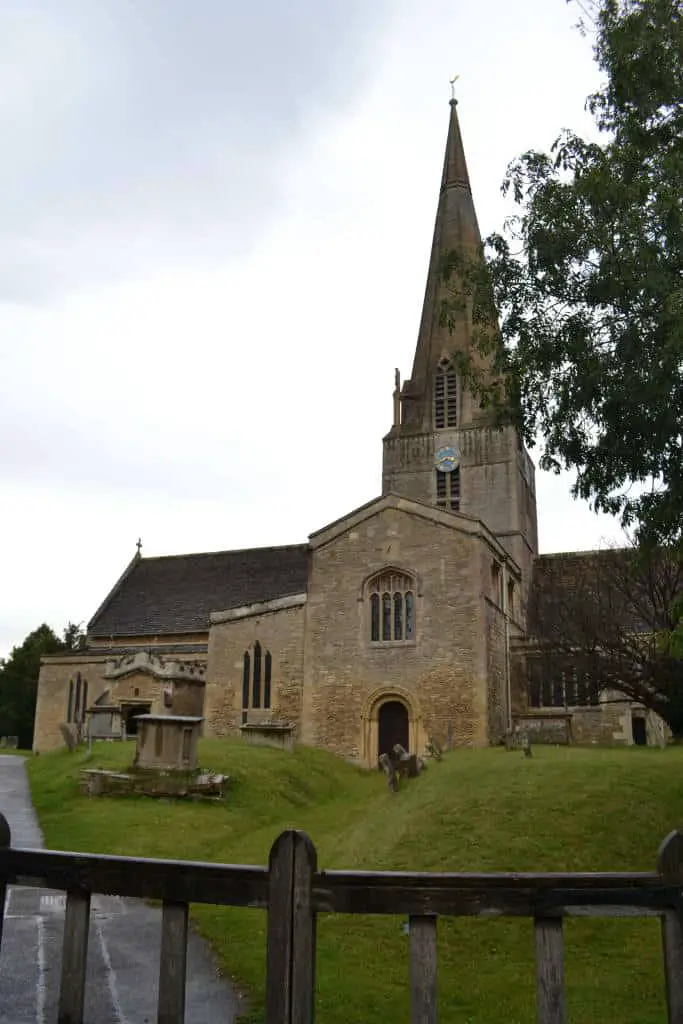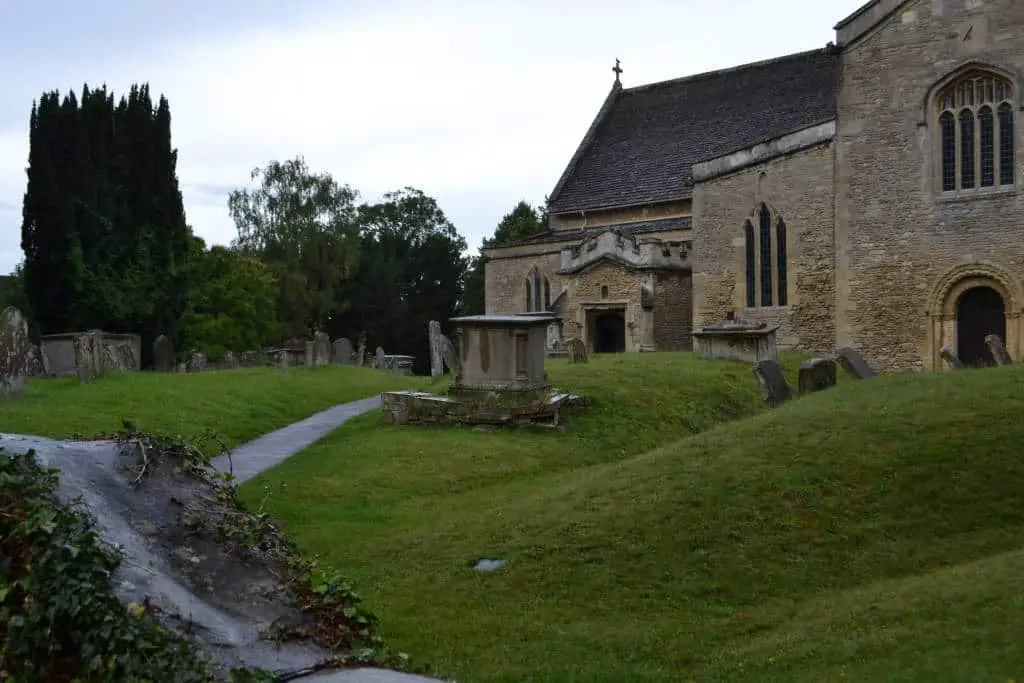 It's ancient both outside and inside. The present appearance of the church is largely a result of a remodelling of 1270, when the spire was built and the aisles were added.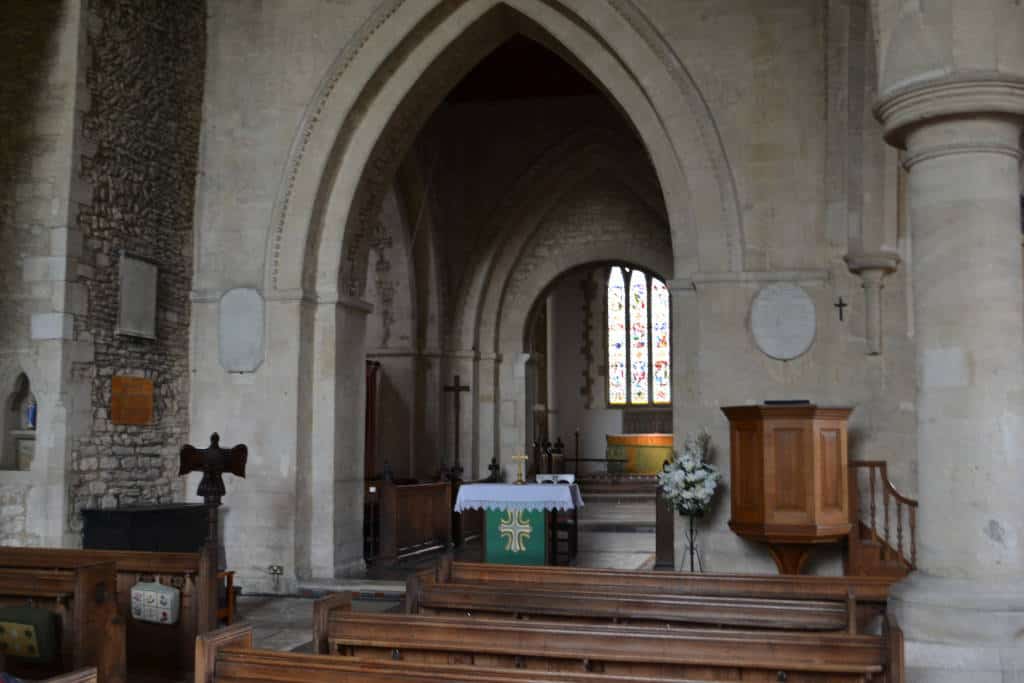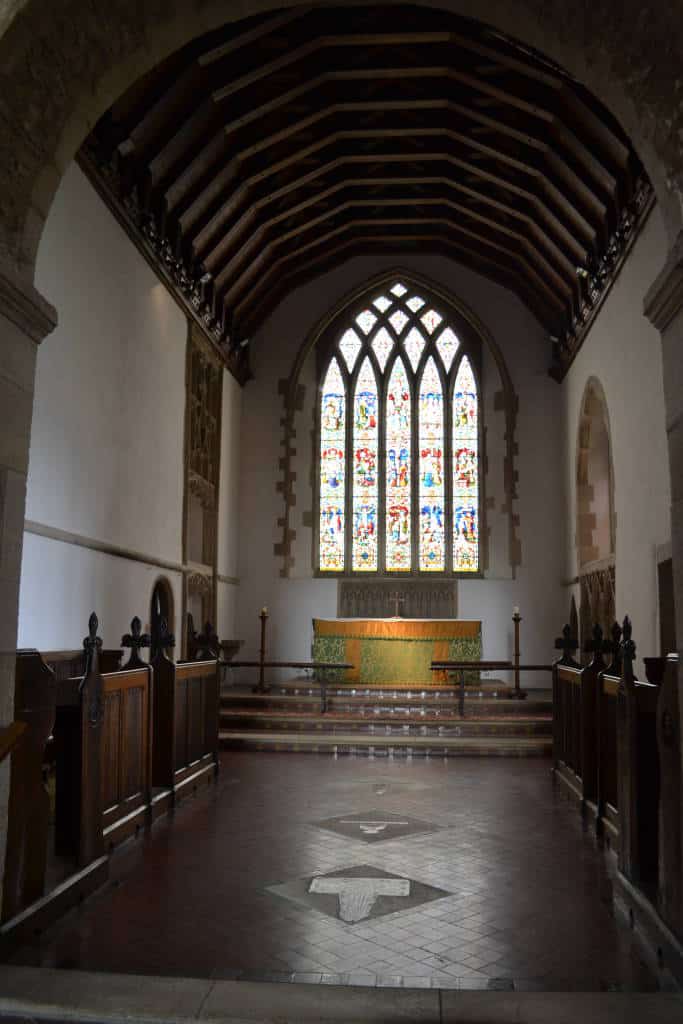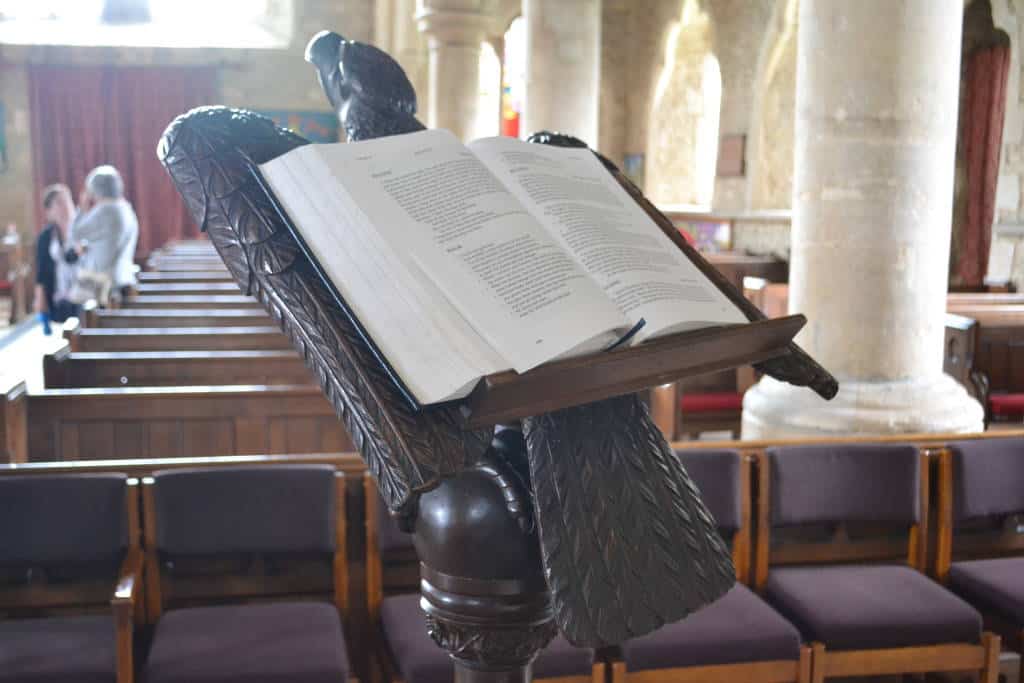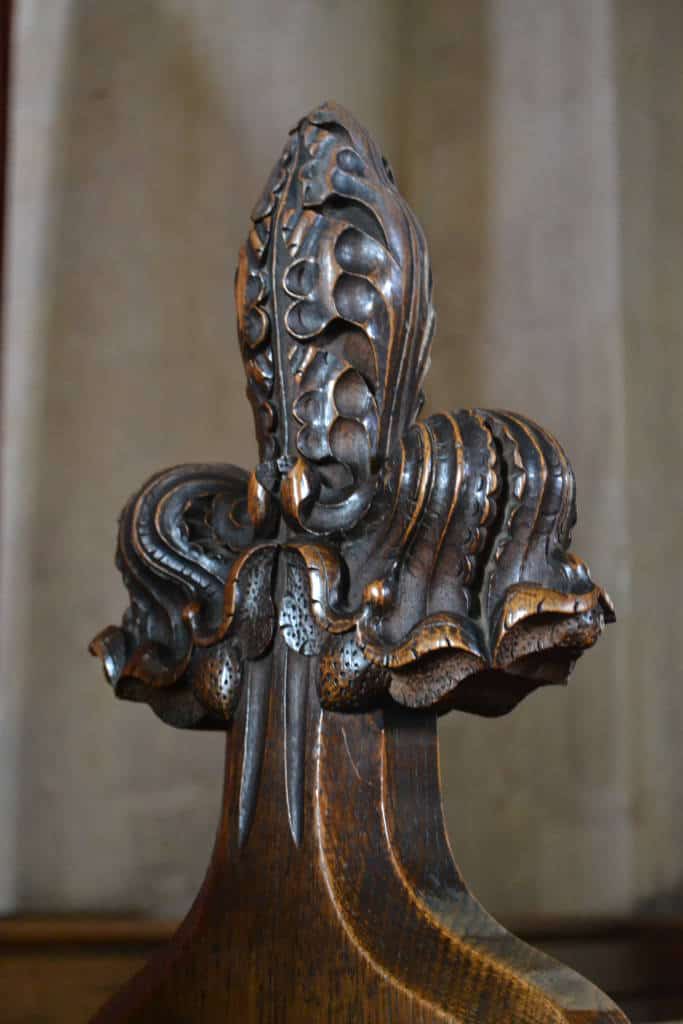 Unlike the mega-churches we have in North Texas, these still have notables entombed. Can you even imagine???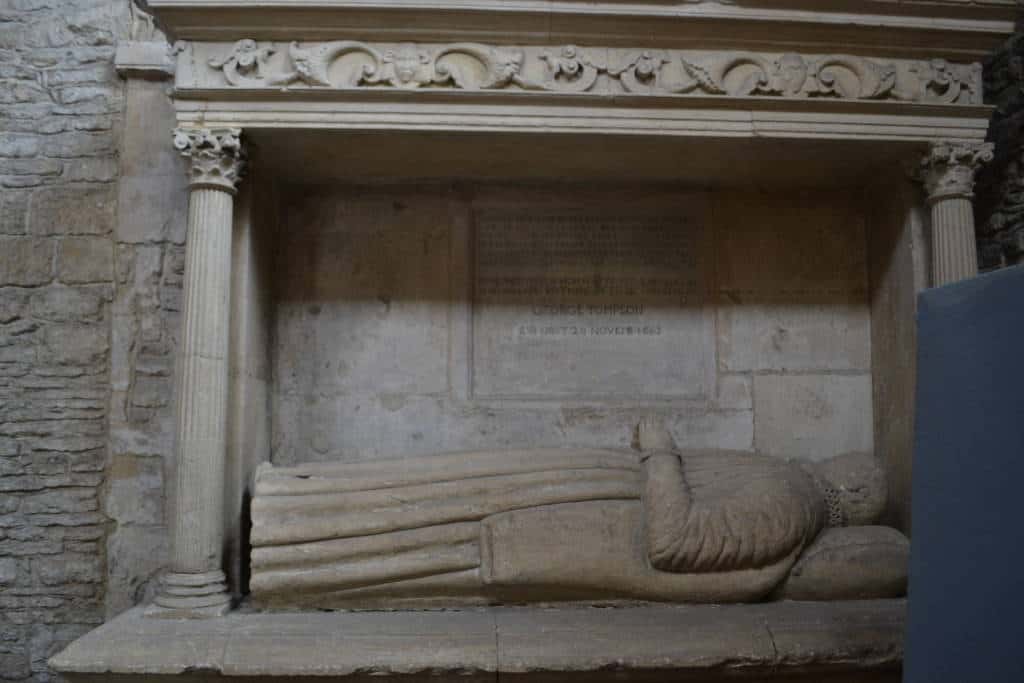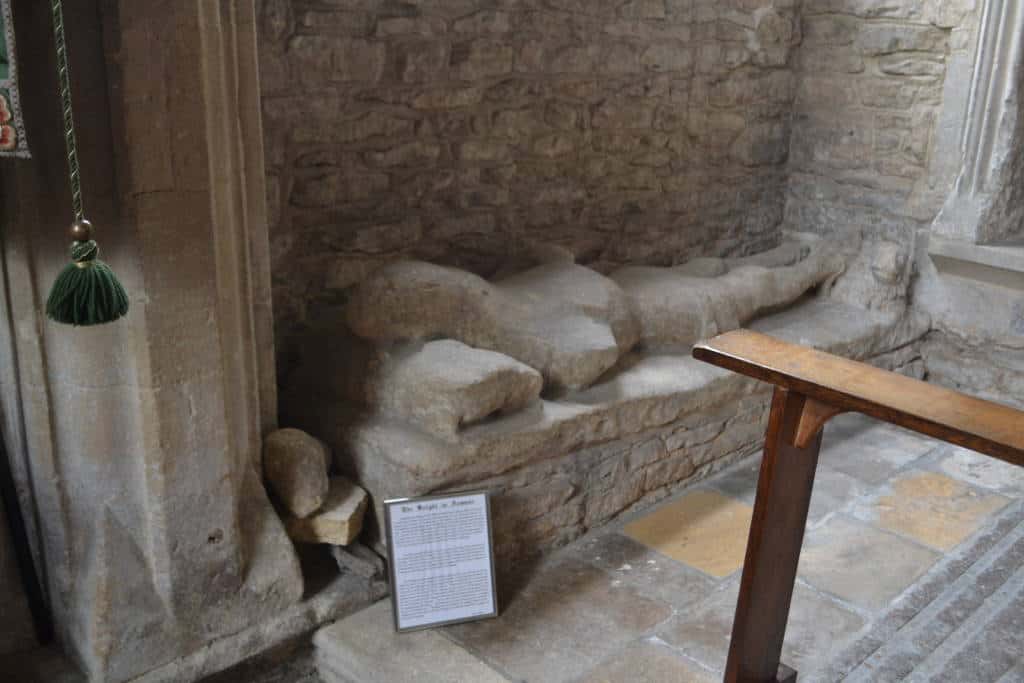 Regardless of the spattering of knights laid to rest, the architecture and history was breathtaking.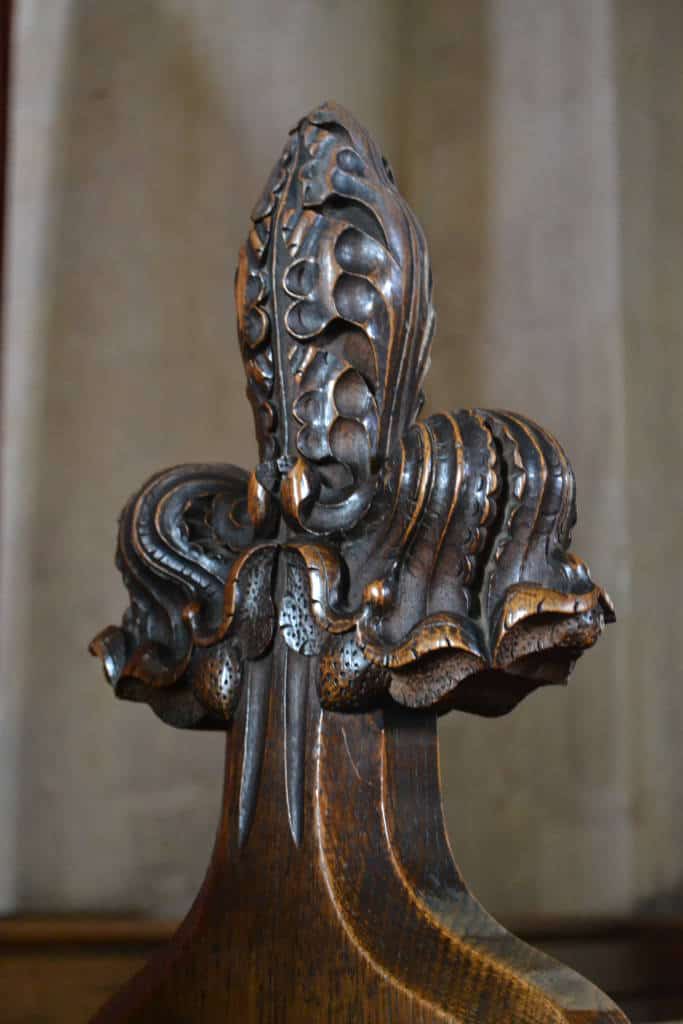 You know this flag has many stories to tell.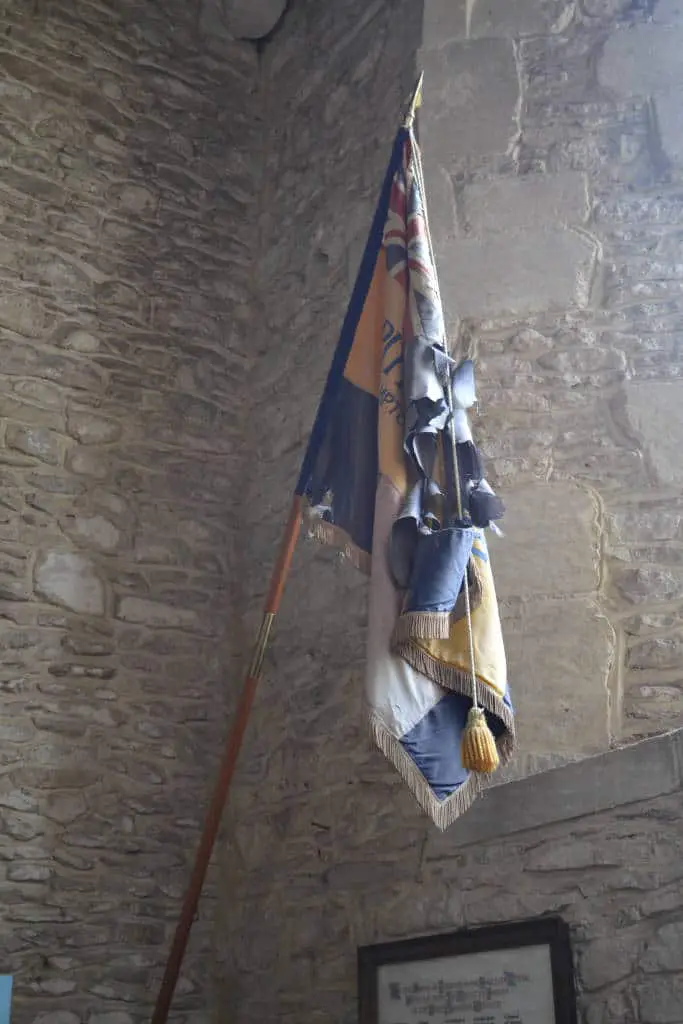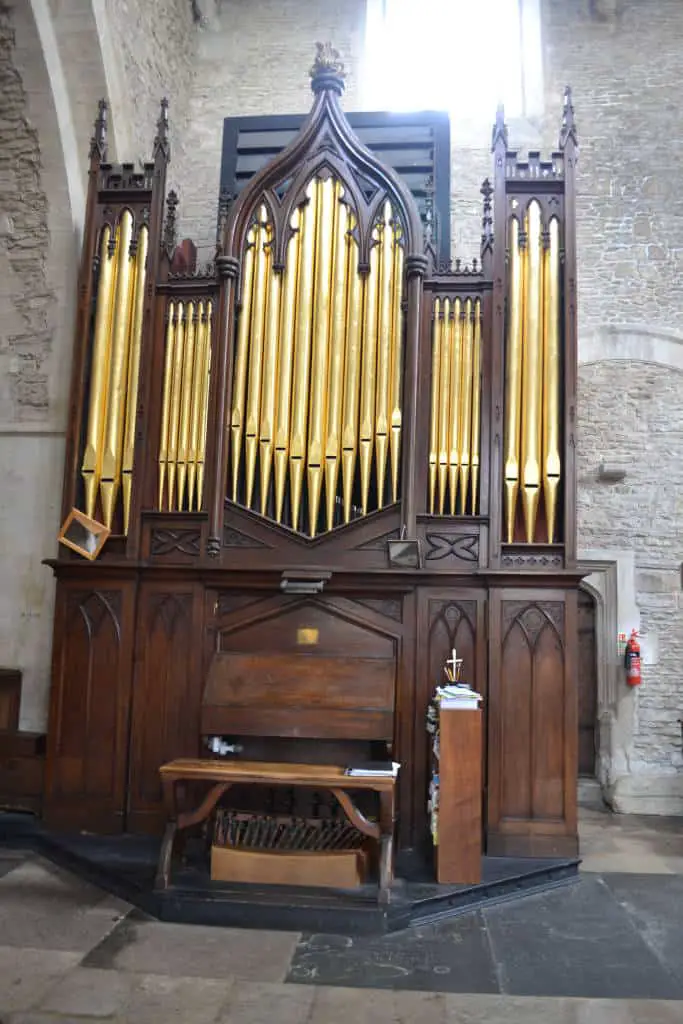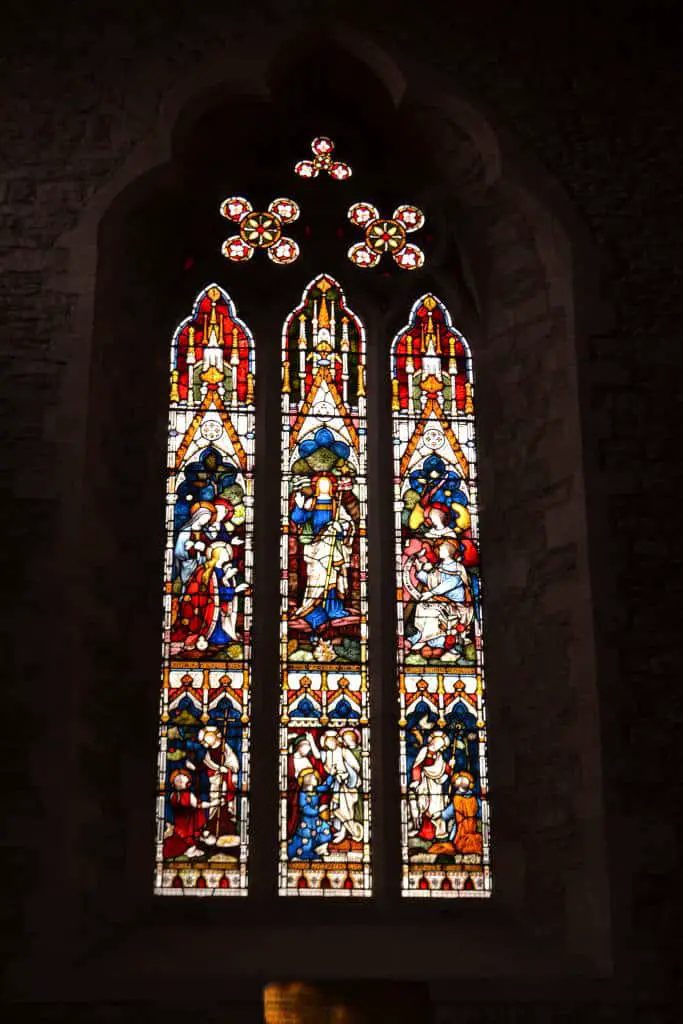 Walking along the streets, we recognized the pub — without it's signage of course. It's actually someone's house.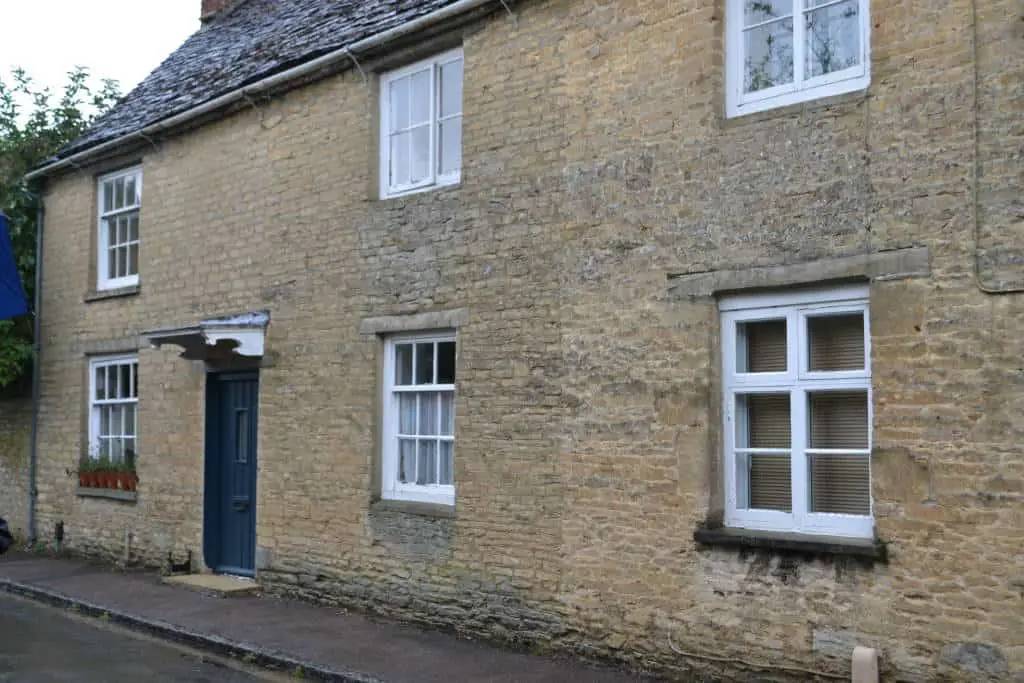 Speaking of houses, they were so interesting, especially the roofs.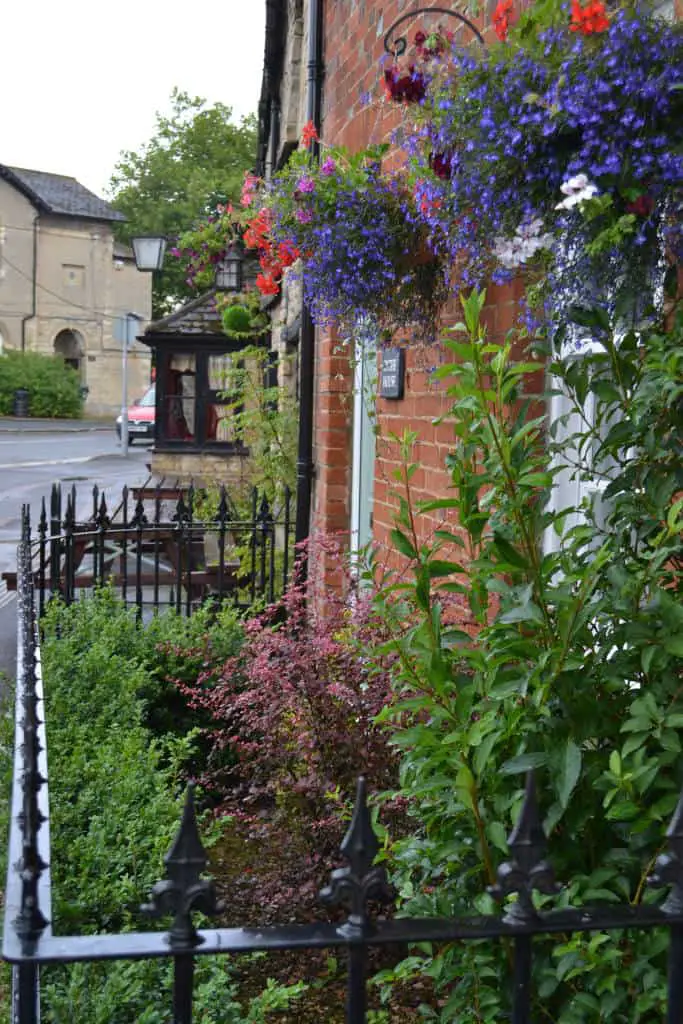 This roof was made of slate.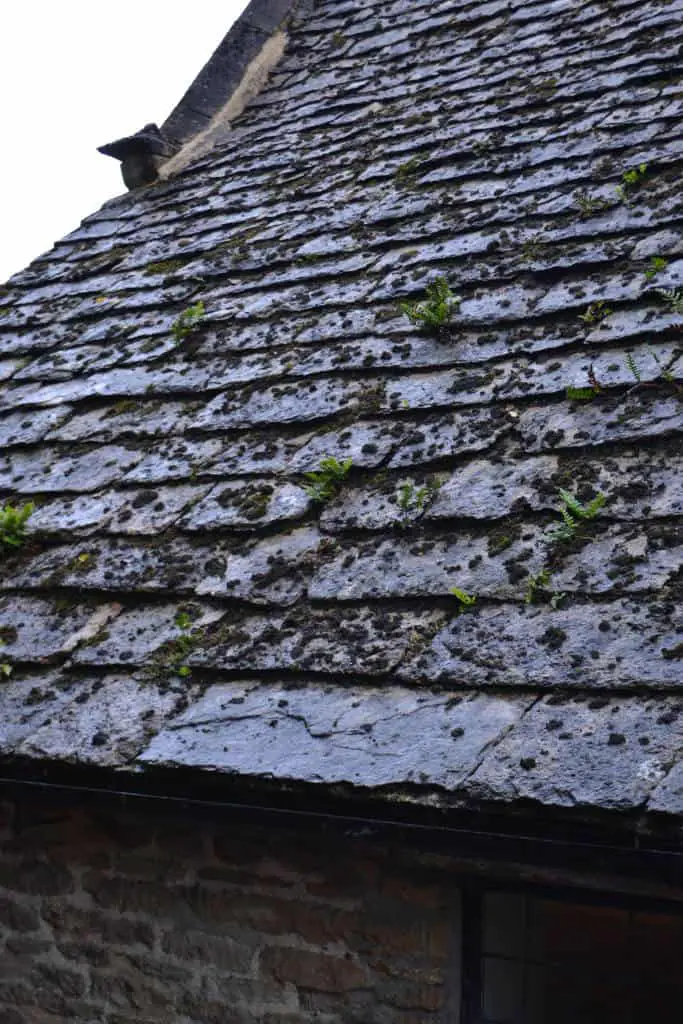 And this was a thatched roof.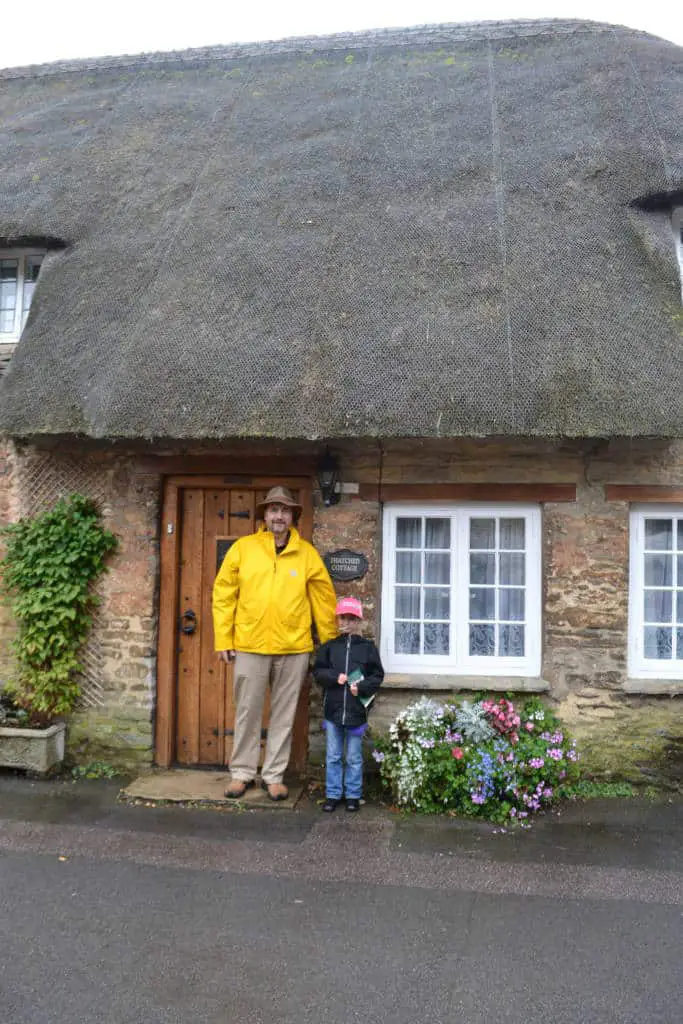 Here it is up close.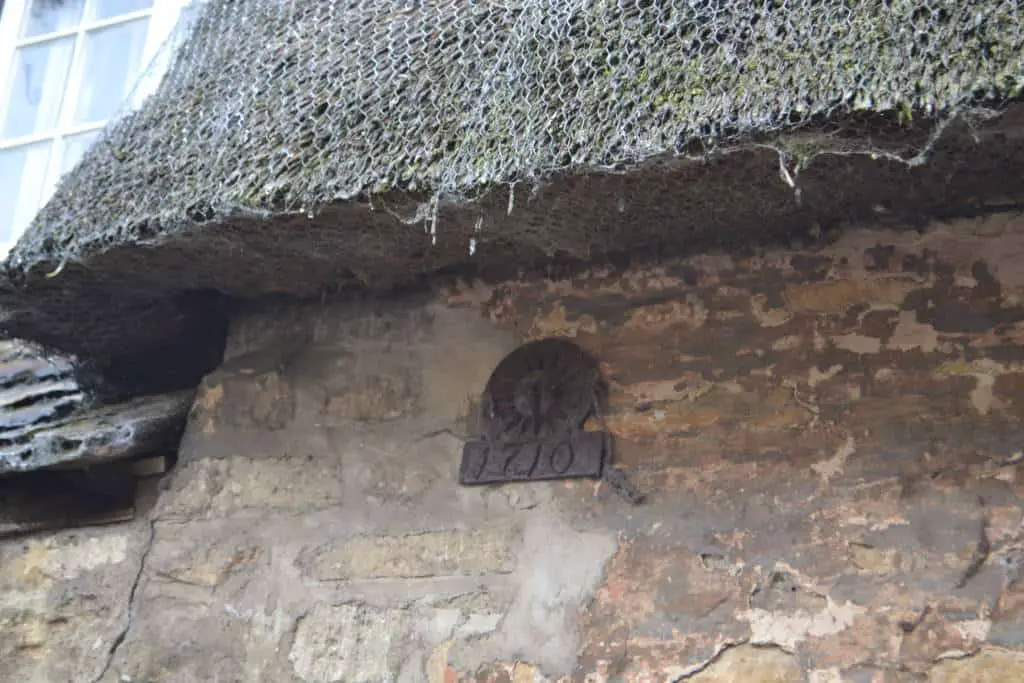 The local library served as the hospital during Downton shoots.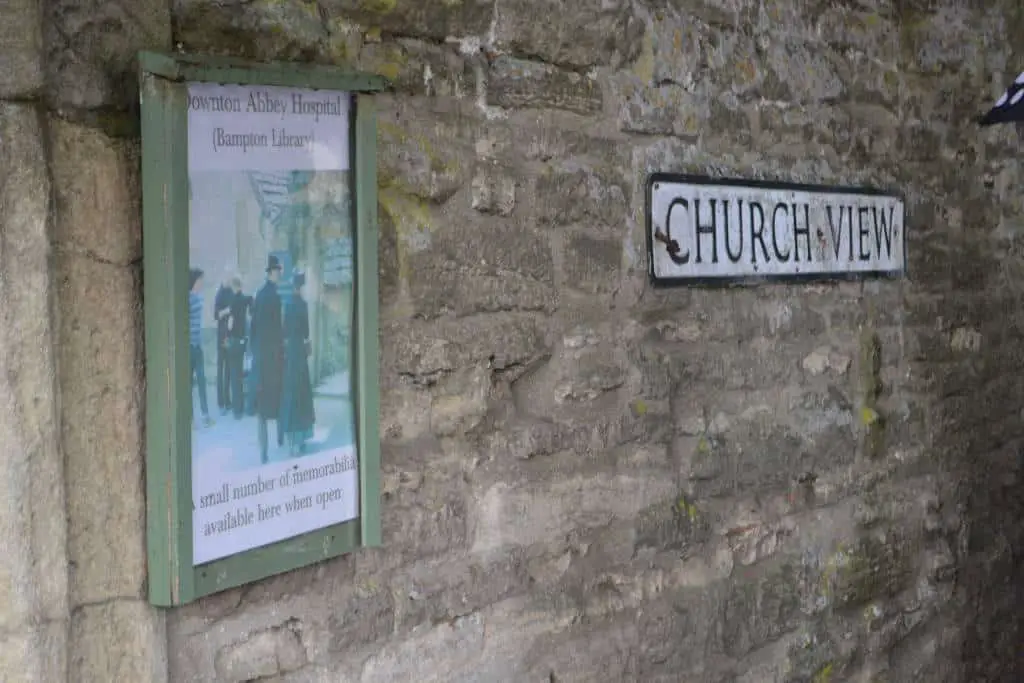 But in the off-season, was chalk full of set photos.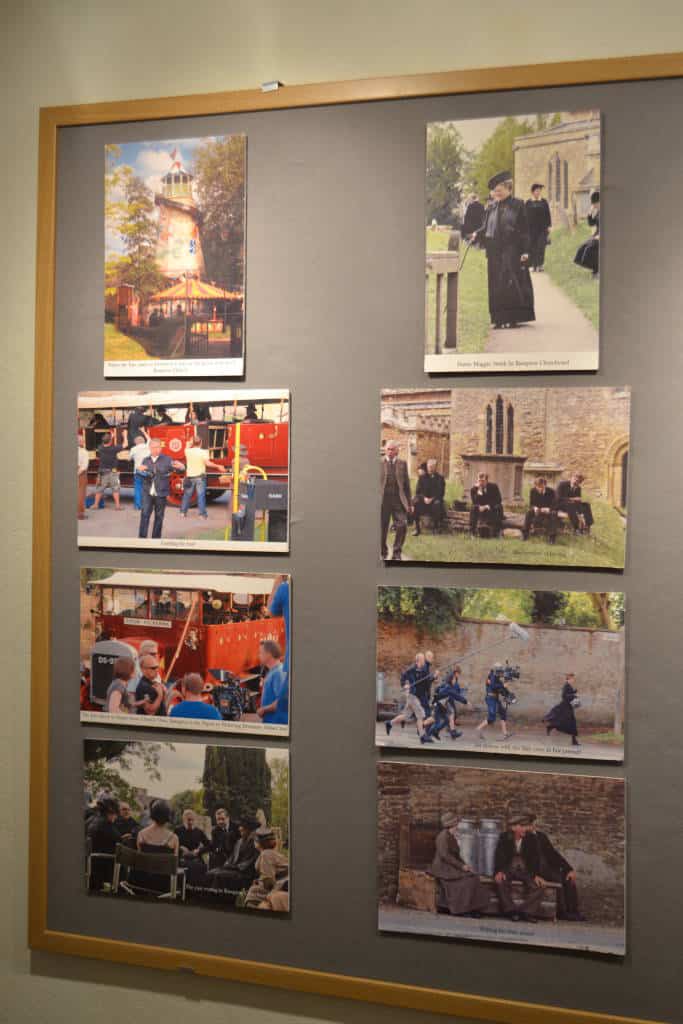 This idyllic little town is stripped of all the Downton accessories during normal days. We were told that when the show wraps shooting each season, they throw a huge "barbecue" for the whole town where the actors and residents gather. It's their way of giving back for the inconvenience they bring to the little burg when all the cameras roll in.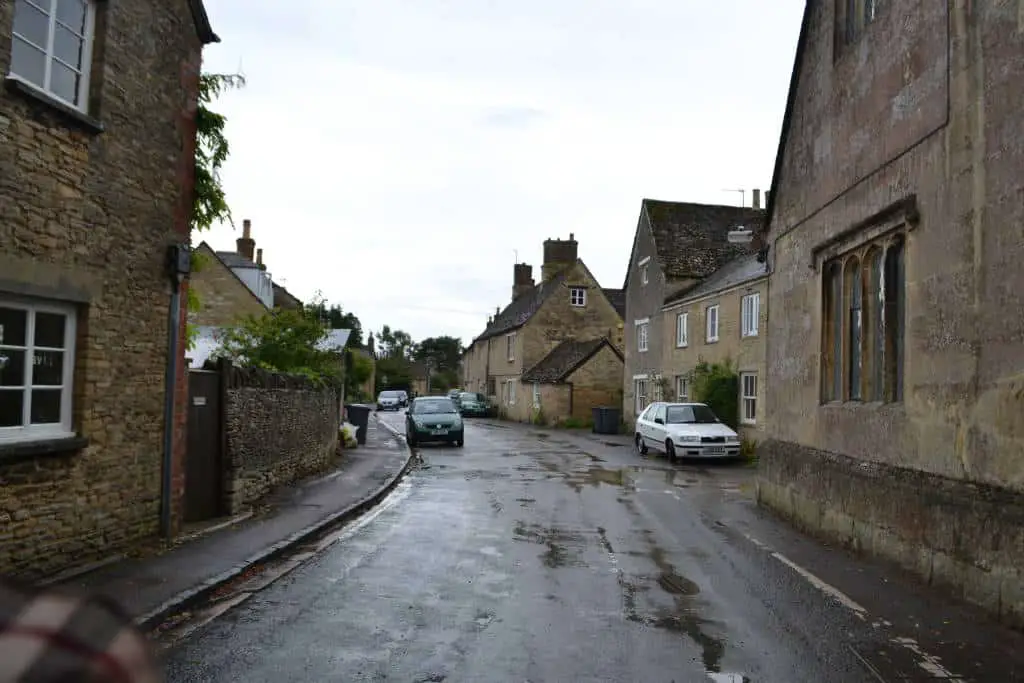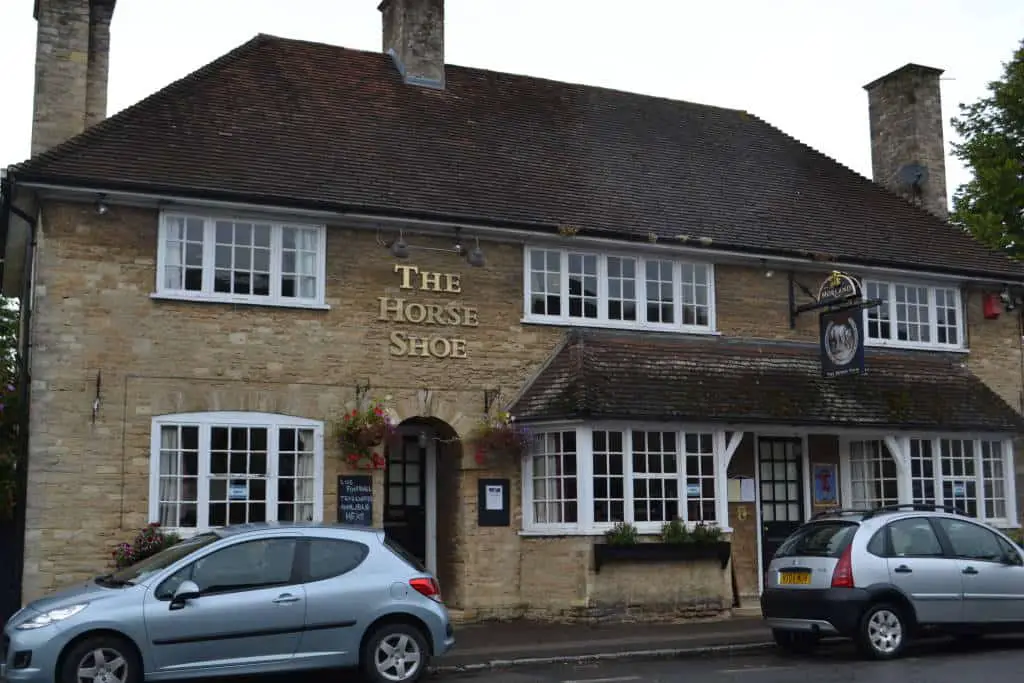 Before we left, I was searching for a souvenir shop or anything to maybe purchase a book about the town but all we found was the butcher shop. For real. And the butcher didn't look like he had anything touristy to offer, or Starbucks related for that matter.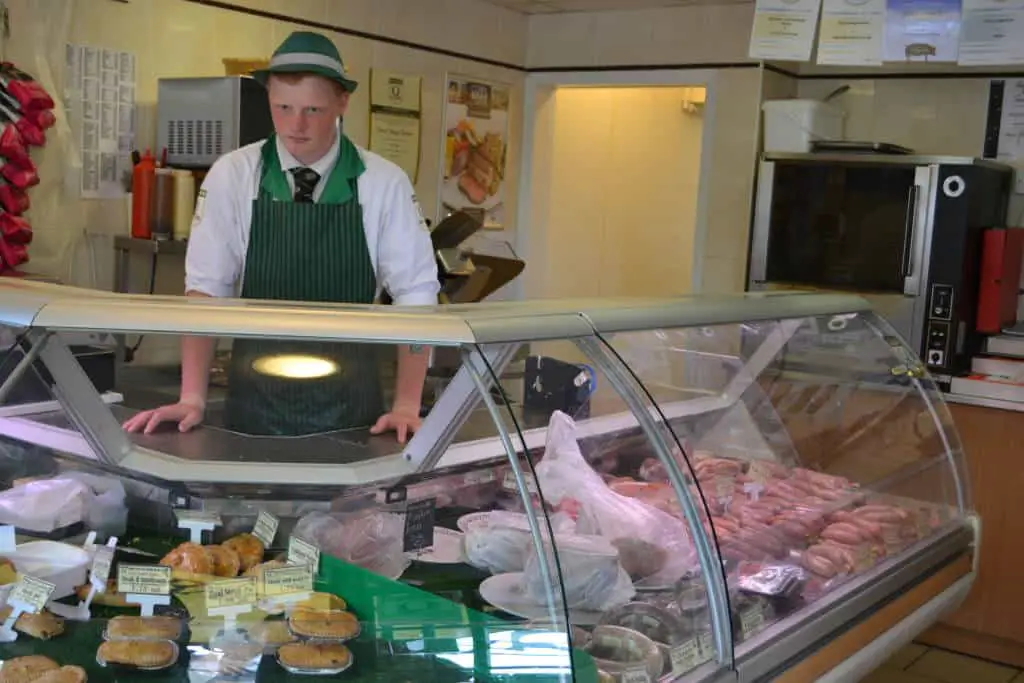 Bampton felt as if you stepped back in time, which is of course why the producers of Downton Abbey chose it, and is so integral to it's huge success. Known for their strict adherence to history and artifact, it made national news that a water bottle had mistakenly made it into the promotional photos. The horrors! I saved the article because it was such a big deal.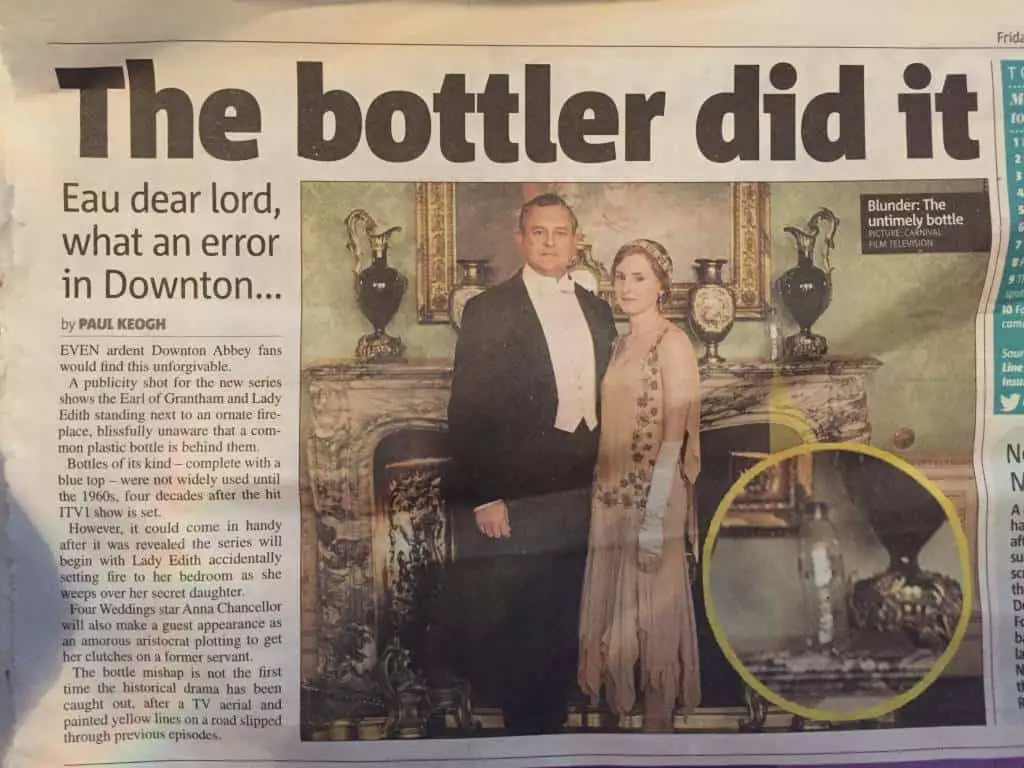 While I would NOT recommend the tour company that we booked for our Downton Abbey excursion because of the immense difficulty in booking and confirming the trip, there are plenty of others available. Check the reviews before you buy, and make sure you purchase with a card that will back your purchase from fraud. You can always book your own trip to Downton and discover the local area on your own as well. Maybe even stay for the formal tea? More about visiting Downton Abbey/Highclere Castle can be found here. Plan ahead as the summer books up as early as February!
Check out many of my other photos from Inveraray Castle where you'll see where the Christmas 2012 episode was filmed. Also, you don't want to miss this AMAZING map that Wayfair.co.uk has created of all the Downton Abbey filming locations. If ONLY we had this when we were touring England!!!