New here? Like us on Facebook to stay updated of new posts. Plus, if you think your friends or followers will enjoy this post, please share on Facebook or Twitter using the buttons at the end of this post. You can also Pin this page to your Pinterest boards by clicking on any of the photos. Feel free to pick any one of the seven images on this page 🙂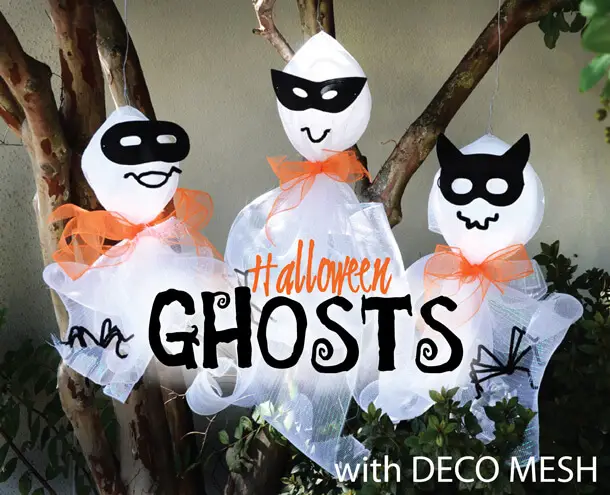 Halloween is creeping up on us faster than a hungry trick-or-treater who skipped dinner, and if you're like me, Halloween ranks right up there as one of your favorite holidays. I love all the fun crafts that go with it and never EVER have enough time to do them all. But that doesn't stop me from trying, lol!
Let's just put it out there, I love adorable ghosts. And c'mon, you'll have to agree that ghosts are the crafters' quintessential Halloween accessory! Can one ever have too many ghosts on Halloween? I don't have time to make all of these, but check out my favorite fabulous ghost ideas from the interwebs. Maybe between us we can be inspired to get to ghosting. Be sure to click through to these great websites and take a look at the "how to's" on each.
1) I think I have a Deco Mesh addiction so it's no surprise that the little ghouls in the header top my list of favorite ghosts to make. Full tutorial on how to make these fabulous deco mesh ghosts from Mardi Gras Outlet:
| | |
| --- | --- |
| | 2)Look what a Cricut and some old light fixtures can do for you! Create these Light Up Ghosts by repurposing what you already have in your house (explain to you husband later why there are no lampshades on the ceiling fan…). See details at One Womens Haven blog. |
|  3) I like making cupcakes and fondant almost as much as I like Deco Mesh, so how could I resist these adorable cupcake ghosts? Check out how to make them on the Ambrosia Baking site. | |
|   |  4) These cheesecloth ghosts are too stinkin' cute for words. Check out how to make your own flock at Country Living. |
|  5) This ghost reflection seems like the sweetest little "gotcha" you can make. See how at Country Living. |   |
| | 6) You know we can't forget the Princess Cupcake. We made some ghosts last year, but I think she's love to make this kid's ghost craft this year. Step-by-step instructions on the Discount Queens website. |
| | 7) Yep, these strawberry ghosts round out my other top favorite things, melted chocolate on … anything! These couldn't be easier and I know the Cupcake would love to make these as much as she did the red, white and blue strawberries we made for July 4th. Check out the recipe at Taste of Home. |
So which of these seven adorable Halloween ghosts is your favorite? Check out some Halloween Decorations and creepy do it yourself Halloween Costumes and Treats.  Do you plan on making any of them for your Halloween?  I'd love to see what you come up with – send me your photos of ghosts you've made!
If you enjoyed this post, then make sure you subscribe to get notified each time a new post is made, and be sure to connect on Facebook, Twitter & Pinterest.