Tiny Home living is foreign to me
Having recently moved across town, I am acutely aware of how much STUFF we have. It's…a lot. At any point during the packing/unpacking process, I was ready to walk away and just start over. But… we have 3 dogs, a 10 year old and a lifestyle that we kind of like that includes a pool and my hobby is hoarding craft supplies and my husband has a thing for antiques and copper pots and then… there's the little's Barbie collection… so unless we enroll in family therapy or a good online minimalist course, we embrace our inner Iris Apfel, "More is more and less is a bore." We've purged, but NOTHING like the people who are locked into this whole tiny house movement.
Surely, you've heard?
Who is living tiny?
These tiny house people are hard-core minimalists committed to a social and architectural movement, one that has parted ways with the McMansions and freed themselves of the burden of the belongings. They've moved into a home on wheels — perhaps a house on a foundation — but typically they are living in less than 500 square feet. The tiny homes on wheels are much smaller — some are even built on a converted school bus ("skoolies"). To put that in perspective, tiny home living is living in a footprint smaller than an IKEA display.
Title
Tiny House Design & Construction Guide
Micro Living: 40 Innovative Tiny Houses Equipped for Full-Time Living, in 400 Square Feet or Less
Skoolie!: How to Convert a School Bus or Van into a Tiny Home or Recreational Vehicle
Image
Title
Tiny House Design & Construction Guide
Image
Title
Micro Living: 40 Innovative Tiny Houses Equipped for Full-Time Living, in 400 Square Feet or Less
Image
Title
Skoolie!: How to Convert a School Bus or Van into a Tiny Home or Recreational Vehicle
Image
I know we're in Texas where "everything is bigger" but we're actually in one of the states with the most tiny home populations. According to recordingsimple.com, the states with the most tiny home populations are Colorado, Texas, Florida, Wisconsin, and California. In case you were questioning whether this is true, just look north to the Denton County suburb of Lake Dallas who has a burgeoning tiny house community with a long waiting list of wanna-be residents. These tiny home citizens will "rent a lot for their tiny home  for $500 to $550 a month, including hookups for water, sewer service and electricity, and it will accommodate a tiny home ranging from 100 to 400 square feet — no bigger than a modest hotel suite. Lot leases will be renewed every 12 months," according to dallas.culturemap.com. Plans for the tiny house community include a self-service laundry, community garden, community center and more.
These are not transient people, or even the stereotypical trailer parks of foregone years. This is evolved. "Tiny-house people tend to be well-educated, employed, with disposable income. They can help bolster downtown businesses," City Manager John Cabrales Jr. told the Next City blog.
This is a thing, y'all. I mean, you can't turn on HGTV and NOT see a tiny house. See this one that they featured?
My ten year old wants one. It's on her list of things to have when she grows up, right after she becomes a professional soccer player.
Tiny Homes in Dallas
So, not one to stand in the way of her dreams, I took her out to a local tiny home builder in Garland to learn more about tiny homes in person. We met with Peter Huggler and Kyle Becker of Indigo River Tiny Homes who gave us the crash course on all things tiny homes, we got to tour two of their models, and they graciously let me video them for our IGTV and YouTube channels.
What I really like about Indigo River Tiny Homes, beyond how cool Peter and Kyle and all the kind folks there are (and let's not forget Flower, their sentry dog) was that they are veteran owned and operated, they have a keen eye to safety and the latest features, and the homes really look like something you'd want — and could reasonably — live in. They build mostly homes on wheels, so you can move them wherever you want, but they also offer "granny flats" which are built on site and to city ordinances. Here's my favorite of their models.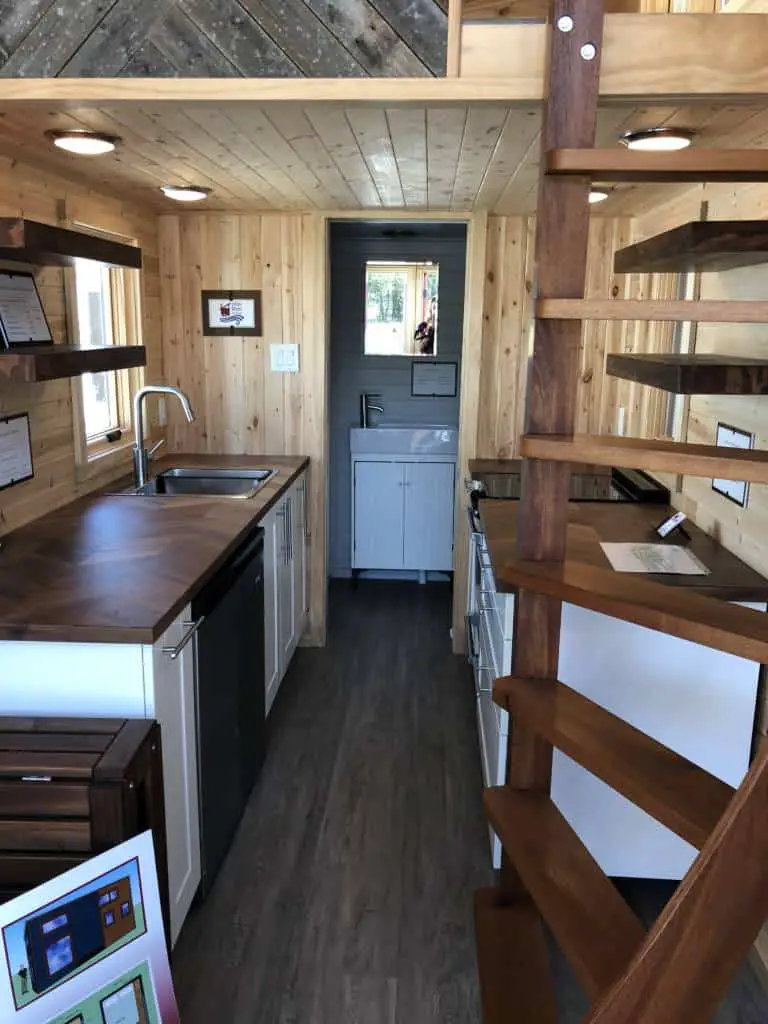 I could get into this. And you probably could too. Here's their more contemporary version.
Now take a look at some of these fully-decorated tiny home accounts on Instagram. Don't they make it look idyllic?
And here's a skoolie in progress!    
You know I asked what the craziest thing that someone had asked for in their tiny house. It was a clawfoot tub, and yes, they got one in there! I also asked what the most common request was, and they said it was a washer/dryer. I learned so much by visiting with Indigo River Tiny Homes, like that you can live in a tiny house anywhere you can park a travel trailer. And since their homes are on wheels (mostly), once construction is done, their tiny houses are NOAH certified, and also registered and tagged as a road legal travel trailer with the State of Texas. They do not require a permit to be moved. Don't like your neighbors? No problem. Roll on down the road!
If you'd like to learn more about Indigo River Tiny Homes, which happens to be a veteran owned and operated company located in Garland, you can visit them at 209 Austin Street, or visit their website at IndigoRiverTinyHomes.com, Facebook page, or Instagram.  Indigo River Tiny Homes even has a store where you can purchase smart items for tiny living.
If you're ready to toss the stuff and move into a tiny home too, I found an online link of tiny homes for sale, but I haven't vetted any of them. If you're in the market to purchase a tiny home, it might give you an idea of what features you like and don't, and some ideas for price range as well by checking out their listings. Tiny Homes for Sale in Dallas. As with any major purchase, do your homework, research the builders, and make smart money choices!
What do you think? Are you ready to live in a tiny home?