It's no wonder our elves on the shelf love to visit with the Smurfs when they are at our house each December. Aside from the shirtless Smurfs, they've basically got the same fashion sense especially the head gear. WHen they are not hat bonding they enjoy watching a good movie.
We found our elves, Chintz and Jewel, and all their little blue friends  gathered for a private screening of Smurfs 2 the movie – you know, the one where they go to Paris and meet Vexy and Hackus, the naughties? Yeah. So the elves found my Eiffel tower, burned some popcorn leaving it all over the counter, and gathered the whole Smurf village to watch with the DVD with them.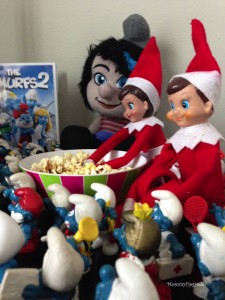 Bonus was that we had a new movie to combat Princess Cupcake's cabin fever  during the icepocolypse in Dallas. What — a DVD babysitter once in a while never hurt anyone. Don't judge.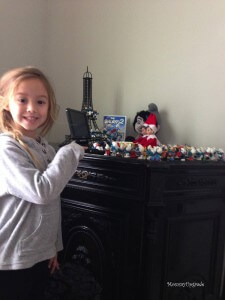 I sure hope the Naughties don't reignite the elves mischievous side…. they've been so good so far. Well, except for tying up the bear. And the breakfast mess they left. And…