Martha, Martha Martha. How could you come to Dallas for a book signing on the ONE day that I am giving a presentation in Phoenix? Seriously, I thought I was your favorite blogger from Martha Stewart craft week? Am I not???
I am feeling shunned. Just when I was about to write a review about the awesome products you gave me in New York that me and the Princess Cupcake used JUST this weekend. I don't think I can bring myself to do it. Not now. Not after this.
I am just too disappointed to tell everyone about how Princess and I jumped on the project of the moment – Modge Podging a pumpkin. And how it's the PERFECT craft for a 3 year old. And how we used the bomb-diggity of paper cutters that you snuck into my exclusive blogger bag at the Martha Stewart show to cut up our 2-inch strips of paper. I'm not going to tell anyone how the ruler lines are way better than any of the other paper cutters I have previously owned because not only does it have measurements on both sides, it sliced with such precision and accuracy that I now consider my other cutters "crap." For gosh sakes, it even has a magnifying glass on the scooty part, and putting the blade in was as easy as winding a clock. It's like you actually made these the way you – the super crafter – would want them to be.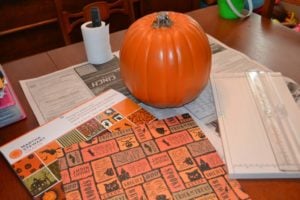 But since I am so hurt, I'll leave out the part about the AH-DORABLE Martha Stewart Halloween Craft Paper that you also snuck in my wonderful canvas goodie bag of tools. This paper was such high quality, it was almost tooooo thick to put on the pumpkin – that is until the Princess taught me how if you totally saturate the craft paper AND the newspaper underneath it that's protecting the table from the Modge Podge, it makes even your near cardstock soft enough to mold around the pumpkin for this fun little last minute decoration.
It's a shame no one will know how both Princess and I loved the "around the page" punches that were initially too smart for me to figure out. Of course I was armed with low expectations given how my other punches operate — and I confess I didn't read the directions either. But once I did crack the crafters code, I kept saying, "Wow, really!?" as I saw how they wing out with page guides to line up your pages. The template on the side matches perfectly so your pattern aligns without flaws, and how the corner punch has sides that flip out to keep your corners in perfect placement. I mean seriously, it's like Martha Stewart herself, I mean YOU actually designed these tools!
I hate that no one will find out that when the Cupcake decided that glittering our mini pumpkins was a fabulous idea, we actually went TO THE STORE to find more of your great Martha Stewart Craft products, casting aside what brands we already had at home. The Princess wouldn't leave Michaels before picking out three of the most delicious elegant glitter colors in garnet, bronze and yellow gold. We both wanted every single one of the rainbow of colors but alas, I had forgotten my coupon. The colors are magical, and the powder was as soft as silk. And had I known you were going to dis me like this — we would have left without getting your special glitter glue that has the brush built right into the lid of the jar to go with it. I mean seriously. What were you thinking when you put this together so perfectly?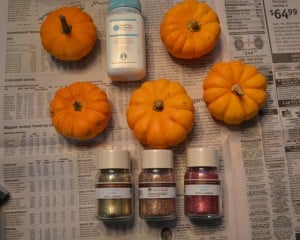 And now don't get me started on how the glitter actually has an adjustable top so you can shake out the glitter — or pour it the old-fashioned way. It's as if you intuitively knew that Princess was 3 and without those salt-shaker like holes, she'd dump the whole stinkin' jar onto the table in a big dusty pile.
I swear I'm not telling anyone how glittering pumpkins was the fastest, most impactful Halloween project I've ever done and how we're leaving them out through Thanksgiving too. Maybe longer. And I'm keeping this Martha Stewart glitter a secret because it's so pretty that I want to sprinkle it on me before all the holiday parties coming up. Nope, not telling anyone that we're going to be glittering fools for Christmas gifts. Just hold the pugs still and we'll glue and glitter them too while we're at it.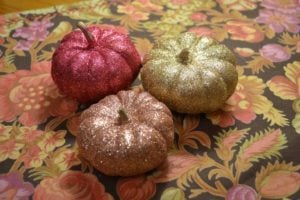 Martha – I am so upset. I really thought we were tighter than this. I envisioned that we would be lunching at La Duni, sharing a bottle of Chardonnay over your new Cookies app on my iPad, drafting our elaborate day-by-day plan for kid's Christmas crafts for gifting – using your intuitively designed products of course — all the while sharing photos of our cute four-legged kids and laughing over the list of things my pugs have eaten and who Genghis has been visiting in the neighborhood lately.
Sigh. I guess there will be no good-bye hug, no promises to text letting me know you made it home safely. No private message on Facebook when I finally pick up the Martha Stewart Geneva dinnerware from Macy's that happens to match the dishes I have perfectly. No tweeting links to our favorite recipe swaps for holiday entertaining. And sadly, no signed book for me.
I am crushed Martha. Really, don't write. Don't call. Don't you even dare comment on my post. Just leave me alone with my memories of New York to comfort me during my pity party all by myself…