The Yard Milkshake Bar is OPEN in The Colony, Texas and you need to go get you one because it's all that. Trust me.
If extreme desserts are your thing, you need to go get in line because The Yard Milkshake Bar is a culinary experience. And when I say "get in line," I do mean it. They're predicting up to a 2-hour wait on opening weekend for their over-the-top milkshakes (both designer and make-your-own), 34 flavors of ice cream, and 8 flavors of edible cookie dough. There's even a milkshake with a donut on top.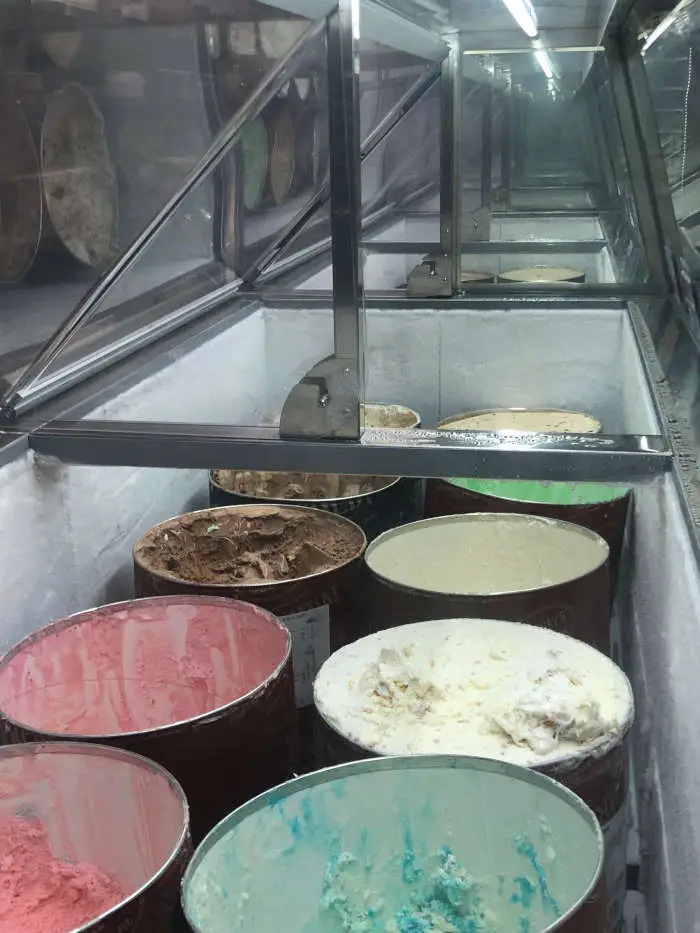 Why the long wait? It's just a milkshake.
First off – this is not your average milkshake, this is art. You can't rush art. This is pure sugary decadent art in a glass and each of these custom creations takes 7 or 8 minutes to make by hand due to the many layers of flavors that each one is prepared with.
Second, because this place has rightfully earned a cult-ish following among ice cream lovers, and with good reason. What originally began in 2017 in Gulf Shores, Alabama (one more reason to love Gulf Shores) as a unique ice cream shop, it has grown to several locations nationwide. Wouldn't you just love to meet founders Chelsea and Logan Green, and ask them how they come up with the seemingly endless specialty flavor combos? And what inspiration they had for the  "local" menu item that is exclusive to that store? For The Colony, it's the, "Texas Twister." I may have had to discretely wipe the drool off my mouth when they recommended it to me.

The full menu for The Colony location is HERE. I'd suggest studying it before you arrive to avoid overwhelm. You may need a day or two to prepare — gastrointestinally, that is.
Before all the nutritionists lose their minds — no, these are not meant to be an everyday meal item. It's a treat. Let's lighten up and understand that it's more about the experience than the overload of cholesterol. You don't HAVE to finish the whole dessert. Moderation is a good thing, and just being there is fun. 🙂
Is there a milkshake for lactose intolerant or gluten-free folks?
You bet'cha. They've not leaving anyone out of the party. The Yard has got you covered with oatmilk vegan ice cream mixed with chocolate soy milk, although those with more serious deadly allergies, should check their allergy policy.
Here's how I suggest you experience The Yard. Bring someone along who is wholeheartedly unsuspecting of this little sugar gem. That's what I did when I surprised my teen milkshake freak with a trip to The Yard Milkshake Bar by making sure it was on our way home from soccer practice. Her eyes nearly bugged out of her head once she realized what was happening. She said, "I don't know how you get diabetes, but I'm guessing it starts here." Love that kid.

After some deliberation and a sample of the cookie dough ice cream, she went all-in with the "Cookie Dough Delicious." I've never been accused of being less than extra, but on this night I held back by only getting simple scoops of the peanut butter cookies and cream. Yes, you can have just a scoop of any of their decadent ice cream if a milkshake or sundae is just too much. Or if you're feeling splurgy, you can also get a side of cookie dough. I even saw signs promoting their pies and cakes. (Noted for a birthday coming up.) Let's not forget the grab n go too. Perfect for pacing yourself with smaller portions.
 

 

 

View this post on Instagram

 

 
Holiday-themed Milkshakes!
I have it on good authority that The Yard will likely have holiday-themed, limited-edition designer menu items, and we can only hope that they also have the matching collectors' glasses. Oh, did we not discuss the souvenir aspect of your ice cream experience? Yes! You can get your drink or sundae in a branded glass specific to the location. For you collectors out there who love a good challenge, here's a list of the current locations so you can start planning your vacations around adding to your glass stash.
Each store has a slightly different menu with an exclusive offering from that location. Not all participate in their fun collabs like this Care Bears shake, which also has matching merch (both glasses and apparel). (See the Austin shop as an example.) If you're asking, no, The Colony location didn't have the Care Bears during their soft opening. Fingers crossed, they will in the future.
 

 

 

View this post on Instagram

 

 
Don't accidentally leave that glass behind! The Yard knows you don't want a mess in your car, so they have a self-serve sink for you to rinse off any of the dessert that you don't finish. There are even bags for you to put it in once you're done.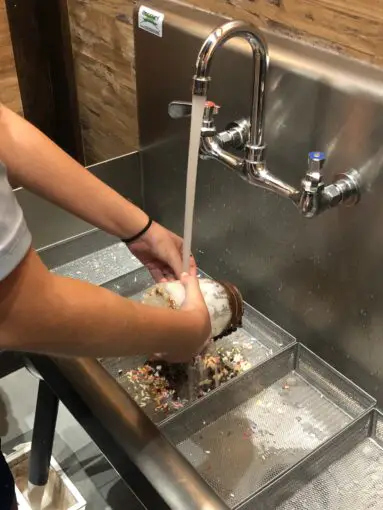 Is The Yard Milkshake Bar just too much of a good thing?
Um no. This is Texas and we live by the motto, "go big or go home" so of COURSE The Yard will be a local favorite.  You can't not like this unless you don't like a little calorie party in your mouth once in a while.
My only disappointment from our inaugural visit was that the merch – while cute and I loved the colors – didn't include the artwork you see on the website for the different locations. If I'd ordered the Texas Twister, you know I'd be getting a souvenir shirt to brag about it.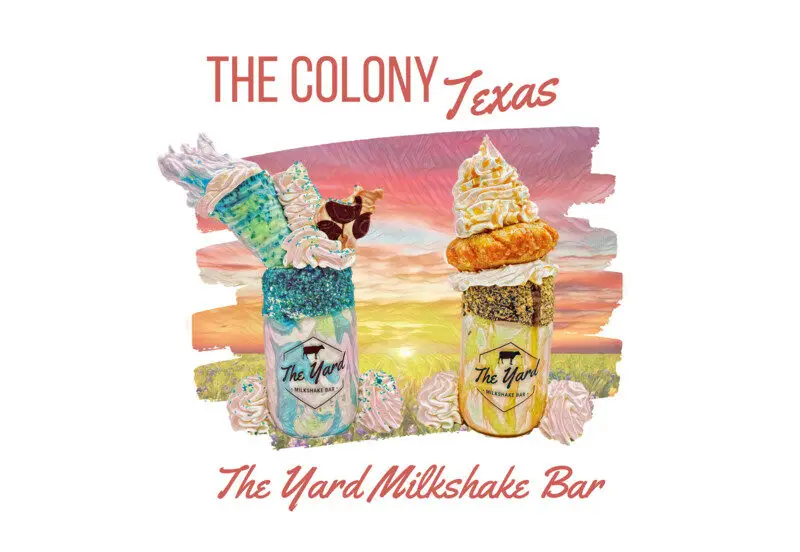 Is The Yard Milkshake Bar dog-friendly?
Yes! Well… at least I think so. They have a "pup cup" for the four-legged family to join in the fun, but I'm not sure if they're allowed inside the shop. Even if the fur family is waiting patiently on the patio, they'll love the pup cup which comes complete with whipped cream, topped with dog treat cookies and peanut butter. What's that noise? Yeah, that was the mic drop.
Was The Yard Milkshake Bar on Shark Tank?
If it seems like this business is taking off like a rocket ship, it likely is. Dallas' own Mark Cuban is an investor in the successful franchise business, lending money and expertise to their rapid scale growth. You can see their negotiation from Shark Tank below:
Set your GPS: The Colony location is on State Highway 121.
4940 TX-121 STE 100
THE COLONY, TX 75056
Opening Hours (but check the website to confirm as they may change): 
Mon – Thurs NOON – 9pm
Fri – NOON – 10pm
Sat – 11am – 10pm
Sun – 11am – 9pm
So, this is a definite thumbs-up from me. If you go to experience The Yard, I'd love to know know what you ordered and what you thought! I especially want to hear about you own creations. Cheers!