This recipe and post is hosted by Razzoo's. They invited several of the media to dinner and shared their secrets for recipes. All opinions are my own.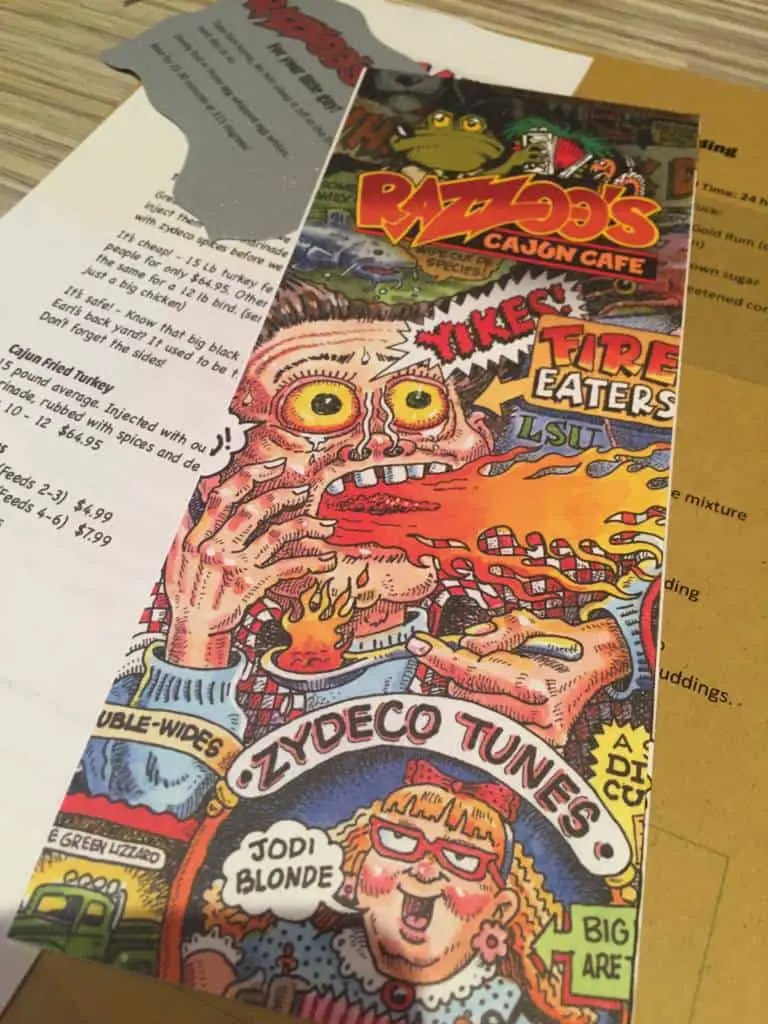 It's 5:30 am and my alarm goes off. I shove off the puppy who is hovering right in my face so I can find my way to the hubs who fell asleep on the sofa last night. He's got to get going early this morning because he's got an early breakfast meeting and he's offered to fry a turkey at the office Thanksgiving party so he has to get there and drop it off. He spent last night prepping the bird and making sure the fryer was clean. It's a bit of a production, you know, considering we only pull the fryer out this time of year each year.
Hands down, there is no turkey better than a fried turkey. One of the perks of marrying into a Louisiana family is that for as long as I can remember, we've had fried turkey for each of our winter holiday meals. Yet they ARE a lot of work, expensive, and let's face it, a little dangerous. (Granted, the infrared friers are total game changers and we changed to that a few years ago.) So worth it though.
With life on the fast track these days, the holidays sneaks up on everyone which is completely crazy because it's the same time, every stinking year. Like it's some surprise or something that next week is thanksgiving, but still… I'm all about outsourcing and making things easier and more enjoyable. Let's outsource that hassle of wrestling that big slimy raw bird – and the headache of timing it in the oven with all the sides and focus on the fun stuff, shall we?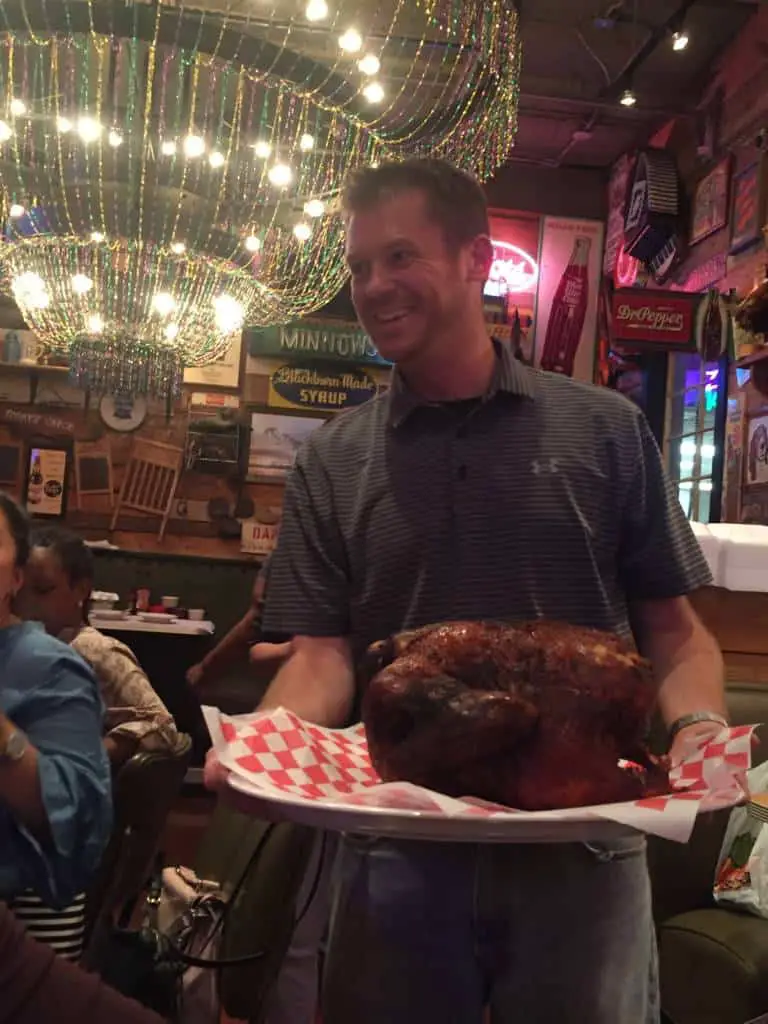 Like, did you know Razzoo's offers 15 lb Cajun fried turkeys for only $64.95? I've had it, and if the hubs ever wasn't up to frying ours, I wouldn't trust anywhere else! They have the deep injection marinade and the rubbed spices just right. Why stop there? They also have all the sides and desserts, you literally can cater your own Thanksgiving or Christmas dinner!
But maybe you just want more room in the oven so you can make the fun stuff? Like dessert? Yes. Dessert. Let's talk about dessert. Which is personally, is my favorite thing to make. I have zero interest in making birds. But baking, now baking is my jam so when Razzoo's asked if I'd be interested in learning the secrets of their special recipe for peach and pecan bread pudding, I was all over it because if there's another thing that Louisiana men like for dessert, it's bread pudding. And lucky for you, Razzoo's said we can sharing the recipe here because no one really likes pumpkin pie now, do they? This recipe is great because it's a make-ahead so it's one less thing you have to do on the craziness of party day.
Yield: 4 servings
Razoo's peach and pecan bread pudding recipe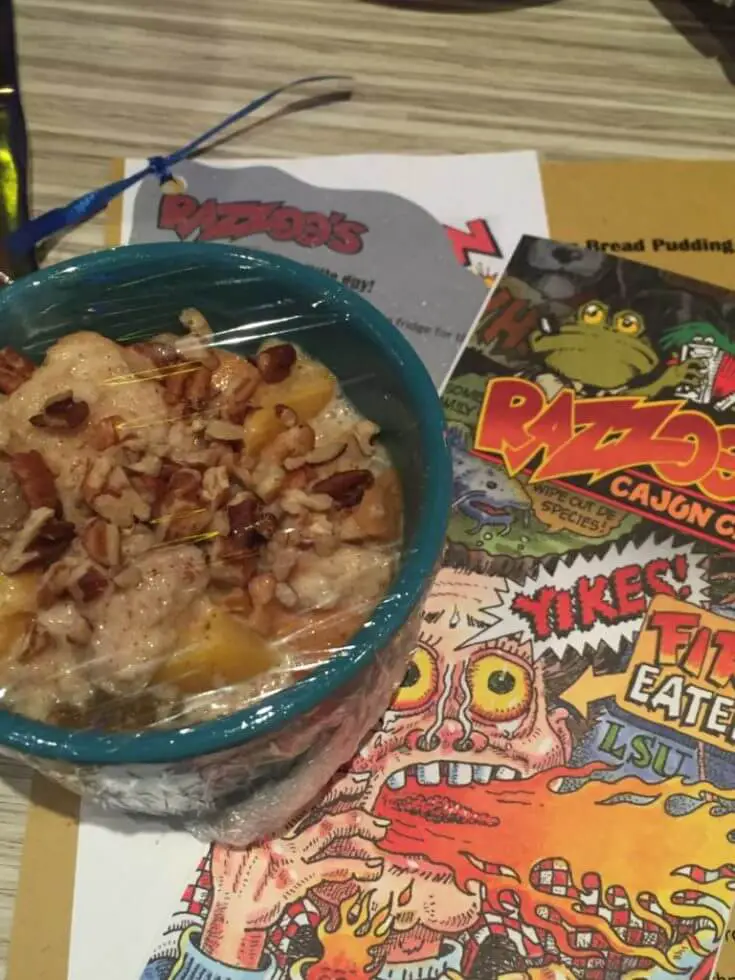 peach pecan bread pudding recipe
Total Time
1 day
55 minutes
Ingredients
5 ½ cups day old, crusty French bread – cut into 1" cubes
1/3 cup golden raisins
1 cup peaches, canned is ok
4 eggs, separated
1 14oz can sweetened condensed milk
1 ½ cups heavy cream
½ cup sugarn
1 teaspoon vanilla
1 teaspoon cinnamon
½ cup pecans
2 tablespoons butter, melted
2 tablespoons flour
For Sauce:
¼ cup gold rum or bourbon
¼ cup brown sugar
½ cup sweetened condensed milk
Instructions
Separate eggs. Cover whites and refrigerate them (you won't use until ready to bake)
Beat yolks with heavy cream, condensed milk, sugar, vanilla and cinnamon
Add cream mixture to bowl with bread cubes. Mix well. Soak the bread.
Mix in peaches and raisins.
Press the bread down so it is completely submerged.
Cover tightly and place in the fridge to soak overnight. It's best to let sit for 24 hours. Stir the mixture twice while it is sitting and press the bread down again to submerge.
Lightly brush ramekins with melted butter. Dust insides with flour. Shake off excess.
In a cold bolw, beat reserved egg whites to a stiff peak and then gently fold them into the pudding mixture using a spatual.
Divide the pudding between the ramekins. Fill to top of dish. Mash down all pieces of bread into pudding. Liquid should be visible on the top of each dish. Distribute pecans over the top of the puddings.
Arrange ramekins onto sheet tray with 2 inches in between them.
Bake for 30 – 35 minutes at 315 degrees. Turn sheet pan half way through for even cooking.
They should be just golden brown. Do not over-cook, do the toothpick trick! Oven temps may vary.
For the sauce:
Bring rum to simmer in small sauce pan, about 2 minutes.
Add butter and brown sugar and stir until melted.
Add condensed milk and stir to combine.
Remove from heat and allow sauce to cool. Pour over bread pudding.
Dig in and enjoy!
Nutrition Information:
Yield:
4
Serving Size:
1 serving
Amount Per Serving:
Calories:

1262
Total Fat:

68g
Saturated Fat:

36g
Trans Fat:

1g
Unsaturated Fat:

27g
Cholesterol:

361mg
Sodium:

428mg
Carbohydrates:

132g
Fiber:

3g
Sugar:

119g
Protein:

26g
I hope you enjoy it! And when you're done with all that cranberry sauce and stuffing, head over to Razzoo's and try one of their new appetizers or a cold beverage and let them do the clean up!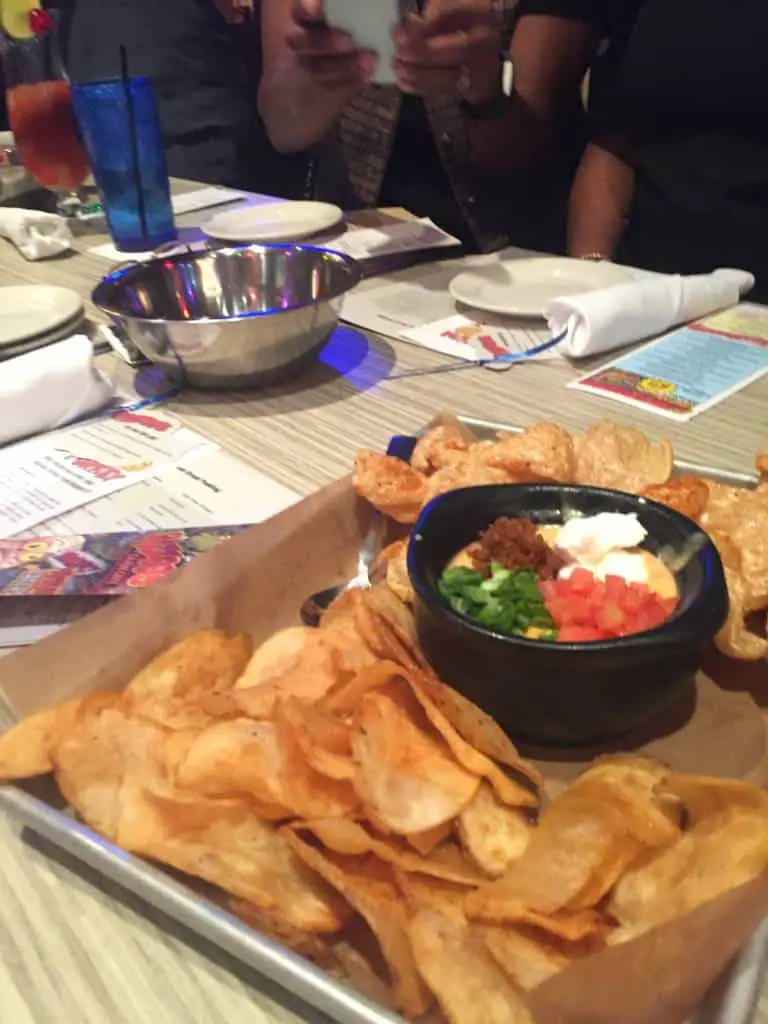 Thank you Razoos for a fun evening of food and learning! Laissez les bons temps rouler!
More Cakes and Desserts Posts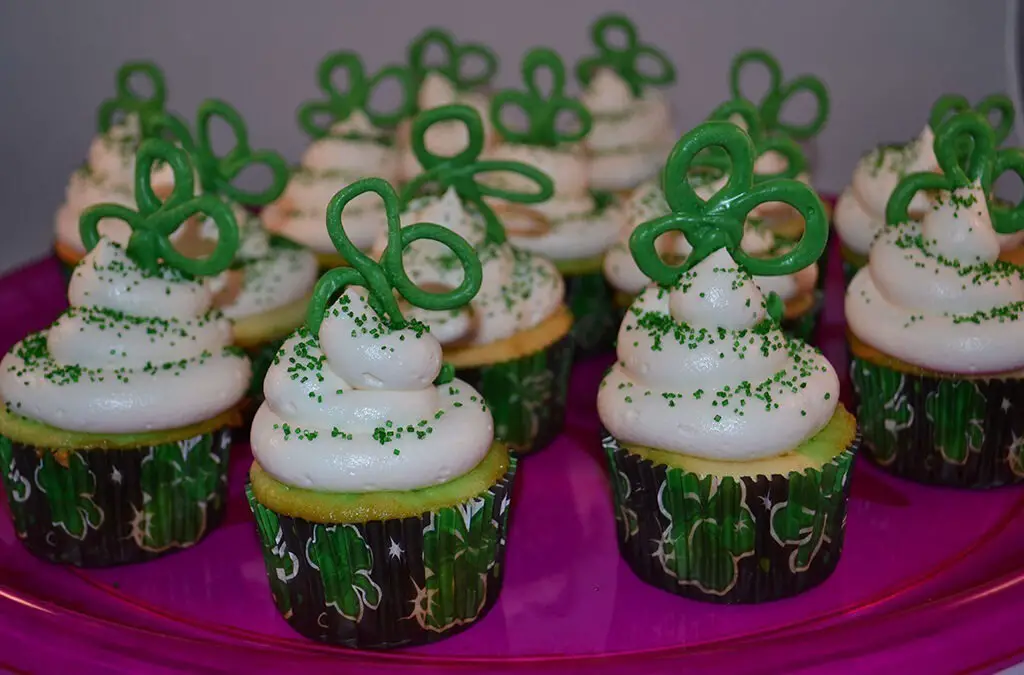 So the hubs comes home from work one night and says he has to take cupcakes to the office. "Say what? Why?!" "Because I've been bragging on your cupcakes and it's time to put up or shut up."Oh goodness. The pressure. What was I going to make? We had already past...
read more