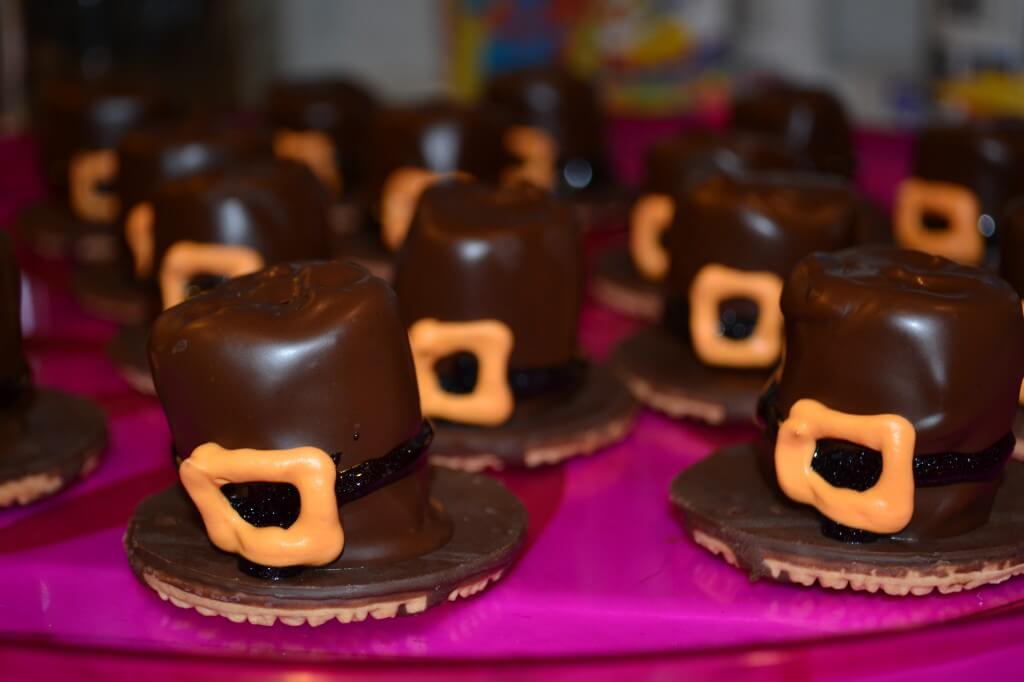 We had snack at school this week.
It's supposed to be healthy.
Are marshmallows healthy?
Mmmm, maybe if they're not dunked in chocolate first.
Whoops.
It's the last two days of school before Thanksgiving break – so I took the liberty of asking the Princess Cupcake if she'd like to make pilgrim hat cookies for snack. I didn't REALLY have to ask, I knew the answer as she's LOVING all the kitchen projects we've been doing lately.
"YEA!!!!! YEA!!!!! YEA!!!!! Pilgrim hats!!! YEEEEEEEAAAAAAA!!!!"
Editor's note: She has no idea what a pilgrim is. I asked. She's clueless. But she does know what hats are. That's close enough.
I swear anything with marshmallows and melted chocolate is the easiest thing to make with a preschooler. So here we go, watch the video and the Princess Cupcake will show you how SHE made pilgrim hats for snack: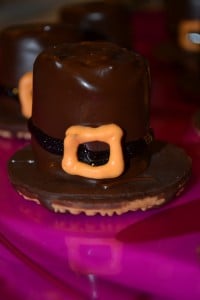 Here's what you need for the pilgrim hat cookies:
Keebler Fudge Striped Cookies – there are about 30 to a package.
Marshmallows – one bag is plenty. (NOT the mini-size.)
Chocolate chips – we used one bag.
Crisco or vegetable oil (to make the chocolate chips from being too gloppy) I'm sorry, I don't measure this. I used Crisco and it was maybe two tablespoons at the most? You do not need a lot.
Icing for details. We used black sparkle icing (because I already had it) that's kinda gel-like. DO NOT DO THIS. It slips off downs the hats as you can see in the photos. And because our Super Target didn't have a single yellow pre-canned icing in the entire store… I was forced to tint the royal icing I made the day before. And that actually worked out great. But I don't expect everyone to have royal icing laying around so go with something easier. You won't need a lot of it.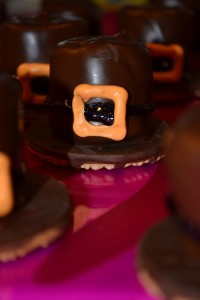 Here's what you do:
Melt your chocolate and Crisco/oil.
Take your cookies out and lay them chocolate side up on your cookie sheet.
Use a skewer to dip the marshmallows into the chocolate.
Cover the marshmallows entirely in the chocolate.
Don't worry about the hole in the top of the mess you'll make pushing the marshmallow off the skewer. Just take a spoon and gently spread the chocolate over it and it will be fine.
After the chocolate has hardened on the marshmallows, take your black icing and pipe a hatband around the hats.
Last step – and you have to do this or else it doesn't look pilgrimy at all… add your buckle by making a small square on the side (covering part of the hatband) with a yellow or orange icing.
Oh, and btw, I am not a complete nutritional agnostic. I did send cheese sticks (also chosen by the Cupcake) for all the kids too. J