It's almost HOCO mum season! A few weeks ago I decided it was time to prep, and by prep I mean go back to this awesome mum specialty store, called  The Sale Place, where you can get all of the mum supplies you could ever need. I like to go there once a year to scope out new products and check out their incredible selection of ribbons and cake decorating supplies. If you're into ribbon, maybe do some deep breathing before you go in because it's a lot to take in!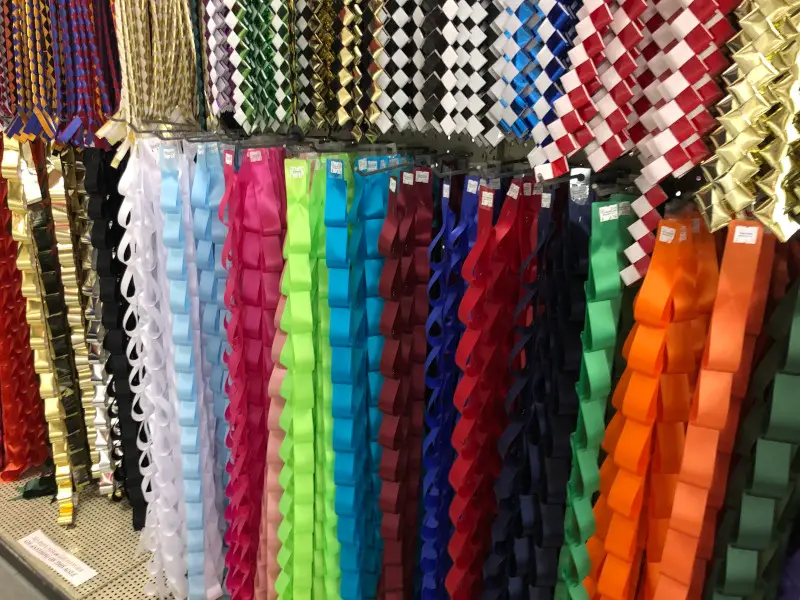 Let's stop the bus for a second. If you're confused, this is not a post about real flowers, these are Texas homecoming mums. It's so much a Texas thing, and a HUGE Texas high school thing. 
Before I even get to the unboxing, I want to give you my best advice –
Tip 1: Don't take your husband.
This store is really expansive, and I'm not entirely sure why he agreed to go or why I even asked him to (other than it's a long drive for me and I wanted company) but I should have known his attention span would be short. After the first five minutes, he asked for the car keys and spent the rest of the time waiting for me in the car while I spent another 30 glorius minutes shopping on my own.
When I wrapped up and got back to the car, he asked me for "his whistle." Huh? What whistle?! Goofball put a whistle in my cart and didn't tell me. So the one souvenir he wanted from the mum store, didn't make it home. Oops. Guess I'll have to go back! 
Anyway, the whistle story is proof positive that there something for everyone at The Sale Place! Here's what I picked up on this trip – it's not a huge bag but I'm excited about what I got.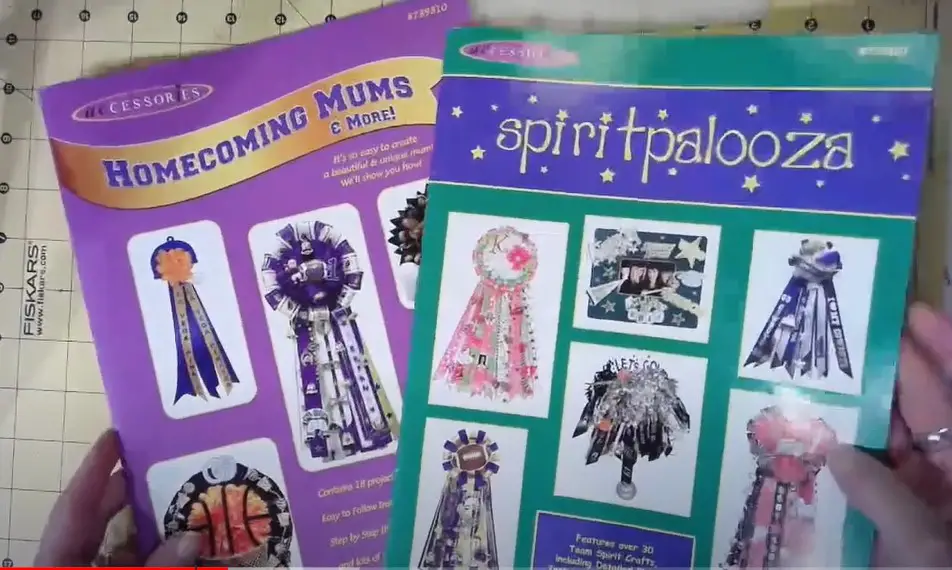 I picked up a couple of books, Homecoming Mums and Spirit Palooza. I'm planning on teaching myself — and you — some new braids. These were a great find, chock full of ideas – including HAIR MUMS, aka "spirit halos." We're going to have some fun with this…. The books cost less than $4 each so that's a steal. 
Next out the bag is a large state of Texas mum blank. I had another craft project in mind for this but if you wanted to, you could work your homecoming mum onto this. These Texas mum blanks are $5.50 each.
Not too exciting, but I also grabbed a medium blue and white mum. My daughter's school is red, white, and blue so I will be customizing this a bit. I don't recall what this cost but it is six and a half inches with 15 layers. To go with it, I picked up a blue and white whip stitch cord. I actually bought this so I could take it apart to figure out how to do this for myself because these are beyond me on how put them together. I'm told that whip stitch braids are one of the more complicated braids so if you don't want to make it yourself, you can buy it at The Sales Place for $5.75, which might be worth it!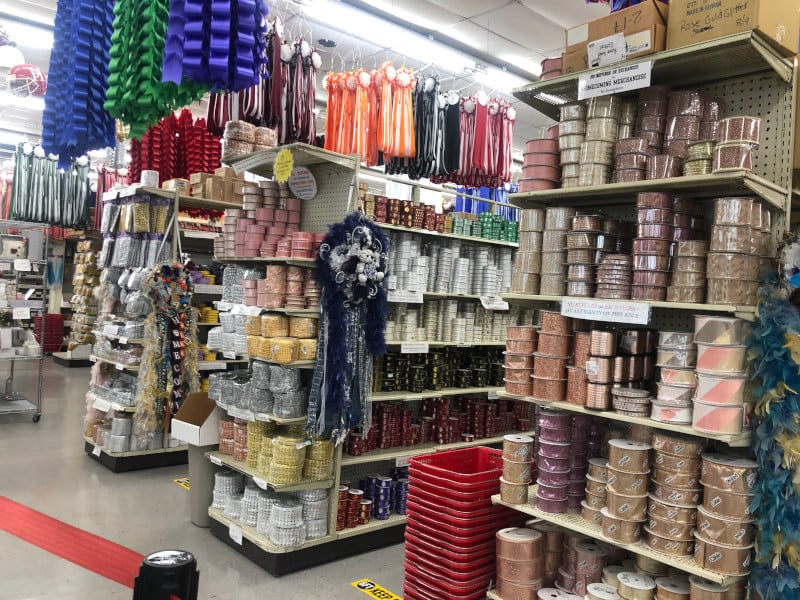 I also got a plain white packaged mum. My thinking was that I wanted to try different ways to dye it. And I also picked a package of mini-mums. They might just be perfect for that hair mum I mentioned earlier! These were on sale so how could I not buy them?! They were marked down to $4 from $8 and there are 12 of them in here. So a dozen of these little minimums? I definitely can come up with some crafts for that. 
We are really big on soccer in this house so I picked up a soccer chain for $3.25. Super cute!
Then there's a neckpiece which is something every mum wearer needs! It has hooks on either end that go into holes on whatever blanks you are using. If you are making Texas homecoming mums, this is a must whether you make it yourself or, in my opinion, buy this and make it easy on yourself.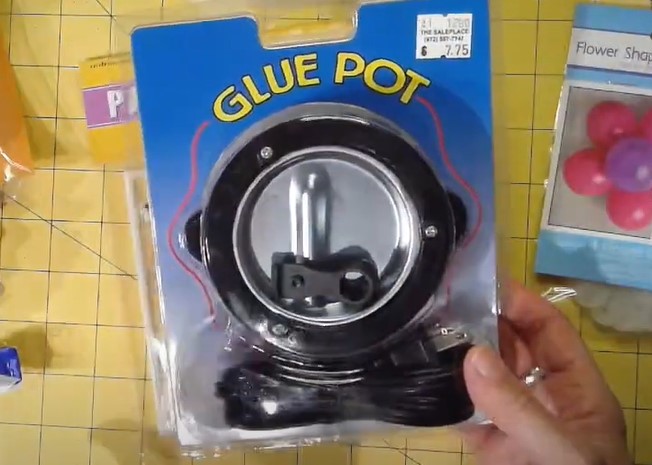 I was pretty excited to find this glue pot. I don't know if you've ever used one, but I have wanted one of these forever! You just don't run into them very often. This one is $7.75. Not super big, but considering I couldn't remember what I wanted to use it for, I think it will be fine. (I have a craft tools hoarding problem…) Basically you put your glue sticks in the pot and melt them down. Then you just dip whatever you're wanting to glue into it and it makes an easier go of it. 
There was also a whole section of balloon arches and balloon garlands. If you saw my post in How to make a Balloon Garland in Less Than Two Hours,  you'd know that there's no way I was leaving this behind when it only cost a dollar. It allows you to create a balloon cluster that looks like flowers to add to your garland. 
Also in the bag, I have a set of little tabs. You'd use these if you didn't buy the neckpiece for your mum. Instead of using the hooks on the neckpiece, you'd staple the tabs to your blank. These little tabs are really very simple. They are just a little piece of plastic and some staples with a hole in it. I really feel like you could make this, but if you just didn't want to they're $3.
Nearly finished…we've got a plain vanilla mum blank which is the starting point for any mum. The blue and white mum earlier can sit right in the middle.
And, more soccer – because we're all about soccer in our house.
Everything else I picked up is ribbon. I really adore The Sale Place's huge selection of ribbon. And it's not just for mums. It's all kinds of seasonal ribbons.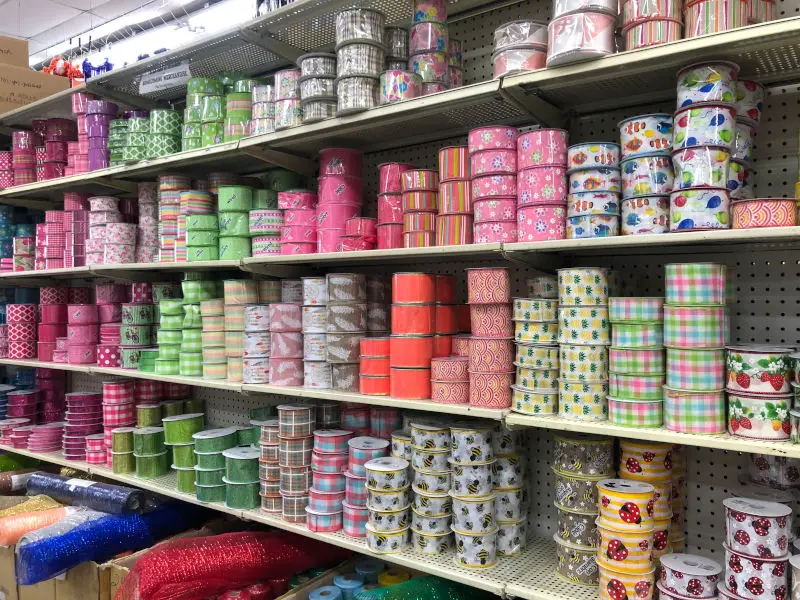 I also picked up a roll of white and a roll of blue ribbon to make the whip stitch braid I mentioned earlier.  These were $8.75 each.  If you're shopping for mom supplies at a local craft store, I think you'll find The Sales Place is considerably less expensive if you break it down. I also picked up a wider blue glitter ribbon that I was also going to use on the mum. 
Okay. Just three more things in the bag and guess what… they are ALL ribbon! Some white sparkle, some gray gingham (perfect for fall decor coming up!), and last but not least, the cutest ribbon of all. It looks like denim, is about two and a half inches wide by 10 yards long, and says, "Hey Y'all" with little cowboy boots. This will be great to make a wreath with, paired with some red and white gingham. It was $8.75. So super fun. I big heart eyes this ribbon and I have never seen it anywhere, so I had to buy it! 
That was my quick homecoming mum supplies shopping at The Sale Place. Happy soon-to-be homecoming, y'all.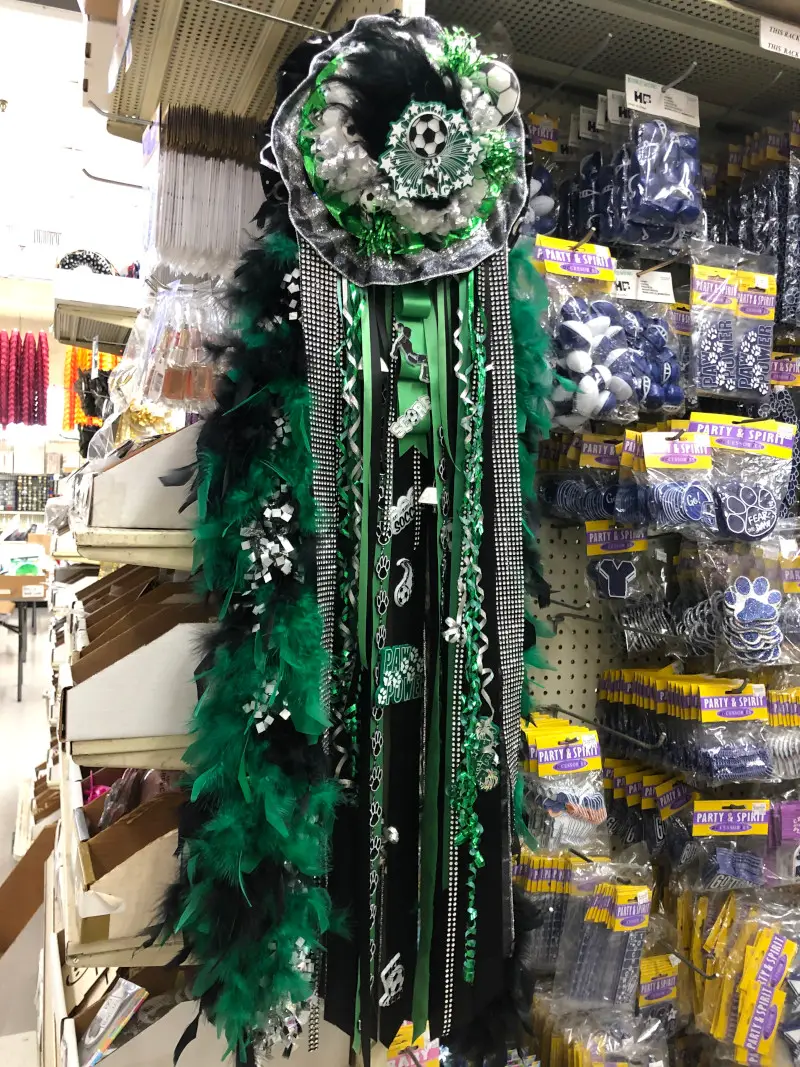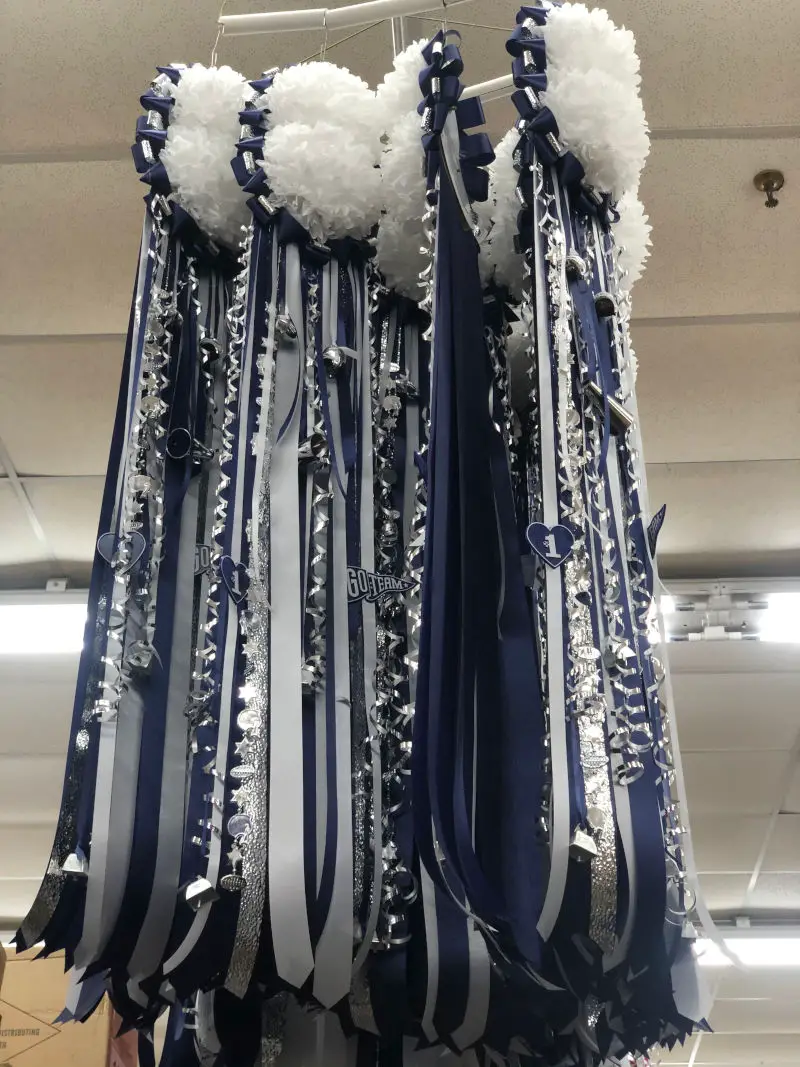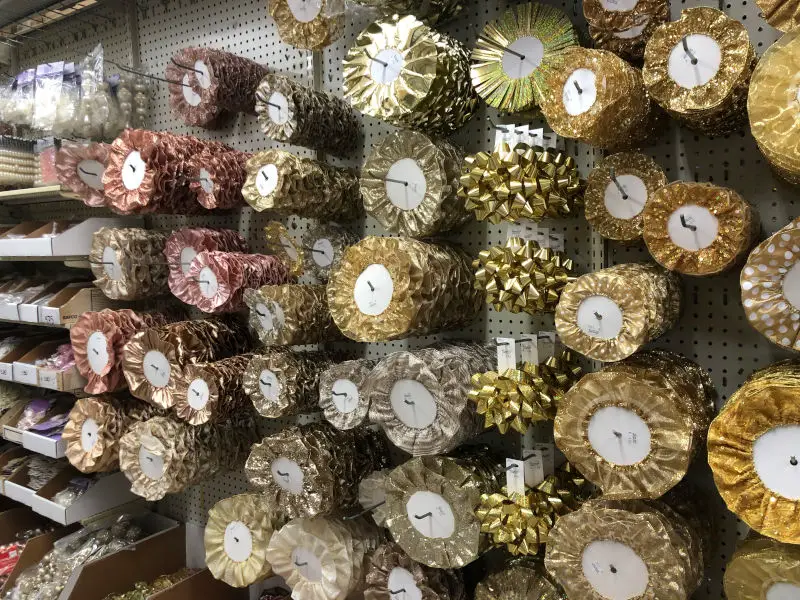 Homecoming Mum Braids
So for those of you who have stayed with me through the unboxing, here are a few bonus videos of specific homecoming mum braids. 
The Diamond Back Braid
More Texas Homecoming Mum Content