Texas got its first Teso Life store and I shopped on its grand opening day! This Japanese specialty store has so many fun things to try, I could have spent the whooollle day there. Come along with me as I put my shopping list together and then unbox all the goods. 
What is Teso Life?
Teso Life describes itself as a "Japanese fashion casual life product department store." It's had a popular presence in New York since 2017 but just recently opened its fifth US store in Texas.  At more than 14,000 sq. ft,  it's FULL of amazing and curious finds — and as you will see, really, really confusing! While I was hoping for the motherload of crafting supplies like my other Japanese guilty pleasure, Daiso, sadly, I only found some washi tape. But having been there once (okay maybe twice since I wrote this), I now have a better understanding of the store and I will return with an eye towards crafty repurposing.
If you've been around my site for a while, you know that I am a big fan of Japanese stores. I've posted about Carrolton's Daiso and Kinokuniya before and most recently did a post on a fabulous haul of Daiso crafting supplies and what I planned to do with it all.  Teso Life is right next door to BOTH of them, but it's oh, so different. Whereas Daiso is a Japanese yen store, Teso Life is priced more along the lines of a Target. 
Before I went shopping, I took a look at Teso's online store and made a shopping list of what I wanted to look for. You can choose the website in English or Chinese which is a head-scratcher because it's a Japanese store… Even with the site switched to English, it's impossible to tell what some of this stuff is but I'm going in for the surprise. That's what makes shopping in Japanese stores so much fun!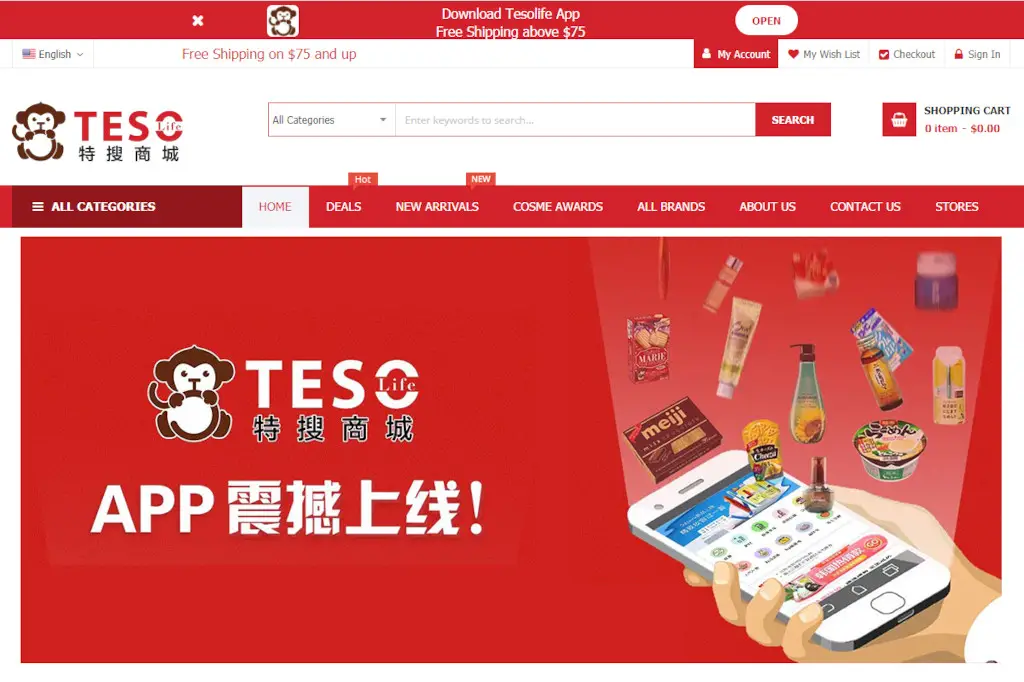 Shopping List
Given that the Teso Life Texas store so huuuuge and there is such a ridiculous choice of items, from the quirky (chair socks anyone?) to the adorably cute to the brilliant beauty supplies, I thought a pre-shopping trip visit to the website made a lot of sense. I made a list of the interesting things on the website to check out when I was in the store.
The Twebsite has a number of categories to shop from: Grocery and Beverage, Health and Beauty, Hot Deals, Cosme Awards (I guess that means cosmetics), All brands, etc. I'd be stupid not to want a "hot deal" so I started there. 
"Hot Deals" includes everything from gum, dog treats, eyelashes – the Berry Rose Candy looked interesting but hold up! Grease Removal Balls for the win. They are $20 and because the description is all in Japanese, I've no clue what these are but hey, it has a photo of one of the BTS guys on it so it has to be amazing right?! Grease Removal Balls were tops on my shopping list if only for this graphic alone – I mean, it literally has all the things I like to eat on it!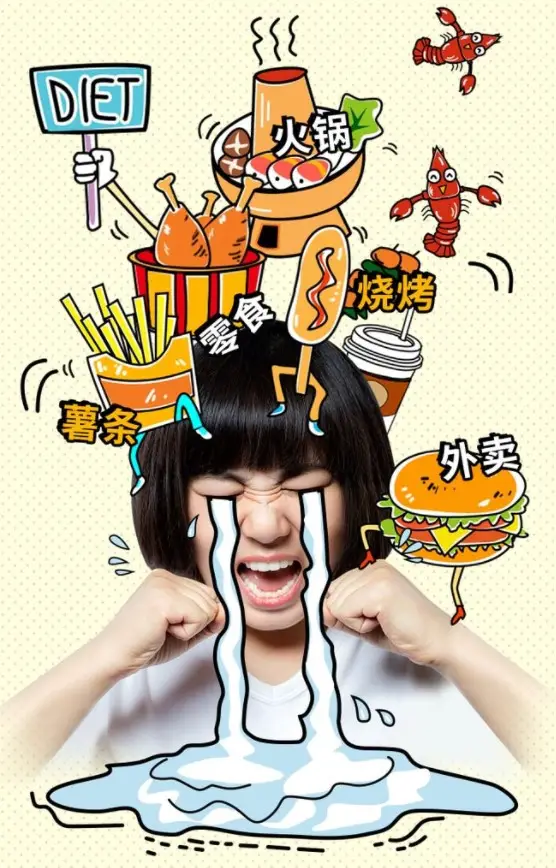 Okay second on my list was the Cranberry Chocolate KitKat. Where have you been all my life? 
I skipped the Poppin DIY Gummy Hamburger this time, but the Peach Gum was something my teenager would be all over. Added the reduce stress gum winner at only $1.99! 
Moving onto the beauty section, there was a wild array of brands I've never seen before and I wanted to try them all. Beauty products were going to be a game-time decision for me, but I did add a cream-based eye shadow to my list and the Kiss Me Smooth Eyeliner. The problem is that there is so much on the website that I want to try but I had to remind myself that this is not a yen store like Daiso where everything's a dollar-fifty. In Teso Life, this eyeliner is $10.99. That's more than I would spend on an ELF version of eyeliner, but we'll see.
The new arrivals taunted with me a "Secret beauty powder" which obvs everyone would want, and "Melty Moist Repair Shampoo" which is a hard pass from me, despite the pretty bottle. If you're a fan of lip oils (raises hand) there's quite a selection, and c'mon, who is going to say no to "marshmallow finish powder." *Adds to list.*
Back in the food area I found myself super drawn into something that looked like caramel corn but strangely also like strawberry and shrimp?! But along the fruit lines, I was curious about the Peach Parfait Kitkats, and Banana Caramel Kitkats.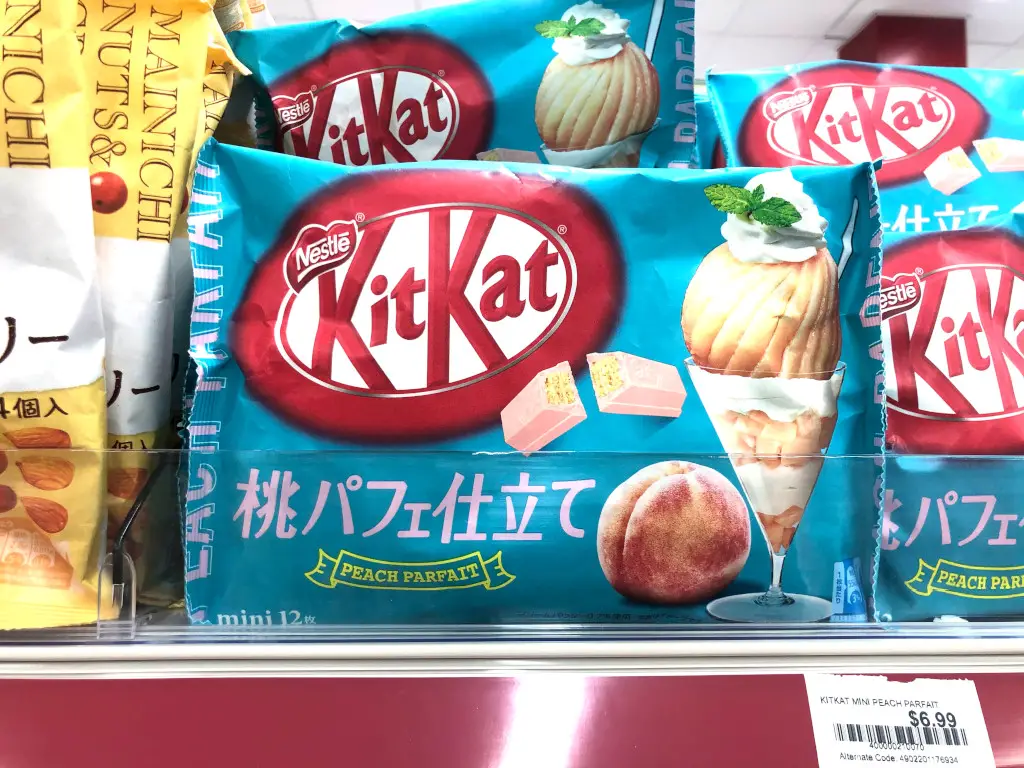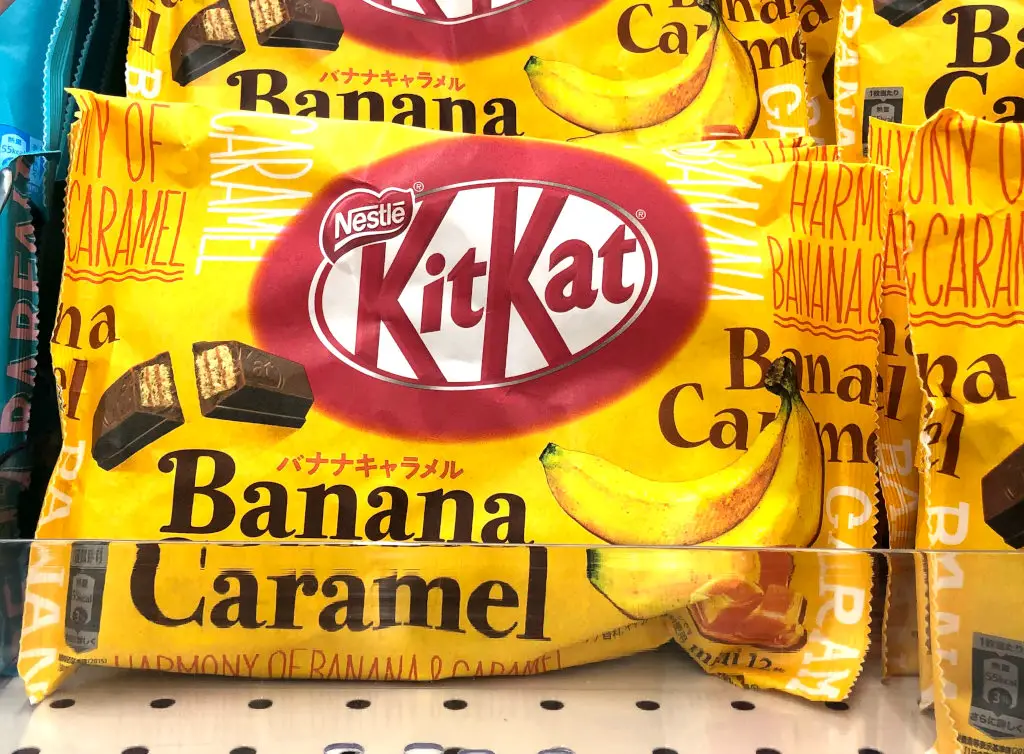 Not that I have a sweet tooth or anything (ha) but I added the strawberry caramel corn to my list too, as well as the street corn flavored popcorn.  😉
In the Grocery & Beverage section, I was definitely going to be on the hunt for the Bourbon Mochi Espresso Chocolate. I vote to bring happy hour to snack time all day long. 
Inside Teso Life
Teso Life was such a rush! At first, I was trying to be super stealthy when I really wanted to take pictures like a tourist. It didn't feel nearly as big as it sounded on the website, but there was SO MUCH to look at that I literally could have spent hours there. 
The first area when you walk in features a variety of special finds that you may enjoy, and then the traffic flows straight into the beauty section. There is a large footprint of cosmetics, hair care, skin care, fragrance, etc. It leads into home care, then housewares and packaged food and spices. There are also refrigerated and freezer cabinets and bin freezers as well.
I'm so glad I came with a list because otherwise, I'd have needed a uHaul to get all my impulse buys home. My list gave me a plan that took me through every inch of the store in an attempt to find everything, and I was terrible at locating most of it. Upside though – the staff is super nice and not only did they help me super sleuth some of what was on my list (not everything from the website is in store), one of the staff from the NY store recommended some products that I NEVER would have picked. So much for my preplanning!
Unboxing the Teso Life Shopping Bag
Okay, so here we are. It's been a couple of days since I went to Teso Life and I can hardly remember what I bought. In some cases, the packaging is all in Japanese and even when I was in the store I had no idea what they were  – so let's figure them out together. 
Remember I said, I got a gift? Well here it is: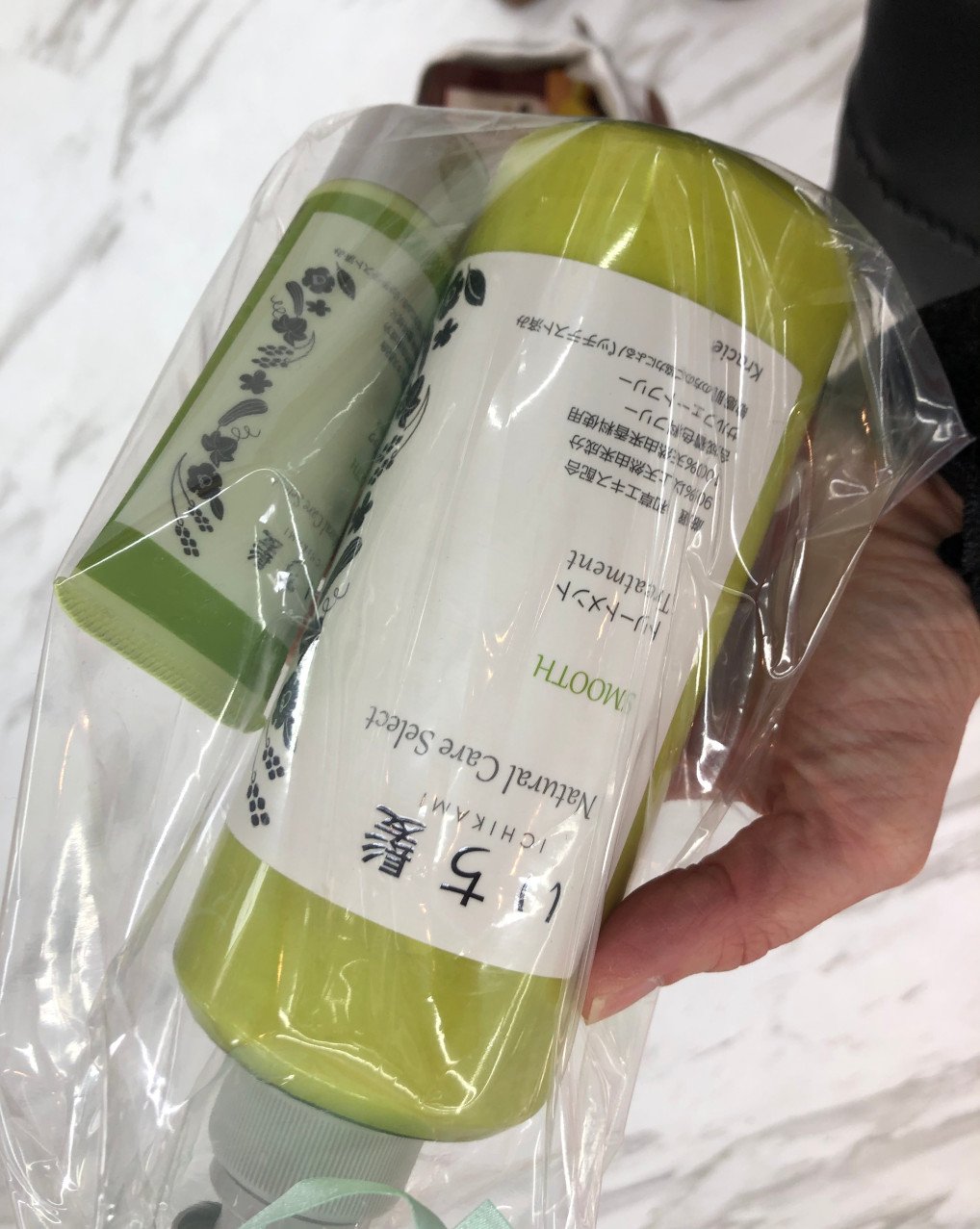 The directions are all in Japanese but they told me it was a hair treatment. It smells really nice,  maybe of avocado? This other one is a hair pack, not sure what the difference is between the two but I'll be happy to try them out and report back. 
Now let's look at the stuff I actually paid for.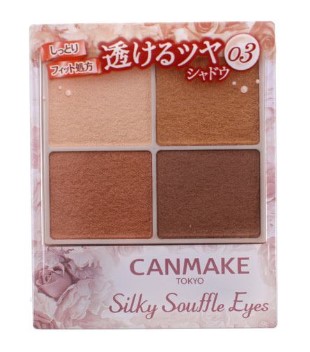 There were a couple of makeup brands on my list and this eyeshadow was one of them. I'm all about the neutrals and I probably have a hundred sets with similar colors, but with a name like Silky Souffle Eyes, it seemed like a crime not to allow my eyelids this guilty pleasure. It's a little four-color pack and it cost $13.99. 
This next item was not on my list. It's called Lip Shield and from what I could tell, it protects your lipstick from whatever you're doing – like eating, drinking or wearing a mask.  Lip Shield was $11.99. 
I also got a water-resistant eye-liner. I tried it out on the back of my hand and it comes out in a nice fine line and it's not too dark either. The eyeliner was $10.99 and the brand is Kiss Me.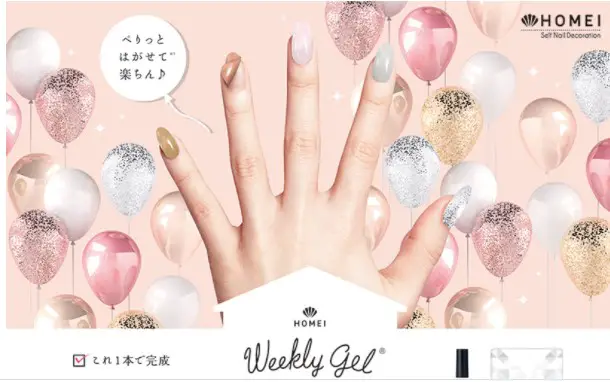 I also got a package of nail polish. It's called Weekly Gel and from the image on the box, it seems like you can just peel it off instead of having to use remover. I always find that the at-home gel nail polishes are hard to remove so this will be great if true. I got a nice natural cute color called, "Lady Pink." I'll put on a few coats of that and we'll see how that holds up over the next week.
Okay, the one thing I was most looking forward to finding in the store …. drum roll …. Grease Removal Balls! To be honest, I was having trouble finding anything at all on my list but was determined to get these so I asked a couple of employees. None of them had the slightest idea. But eventually, I was introduced to another guy who had apparently been shipped in from the New York store to help with the opening. He led me straight to my grease balls. 
So, it turns out that grease removal balls aren't balls at all. Noooo. They are sachets full of a sludgy liquid that looks like a mixture of oil and tar. So, yeah. Definitely not my best buy of the day. I wasted $25.99 on Grease Removal Balls, but I'll look into them more and maybe, maybe I'll try it.
Thankfully, I am pretty sure the Bourbon Chocolate Mochi Espresso cookies I got for $8.99 are going to make up for the failed grease balls.
Here is something else I didn't intend to buy. It's one for the ladies who are getting a little bit older like myself, and you might start to have a hooded eye situation going on. I don't know how it's going to work but at $7.49, it's worth a shot. There were many colors available, and there are instructions so I'm game.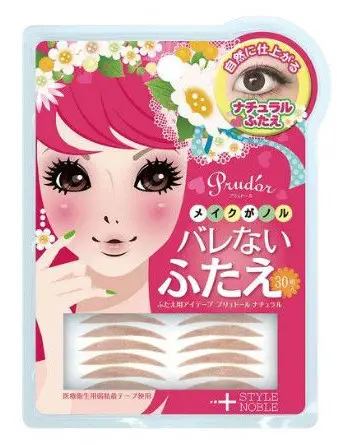 I already had one flavor of Kitkats on my list, but when I had the store manager with me and asked what some store best sellers were, he took me over to a whole display of Kitkats and pointed out the Banana Caramel flavor. It would have been rude not to buy them — and I'm glad I did because they disappeared pretty quickly around here.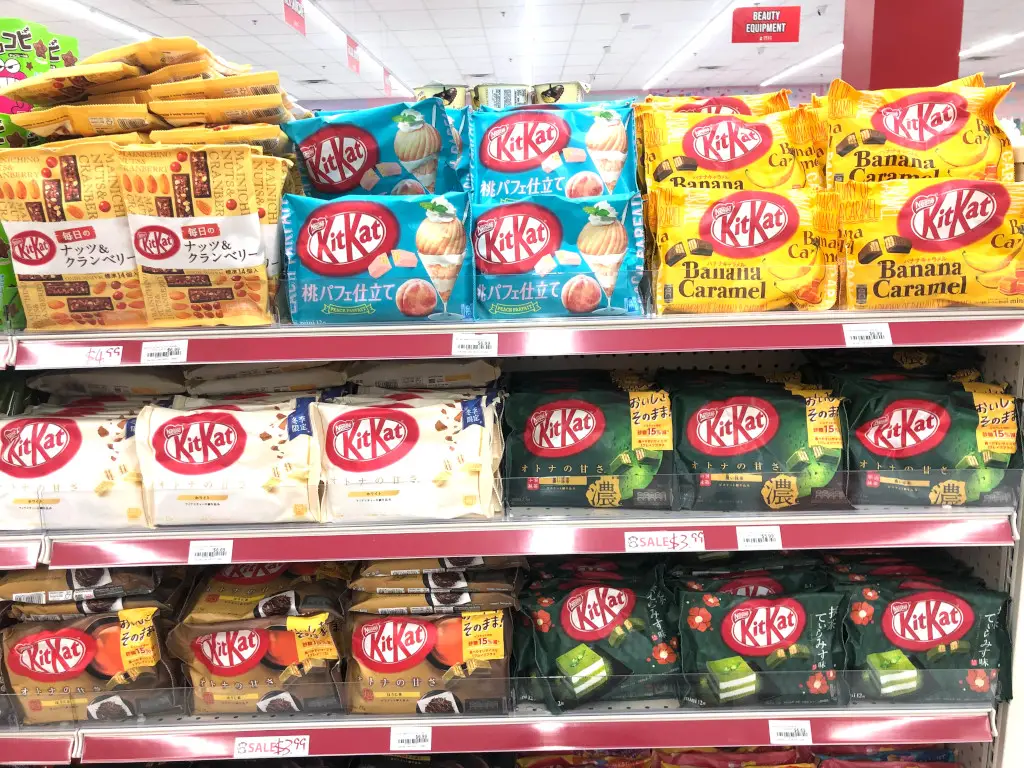 I ended up with what looks like a big bag of banana caramel Kitkats. It looks like a lot but inside the bag, the individual packs are really tiny. At $6.99 per pack, you can chalk these up to gourmet Kitkats with gourmet prices. 
After he showed me the Kitkats, I asked the manager what HIS favorite things were in the store. He took me straight to the Honey Butter Almonds. There are lots of different flavors, including a bubble tea coffee flavor but the Honey Butter Almonds were his absolute favorites and cost $7.59. (I bought them and they are worth every penny.) Another of his most favorite products was Calbee Fruit & Granola cereal in Chocolate Crunch and Banana. It looks like muesli and is very reminiscent of the type of cereal you get in Europe. I thought it was delicious and I've since hidden it from my family in the pantry so they won't eat it.
The 15oz bag of Calbee cereal cost $8.99 so as I said, this is not a bargain store. Consider it more as a retail experience.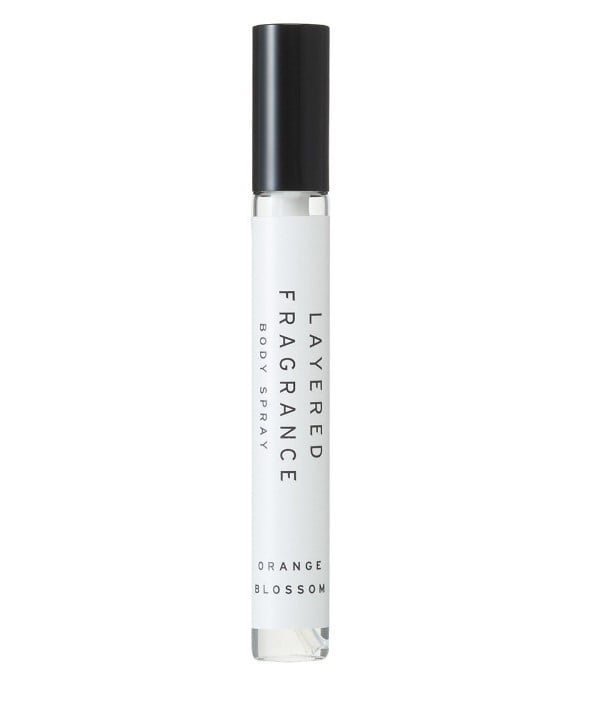 The very last thing I bought was a layered fragrance in Beramot and Jasmine. There are about a dozen different scent profiles, and I chose the bergamot and jasmine which smelled amazing. It was $13.99 and my intention is to pop it into my travel bag except I've been wearing it every day. 
My total bill was $116. Did I get some weird stuff? Yes. I also found a few items that will remain on my "must buy" list for when I return. 
One word of caution. On opening day, they were playing explicit versions of popular songs and I'm not sure when I've heard so much inappropriate language. I've since been back, and the playlist is more in line with what you'd expect from this type of store so I hope that it was only a fluke for what I'm sure was a very busy day for their launch crew.

I had a great time at Teso Life and I will definitely be back regularly. If you go, post in the comments what your favorite products are so we can make a list of "must-buys."