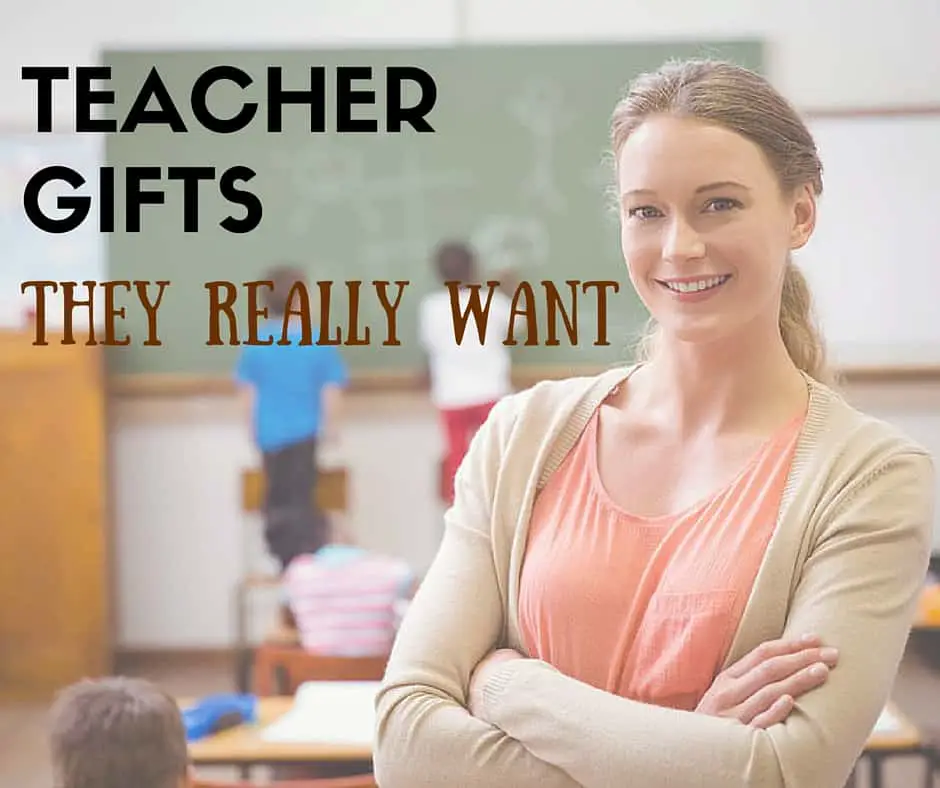 "I'm not giving teachers lotions and soaps and food crap anymore!"
On a recent episode of Mommy Upgrade Live, my co-host and BFF of a thousand years, Molly, made the above statement – EMPHATICALLY.
Molly recently had the opportunity to spend a couple of days in an elementary school classroom, and after that enlightening experience, she is calling for an end to the usual teacher appreciation gifts. While I'm sure our teachers like our cute packages of coffee and "thanks a latte" puns, they're too polite to tell us that they'd really rather receive things to make their everyday job more fun.
And guess what: I've confirmed this with my teacher friends. The school budget only goes so far, especially in public schools, and educators are spending a LOT of their own money to add color and whimsy to their classrooms.
So let's put an end to the mugs and the apple-anythings and give teachers what they really want. I know it seems a little like giving your husband underwear for his birthday, but gift-giving is about what the recipient wants or needs (or loves), not just what you enjoy giving.
Here's our suggestions:
Stickers – If they have them, they'll use them to reinforce good behavior and good grades. Let's face it, sticker prices are expensive these days!
Colored Sharpies, white board markers – You know these are always getting lost.
Duck Tape, washi tape, double-sided  tape – When you see these on clearance at the craft store, load up. Your teachers will love you for it.
Colored paper and poster boards – I swear kids eat these like pretzels.
Stencils and other crafting or office tools. Before you donate those old craft gadgets and supplies to charity, ask your teachers what they can use. A three-hole punch that they can keep in their classroom might really make their day, and a rubber stamp may make a great way to show a 100% on a test or in the art supplies bucket.
Rolling carts with colored drawers, any kind of organizers. The brighter the better. Teachers have a lot of stuff, and if it doesn't have a place, it's a big mess.
Snacks – Kids are constantly forgetting their snacks, and it's not cool to be the only kid with nothing to eat. Keep in mind some of these kids aren't forgetting their snacks at home, they just don't have it to bring. Next time you buy a box of granola bars and your kids turn up their noses, bring it into the school. I bet there's a hungry kid who would love to eat it.
Anonymously sponsor a kid who can't afford a field trip, or to bring in Valentines, or a special treat on their birthday. Your teacher knows who they are and they're probably covering for them.
Books or iTunes gift cards to download media to use in the classroom.
Wobble chairs like these – ADHD kids can't sit still, but if you give them wobble chair, they can channel that wiggle and be less of a distraction to others.
Kleenex, Clorox wipes, hand sanitizer – No one wants to work in a germ farm!
Often teachers don't want to ask for things from the parents, but encourage them to put together a board on DonorsChoose.org, especially if there are more expensive items (like Snapcircuts or Legos) they'd like to plan lessons around. This website allows teachers to create an itemized wish list, and anyone can donate to help fund the account. It's easier for the teachers to make a list there than it is to continually ask parents for one thing or another.
Are you a teacher? What should we add to our list? What would YOU like to receive from parents?