It's here. Homecoming Week. Let the silly costumes, spirit wear and homecoming mums fly!
We had an interesting add to the week-long spirit days this year: Tacky Tourist.
Thankfully, this is one that nearly everyone can find in their own closet, whether you want to admit it or not. In case you're so last minute (as I was this morning), I've provided a fast grab of things that you can pull together in seconds to rock the Tacky Tourist costume like the Cupcake did this morning.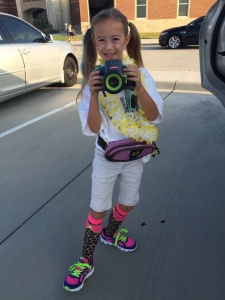 How to Pull Off a tacky Tourist Outfit?
Shirts: Preferably Hawaiian, but they could also have big horizontal stripes. Completely acceptable as well is that souvenir shirt you fell in love with while traveling or the gift that your in-laws brought back from you on their fabulous vacation. The Cupcake is sporting a Hawaiian favorite of mine (to sleep in).
Pants: Gotta go with the long shorts. If you have the jorts still taking up space, here's your chance to liberate them all legit-like. The less they match the shirt, the better. If they're "mom-style" with the high waist, cinch it with a belt for additional dose of reality. Boys, you must wear the plaid.
Footwear: A tacky tourist essential is the long socks WITH sandals, white tennis shoes or whatever type of trainers you have. The Cupcake has gym class today so she's wearing her fave new kicks, but they work with the adorable giraffe socks quite nicely, I think.
Hair: Girls, you have to pull it up. Likely you'll be wearing a hat (see accessories below), so pigtails work great.
Accessories:
Fanny packs are a must. Don't kid yourself that you kept it in the far reaches of your closet in case you need it when you're walking the dog. Nope, this is national fanny pack day! Strap it on, wear it with pride, and laugh in the face of all those minimalists who told you to get rid of things you don't use on the regular.
Have a lei? Layer that baby on too.
Do I even have to mention that you need to carry a camera? The more cameras the better. In fact, put one on a selfie stick.
Sunglasses. Duh.
Hats: The bigger more safari sun-shielding the better. Also acceptable: straw golf hats or the resort-specific golf hat. Bonus points for the hats that have both. For security reasons, some schools won't let kids wear hats so now's your chance to raid the costume trunk for those Mickey Mouse ears that you flaunted the whole time you were crawling the Magic Kingdom.
Bags: You know you bought a bag on vacation — just so you could get your packages home, right? Here's your chance to show it off with a beach towel inside. You can also throw on a backpack if you really are going for authenticity.
Earrings: You can't see it, but the cupcake is wearing some camera earrings. I'd wager a bet you have some kind of sea animal or Eiffel tower earrings in your stash that work perfectly for today.
Props & Finishing Touches: Carry a map, a passport, an airplane ticket. Put the white zinc on your nose. Maybe even loop an inner tube over your arm or carry a beach ball. If you're over 21, a plastic hurricane glass finishes off the look.
And that, Moms… is tacky tourist spirit day success in 5 minutes or less!