We wrapped up our last day of preschool – and it ended with a POW, BAM and WOW!
For the past year Princess Cupcake has been learning at the speed of light in preschool 3's, and on Tuesday the justice league of mini superheros gathered for an epic send-off to summer.
I was a little perplexed about what superhero to steer the Princess Cupcake towards, and she was holding steady on the "Princess Superhero." Which, ideally would be simple. Add cape from Princess and Knights party to favorite princess dress and be done, just like the fallback costume for the cancelled superhero party a couple weeks ago. If I had only done that, I wouldn't have been up until 1:30 in the morning Monday night – I am obviously unable to do these things in a rational time frame.
That was the plan, of course, until Saturday when Princess Cupcake and I were looking at Yo Gabba Gabba online in anticipation of an upcoming birthday party – when it hit us like a lightning bolt: SUPER MARTIAN ROBOT GIRL.
How could we possibly forget the single best female preschool-appropriate superhero in the universe?!  Princess Cupcake was sold. She HAD to be Super Martian Robot Girl from Gabbaland. And it didn't look too difficult.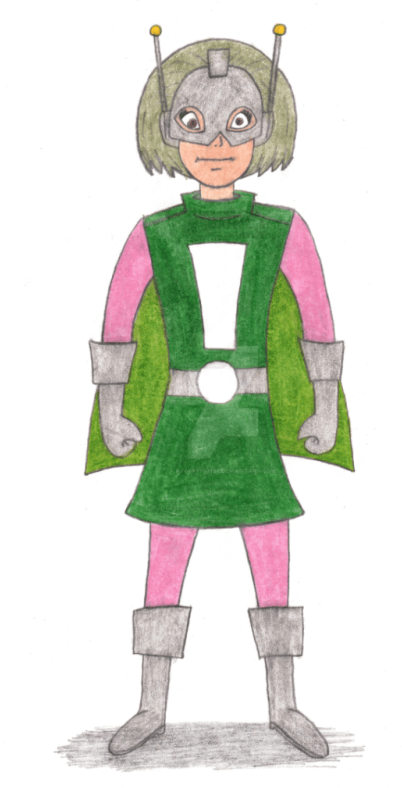 I think it turned out cute.
It was so fun to see which parents knew who Super Martian Robot Girl was as they sang the theme song while the Princess made her way to her classroom with all the confidence a young superhero can muster.
I can say with certainty that she was the ONLY Super Martian Robot Girl in the program, so that means she was also the BEST Super Martian Robot Girl costume on stage.
And that means just one thing – it's "dancey dance time!"
If you'd like to make your own Super Martian Robot Girl Costume, here are some tips. I am guilty of having a pattern-phobia so this will be a little loosey goosey.
Things we already had: pink long sleeve shirt, pink tights, white and silver sparkle shoes.
Basically I took 3 kinds of fabric: green, silver and silver sparkle.
Let's start with silver sparkle – this is boosted up a bit from Super Martian Robot Girl's usual wardrobe, but Princess Cucpake was going to be onstage for gosh sakes. We also needed some glitta. I used the sparkle fabric for the faux belt and exclamation point.
For the silver shiny fabric, I first set out to make gloves. Yeah, the gloves were a no-go. Then I decided it would be better if they were just like cuffs anyway because then she could use her hands. And do the same for her feet so she could wear her tennis shoes as we shockingly have no size 9 silver boots in our closet. I did consider spray painting a pair of boots but decided this was way easier – and faster, and cheaper.
I basically just held the fabric up to her arms and legs and measured the length and width. I finish the edges and sewed down the side, then turned it inside out so the seams are all on the inside. When I checked to make sure I could pull these over the Cupcake's hands and feet, and yep, I ended up redoing one of these.
For the green dress, I took the fabric and draped it over her like a sandwich board to check the length and width. Folded it in half longways and cut out the neck and arms. Then I put it back on her to shape it a little. I finished all the edges but before I sewed it together, I sewed on the belt to the front and the back and the exclamation point.
For the mask, I used silver sparkle sticky foam paper (left the backing on it). I made a template with a piece of paper first so I would get the eyes and nose in the right spots. I folded the "ears" forward. The antennae are silver pipe cleaners with pom-poms wrapped around the top. I punched through the "ears" on the mask.
We had a wardrobe casualty on the way to school with one of the leg cuffs, but the good news about this fabric is that it held together with clear tape once we got to the classroom.