I know you've been snookered by the words, "super easy" before so you don't believe me yet. But it's true. With just 12 simple steps, YOU can make a custom glitter shirt for your Princess in one evening.  I say "Princess" for fear of excluding any boys that may have a fondness for all things sparkly – but if you didn't want to use glitter, you can modify this with fabric paint and get the same, albeit unfantabulously shiny, results.
So I'll admit that I initially bought all the fixin's for this project for my munchkin and did not execute.
THEN the Cotton Bowl came around and guess what. College football gamewear is really tough to find for:
a) a girl if you still want to look like a girl, and
b) when your team isn't even in the same state as you and
c) you didn't have time to focus on acquiring said rally wear until the week of the match-up. And no thank you, I'm not interested in paying for overnight delivery.
So sorry Princess Cupcake, I am borrowing your glitter because this one is for the Mommies. You're in bed anyway, and I promise if it turns out, we'll glitterize whatever your little heart desires…
Here's what you need:
T-shirt – mine was a cute girl shirt washed and dried withOUT fabric softener
Computer with printer – unless you are brave enough to free-hand. I. AM. NOT.
Fabric glitter – I got mine at Michaels – they have a rainbow of colors sure to satisfy the most discriminating princess
Fabric glitter glue and sponge  Again, Michaels
Freezer paper – any grocery store or Wal-Mart
Pen or pencil
Xacto knife – art supply store
Cutting mat – craft store
Tape
Iron
Magazine
How to:
1. Design your graphic on the computer. The toughest part of this project is deciding what to put on your shirt. I – being the Tiger fan – chose to go with a simple "LSU" centered with a fleur di lis on the top and bottom. Nothing crazy. Using Microsoft Word, I set the page orientation on horizontal, picked a fun font and enlarged it so it would fill up the paper to the edge of my margins. Then I hopped online and found some line art for a fleur di lis. I copied the image and dropped it onto my page, sized the image and then copied it so the images would be identical top and bottom and ta-dah! I had my pattern. (Did I lose you? That was just the long way of saying, create your design in Word.)
2. Next I printed out the pattern and laid it underneath a piece of the freezer paper.
3. Trace the pattern onto the freezer paper with a pen or pencil. Be sure to put the shiny side of the freezer paper away from you. You will be drawing on the coarse side.
4. Lay your freezer paper on your cutting mat and using your X-Acto knife, CAREFULLY cut out your design. Depending on how intricate of a design you made, this could take a while. If your knife is sharp, it should cut very easily though. Make sure you are not getting help from little ones during this process. I have a scar on my thigh from college when a kitten startled me and I dropped an X-Acto knife in my lap. First instinct was to "catch" it by closing my legs together really tightly – you know, so it wouldn't fall on the ground — with the knife perpendicular to my thighs– yeah. Not so good. I never did like graphic design class after that. But if that professor could see me now…
5. When you are done cutting it out, take your pattern stencil and tape it to your shirt where you want it to be.
6. Now iron the freezer paper to your shirt. Crazy, I know but it'll stick to it. You want to make sure it's well-bonded to the shirt otherwise your edges are not going to be sharp. Don't iron the tape though, that's just to keep the stencil from sliding when you first start to iron. You can take the tape off as soon as you have got the freezer paper adhering to the t-shirt.
7. If you're getting really intricate with your design and colors, you might consider masking off areas by color so there's no chance of the colors mixing. I didn't – I just went for it. I'm that kinda gal.
8. Put your magazine under the stenciled area so the glue won't seep through to the other side of the shirt.
9. Take your glue and the sponge it came with and wipe the glue creating a decent layer of it onto the exposed areas of the stencil where you are going to want the glitter to stick.
10. Sprinkle the glitter onto the glue. Make sure you cover it completely! Shake off excess. Cheapskate that I am, I thought I would try and save the excess, and if you've read my previous experience with glitter you'll know that wasn't a good idea. I then shook it and everything it now clung to into the sink. Hint: a wet paper towel will pick up the fly-aways on your countertops and wood floors so the pugs don't eat it.
11. Let it dry for at least 4 hours. I let mine dry overnight. But because I waited until the last minute, it wasn't for much longer than 4 hours.
12. Peel off the freezer paper stencil and VOILA! Game Day Tailgating Shirt!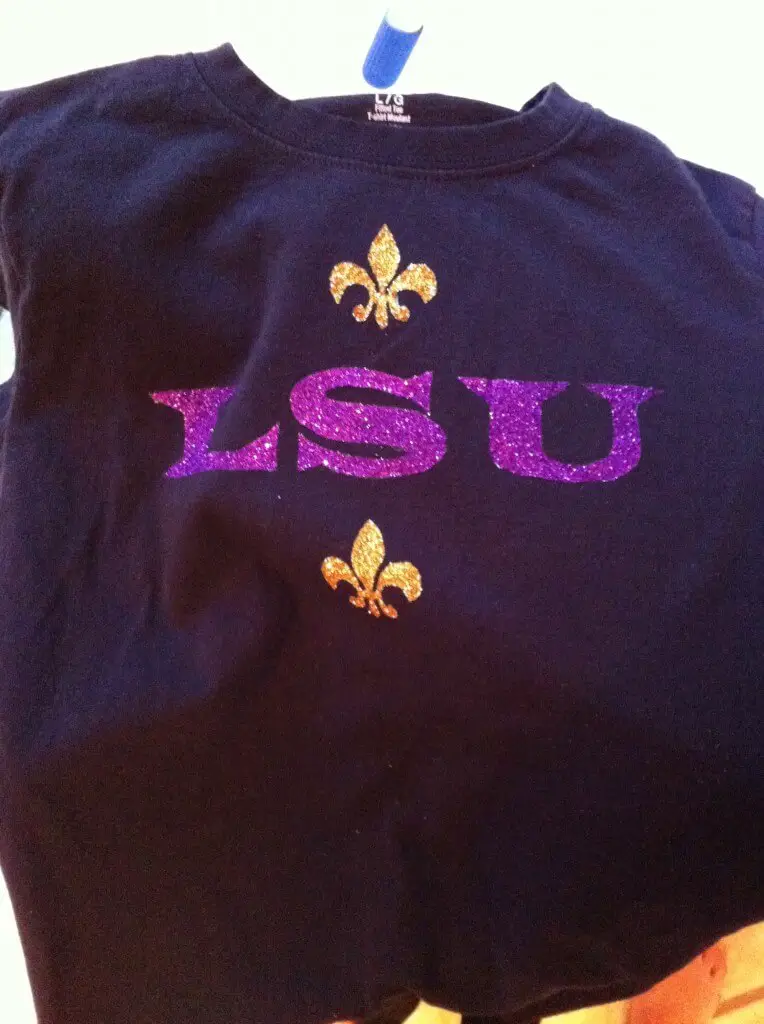 (Sorry it's not laid out flat so it's hard to tell – but it turned out perfect!)
It passed muster with the hubs. When Princess discovered my creation the next morning she yelled, "GO TIGERS!" (She can't read yet but she knows what to do!) And then she said, "I LIKE your SHIRT!"
Well precious puddin' pop, that just earned you one of your own.
And don't you know, one of the GUYS at the tailgate later that day –unprompted — asked the hubs where I got my shirt "because you just can't find good looking logo wear for women."
All in all, I'd say it's a winner and I'm pretty darn impressed with it if I do say so myself. I still cannot believe how easy it was! I'll be making more of these for sure – forget those stupid iron on letters that I used to use. Those are SO 2010.
Crafting Gifts from Tried and True by Trista