Little obsessed with antiqued bottles these days.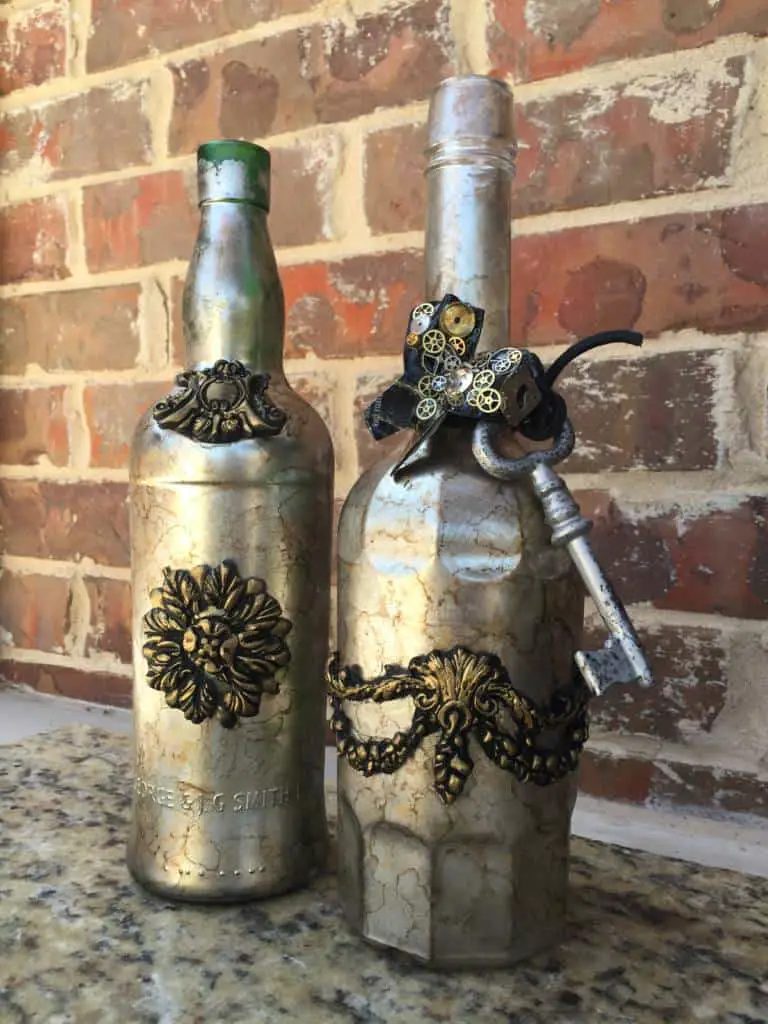 Want to learn how you can make your own steampunk-inspired antique looking but not antique bottles? Let's go!
I made a slew of these for our recent Craft Exchange, and I loved each one more than the one before. Warning, they are a little addicting to make!
Here's what you need:
Bottles – the funkier the better, but any will work. I prefer liquor bottles as they have so much character but I've used wine bottles and even mini frappacino bottles as well!
Mirror Finish spray paint from Rustoleum, found at Lowes. Here's what it looks like (click to purchase on amazon – affiliate link):
Spray paint in flat black – I used Rustoleum Universal Paint & Primer All in One, find at any home improvement store. Here's an image of what it looks like. I think this would be a good color as well if you can't find the flat black.
Alcohol inks with cotton pads and stamper– the inks featured on these bottle are from Tim Holtz in mushroom and butterscotch colors. Use any colors you like.
Silicone Molds – this one is Iron Orchid Designs from Prima Marketing Inc and called Baroque 3. I purchased it locally from Frisco Mercantile but you can click the image below to order this one or others from Amazon (affiliate link).
Gold antiquing paste – this is from MyArtC.com and I found it at the local craft store.
Hot glue gun and sticks (any)
E6000 adhesive – again, craft store
Optional: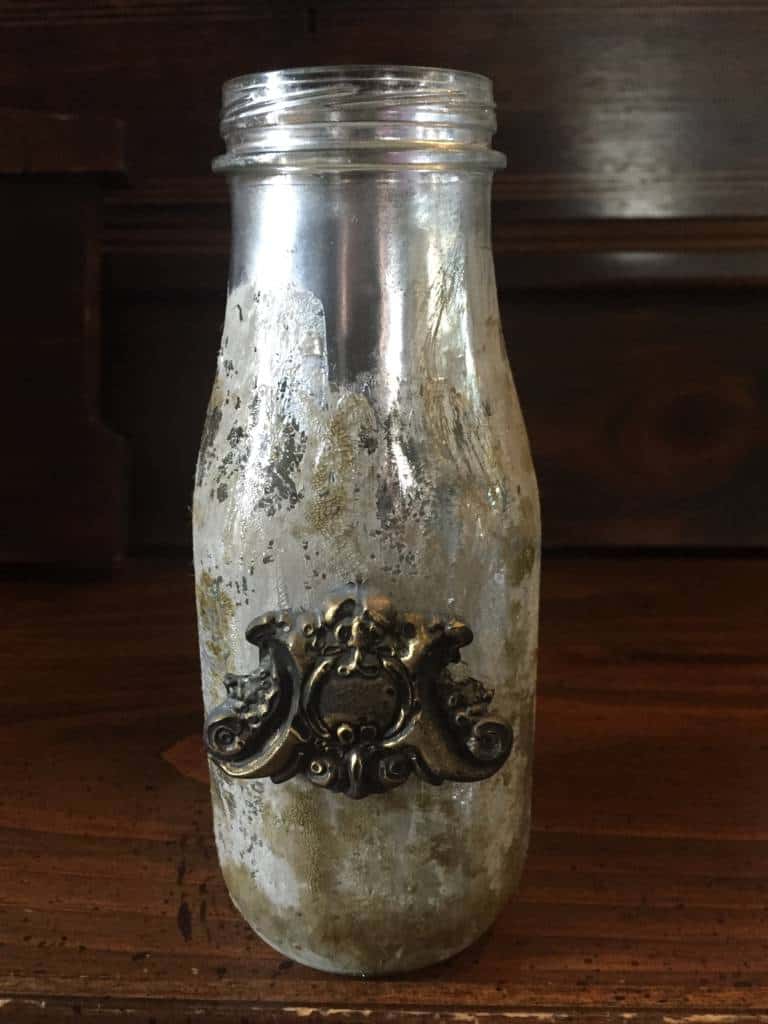 Paint – I used chalk paint, Annie Sloan in French Linen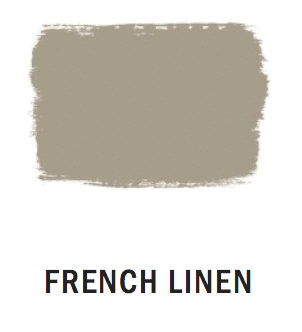 Distressed Finish from Tim Holtz in Rock Candy – I had to order this from Amazon.com. (Click image for more details.)
Old vinyl records (ordered from Ebay)
Recycled watch gears (ordered from Ebay)
Inkessentials Glossy Accents – craft store or click image below.
Leather cord – craft store
Sisal rope – craft store
Metal key from Michael's dollar spot section
Any other random epherma you like
Here's what you do:
Remove the labels from the bottles. I soak mine in hot soapy water and then use a scraper and Goo-be-gone for any residue that just won't come off. I've heard some people use hand sanitizer?
Spray the dry bottles with the mirror finish paint spray, covering evenly. Let dry.
With your desired colors of alcohol inks, moisten the cotton pads on the stamper with the ink and gently dab all over the bottles. I like to use the blending solution with the colors to give a more mottled look. If you want another layer of color, let the first layer dry first. (It dries quickly.) The bottles you see in these images have two layers.
While the ink is drying, fill your silicone mold with hot glue. Yep, hot glue. It will not harm the mold and you'll get a bendable accent piece to put onto your bottle.
After the glue has firmed up, pop out the accent piece and spray it with black or brown spray paint (or color of your preference). I really like the look of the flat black but silver was fun too.
After the accent piece paint has dried, rub the gold paste on the surface. Don't work it into the cracks and crevices, this is what gives it an antiqued look.
Use your E6000 to glue the accent piece to the bottle. I used that because it's an amazing adhesive that won't let go, and if you use hot glue on the hot glue molded accent piece, it will begin to melt again – which may be okay but I was concerned about maintaining the integrity of the molded piece. I also used a rubber band around the bottle + accent piece to hold it in place while drying overnight. This kept it bended (is that even a word?) around the bottle.
Now for the optional embellishments…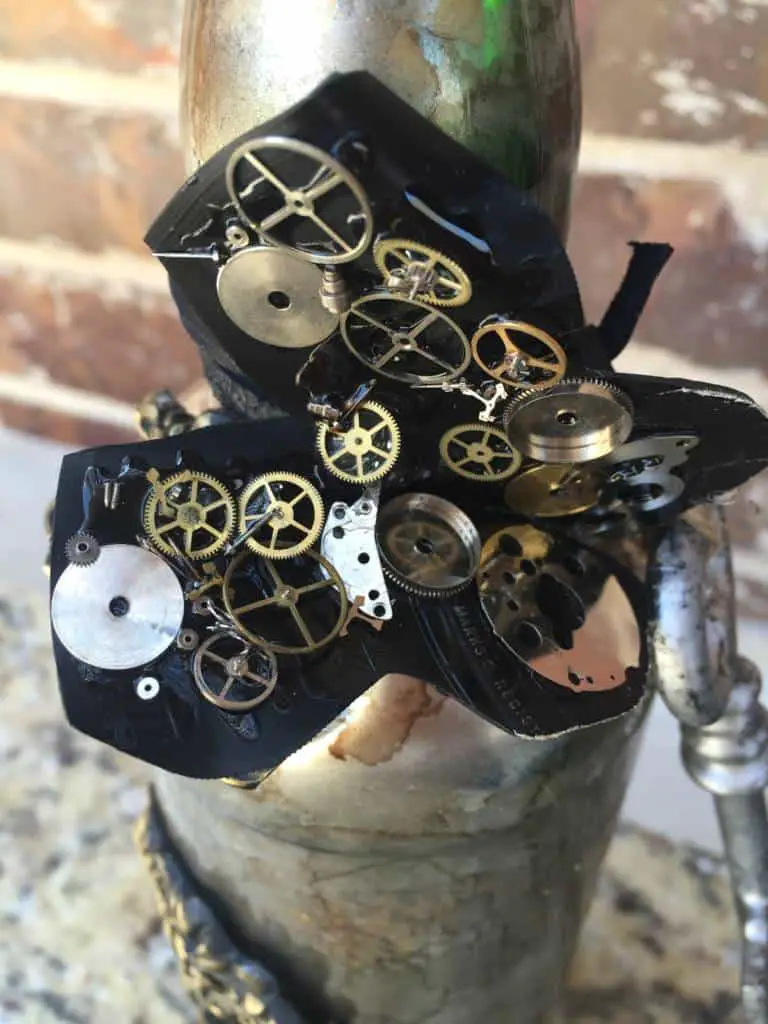 If you'd like to make the butterflies or other shaped pieces from the vinyl records, you'll need to melt them a bit. Line your cookie sheet with parchment paper or aluminum foil and turn the oven on to 400 degrees. There's a great tutorial here that I used as reference, but here's the short of it: Using a crayon, draw the shape you want to cut on the vinyl record. Put the record in the oven for about 45 seconds or until it begins to warp. Remove it from the oven and cut with scissors to your desired shape. If the vinyl hardens before your shape is fully cut out, put the record back in the oven in 20 second increments until you can cut the whole thing.
After I cut the shape of the butterfly, I put it in the oven to soften for a few seconds more, then removed it and with a hot pad on my hand, bent it into a butterfly shape and let it cool for a minute or so. Then it was set enough to leave on the counter to finish cooling.
Once completely cool, I used the Glossy Accents as glue and sprinkled the watch gears onto it. I put an additional layer of Glossy Accents on top to secure. Let dry – it will dry clear and shiny.
Attach the butterflies to the bottle with hot glue. You can use E6000 but it doesn't set fast so you'll have to prop the butterfly in place while it sets.
I also glued and tied the leather cord to the neck of the bottle, and tied the extra key on as well. Some of the keys I painted similar to the molded hot glue accents.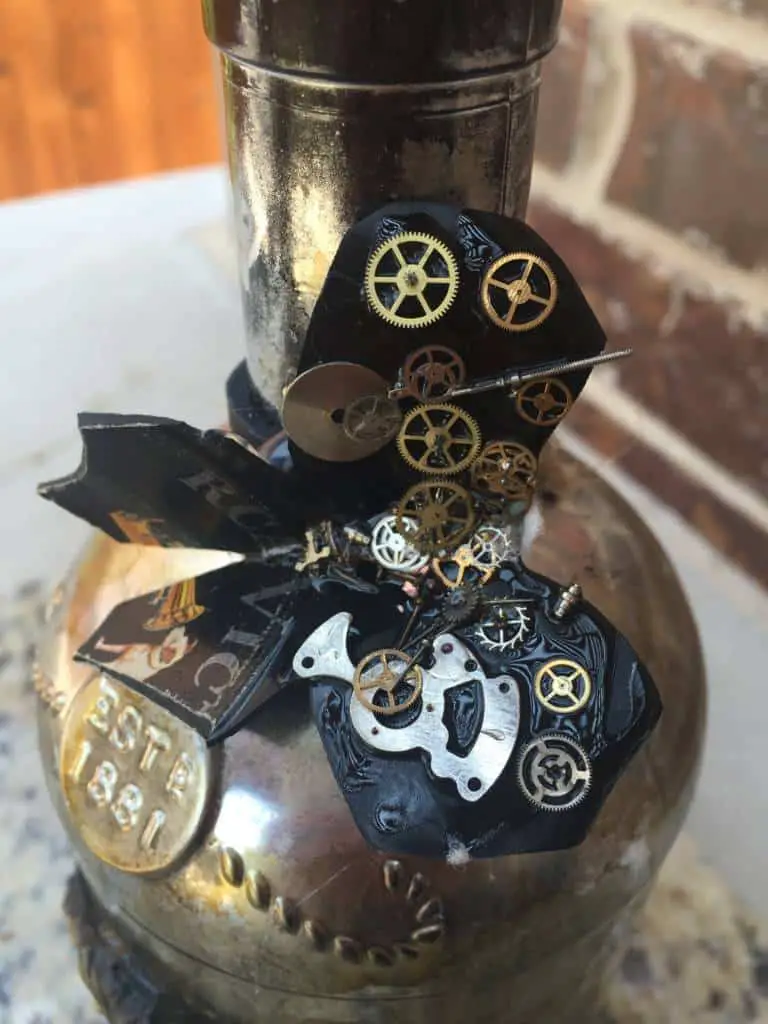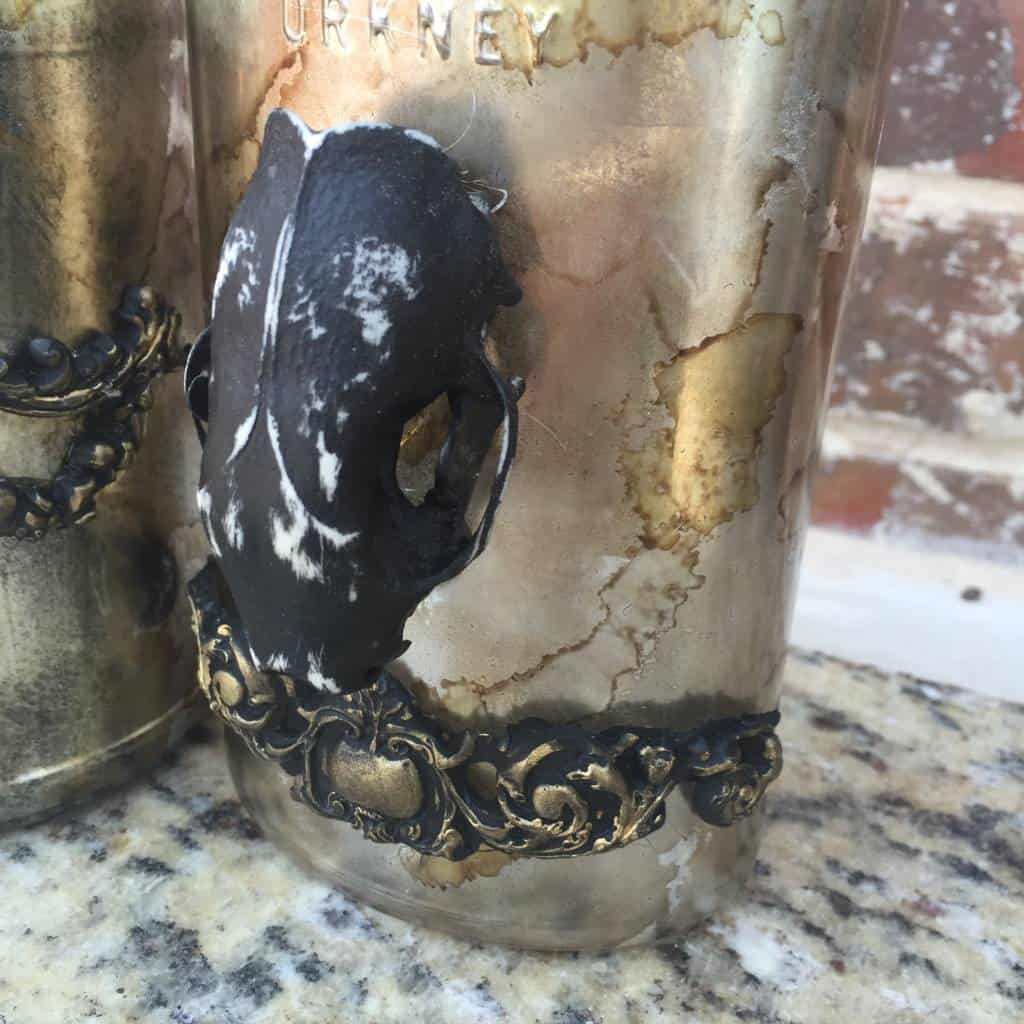 Variations:
For about half of the bottles I made, I used the Distressed Crackle Paint on top of the Metal Finish spray paint. It lifted some of the finish off to make it more weathered but not tremendously.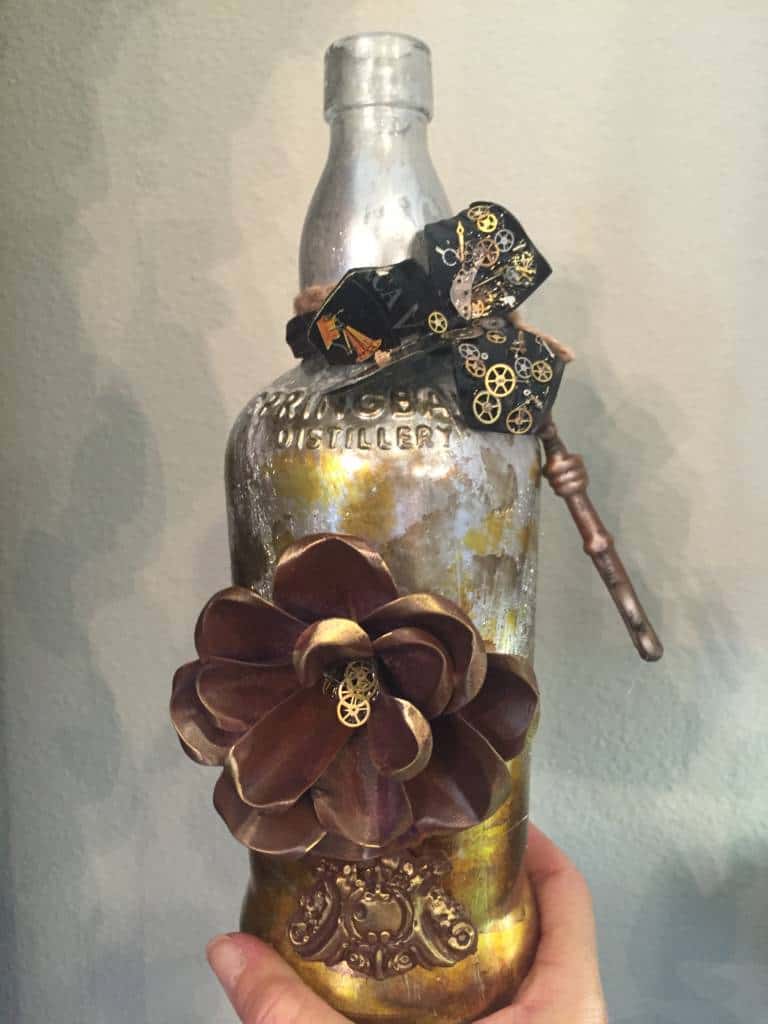 I was a little indifferent about it, but I did particularly like it when used with the chalk paint. For the small frappacino bottle, (here it is again)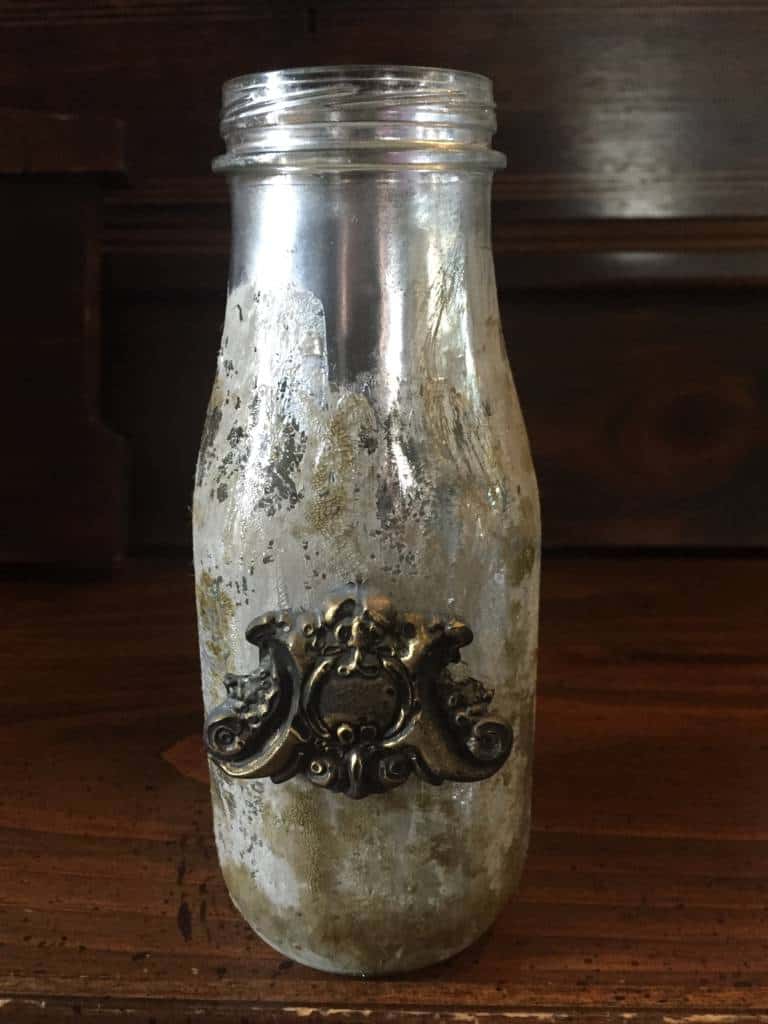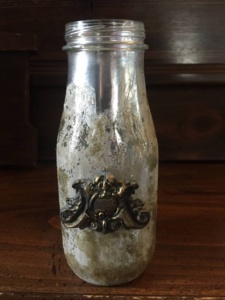 I used the Metal Finish spray, then chalk paint, then alcohol inks, then Distressed Crackle Paint. The addition of the chalk paint with the crackle paint lifted it off considerably more. To add to the effect, I took a soft towel and rubbed off the flakey bits. It was the last bottle I did, and probably my favorite! I'll be doing more of these in the future. And when I say future, I mean like, this weekend. 🙂
Did I mention I was a little obsessed?