In a previous post, I showed you what the Easter Bunny was going to leave for the Princess Cupcake: a STEM-inspired Easter basket that made even me a little jealous. Now I'll show you the SPA-inspired basket I'm giving my little nerdy diva for Easter this year, and again, I'm totally jealous!
It all started with THIS store window.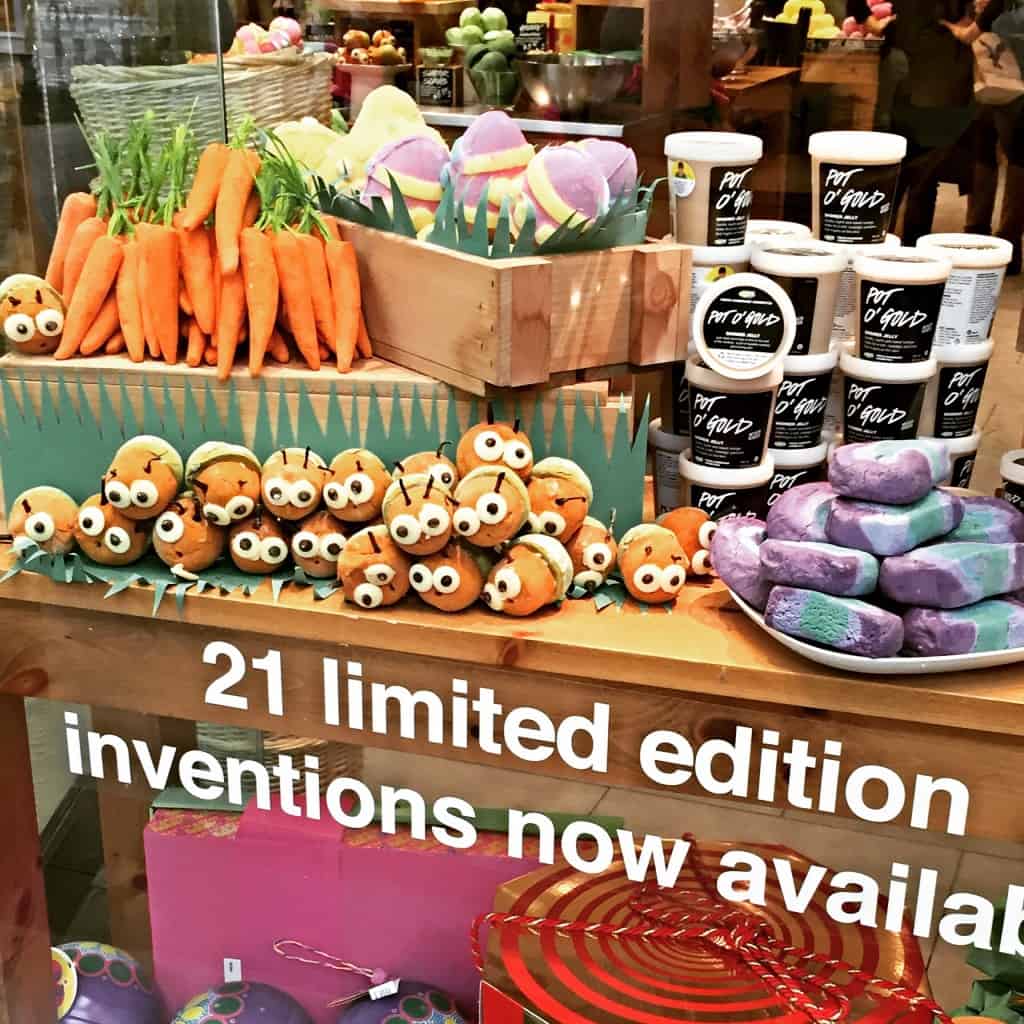 I've never been inside LUSH before, but the window was so freakin' cute (Did you SEE the carrots?) and the smell so divine, I couldn't stop thinking about it long after I got home. Not only could their bath bombs be a mini science lesson, they smell incredible times 1,000, and would serve as a total bath bribe to get the Princess Cupcake into the tub. So ulterior motives aside, that's where I started: a Hoppity Poppity (who's ears popped off — oopsie) bath bomb and two Immaculate Eggceptions bath bombs.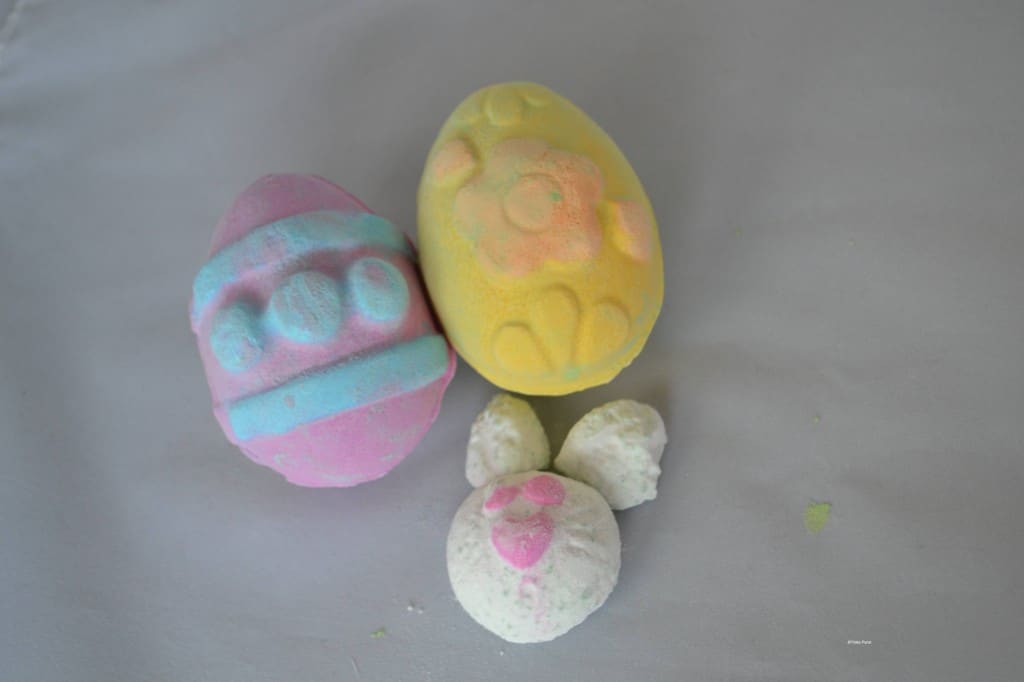 I might be a little LOT obsessed now — but I'll GUSH more about LUSH in a minute. Let's get to the basket and then we can dish about this cool company.
Next I dashed through Bed Bath and Beyond and found a bright pink towel and washcloth (on sale!), and PEEPS bubbles to go with them.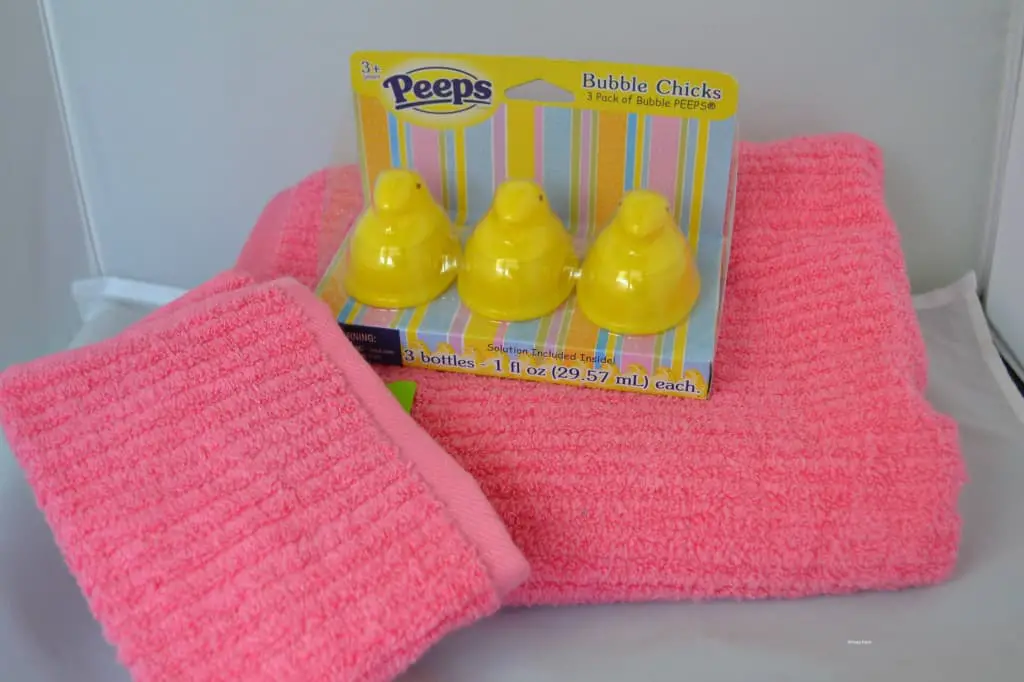 I wanted to add some nail polish because she loves a bright pink manicure. I found these fun nail varnishes at Five Below (one glows in the dark), plus a cute puppy paddle brush, face wipes, and an Orbeez gel eye mask. (Okay, yes. The eye mask is really for me.)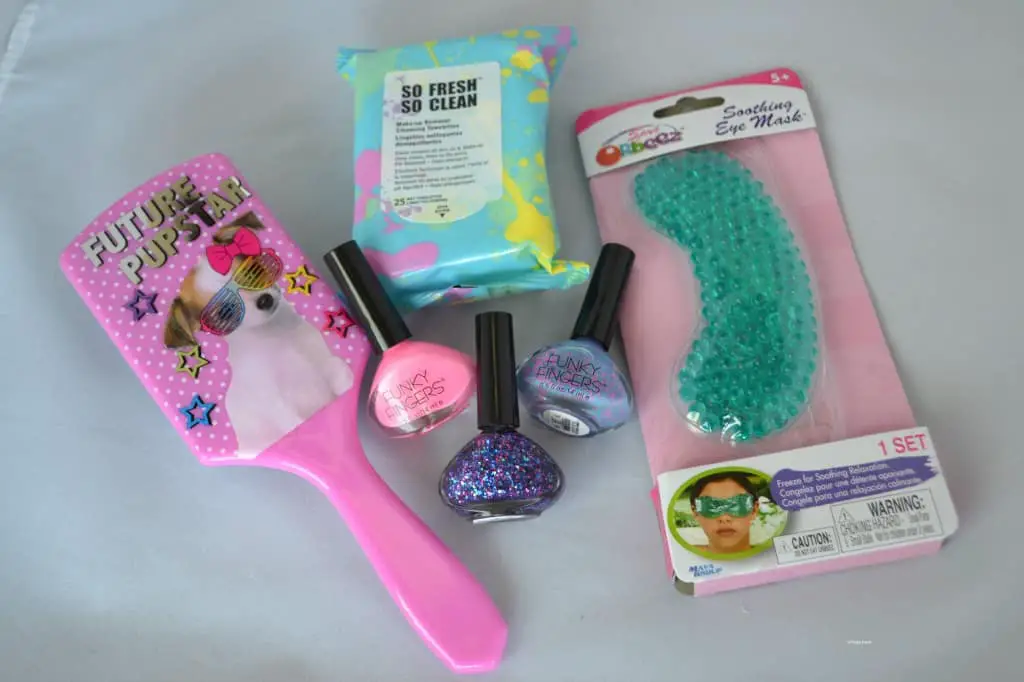 Here it is all piled together in a glitter pink and purple bin (also from Five Below). The Easter bunny plastic eggs are from Dollar Tree and will be perfect to recycle some of that Halloween candy. After all, what's better than a special spa day than a special spa day with chocolate? A little won't hurt. 🙂 All it needs is the clear basket wrap and we're good to go for Easter morning — and EaSPA night.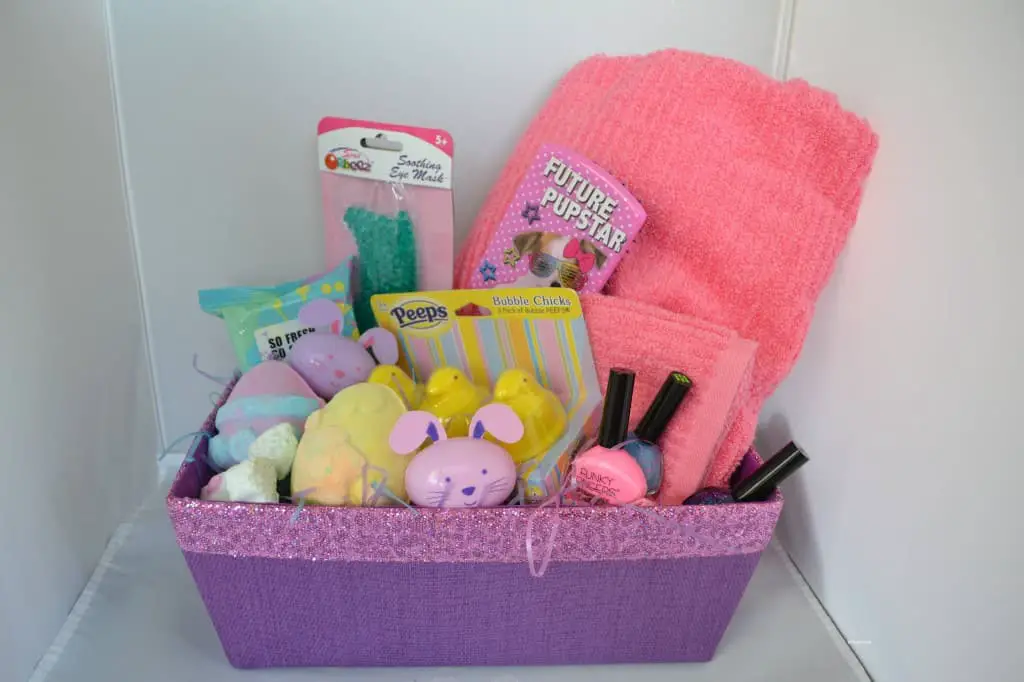 Now more about LUSH!
Basically, I'm in LUSH-love. Here's why you should be too: This amazing company began with the inventors making products by visiting farmers markets and flower shops and infusing them into their entire line. There are no synthetic ingredients. Their packaging is 100% PCR bottles and they avoid virgin plastic. Almost one-half of their products are "naked" – in fact mine arrived in recycled wrapping paper on a bed of biodegradable packing peanuts. For 30 years, they have been fighting against animal testing. They will not buy any ingredient from any manufacturer or supplier that tests anything they produce on any animals for any reason. They practice ethical buying. 100% of their purchase price (minus taxes) of their Charity Pot goes towards supporting humanitarian, environmental and animal rights causes around the world. There are 210 shops in North America, and if you can't find one near you, you can order online.
I'm head over heels for this company, their products and their ideology! All I can say is… Mother's Day is next month. Hint, hint family! Mama wants some LUSH!
In case they don't actually get the hint, I may just gather up a bunch of my besties and plan a Private Party at LUSH. Two hours of private, in-store LUSH fun at your local shop. They even have one for "Lil' LUSH Fans," which I am hoping with be next year's birthday party theme for the Cupcake. The Littlest LUSH's will make bath bombs, play games, and leave with a goodie bag of LUSH products.
THANK YOU LUSH for sending me the complimentary Easter bath bombs as the inspiration for this great basket! All opinions are my own.