Texas school is back in session and the biggest thing these kids have on their radar is the start of football season, which means homecoming must be right around the corner.
Amen to Friday Night Lights, the new Texas Star and the big mums that are sure to follow.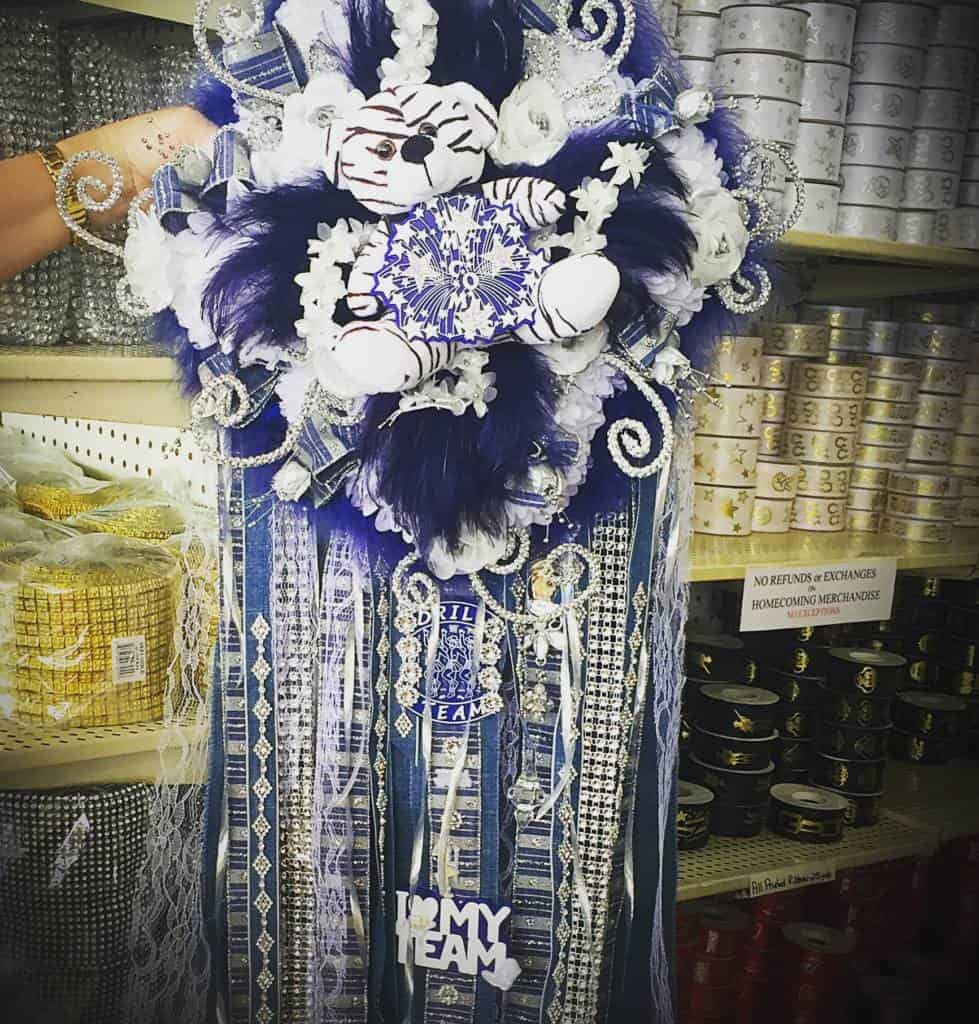 If you're not from Texas, you'll need to understand that this whole mum phenomena is something really special. My transplanted self got a crash course on the tradition behind this crazy ribboned football culture – and the DIY in me is already sucked into the creativity of it all (little surprise there).
So last year I had a friend of mine show me how to make those detailed braids and fancy ribbons that dangle from the center mum to the ground. (You can find links to them here or on my YouTube channel here.) She's like my mum jedi master. This year, I continued my training by tagging along on her shopping trip to the MUM SUPPLY STORE in Balch Springs. No, it's not called that. It's actually called, "Saleplace." And yes, it is a store that is dedicated to the making of mums. It puts that little end cap display you saw in Tom Thumb to SHAME, I tell you… SHAME. Not even the major craft stores get what's happening in here.
Y'all, this store is NO JOKE. 18,000 square feet of mum, wedding, party, and baking supplies under one roof – but they really are THE destination supplier for all things mums – and let me tell you, the cheer teams know about this place too. They even sell wholesale all over Texas.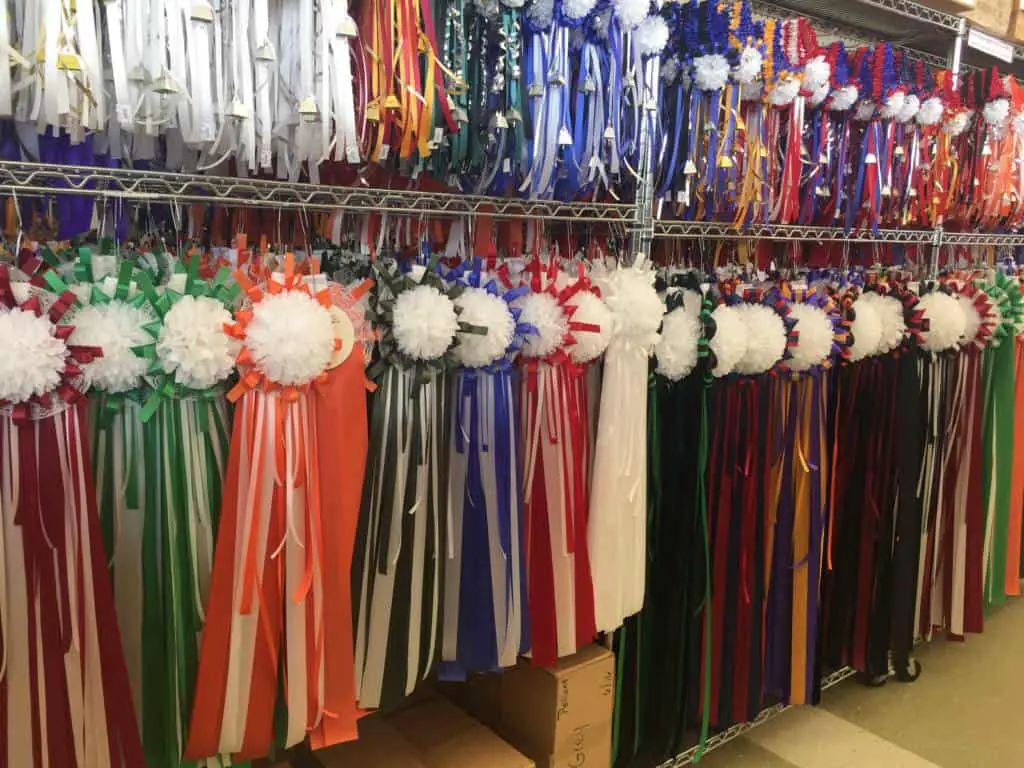 When we arrived, there was a line outside Saleplace for the 10 a.m. opening on a TUESDAY. I'm told that you don't want to go near it on a Saturday as just the checkout line wraps around the store, guaranteeing a 30 – 40 minute wait. That is a lot of 20-cent letters and plastic helmets to ring up, right?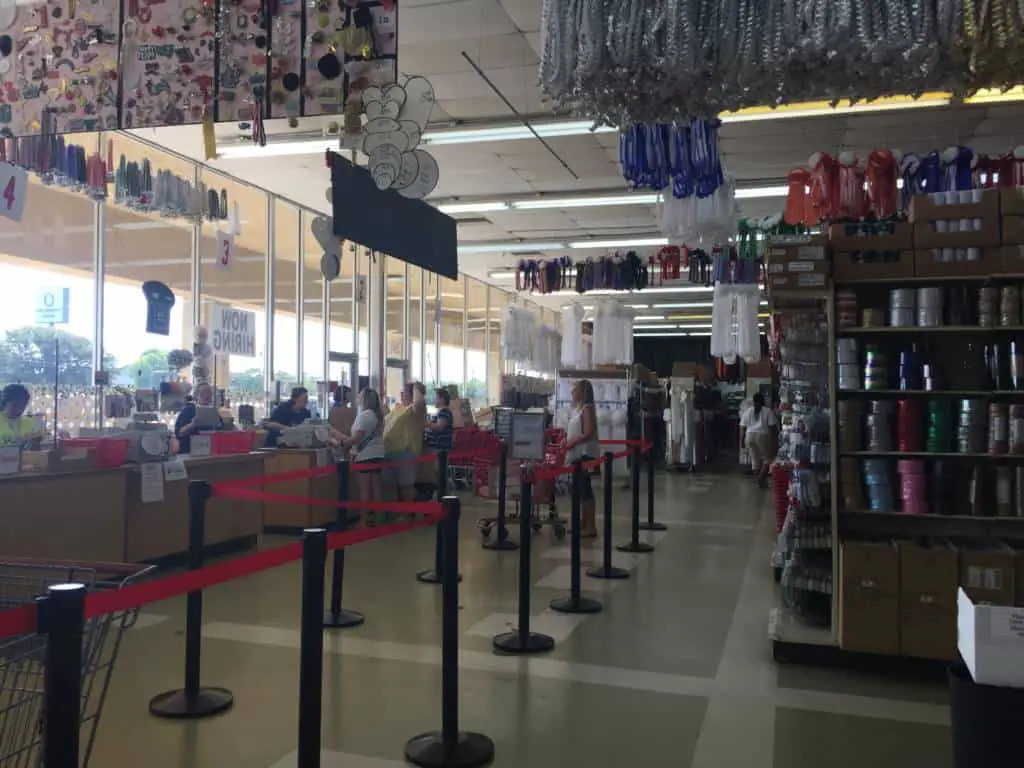 Oh, and they have lights! I love me some lights in a project. And if I can get my kid to wear LED's, that's one for the win column.
What I was really impressed with was the deep stock and the large variety.
Whatever your kid is into in high school, they've got a sticker, plastic decoration or ribbon to match it.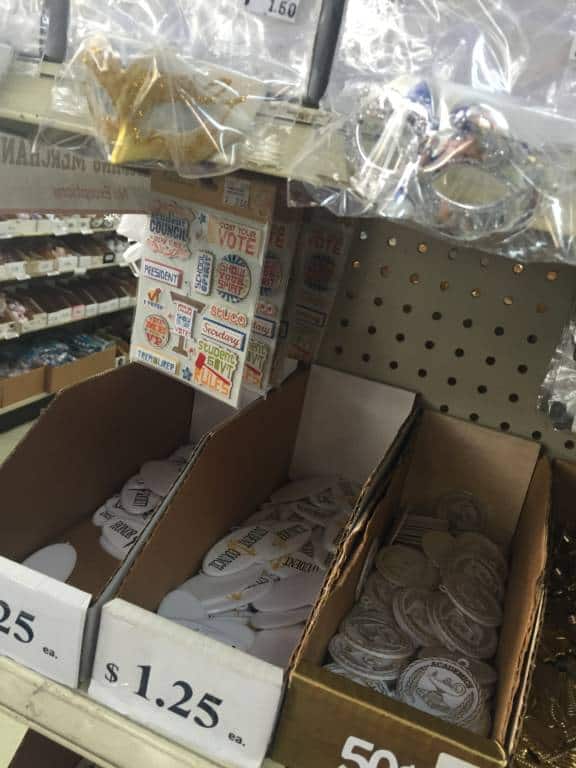 Debate? Yep. 4-H? Yep. Drama? Yep. They've got all the supplies and tools (yes, you need that long reach stapler) to build a mum from parts and pieces, or you can grab the starter bloom with color coordinating ribbon off the rack and add to it. They actually have Saleplace staff in the back of the store making these things all day long, just to keep the stock full for all the mum junkies.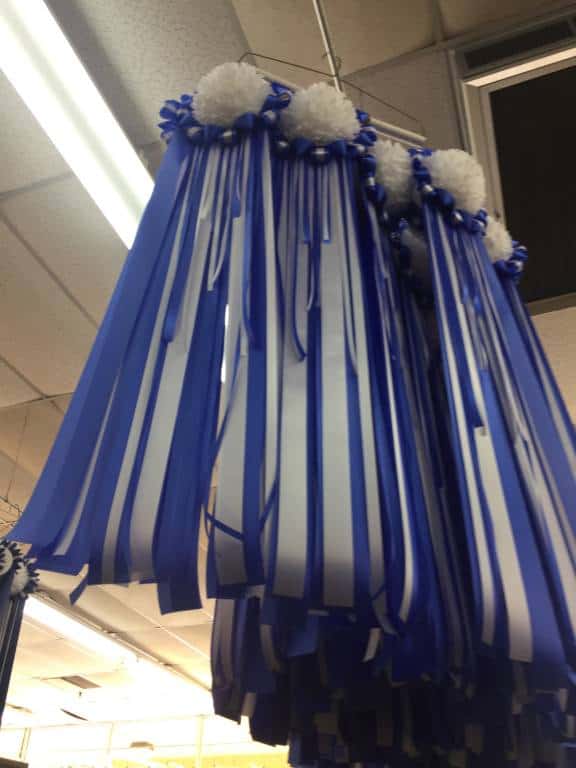 I'm told that buying a single custom mum can easily cost $300 and up, but when you assemble it yourself by purchasing the supplies and making the braids, it's much more cost effective — especially when you buy a bulk dozen wolf heads and you can use them for several mums over the years. Or buy a roll of ribbon and only use half on your freshman mums, you've got enough for sophomore year too. Speaking of ribbon, they even have cutting stations throughout the store.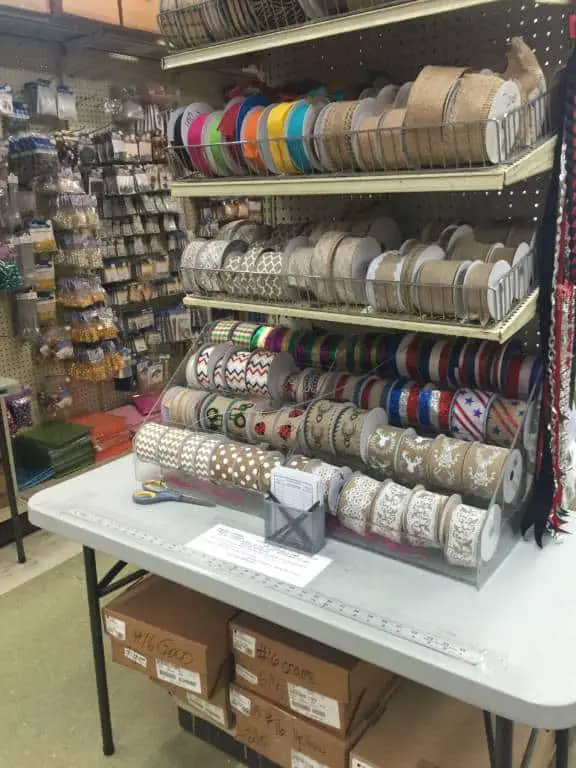 Enough build up, here's my impromptu short video tour of the Saleplace.
What did I love most about Saleplace? I love that it's a 40-year old family business that's evolved over time to meet the needs of its customers. I love that everyone I spoke to was so helpful and nice. I love that when I posted that video to my Facebook page, their customers were fiercely loyal and I totally understand why. Their prices are lower than you'd expect and Saleplace even offers non-profits (hello my fellow girl scout leader moms….) a discount. Did I pick up some materials for my little brownies to make a mum? Yes, yes I did… because it's all aboard the mum train Texas!
Visit the SalePlace in person at:
Their website is here and facebook page here for hours and products.
PS – SHOW ME YOUR MUMS! Tag #mommyupgrade on IG with your creations! Here are a few that were on display at Saleplace.