Now that I've learned that strawberries are going to change my life for the better, I have finding all kinds of new ways to incorporate them into my diet. This might be one of my favorites — although I'm not sure it's quite what the David Grotto had in mind. Oh well. The Princess Cupcake had a blast making these for her class. And it couldn't have been any easier, or patriotic as far as fruit goes.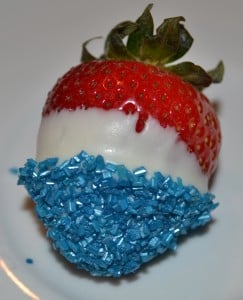 So simple. All you need is:
Be sure to use your Michaels/JoAnn's coupons to get your candy melts and sugar on sale!
Here's what you do:
Wash and dry the strawberries.
Pour sugar into small bowl.
Melt the candy according to the package (I use a candy melter like you see on the Amazon carousel on the right).
Dip the strawberries in half way or so.
Then dip into the colored sugar.
Put on a plate covered with waxed paper to harden.
What I learned:
This was the PERFECT activity to do with my 3 year old. Because of the leaves on the strawberry, she could dip the fruit in without getting her fingers near the hot candy. And she is a pro at dipping things in sugar so it worked out great. She kept yelling, "I'm going to get the biggest one!" before she'd grab a new berry to drop in. She had a blast and I had to do nearly nothing. What's better than that?!
We ran out of sugar, so she — using her powers of deductive reasoning — suggested we use sprinkles. Equally festive, although not patriotic as ours were the multi-colored ones but they worked out great. When we ran out of strawberries, we started dipping blackberries and wow, those were AWESOME. I would suggest using red sparkle sugar on those. We were still using up sprinkles so we stuck with those, but I think you could keep the red, white and blue theme going with some red fo' sho'.
Do not run out of waxed paper in the middle of this project. I did and some of the berries weren't fully covered in the sugar so when we tried to lift them off the bare cookie sheet, they stuck. Ugh. I currently have them in the refrigerator to see if that makes it easier — or harder — to remove from the cookie sheet.
All-in-all, a FAST, cute patriotic dessert for the upcoming July 4th weekend. Enjoy!
Thanks Family Fun Magazine for the awesome idea!