I don't know about you, but pumpkin pie and Thanksgiving go hand in hand for me. I'm almost superstitious about it, on par with having to eat black-eyed peas and pork on New Year's Day. I feel like the holidays are off to a terrible start if my pumpkin pie isn't on point. Even if I'm full (C'mon, who isn't comatose with a giant food baby on Thanksgiving?!), I will shove in a couple of bites of pumpkin pie in my pie hole because… Thanksgiving. However, not everyone LOVES pumpkin pie, right? Like a ton of kids don't and I think the texture probably has something to do with it. Regardless, I'm here to up your pie game this year with three ways to make pumpkin pie for your Thanksgiving table — two super simple and one that's easy, but a little more involved AND TOTALLY WORTH IT.
First off, I am always a huge fan of any food you can eat while you're walking. So these pumpkin pie crunch bars from Spend With Pennies fits the bill. With a prep time of 10 minutes and a four step process of mix, sprinkle, drizzle and bake, it's a winner in my book. And the hubs, he gave it a thumbs up. And if I'm being honest, they have breakfast written all over them.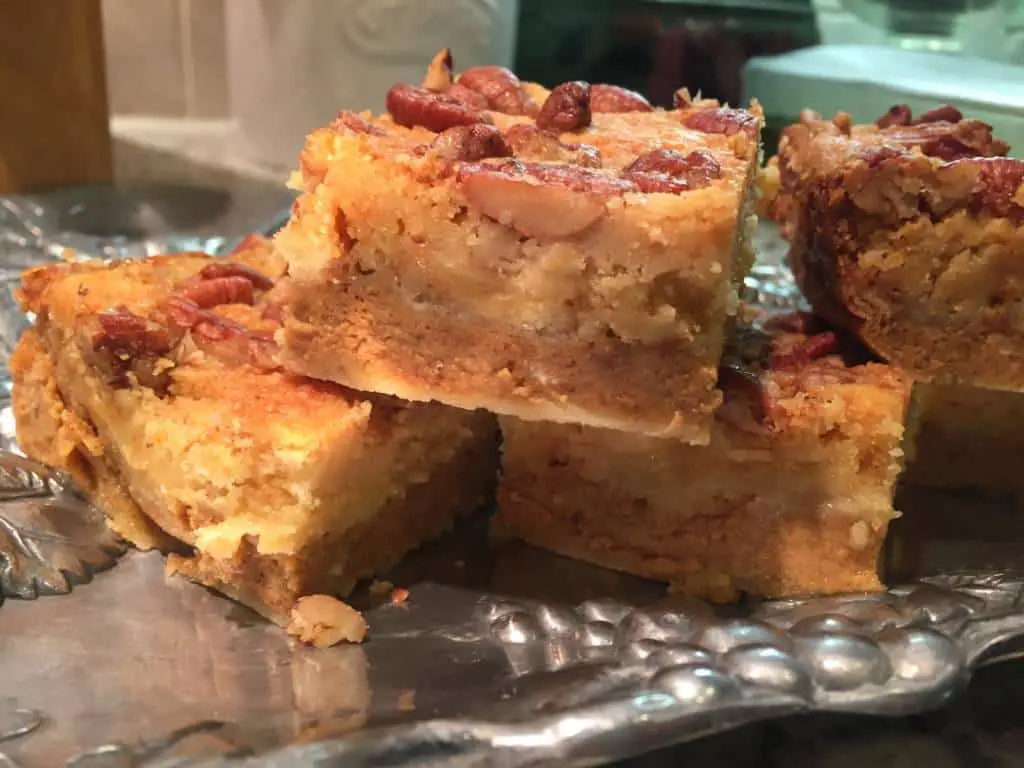 The short-short of it is, basically, you make your pumpkin pie filling, pour it in a pan. Sprinkle yellow cake mix on top. Then a few handfuls of pecans and drizzle melted butter on it, then bake for 50+ minutes (half the time covered). Here's a link to the recipe so you can print and make your own pumpkin bars. Delicious!
The next one is for my pumpkin pie lovers. It's SOOOOOO good. I am completely spoilt now. The pumpkin pie bar has been raised and there's no going back. I'm calling this my Pecan Crumble Pumpkin Pie, but only because if you put bourbon, brown butter and sea salt in the title, it gets wordy.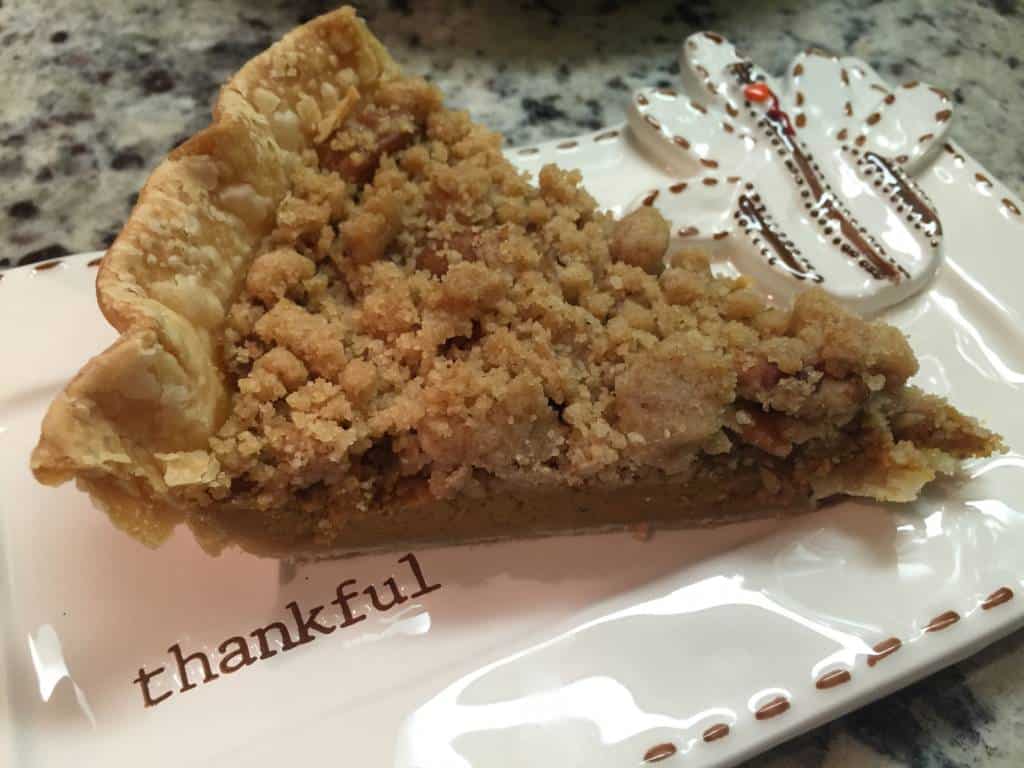 Just get it girl. Here you go:
Yield: 2 pies
Pecan Crumble Pumpkin Pie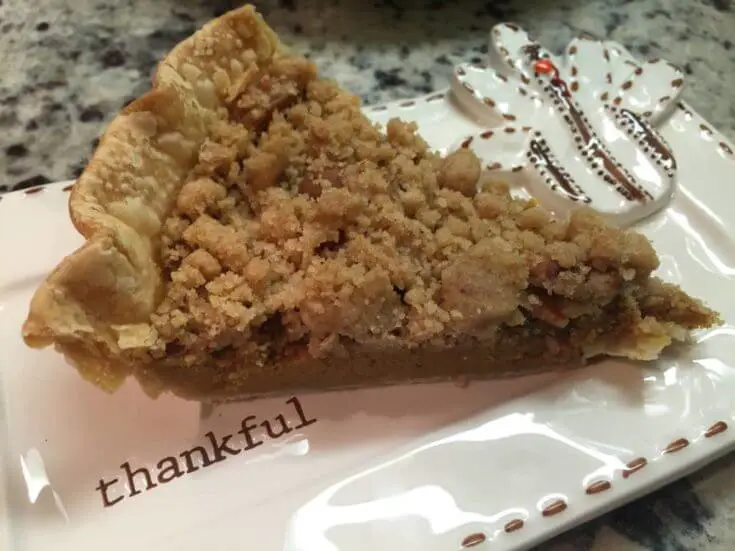 Prep Time 10 minutes

Cook Time 1 hour 5 minutes

Inactive Time 5 minutes

Total Time 1 hour 20 minutes
Ingredients
1 refrigerated pie crust
3 eggs
1 3/4 cup pumpkin puree
1 1/4 cup brown sugar
1 tbl ground cinnamon
1 tsp ground nutmeg
1/2 tsp ground ginger
1/2 tsp salt
2 tbl bourbon
2 tbl melted butter
2 tbl vanilla extract
1/3 cup sour cream
1 cup heavy whipping cream
For Crumble:
2/3 cup butter
1/2 cup brown sugar
1 cup flour
1/2 tsp sea salt
1/2 cup coarsely chopped pecans
Instructions
Pre-heat oven to 425 F.
Unroll and place pie crust into your pie pan.
In large bowl, beat the eggs.
Mix in all the remaining pie ingredients until smooth.
Pour into pie crust.
Bake for 15 minutes, then reduce temperature to 350 F and bake for another 30 minutes. If the edges are getting brown at any point, cover with foil.
Remove from oven and sprinkle crumble on top (see directions below), then bake for another 10 minutes or until an inserted knife comes out clean.
Cool completely.
Make the crumble:
Melt butter over medium heat and continue cooking until it bubbles and turns a light golden brown with small brown bits in it. You'll need to swirl and stir it to keep it from burning on the bottom of the pan.
Remove from heat and pour all into a separate bowl. Don't leave the brown bits behind!
Let cool for 5 minutes.
Add brown sugar and stir until smooth.
Add salt and flour, stir until blended.
Add pecans and mix well. It will be crumbly.
Sprinkle or crumble with hands to cover the top of the pumpkin pie before baking again for remaining 10 minutes as directed above.
Notes
Such a delicious twist on a Thanksgiving tradition!
Okay, so let's be real and know that a lot of people will turn up their noses at pumpkin pie altogether, no matter how much butter and sugar you put on top. Make this EASY layered cake and they'll never know that pumpkin pie is in it. Promise.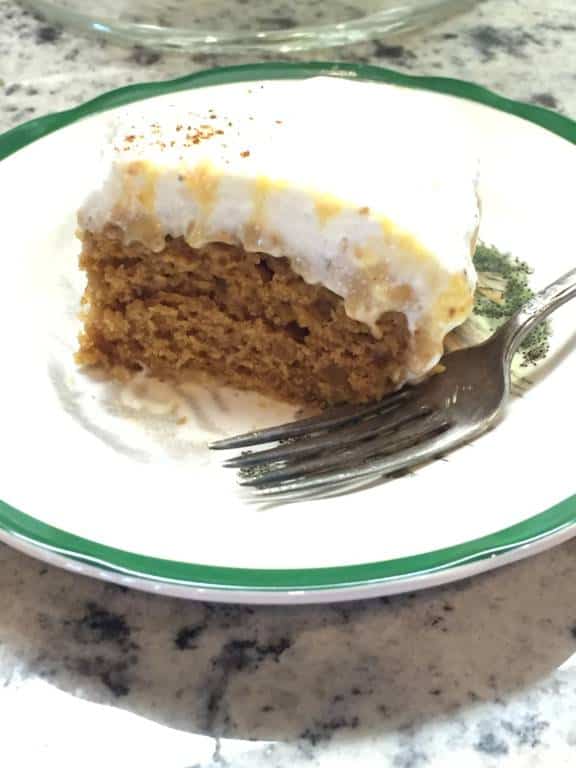 Here's what you need:
My favorite fall baking mix: Krusteaz Pumpkin Spice (this also requires eggs, milk instead of water, and vegetable oil)
Vanilla pudding mix (Jello is my preferred brand)
Small can of pumpkin pie filling
Cool Whip or make your own whipped cream with heavy whipping cream
Pumpkin pie spice
Here's what you do:
Make the baking mix as package instructions. 
Bake for 25 minutes at 350 F or until an inserted knife comes out clean. Let cool.
Make vanilla pudding according to package. While off the heat but still warm, stir in 1/2 cup of the pumpkin pie filling and mix completely.
Chill to thicken.
Make your whipped cream or dethaw your CoolWhip.
Spread you pudding mix on top of the cake. Spread the whipped topping on top of the pudding.
Sprinkle with pumpkin pie spice.
Tell me who wouldn't love cake + pudding + whipped cream. Seriously.
With these three recipes, you'll satisfy your hard core pumpkin fanatics as well as the kids. 🙂
Happy Thanksgiving!