I am so over summer in Texas.
There's nothing like trying to enjoy a hot Pumpkin Spice Latte from Starbucks when it's still 1,000 degrees outside.
The thing about Texas summer though, is that we pretty much have the best air conditioners on the planet which means that inside temps can be anywhere between 65 and 70 as a general rule.
That's perfect PSL drinking weather since I'm usually looking for a sweater when I'm at my desk.
But my little lovies are such a pricey obsession.
I know, I know, save it. I've seen all the "make Starbucks Pumpkin Spice Latte at home" recipes. Bleh. And they take more time than it takes to sit in the Starbucks drive-thru. I want the real deal. And I want it now.
Or at least close.
That's why I was so excited when I saw the email from Bed Bath and Beyond about Pumpkin Spice Latte for the Keurig – and free shipping. Okay, so it wasn't Starbucks… but it's a little more gentle on my budget. I MUST try.
I swung buy Bed Bath and Beyond to check this out in person and maybe it's been a while since I've been in there but, DUDE! They are like the coffee pod capital of the world. Seriously. I have got to get out of the Kreepy Krogers more often. They had so many flavors that the Keurig girl couldn't even remember what the new ones are that were arriving later today.
Take a look at these yummies:
Van Houtte Cherry Chip Swirl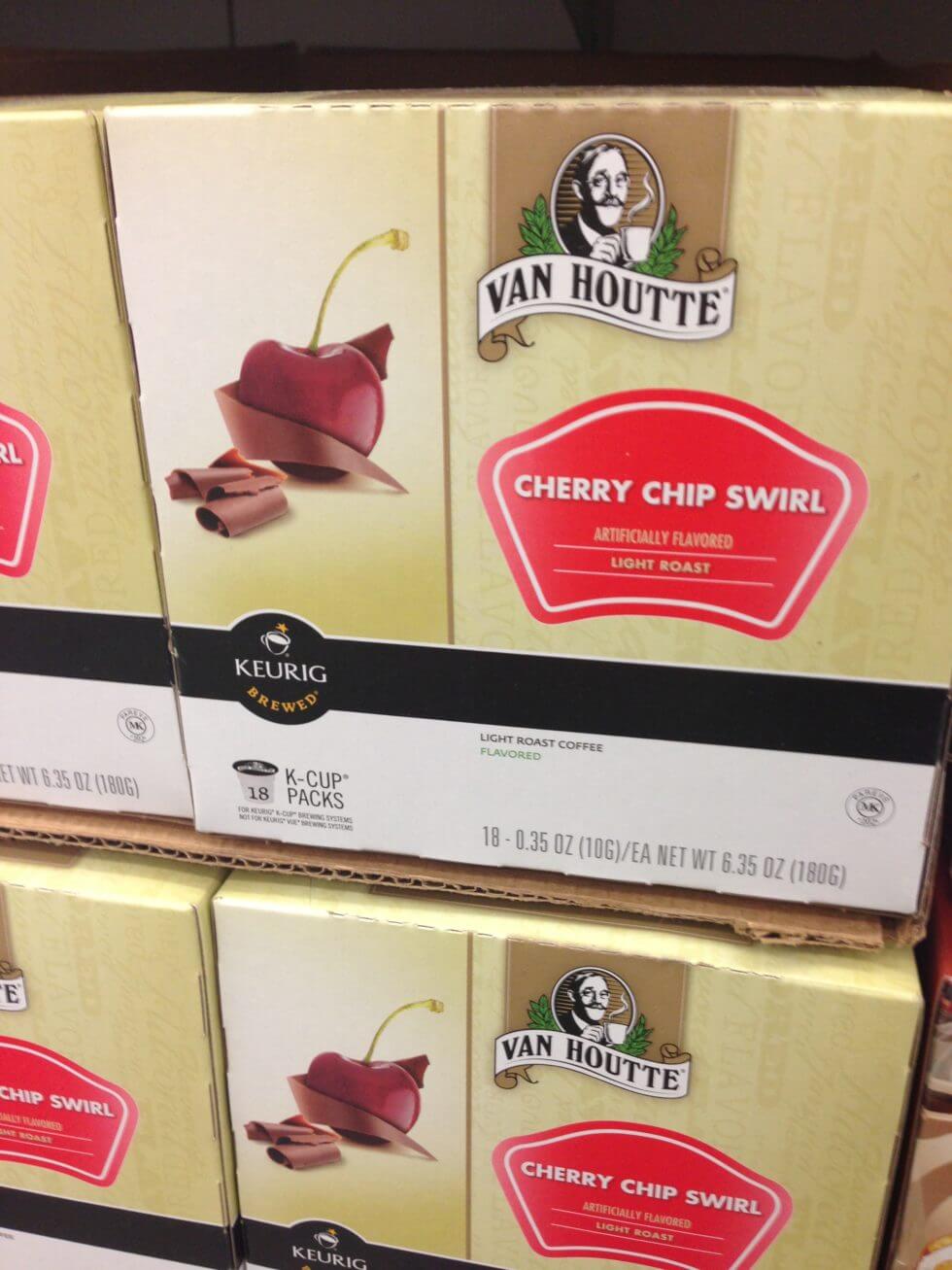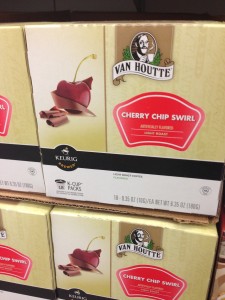 Van Houtte Creme Brûlée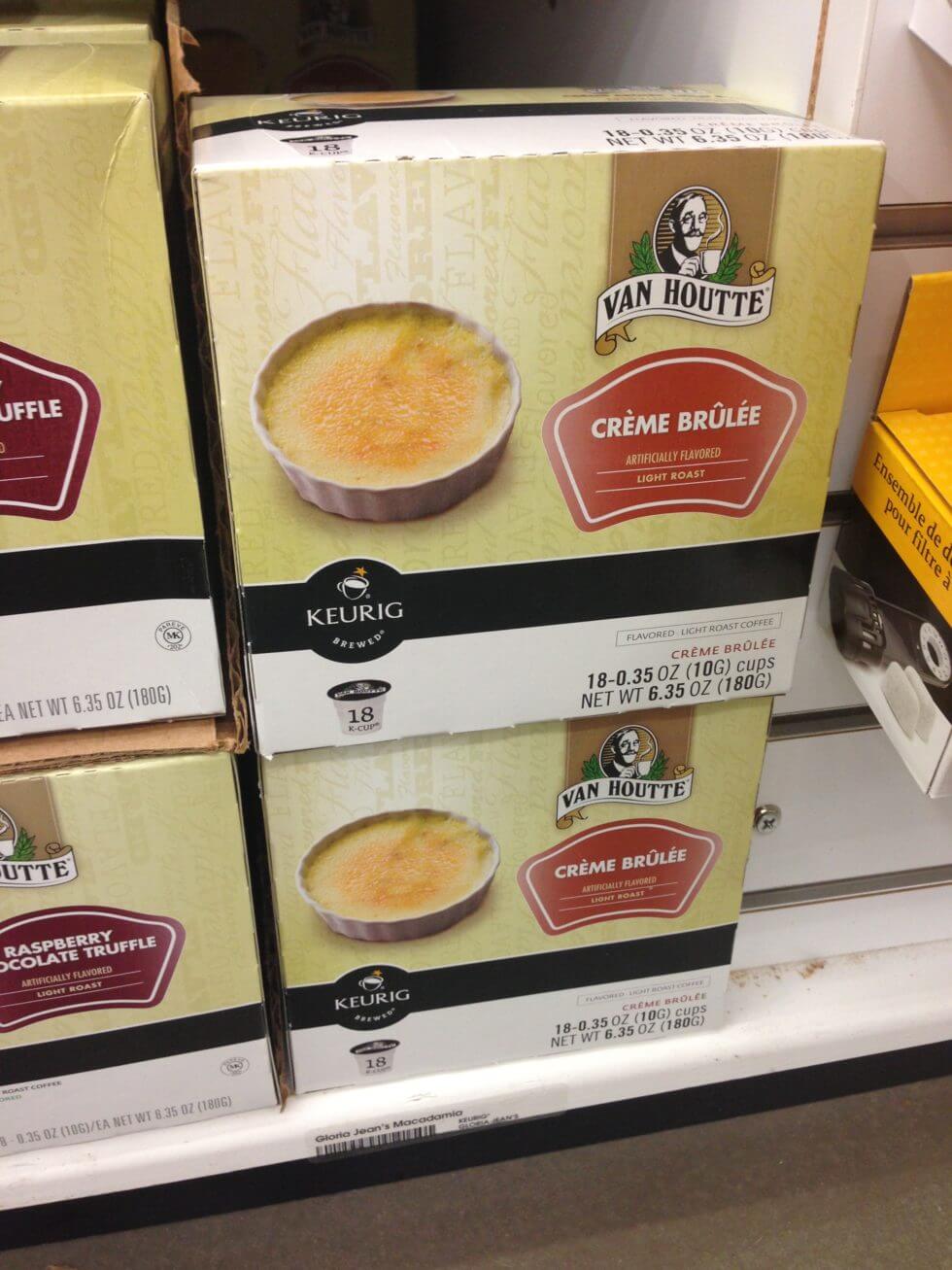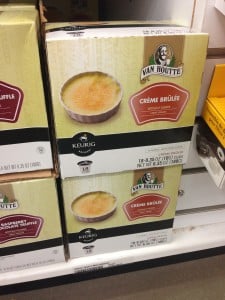 Keurig Pumpkin Spice Latte, Gingerbread and Golden French Toast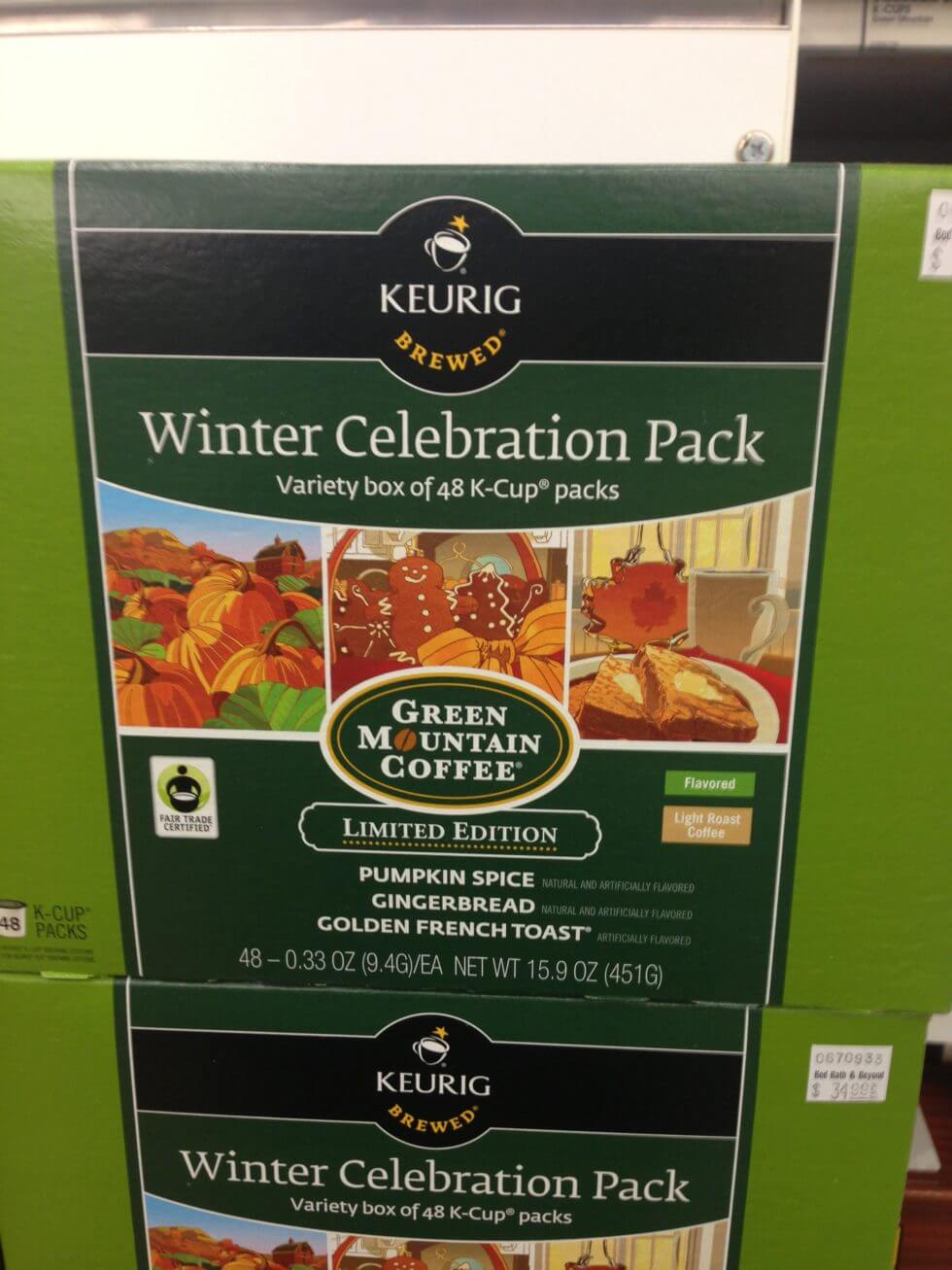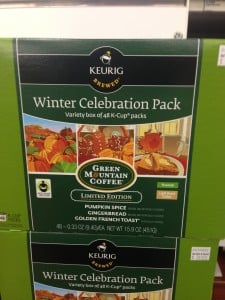 Gloria Jean's Brown Sugar Cake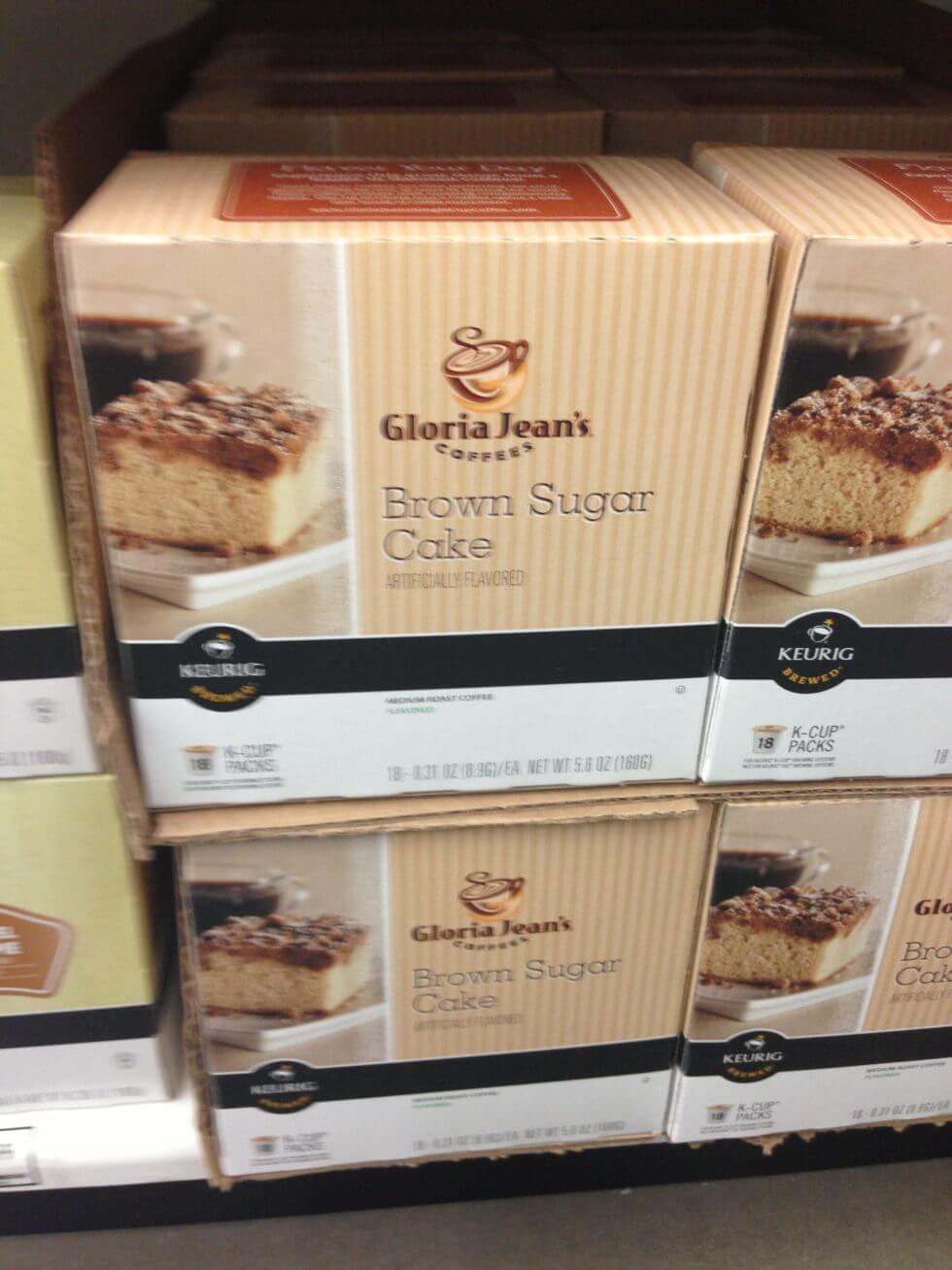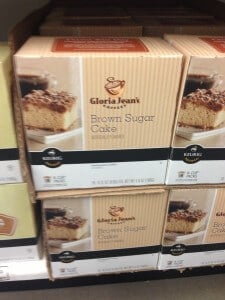 Gloria Jean's Caramel Almond Torte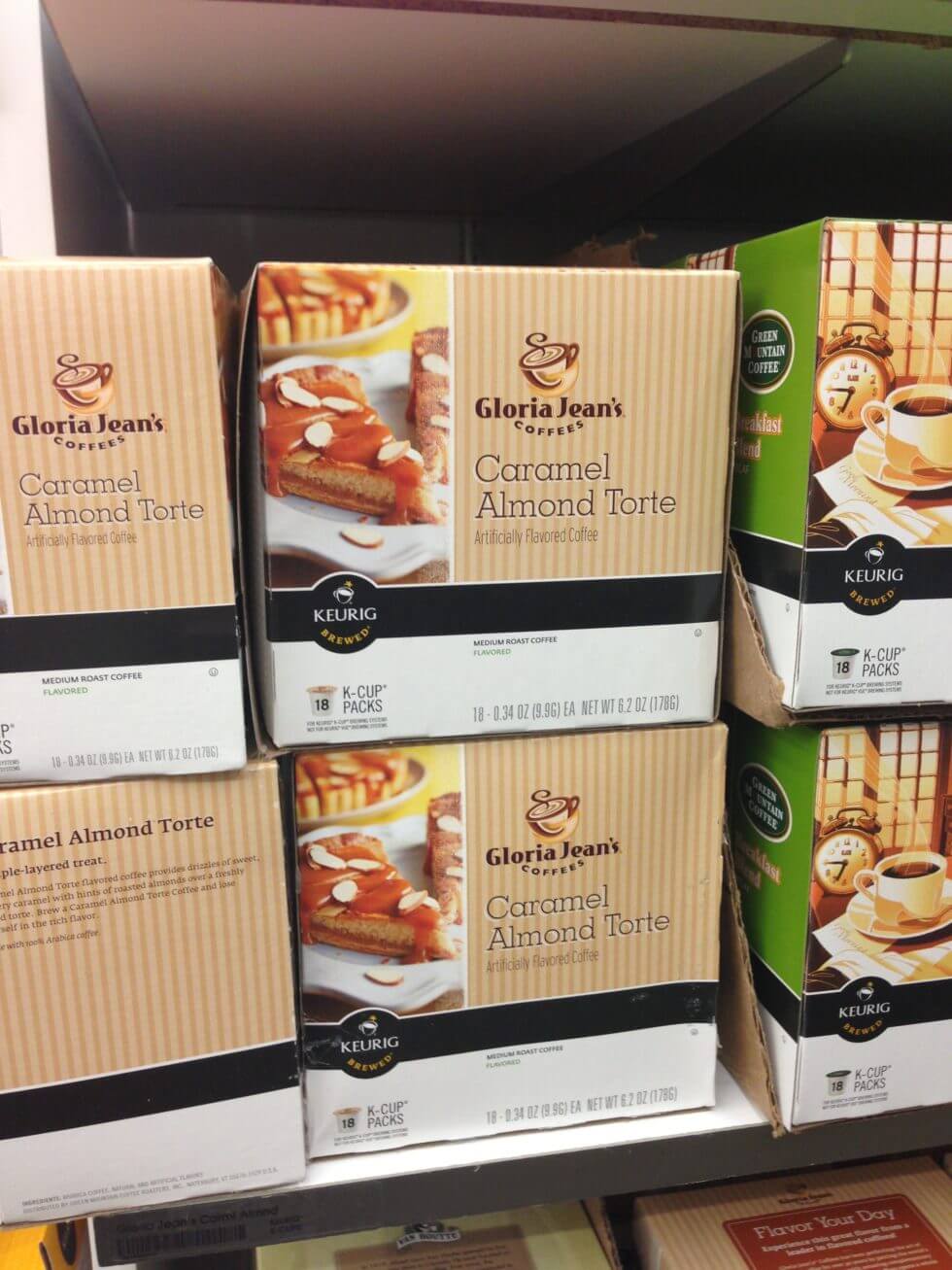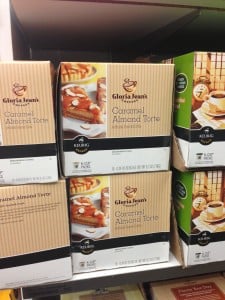 Gloria Jean's Butter Toffee, and Kahlua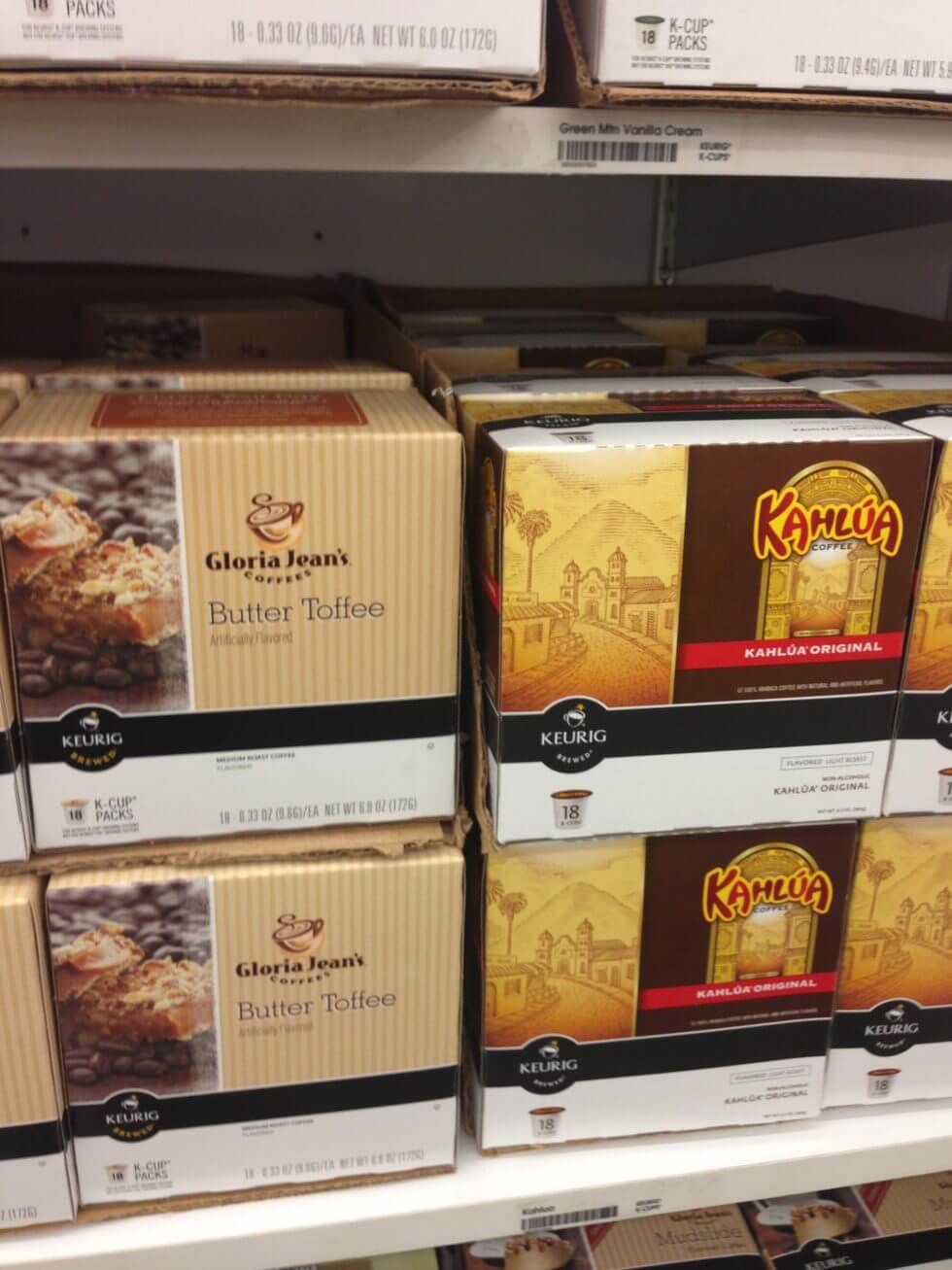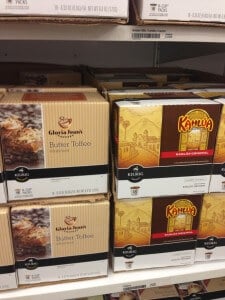 Van Houtte Raspberry Chocolate Truffle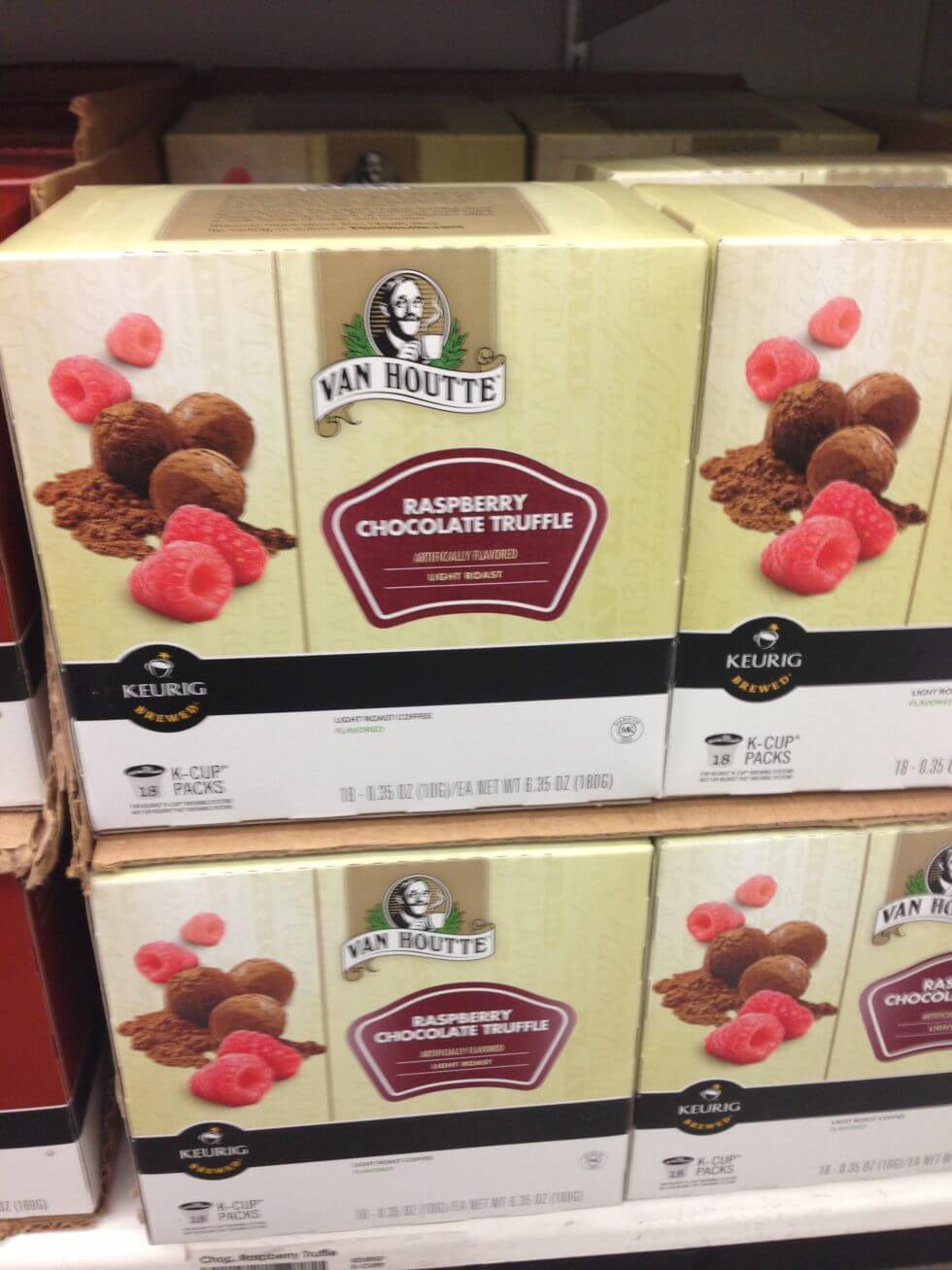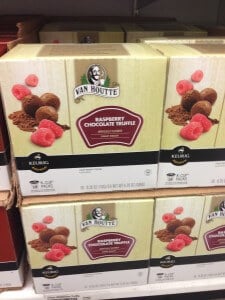 Gloria Jean's Mudslide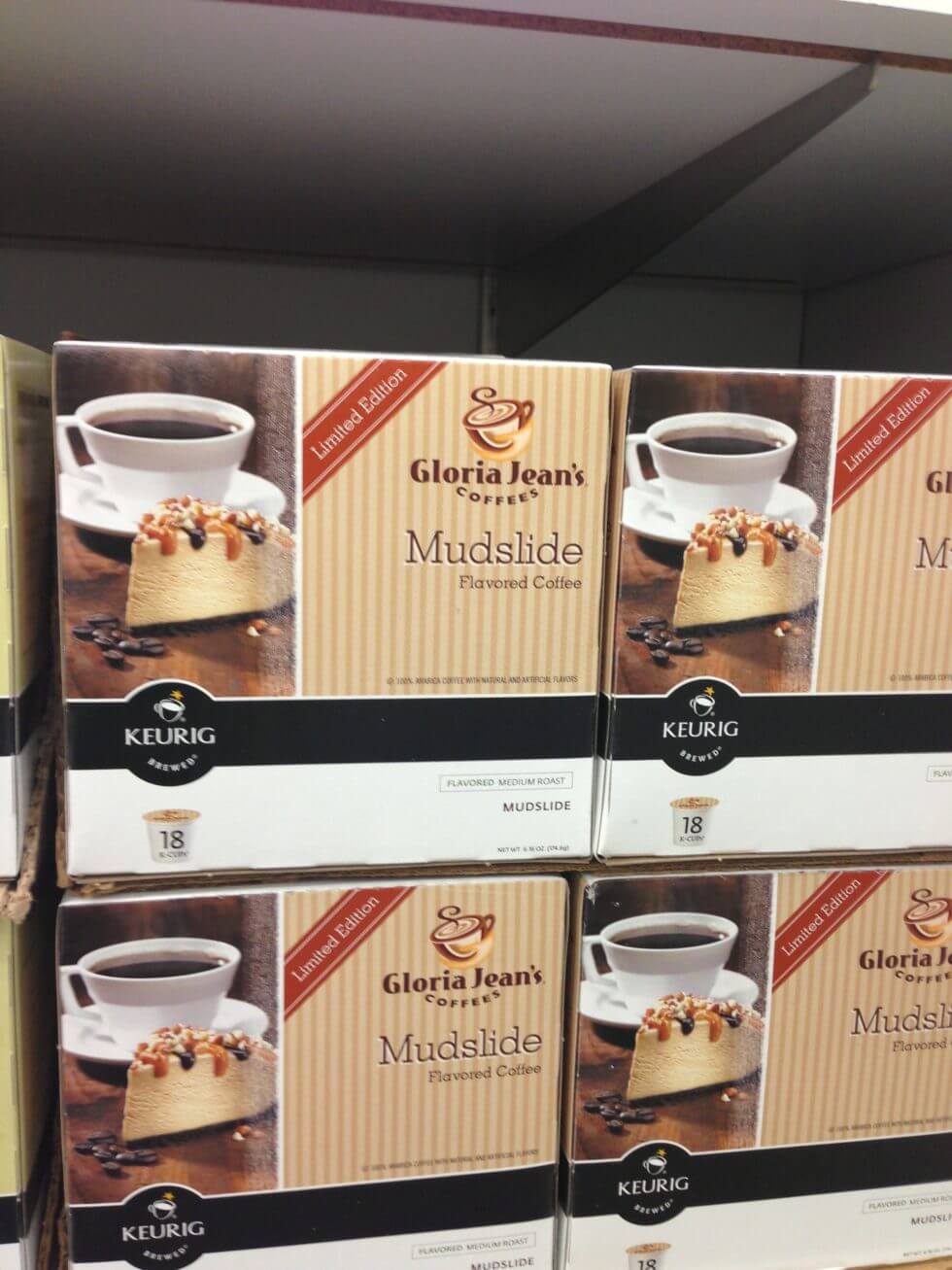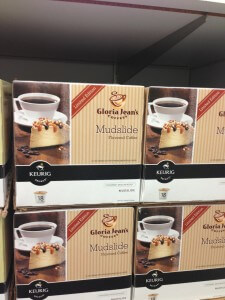 Hungry yet? They even have the blueberry one that makes me think of Dunkin Donuts Blueberry Coffee which is my sister-in-law's favorite. (I love her…)
But in chatting Debbie the Keurig girl up, I learned that the Pumpkin Spice Latte is only available for the Keurig Vue, the upgraded model from our standard K-cup plain coffee making Keurig. The Keurig Vue has better temperature control and simulates the coffee house flavor better – and accommodates the two step milk frothing required for Pumpkin Spice Latte pods.
Darn it. I can't buy a new Keurig just to satisfy my PSL addiction.
OR CAN I???
Did you know that at Bed Bath and Beyond, you can bring your Keurig in and they'll give you the value of your Keurig model to apply towards an upgraded model?
Yup.
It's so tempting. I am just wondering how long it would take for the hubs to catch on that we have a new coffee maker.
I might even leapfrog the Keurig Vue to the latest Keurig Rivo cappuccino and latte system – so new to the shelves that it doesn't even have the pods to go with it yet.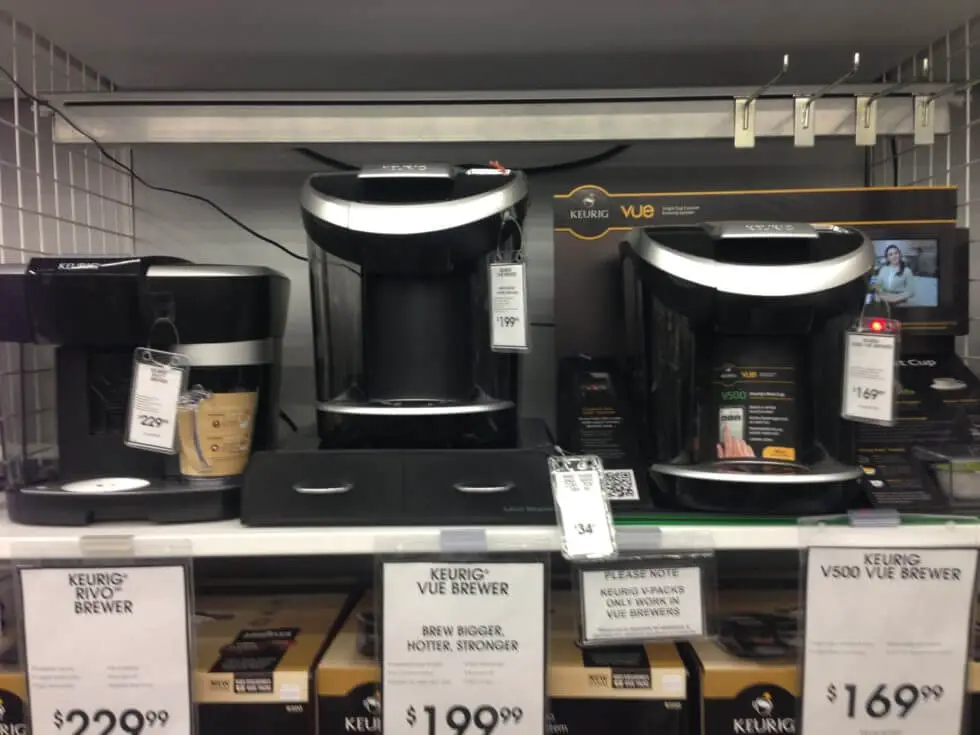 Definitely something to think about. For now, I satisfied my need for immediate gratification and grabbed the Pumpkin Spice Latte coffee pods for our plain old regular boring no fancy bells and whistles Keurig and decided I would just partner with the microwave and froth the milk myself.
Anyway, since I am a recovering caffeine addict and limit myself to one half-caf in the morning and decaf the rest of the day (note that I'm on a slippery slope buying FULL caffeine PSL – please excuse the ensuing jitters), I was thrilled to see they have both French Vanilla and Hazelnut decaf pods – which my Kreepy Krogers never has.
But I passed on them both for these yummy goodies.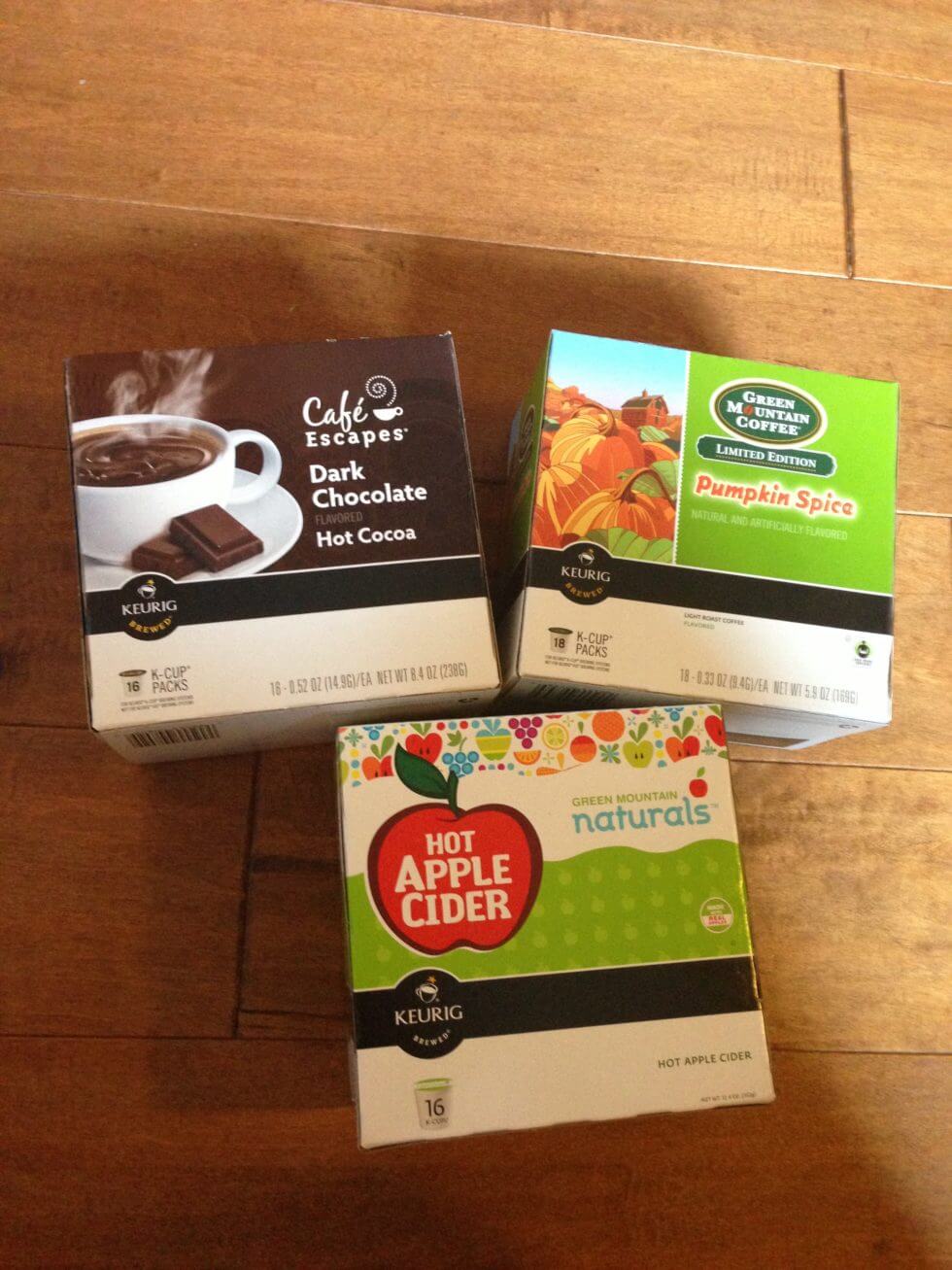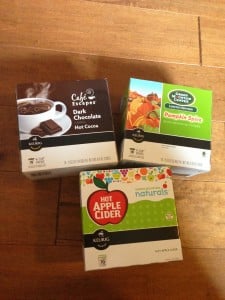 Dark chocolate hot cocoa and hot apple cider!
Seeing as how my SECOND favorite drinks at Starbucks are Egg Nogg Lattes and Hot Caramel Apple Spice, I plan on recreating the apple cider with a squeeze of Smuckers caramel in the mug.
And guess what? If I don't like it, Bed Bath and Beyond said I can return an opened box of pods after trying a couple and they'll let me exchange for something else, which is similar to the return policy when I bought my cake pop maker.
And made these little gadgets from Cuisinart even harder to resist.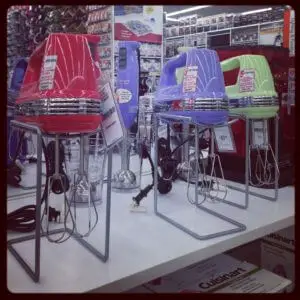 But I did – at least until we get moved into the new house, which coincidentally does NOT have two Starbucks within a mile of my house. Sigh. Thank goodness Bed Bath and Beyond delivers.