Ever try crafting on a plane?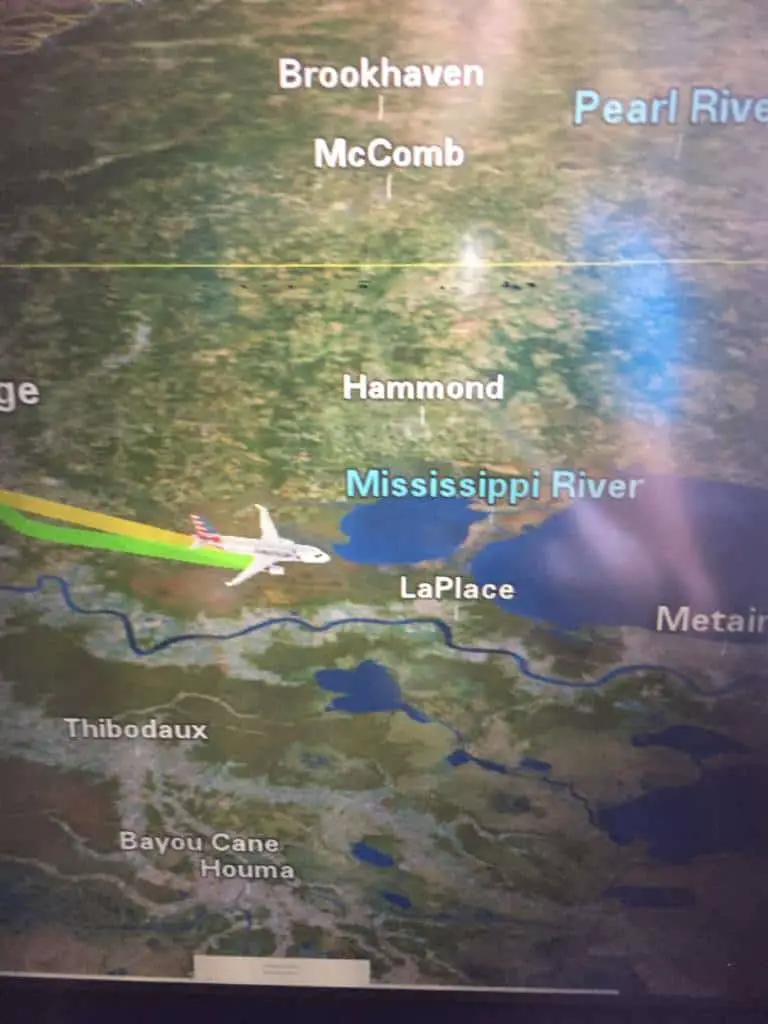 It's not the easiest.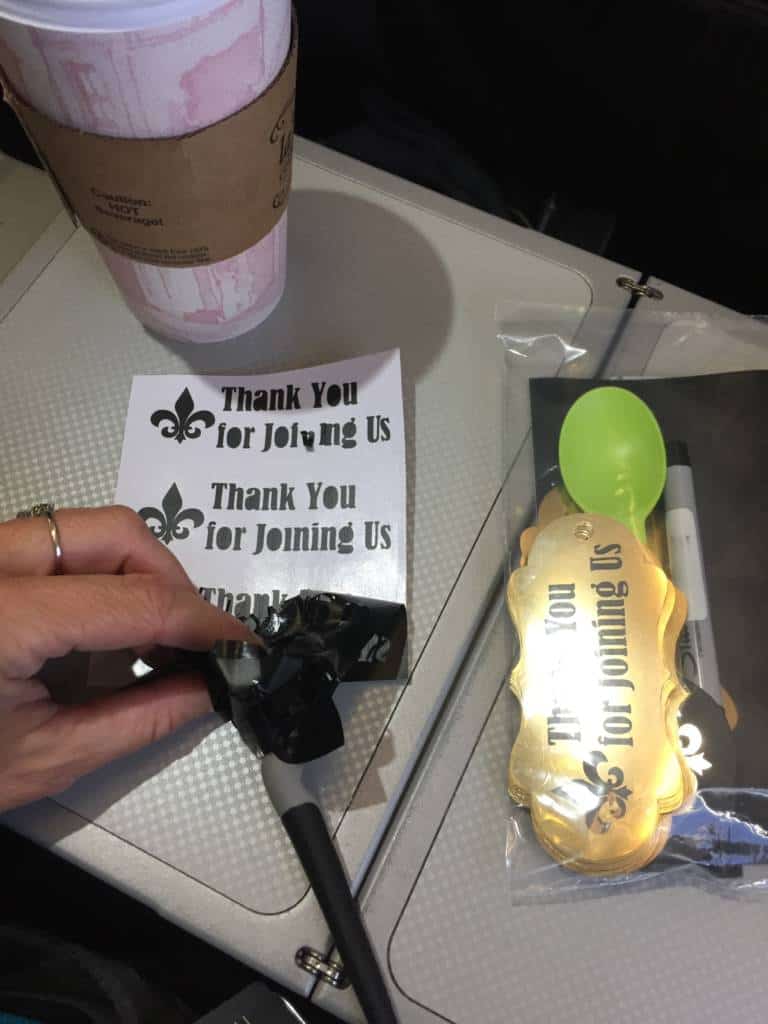 But it's what I do – especially on the way to a big trade show and the night before your cutter decides to act a little crazy. You take it with you and pray that there's no turbulence.
A couple of weeks ago, we had a large exhibition event and conference in New Orleans called VeeamOn – and not to bore you here with the finer aspects of Disaster Recovery as a Service, I will share with you my little piece of this huge event.
We hosted a private dinner at Antoine's Restaurant during VeeamOn. Having gone to LSU, I've spent my time in New Orleans, but as a poor grad student, I never had been to Antoine's before but it's reputation is legendary. Every room has extensive displays of historic memorabilia from the first Mardi Gras until today. And you already know that New Orleans is like visiting another country, so walking into the 177 year old restaurant is like stepping into a parallel universe. Think about 177 years for a minute. This restaurant – which has been owned by the same family the entire time – has served patrons through the Civil War, prohibition, both World Wars… every sitting president (aside from Obama) has sat in between those same walls. And yes, even Brangolina.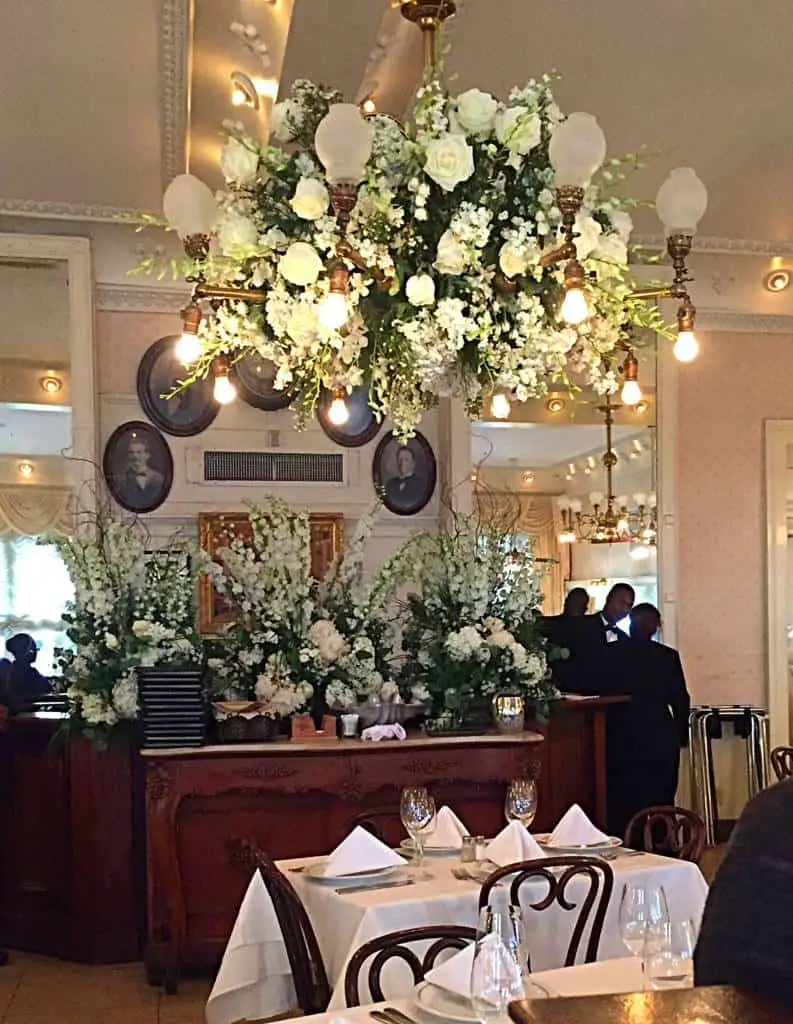 Hands down, it was the best shrimp romelade that I'll ever have in my life,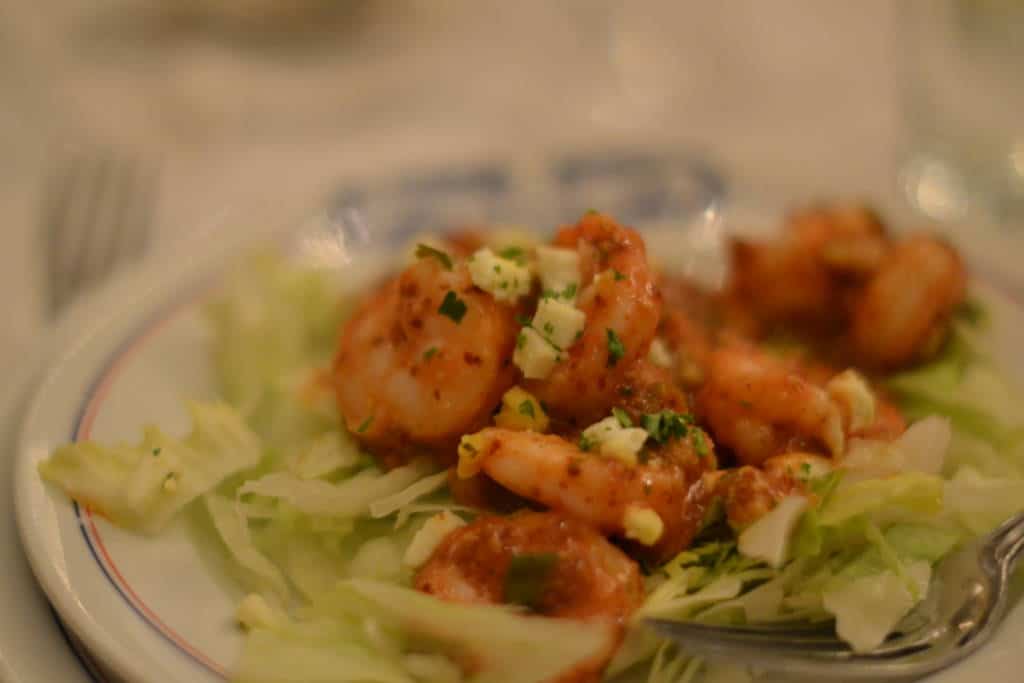 and the steak was so tender, it cut with a butter knife.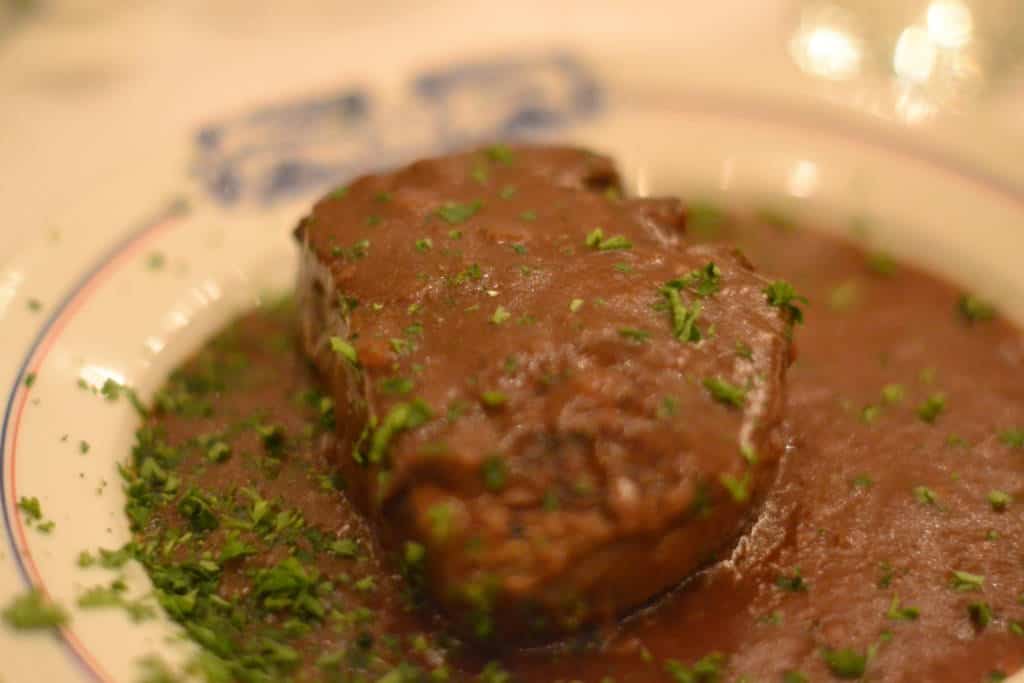 Dessert of Baked Alaska was impressive to say the least.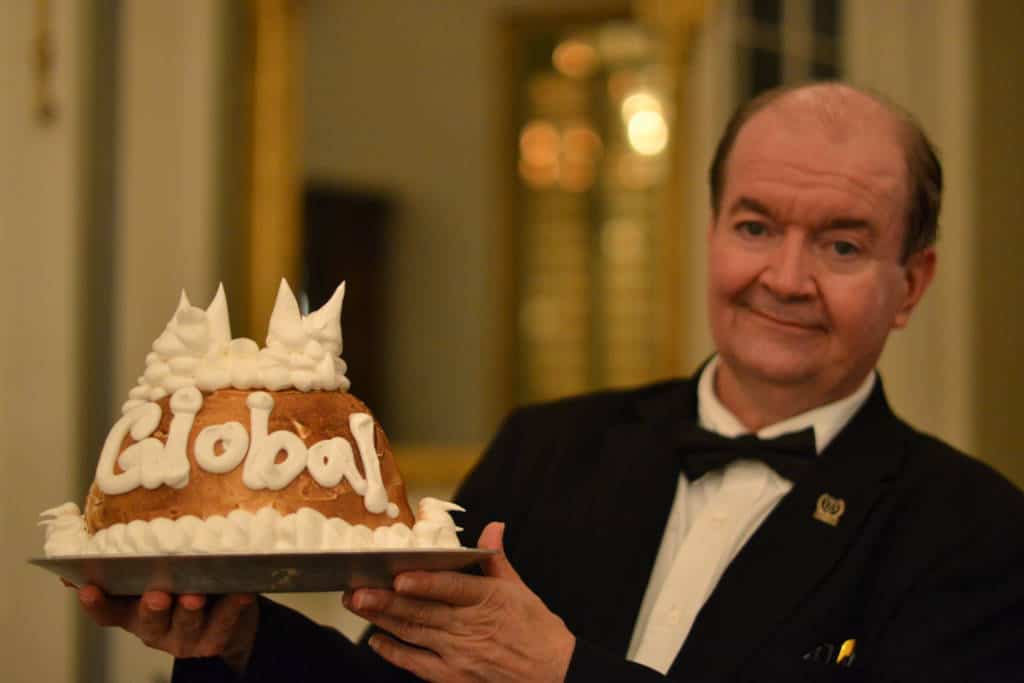 But that's digressing a bit from crafting on planes. And as plagued with procrastination that I may be, I didn't do all the prep for this on the plane. Only some last minute touches. This show was a pretty big deal for us, so here's what I did in the months leading up to it.
Everyone initially received a linen napkin with our logo in gold foil on it, and the invitation tucked inside. I think they knew at that point, that this was a pretty big deal.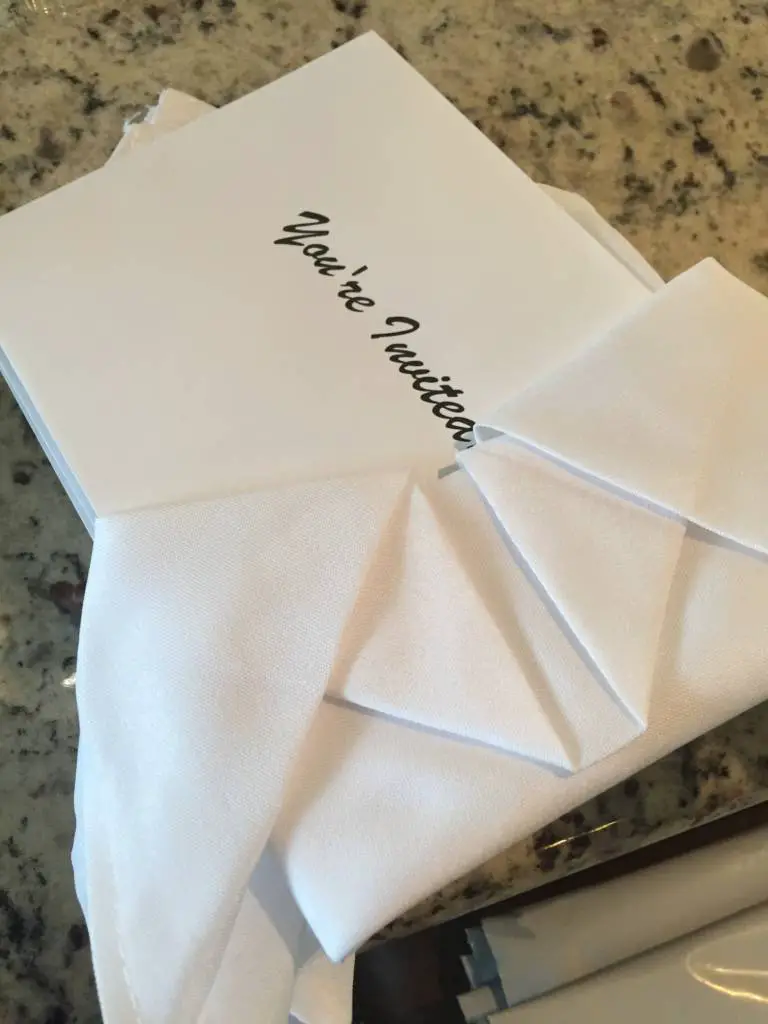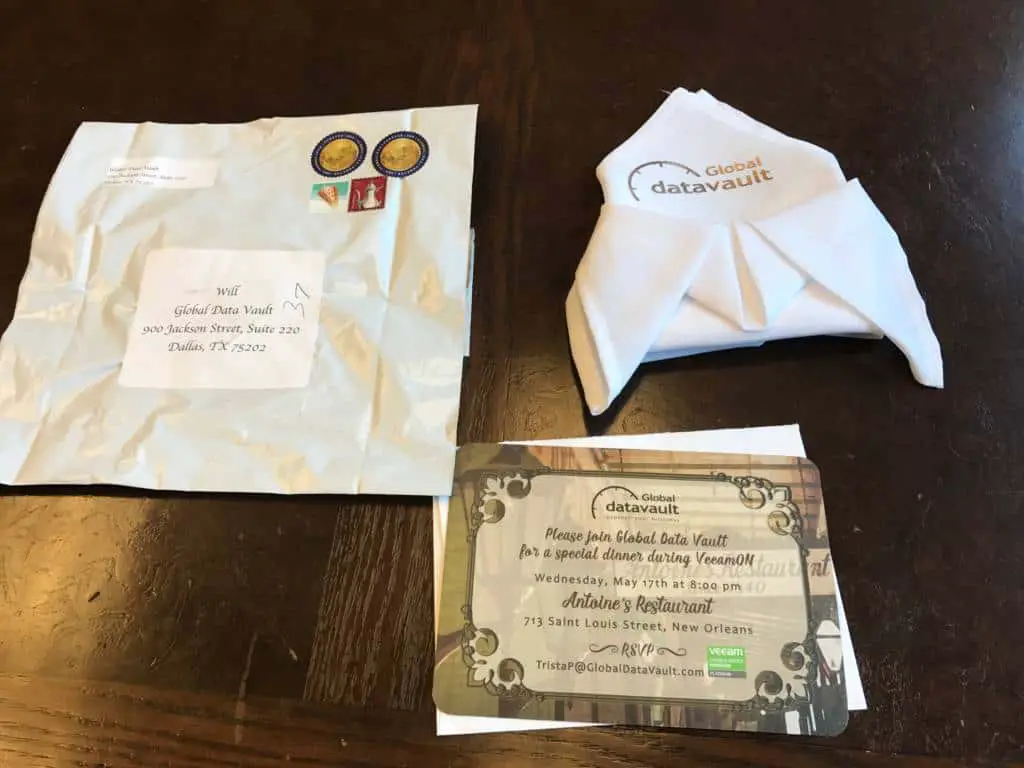 The linen napkins were from Amazon and the gold foil is HTV just ironed on the napkins. Yes, there were 60 of them. It took a while, thankfully I had great help from my friend Anna!
Next, I put together the next step of the campaign – this time it was a pre-packed bag for the conference. Again, we pulled out the HTV and irons! The bags were perfect (from Container Store).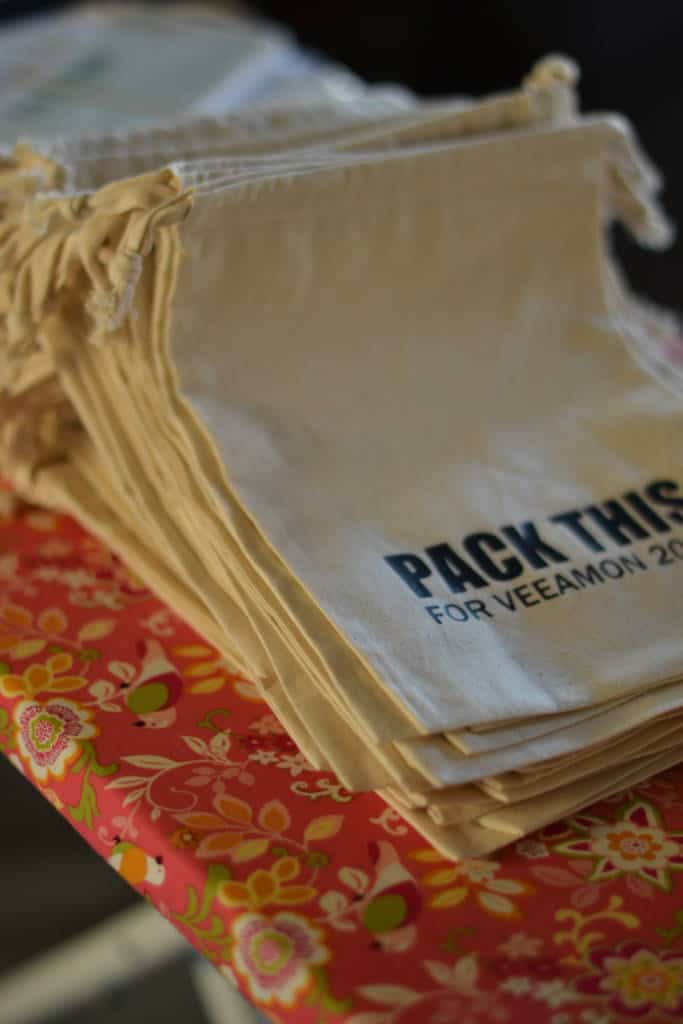 I stuffed them with: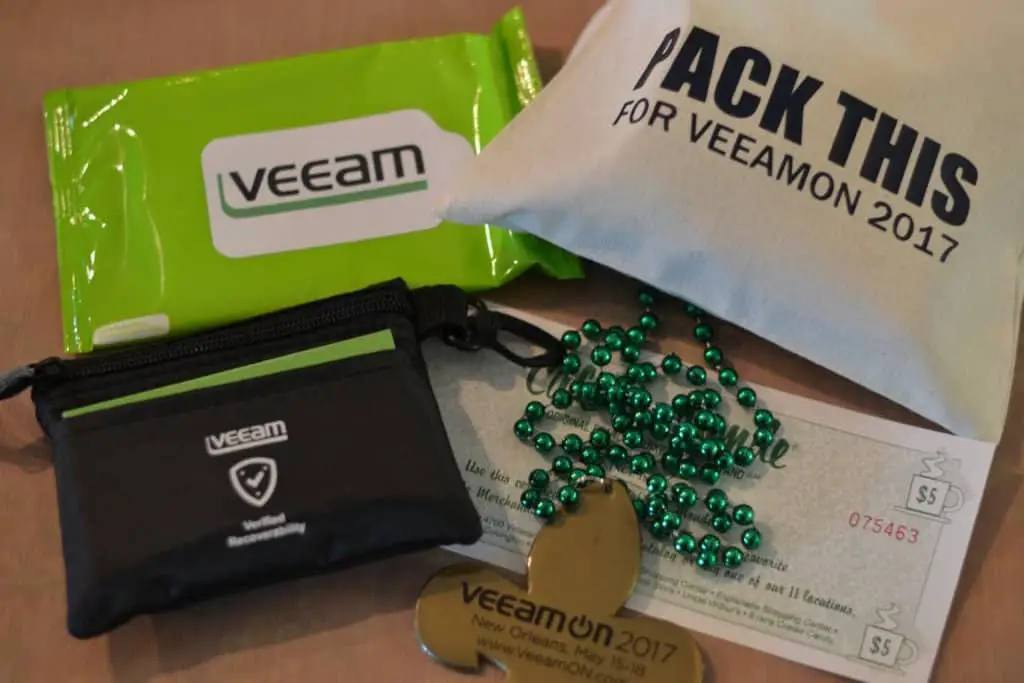 hand wipes
hangover cure kit
mint gum
gift certificate to Cafe du Monde
Mardi Gras beads
reminder about the private dinner (foil vinyl)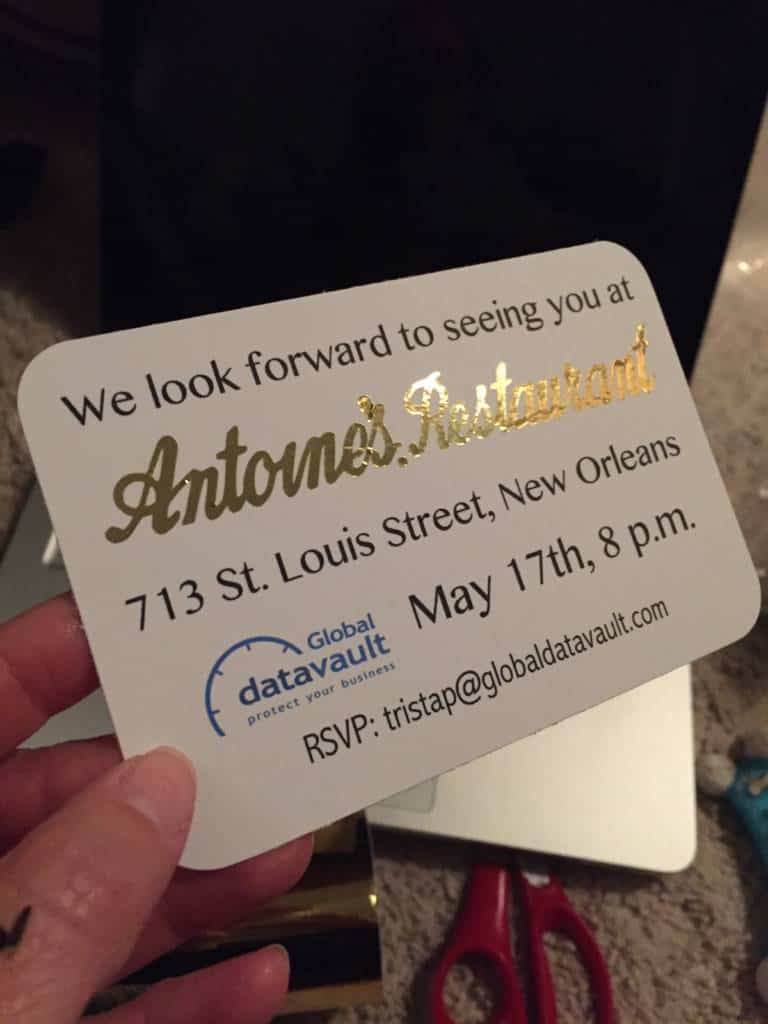 I'm so glad I never tossed that corner rounder!
Put them all in the custom bag and affixed a luggage tag.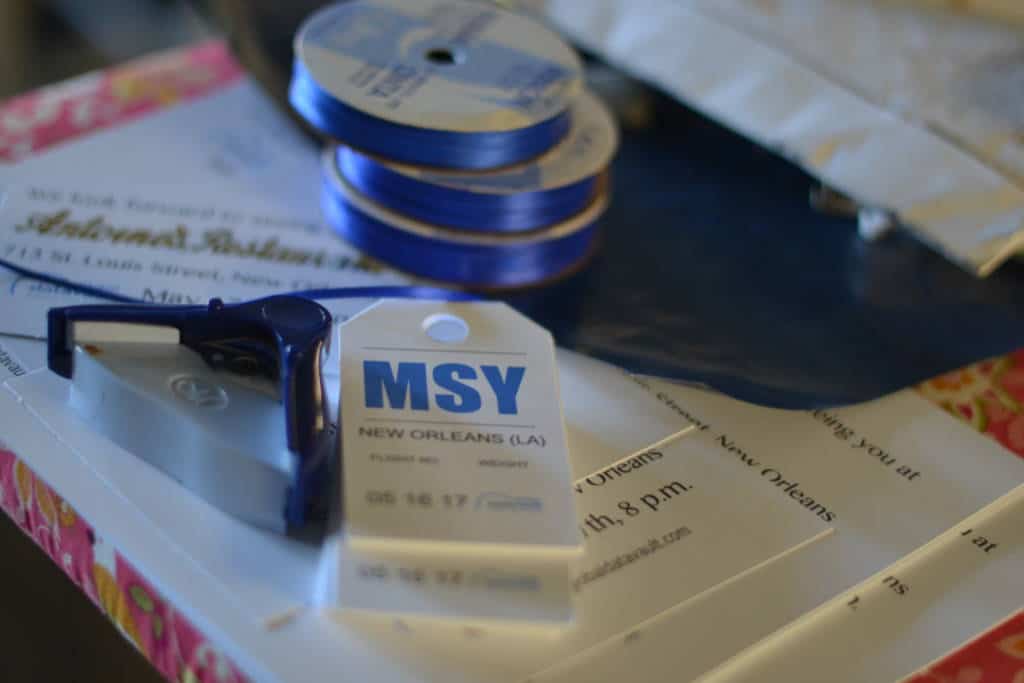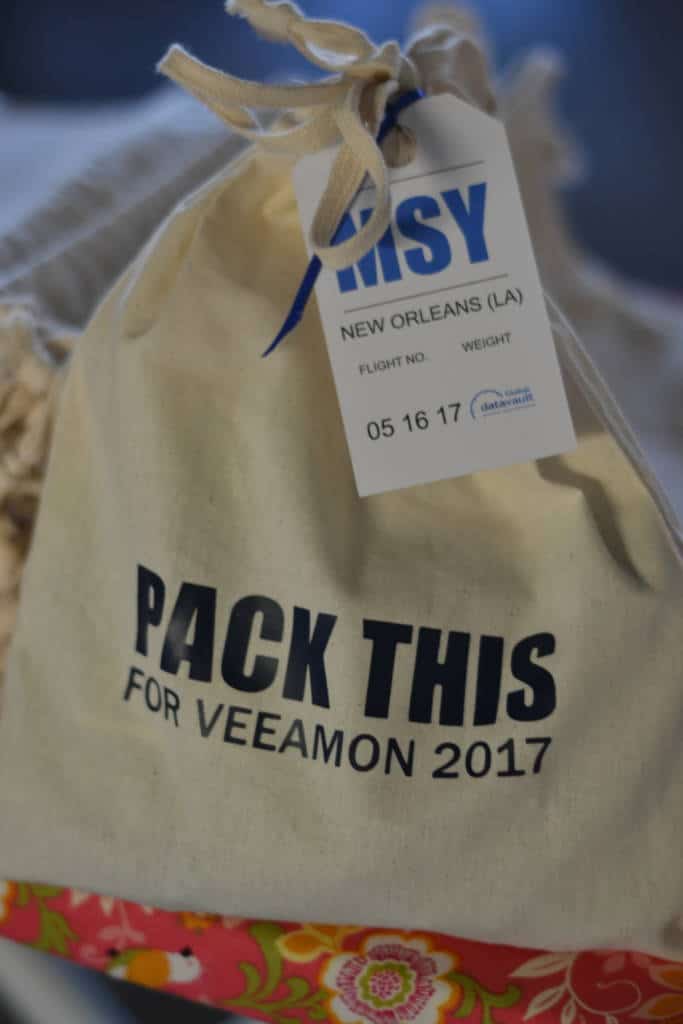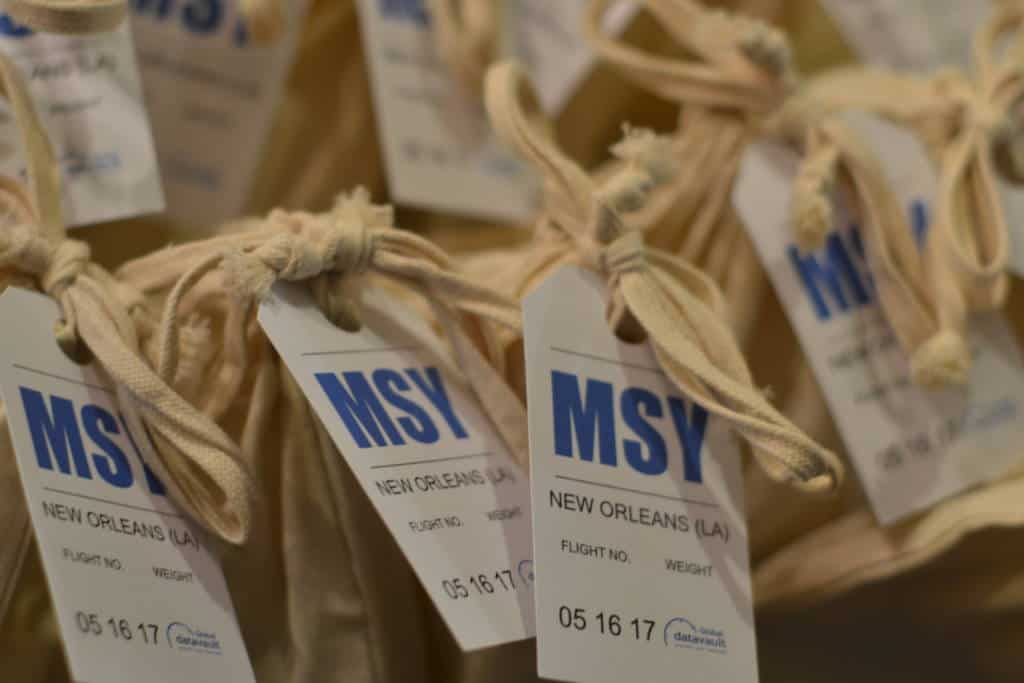 Next it was time to get ready for the actual event. Local B&B Florist did a bang up job with our flowers. I told Barbara OVER THE PHONE what colors I wanted and these were amazing and so incredibly perfect for the logo'd place cards I had made for the tables. (From Hobby Lobby, gold foil vinyl for the logo). So gorgeous, I brought one home on the plane! Yes, you can do that. You just have to dump the water out before you go through security – then fill it up after you're through! They lasted for more than a week at home.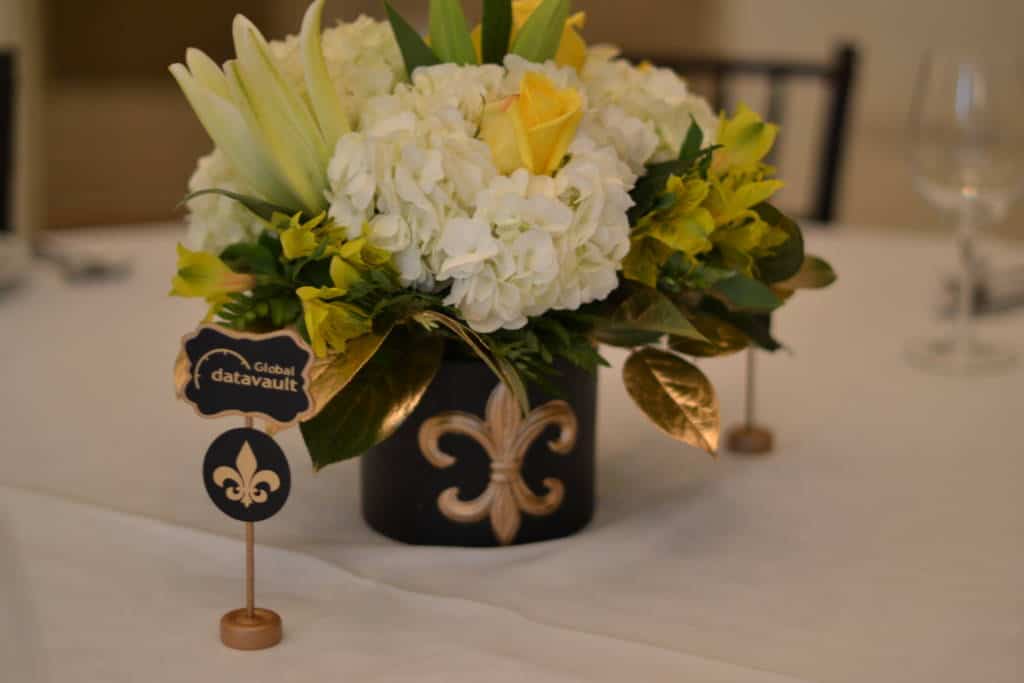 I mean, the room looked fantastic. We were in the 12th Night room and it had a private balcony.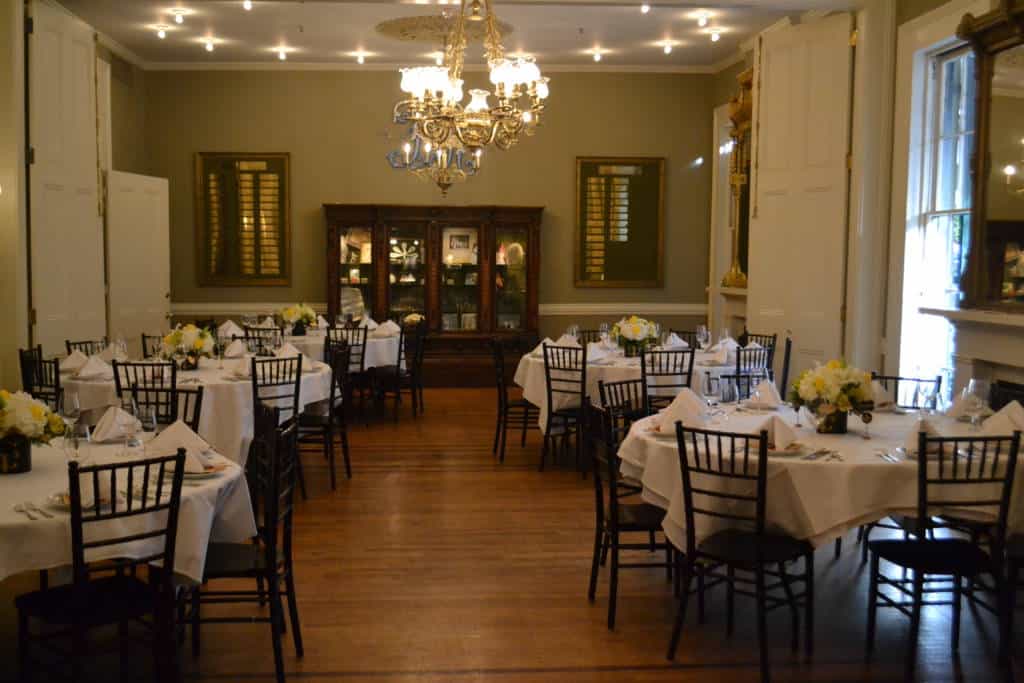 At the front of the room, we had the gift bags (logo'd with vinyl) with custom New Orleans map rocks glasses with our logo, a bottle of French Cognac, and a circuit board coaster. All of which I had to assemble IN my hotel room in New Orleans. The maids must have hated me with a huge mess of paper shred everywhere!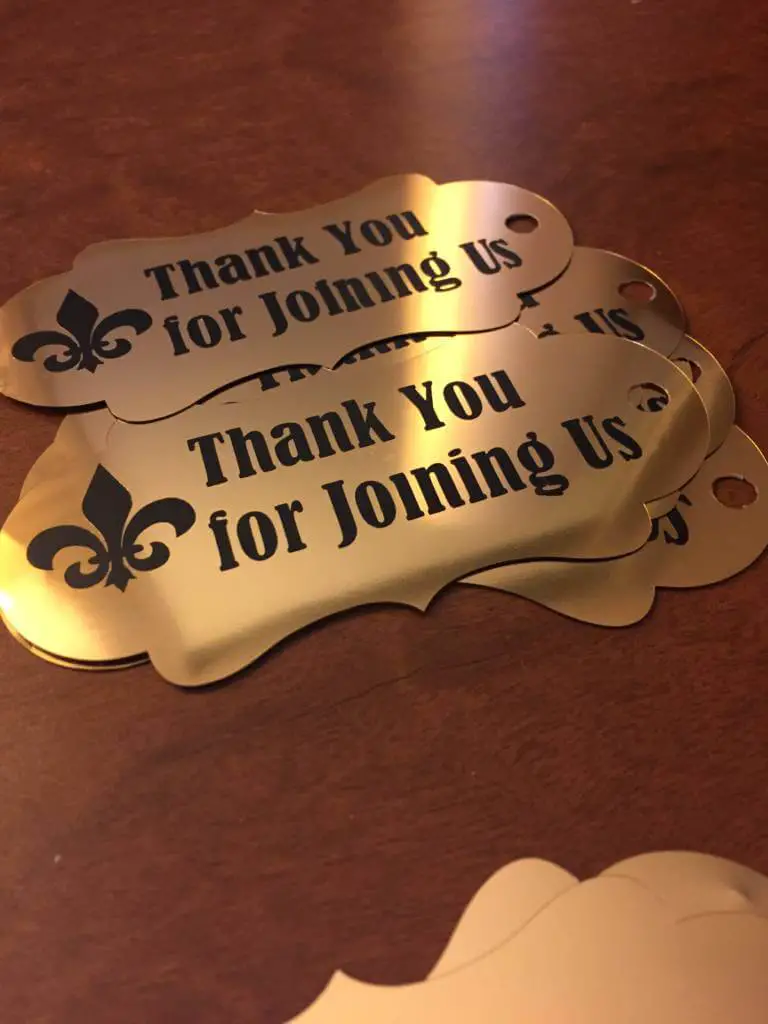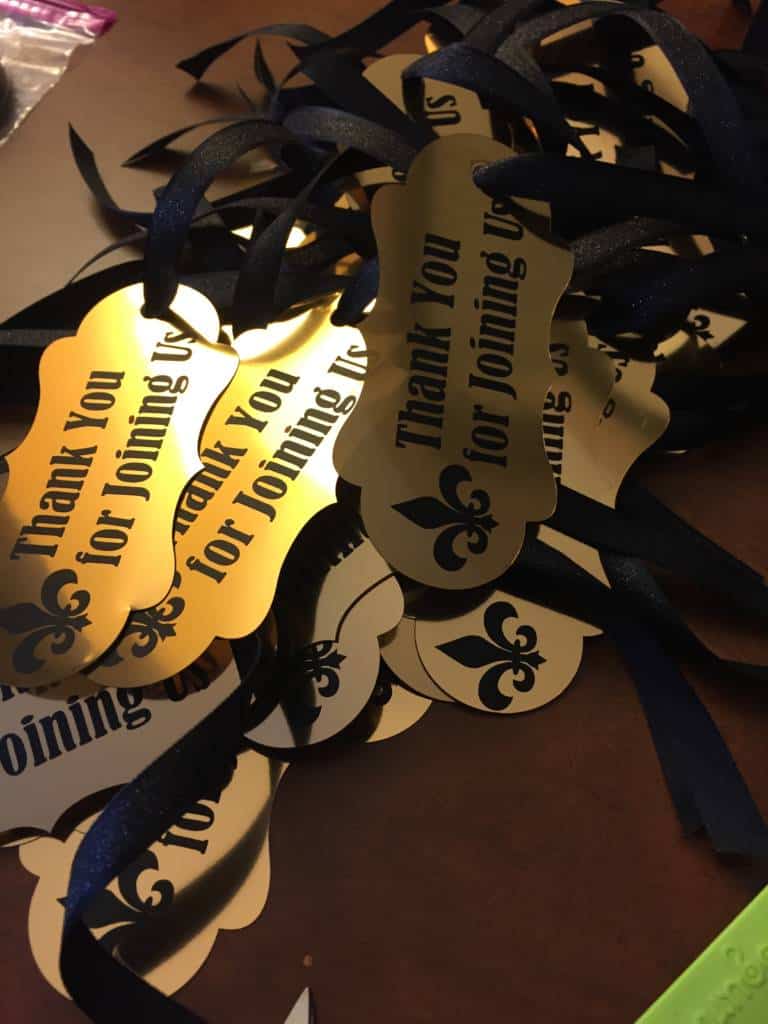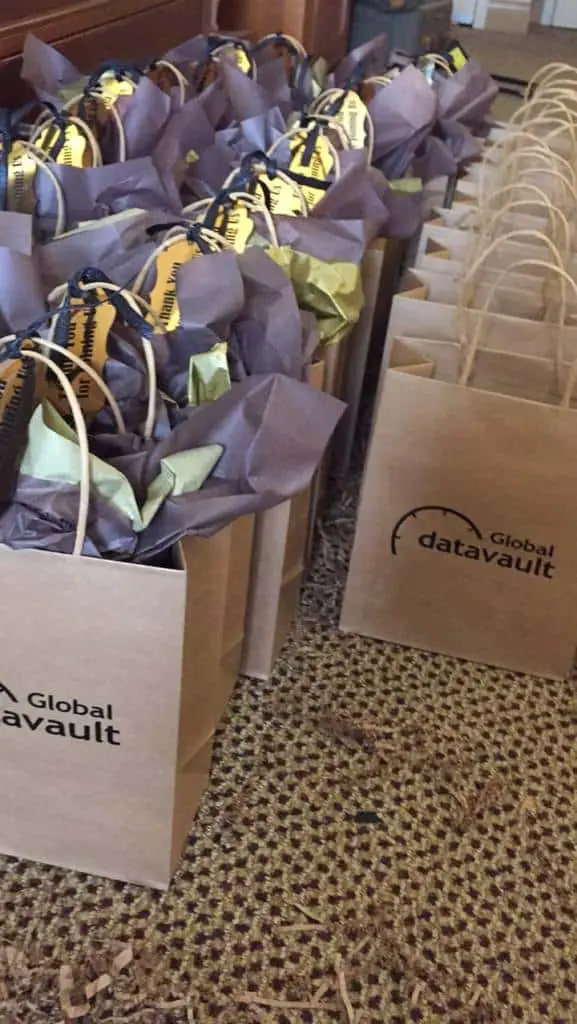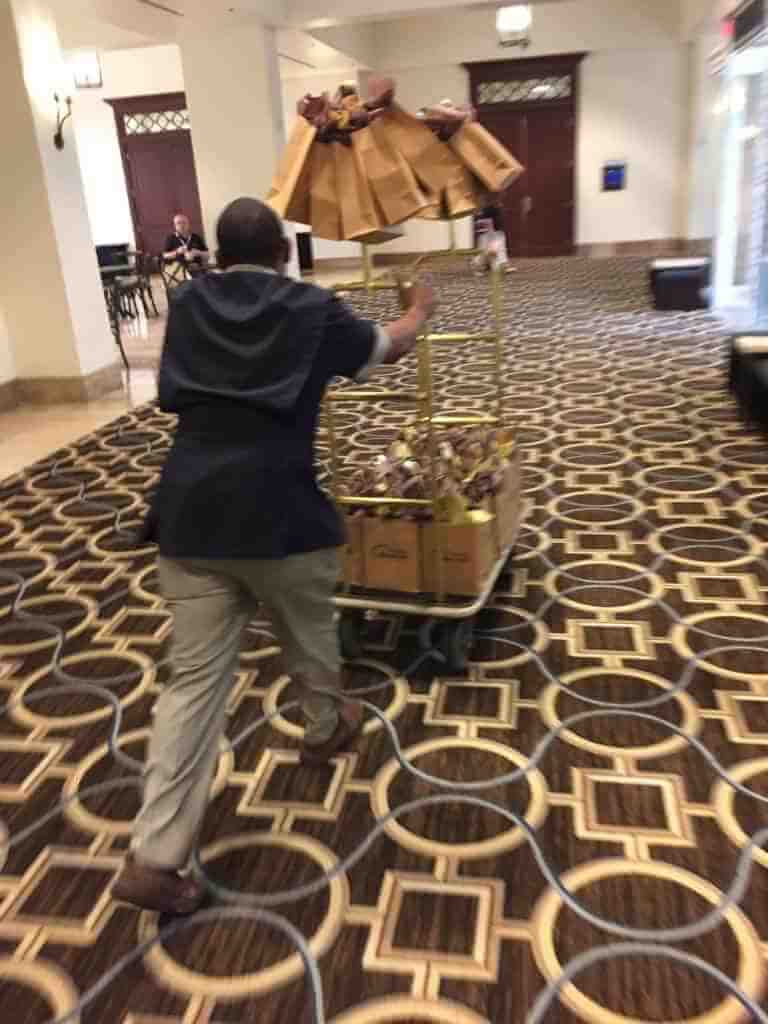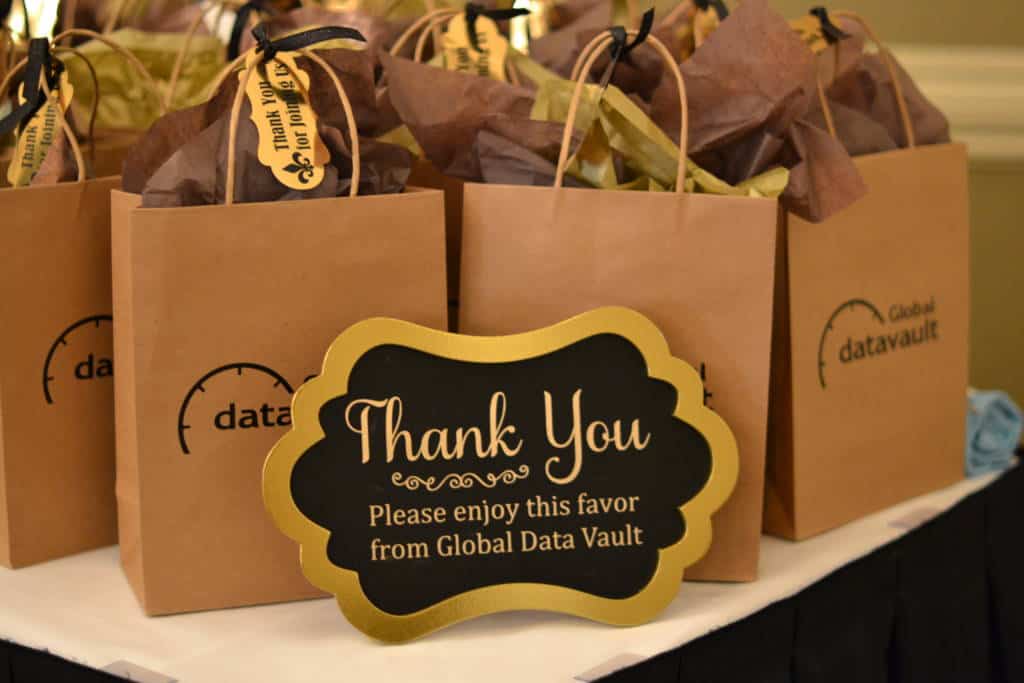 After the dinner, we had an exclusive tour of the private areas of the restaurant, including the wine cellar. Want to see more? Here's are the highlights from our exhibit and party.