I received free product to review. The experience and opinions are my own.
I'll let you in on a little secret. I paint my nails during conference calls. Specifically, video calls.
I'm not patient enough to go to a nail salon and get them done, and besides, these days, who wants to? Although the mask would come in handy to protect from the fumes.
No, the safer route is to put a quick polish on while I'm at my desk. It's pretty easy for me to keep from nicking the paint when I'm typing, so sometimes I'll do it even when I'm not participating in conversations. 😉
The downside to painting your own nails is that they don't look nice for as long. Finding a decent polish and topcoat can be a challenge. If it doesn't last at least a week, that polish goes straight to the trash bin. And it seems the "healthier" the nail polish options are, with the fewer ingredients I can't pronounce, the less likely they will stay on my nails for more than an hour.
Until now.
Piggy Paint nail polish reached out and asked if I would be interested in testing their non-toxic, scented polishes made for kids. I loved the idea but was really skeptical. And since my tweenager is not down for painted nails, I was my own guinea pig.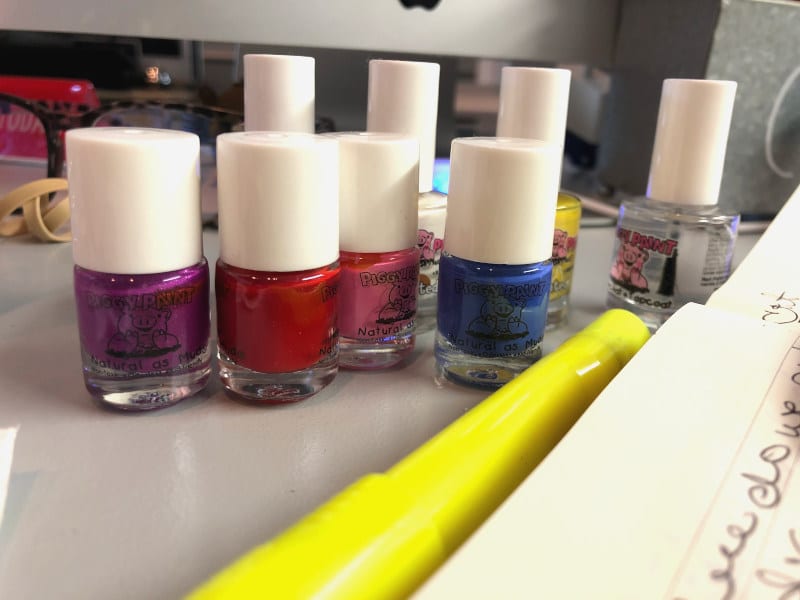 The packaging is super cute. The scents are not over-powering, but fun and fruity.
I was game and decided to go with the deep blue to match a client logo. I mean, it was only fitting since I was on the phone with them when I dipped down into the bottle.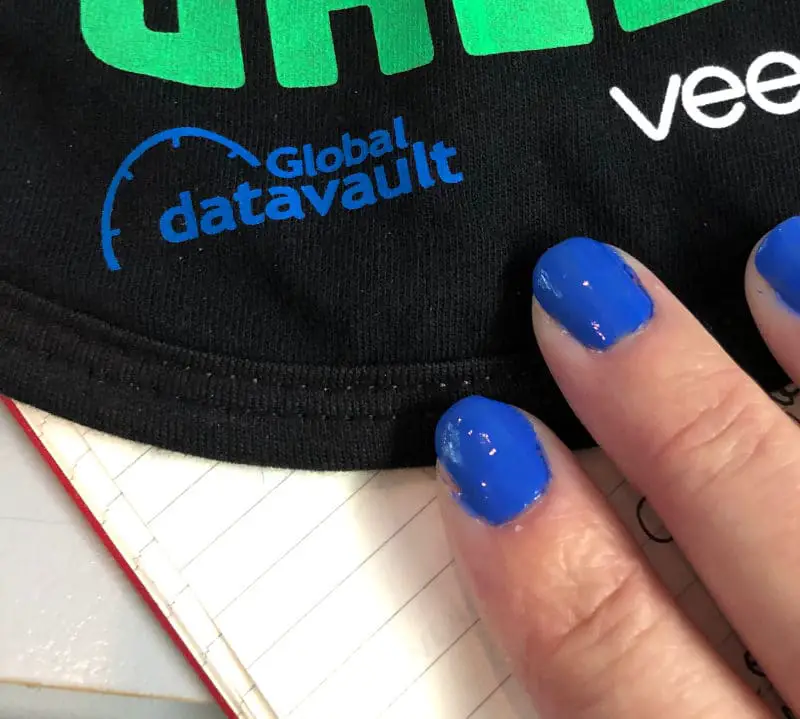 The first thing I noticed was the small brush. Yep, these are definitely made for tiny hands, but if I wanted to use them for more detailed work, I guess that would be a plus if you were neater about applying polish. As a grown-up, this was a little more challenging only because it required a few more strokes on each nail – but really, not a big deal.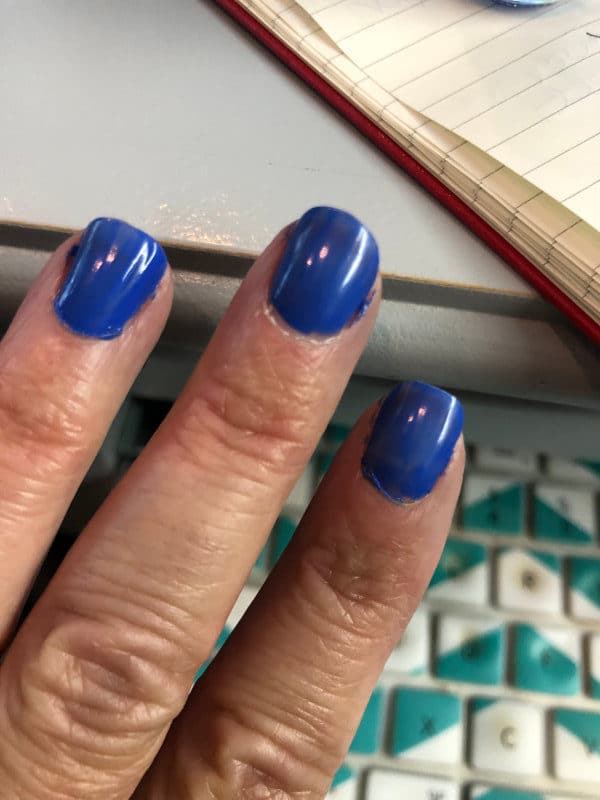 It went on smoothly, and I used the Piggy Paint topcoat as well. I was ready to see how long they'd last.
To my surprise, two days later, my nails still had an ever so slight scent to them! It was really subtle, but it was there. Here is what my nails looked like after a week.
Like I said, It took about a week for the polish to finally begin to chip, which was really impressive. And because I can't stand chipped nails, it was time for it to come off.
Then I learned why it stayed on my nails for so long – it was much more challenging to get off than regular nail polish. As you can see, it comes off in little flakes. This makes it ideal for tiny hands because you know they chip their nails about a nanosecond after they're dry and then run around like that until the rest eventually falls off. I was able to finally get it off with regular polish remover. Still, it needed a little patience and a lot of cotton balls. It would likely have been much easier to remove if I'd used their actual remover. 😉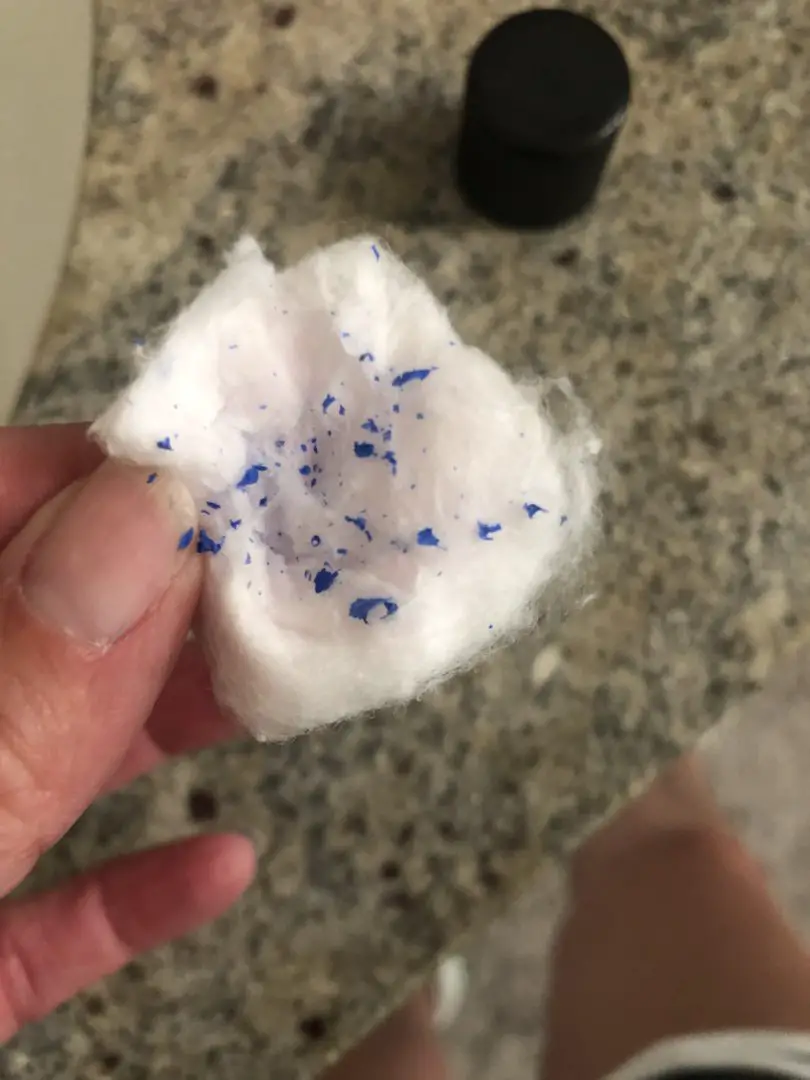 I asked my Dad, (the chemical engineer), why this polish comes off in flakes. After reviewing the ingredients, he said that the flaking is probably due to the mica since it forms small sheets even as small particles. For your reference and according to British Vogue, mica is naturally produced and is a particularly well-loved ingredient among organic and natural beauty brands. It is safe to use on almost all skin types with little to no side effects.
But I still had questions. I wanted to know WHY Piggy Paint is better than regular polish and sent him the ingredients. I mean, I don't bite my nails, but your kids might, and I was curious about the whole non-toxic, water-based formula. He said, "Acrylates Copolymers are probably not too bad and not digested. Titanium dioxide is the whitener in toothpaste and other items."
So there you have it. I give this product a thumbs up. I think it's great for little people, DOGS (YES! They have some for dogs!) and even suitable for moms in conference calls. There are some fun colors, even some gift packages that would make the perfect addition to a girl's spa basket, or my favorite – put them in Easter eggs, Halloween treat bags, and Christmas stockings.
You can learn more about Piggy Paints and order yours HERE. Which color is your favorite?