We're big fans of the Perot Museum of Nature & Science (and it's not because we share the same last name). It's because it's the 180,000 square foot facility is oozing with things to stimulate learning and creativity. This Dallas gem sits on the edge of the Arts District, further emphasizing its ties to architecture and engineering prowess. With 11 permanent exhibit halls on 5 floors, plus traveling exhibits and theater, it's truly an innovative destination for lifelong learners.
If you've visited the The Perot Museum, you know what a treat it is and how much your kids beg to return. You might even have a membership. I'll even bet you learn a lot while you're visiting too. In exciting news, The Perot Museum of Nature and Science has announced that they want to make sure all kids have that same opportunity to come back again and again with a generous gift of $5 million from Margo and Ross Perot towards educational initiatives geared specifically for underserved communities. This will allow the museum to expand their Community Partners $1 admission program and active-duty/veteran discounted admission from 3 months out of the year to all year long. While this offers more accessibility for all to visit the museum, a portion of the donation is also allocated towards continuing outreach programs to Title 1 schools which has already served over 1 million children in as little as 5 years.
[KGVID]https://www.triedandtruebytrista.com/wp-content/uploads/2018/10/28FD60F7-3CA5-4E81-BF4D-B187343E2EED.mov[/KGVID]
"This is more than just a gift to the Perot Museum; it's a gift to the community," stated Deputy Mayor Pro Tem Adam Medrano in the morning's remarks announcing the good news. "As we recognize and thank our brave first responders who risk their lives in order to save others today, we also celebrate a major milestone for STEM education in North Texas."
Thanks Perots for your generous gift!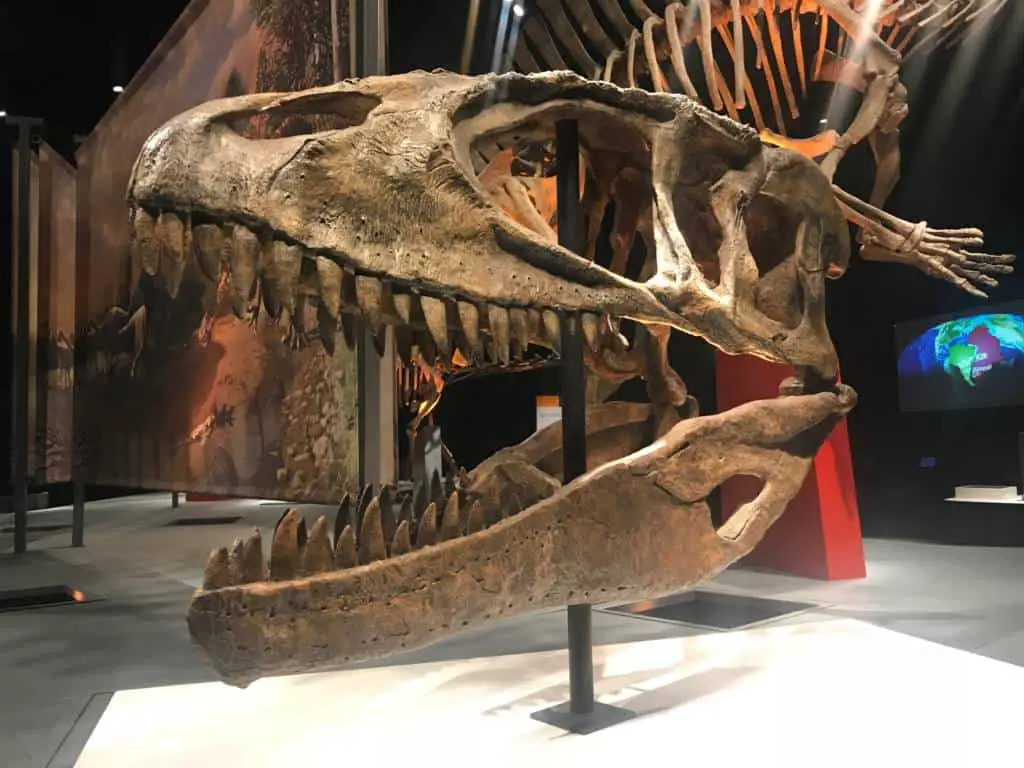 Be sure to check out these amazing exhibits:
Dinosaur enthusiasts will love the Ultimate Dinosaurs exhibition that showcases an exciting array of species from south of the equator – including T. rex's more-fearsome distant cousin and the largest dinosaur that ever lived – that were only just discovered in the last 20 to 30 years. The popular exhibition Ultimate Dinosaurs continues through Jan. 6, 2019, bringing to life 17 incredible dinosaurs from the southern hemisphere including the Giganotosaurus (South America's "king of the jungle" predator), Argentinosaurus (the world's heaviest dinosaur) and other species unfamiliar to many North Americans. Ultimate Dinosaurs reveals a new breed of dinosaurs that evolved in isolation in South America, Africa and Madagascar – dinosaurs that are unfamiliar to most North Americans. Presented locally by Highland Capital Management, Ultimate Dinosaurs tells the story of the break-up of supercontinent Pangaea into today's continents and the ways that continental drift affected the evolution of dinosaurs. Through hands-on activities and augmented reality technology, guests will discover that an amazing diversity of species evolved as a result of this phenomenon. Presented in English and French (with a Spanish audio guide available), Ultimate Dinosaurs is presented by the Science Museum of Minnesota and requires a surcharge.
New to the Museum's T. Boone Pickens Life Then and Now Hall is the Paleo Lab, a glass-encased permanent exhibit that gives guests real-time views of the dynamic dinosaur research of Museum paleontologists as they process and prepare fossils fresh from the field. Looming above the Paleo Lab is the first-ever skeletal reconstruction of Nanuqsaurus hoglundi, the polar tyrannosaur discovered and named by Perot Museum paleontologists in 2014. Guests will also want to check out the new T. rexcalator, which features a life-sized model of the 2nd most complete T. rex skeleton ever discovered at the top of the glass-enclosed escalator. The new "Dancing Dino" interactive allows visitors to dance with their own raptor avatar while discovering how paleontologists use footprints to study dinosaur anatomy and behavior. Also on display for the first time are Protohadros dinosaur tracks found decades ago at Grapevine Lake.
Receiving rave reviews from its other national tour stops, The Art of the Brick (Feb. 23-Aug. 18, 2019) features LEGO® bricks of every size used to construct stunning works of art and structural marvels (such as the Mona Lisa, the statues of David, Venus de Milo and Augustus of Prima Porta, a T. rex, Hokusai's The Great Wave off Kanagawa and more). "Our 2019 exhibition, The Art of the Brick, melds together the worlds of art and science," said Dr. Linda Silver, Eugene McDermott CEO of the Perot Museum. "In incredible fashion, our visitors can enjoy the extraordinary works created by artist Nathan Sawaya and try their hands at LEGO® architecture in what's been named a CNN top 10 'global must-see exhibition.' These intriguing works of art made exclusively from one of the most recognizable toys in the world, The Art of the Brick (presented locally by Highland Capital Management) is a critically acclaimed traveling exhibition boasting the world's largest and most elaborate display of pieces constructed using only LEGO® bricks. Created by world-renowned contemporary artist Nathan Sawaya, The Art of the Brick is designed to inspire ingenuity and creativity with original pieces and re-imagined versions of some of the world's most famous art masterpieces (made exclusively from LEGO® bricks) including Van Gogh's Starry Night, Vermeer's Girl with a Pearl Earring and a gallery showcasing an innovative, multimedia collection of LEGO®-brick infused photography produced in tandem with award-winning photographer Dean West. The Art of the Brick requires a surcharge.
3D FILMS IN THE HOGLUND FOUNDATION THEATER, A NATIONAL GEOGRAPHIC EXPERIENCE. Slip on some 3D glasses, and encounter Tyrannosaurs, oceans, extreme weather and even a journey through American music. The lineup includes Waking the T. Rex 3D: The Story of Sue (through Jan. 6, 2019), Oceans 3D: Our Blue Planet and America's Musical Journey 3D (through May 23, 2019), and Extreme Weather 3D (Jan. 7-May 23, 2019). To view trailers and film times, go to perotmuseum.org. Films are presented locally by Primrose Schools.
Special thanks to MommyUpgrade guest writer Courtney Crews!