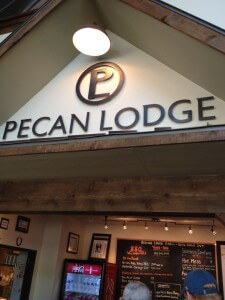 I started thinking about Pecan Lodge the moment I left my meeting downtown at 11 a.m. It was Friday, and that means they're open. I texted the hubs to see if he wanted to meet me – yep, he was on his way. I strolled into Shed 2 a the Dallas Farmer's Market to see if the stories about the lines of people waiting for it were true.
Sadly, they were.
If you've ever had divine Texas BBQ, and I don't use that word "divine" lightly, you know it's worth the wait.
And that's what probably 60 – probably more, I was too depressed to count – people were also thinking. I took up my spot at the end of the line thinking what a crazy freakin' long line it was and having flashbacks to the night I got up a 3 a.m. to stand in line for the president's book signing, until someone walked past me saying, "Oh, this isn't bad at all!"
I felt like such a wimp.
I had my first experience with the holy grail of "BBQ and Southern Food" several weeks ago with what I call a flavor bomb but they call the "hot mess," (Dying to have one of their signature t-shirts!)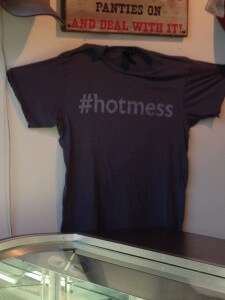 which is a ridiculously savory concoction of a jumbo salt encrusted baked sweet potato filled with barbacoa (brisket with magical southwestern spices), chipotle cream, cheese, green onions. Oh – and don't forget the butter. A Paula Deen amount of butta.
I ate until I was sick.
And since it was a work day, I passed on a frosty cold beer, but washed it down with this cool little find (not from Pecan Lodge — but it should be).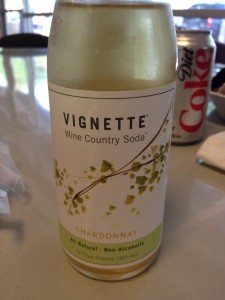 That Dallas Farmer's Market is just a weath of gastronomical delights!
Turns out Pecan Lodge isn't just a local favorite, it caught the eye of national foodie Guy Fieri who featured it on "triple D," aka Diners, Dine-Ins and Drives on the Food Network. And seeing as how everyone – including the Princess Cupcake – really dig his show, it was like a wish fulfilled that we could visit one of his hand-picked favorites.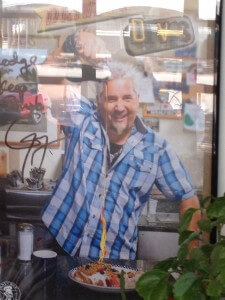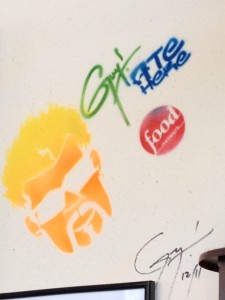 But don't take my word for it. Or Guy Fieri's. Or any of the people who stand in line for an hour or more just to get their own little slice of brisket heaven. They were also voted "The South's Best Butt" by Southern Living Magazine.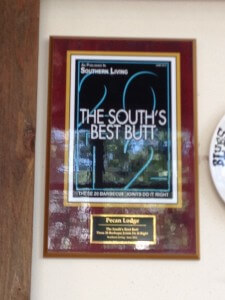 What?!?
Here are a bevy of other accolades for Pecan Lodge.
If I wasn't sold already, I spied this on their wall.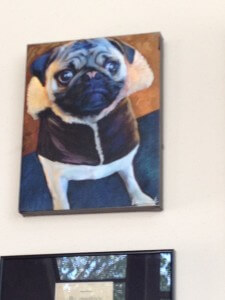 Being the pug lover that I am, the deal is sealed. Best. BBQ. On. The. Planet. And I hear the tumbleweed cookies are pretty bomb-diggity too.
Yep – I'll confess to planning meetings downtown around their Thursday, Friday, Saturday, Sunday only schedule.  And you should too. Check it here.
And while you're in Shed 2, check out the other great vendors at the Dallas Famer's Market. They may not be Guy Fieri-worthy, but there's some GOOD eats!