I'm really into glass these days.
Glass gifts, that is.
A couple of years ago, I made these lighted glass blocks as our "gift" for the year. They went over really well but there's only so many glass bricks you can give before people are tired of hauling them up to their attic each season. So I switched to something lighter this year.
I recently hosted a baby shower and made these adorable elephant wine glasses as the party favor.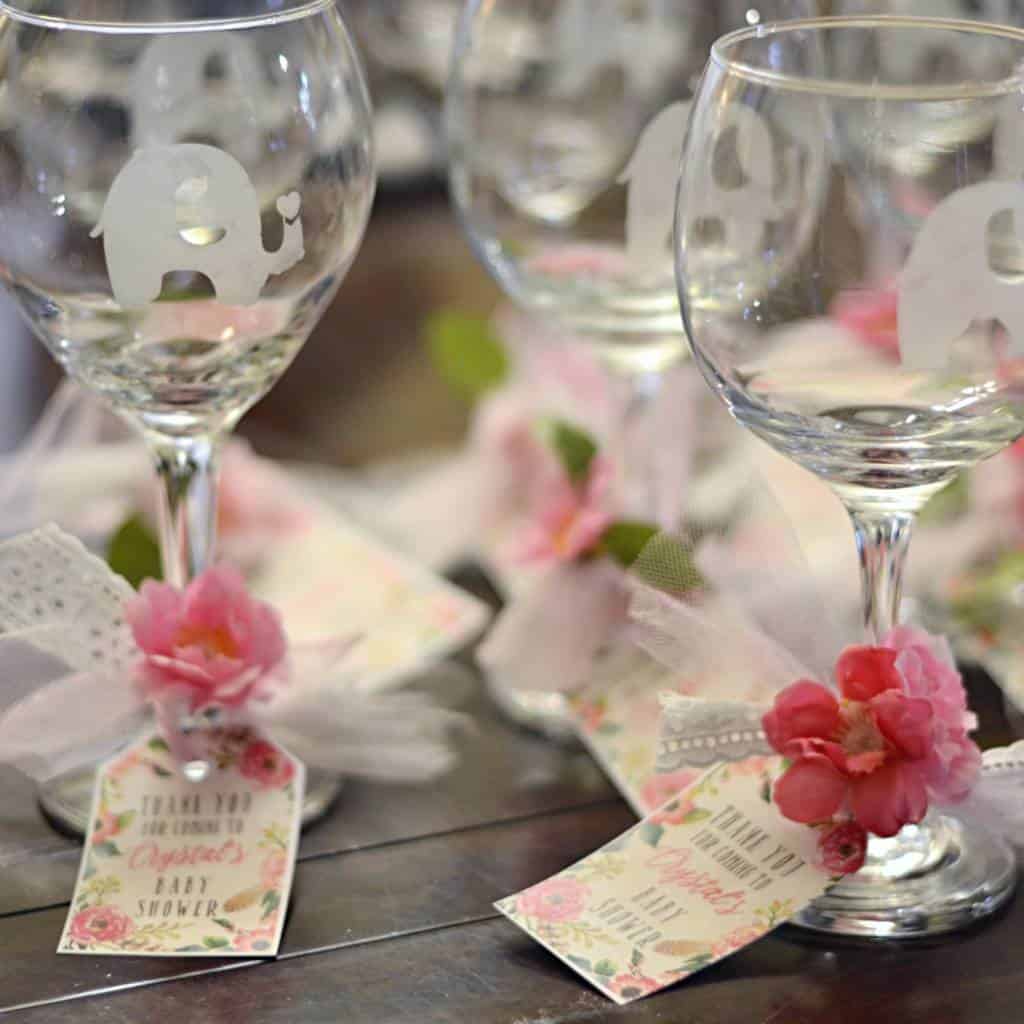 Is that weird? Wine glasses for a baby shower favor? I dunno, whatever. My friends liked them.
Anyway, they turned out so super cute that I did a repeat, but with a holiday spin for our Christmas dinner party (21 people!). The tags were left blank and I provided a silver Sharpie for them to write their names on them.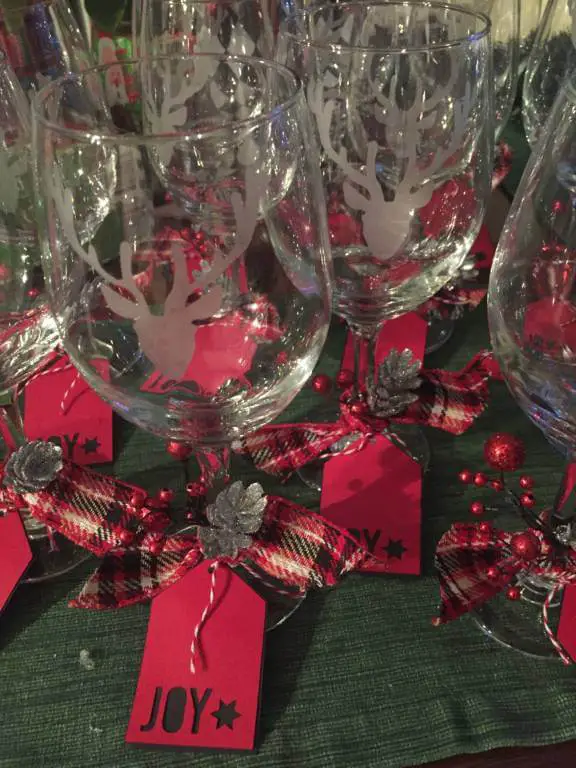 I'm really into the whole buffalo plaid and stag combo. I'd like to leave them out all year.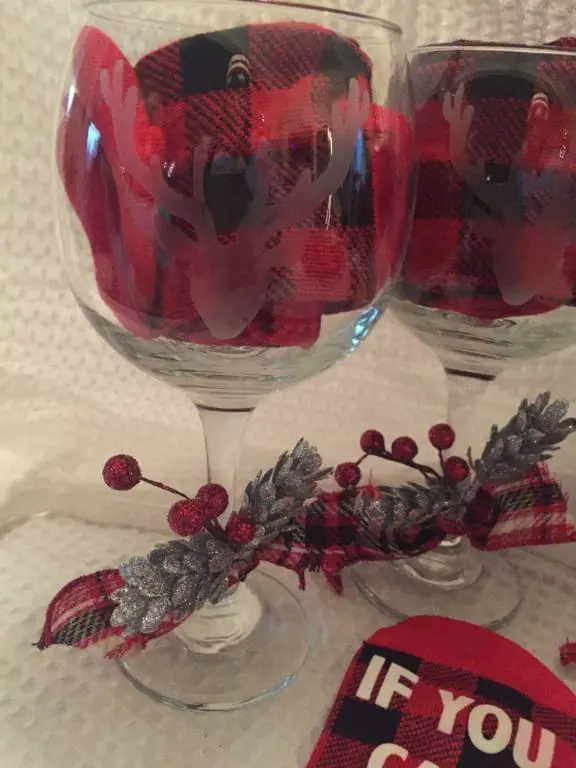 But yes, that probably would be weird.
I made extras and gave them to my neighborhood girlfriends with some cute socks, (I'll tell you how I made those in a separate post), and some snow globe ornaments, and rum cake. It's not Christmas without rum cake!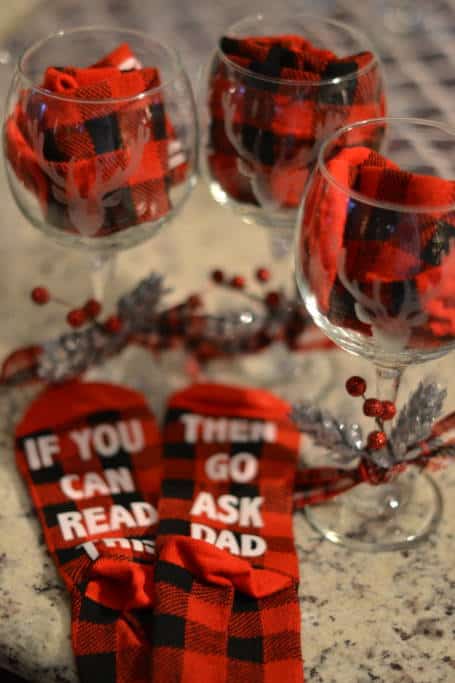 Here's how I made these etched wine glasses. You really can adapt these for any occasion.
Here's what you need:
Wine glasses – I got these from Dollar Tree. I seriously love how inexpensive, yet sturdy they are.
A personal custom cutting machine (Silhouette, Cricut, etc) to make your stencil
Vinyl for the stencil
Armour Etch Cream, 10-Ounce">Armor Etch – this is the ONLY etching cream I've ever found to work. I swear by it.
Sponge brush
Rubber gloves
Floral picks – For the shower glasses, I actually bought a spring garland to use because with a 50% off coupon, it was more economical than buying individual floral sprigs. And there was plenty left over to personalize the other shower gifts.
Ribbon or jute rope or both
Bakers Twine or skinny ribbon, or tulle in coordinating color
Tag
Hot glue
Here's how you make it:
Wash and dry your glasses.
Choose a design you like from the library or make your own in your software for your cutting machine. It's best to choose a solid design without a lot of detail.
Cut out the design and trim it so you have an inch or two border around the design.
Remove the OUTSIDE of the design, leaving the image on the vinyl backing. This is your template for the etching.
Adhere the template to your glasses where you want the design to appear. Be sure to rub down all the edges to your design. If it's not, your design will bleed outside the lines a little.
Put your rubber gloves on and dab on the Armour Etch to the middle of your template where you want the design etched. Don't get the etching cream on your skin.
After 60 seconds or a little more, wash off the Armour Etch. Really, that's all it takes. I feel guilty at how easy this is.
Peel off the vinyl template and rinse off any extra etching cream.
I wash the glasses again.
While the glass is drying, trim the flowers off of your floral pick/garland. For the baby shower glasses, I used the green leaves as well.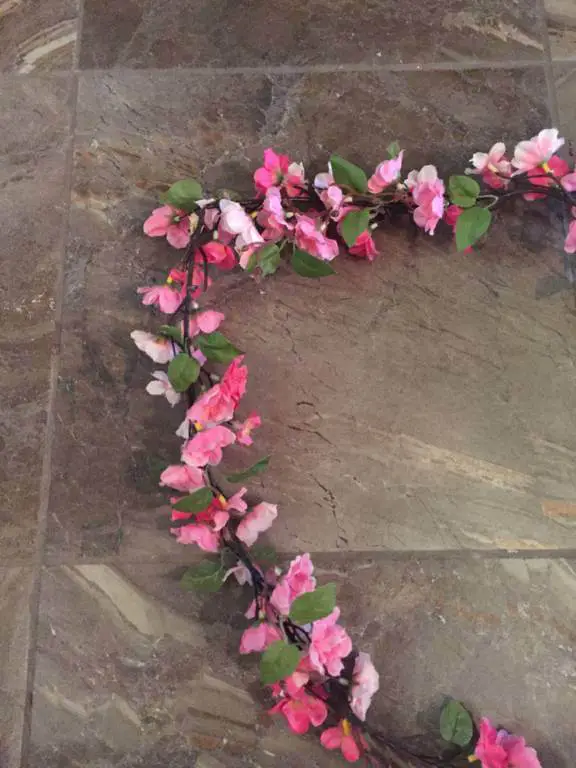 Tie a ribbon or jute around the bottom of your wine glass.
Using hot glue, affix two or more flowers around the ribbon/jute.
Tie your cute ribbon on with baker's twine or other ribbon. For these baby shower ones, I used lace ribbon and tulle.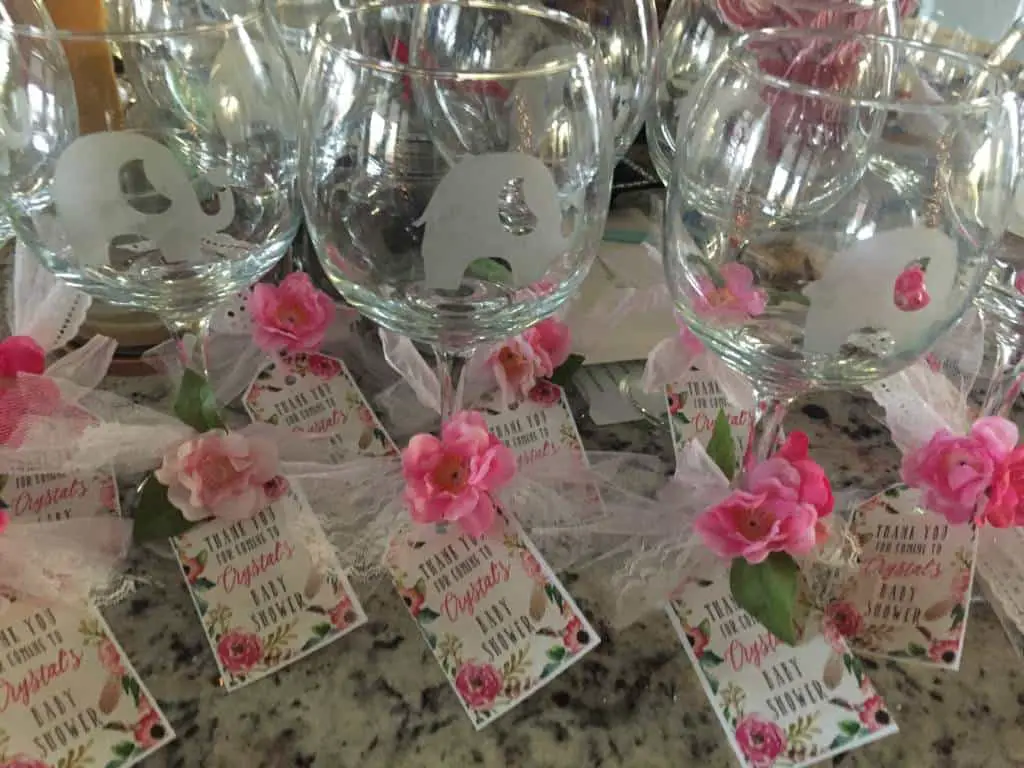 For these Christmas ones, I used a plaid flannel wired ribbon, and pieces of silver pine cones, and red glittered holly berries.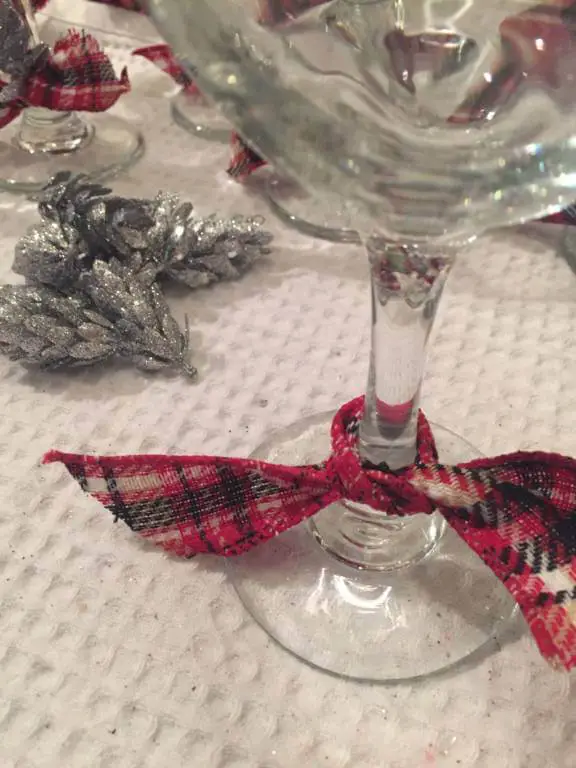 Done!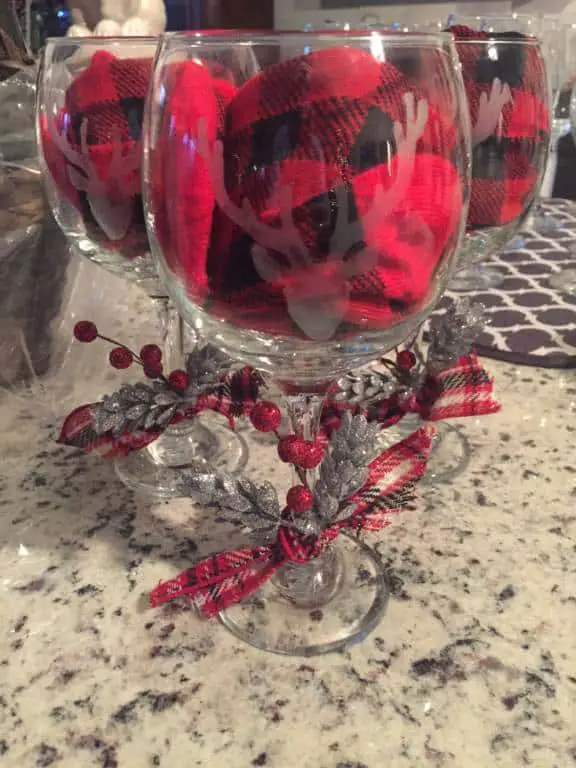 These are great for a party. When your guests take them home, they can handwash and leave the decorating on them (minus the tag), or they can easily remove the tags and floral because the hot glue just peels right off of the glass. The etching will stay on the glass though and they can be washed in the dishwasher.
Tah-dah!