I made it.
I survived our entire family being sick the week before we moved. The week designated for packing — which did not happen. Much.
I survived the move while having no voice and green gunk oozing from my sinus.
I survived my computer melt down the following week.
I managed to still pull off my craft exchange, and send out my crafts, and open enough boxes to find underware and contact lens solution for a few days.
It's been officially a week, and I've only tried to drive back to our old home once -ish.
Despite my pity party which is a product of pure exhaustion, we LOVE our new house. Truly love it. Even the puggies seem genuinely happy with all the extra space both inside and out. Looking back, I don't know how we ever lived in that small home for so long. We were literally busting at the seams.
Speaking of our other home — we're not completely out of it yet. Half my kitchen and garage are still there and everything on the walls. We still have three +++ empty rooms in new home that are waiting for the moving truck to arrive later this month so there's still plenty to do. Argh!
I'm painting furniture  like a mad woman while squeezing in time to obsesses over cooking on my new six-burner gas stove. (Who knew THAT would be so life changing?!) Oh yeah, and working. With contractors coming through pretty regularly. Sigh.
The good news is… my voice is back (mostly), we've figured out a few versions of the new morning commute (longer but the cupcake likes it), the blinds lady says it will only be a week until we aren't in a fish bowl anymore, and it will all get unpacked. One day. But not today. And I'm totally okay with that.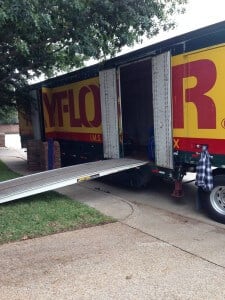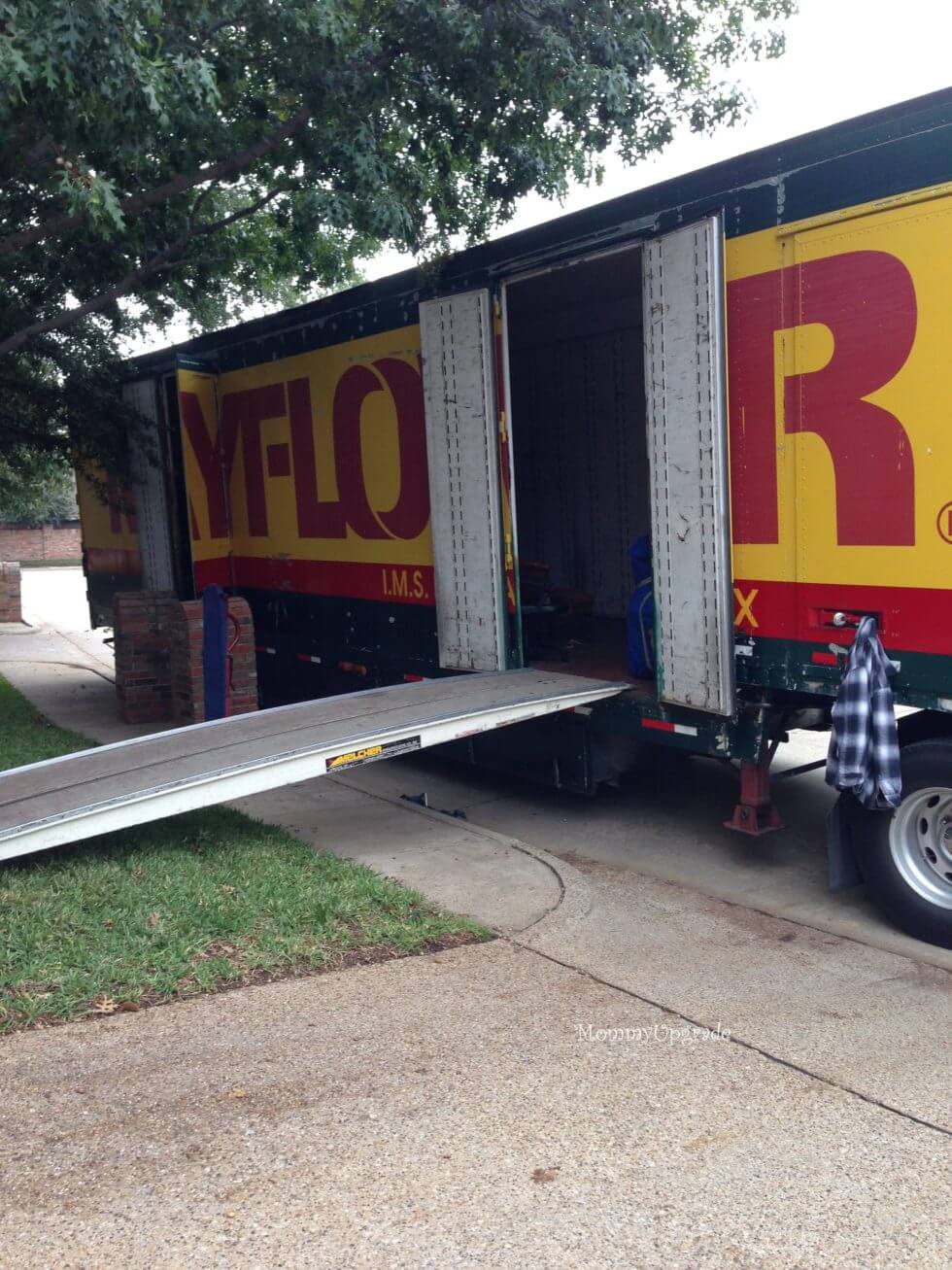 Here are the photos from our final walk-through of my favorite parts of the house — before we started moving in and messing everything up with boxes and miscellaneous random Halloween decorations, and mounds of crumpled packing paper. I supposed it doesn't look a whole lot different than before, but as we start to get settled, I'll post some pictures of finished rooms. Be patient, it will be a while!
This is our guest room with private bath. If you come stay with us, this gorgeous morning sun will greet you when you wake up. (Don't worry you night owls, plantation shutters on order.)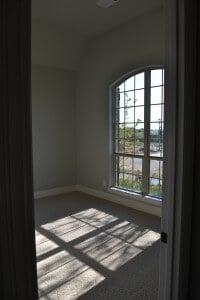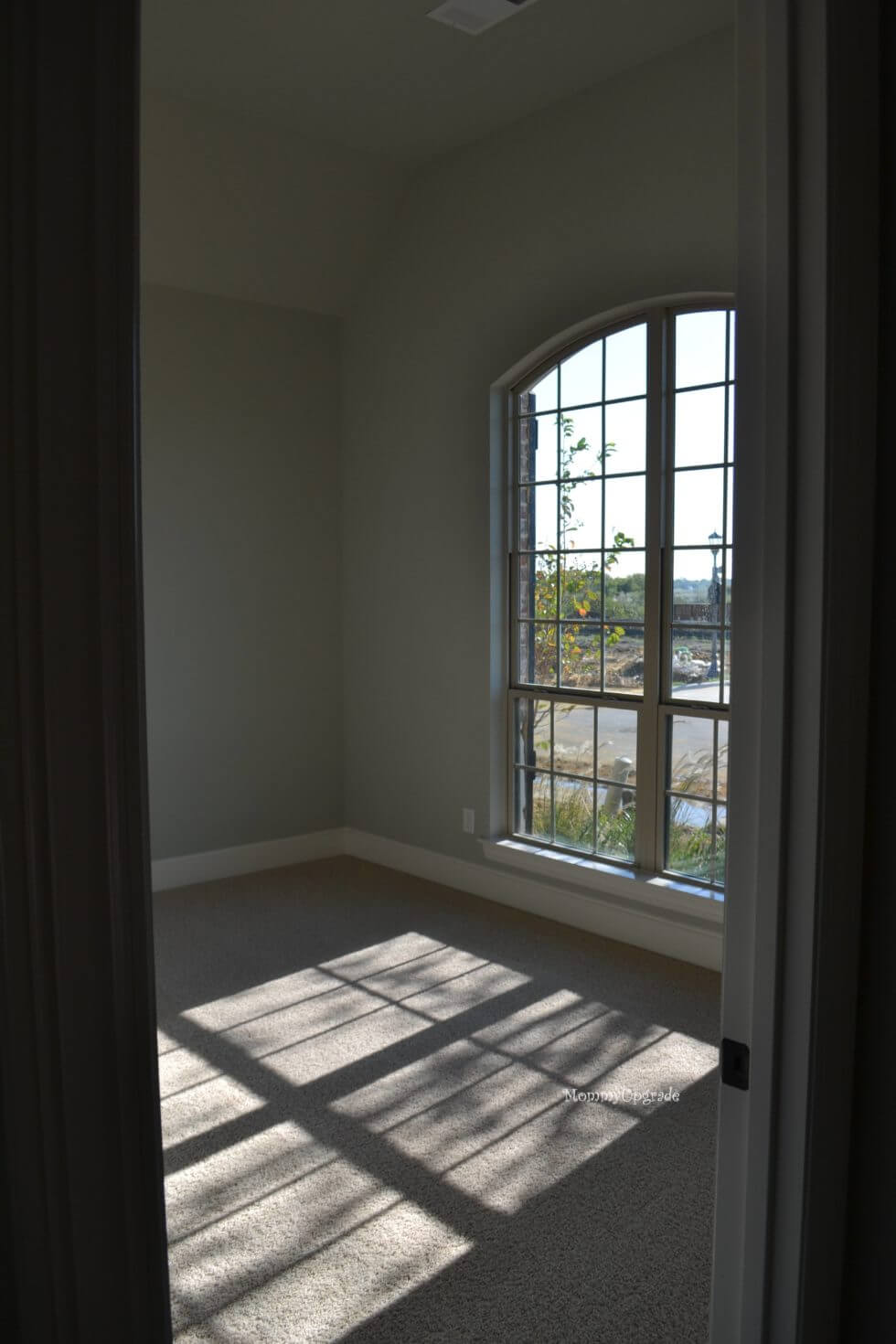 This is the view of part of our closet. It's sooo much bigger than our old closet, but my favorite thing about it is that we put that door in that you see at the end of the room. That door goes into our laundry room with a SINK. This door was hands-down smartest thing we did with this house.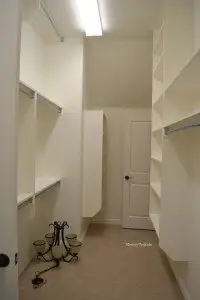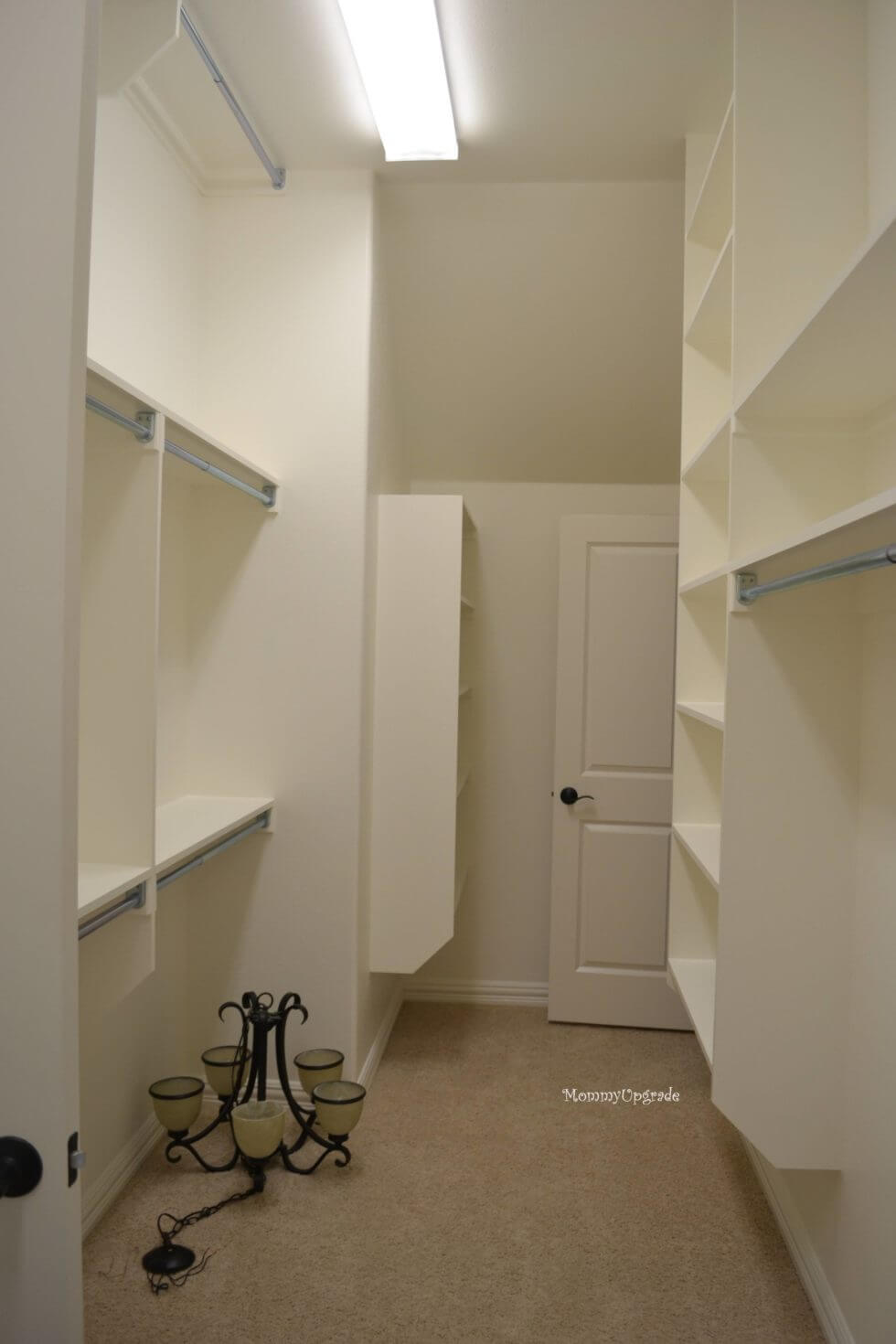 This was supposed to be my office, but the hubs really wanted a formal living room soooo…. we removed the french doors, added some custom built-ins and knocked out the wall between this room and the formal dining room so they flow together. I like the way it turned out even though I sacrificed some prime real estate. Since my office is upstairs now, I don't have to worry about keeping it picture perfect. It's all about perspective, right? LOL.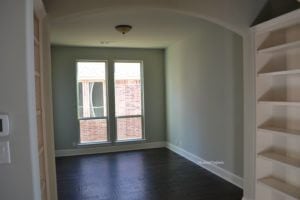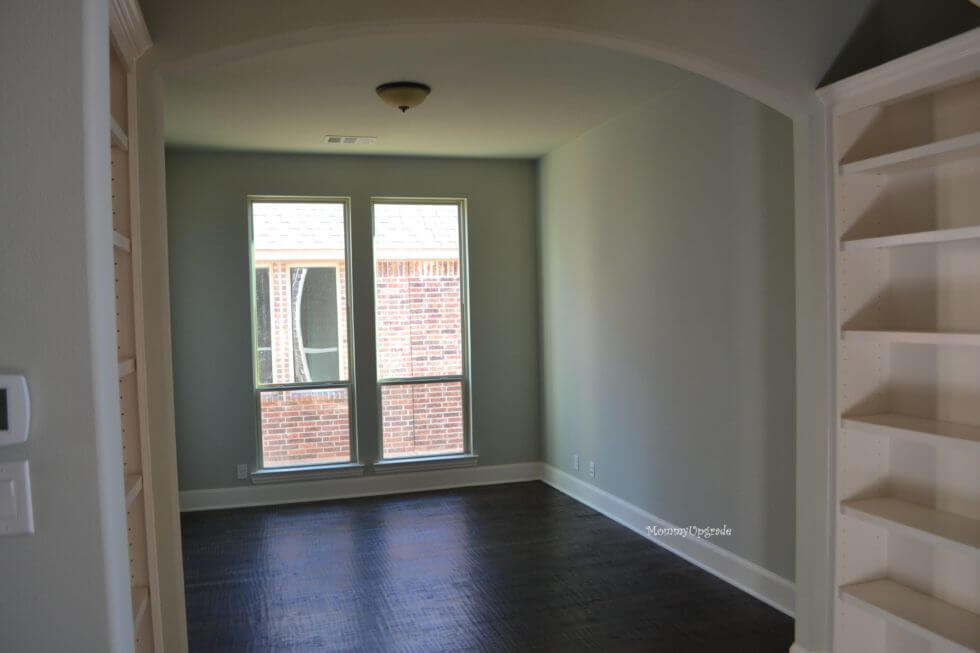 Here's a view from the foyer at the formal dining. You can see how it flows into the formal living. We put wainscot up on the walls here and in the powder bath. Love, love, love that detail. BTW, the ugly lighting fixture is not long for this house. We have a chandelier coming soon.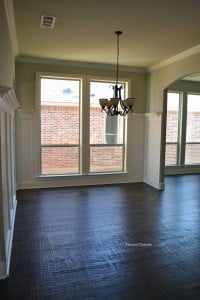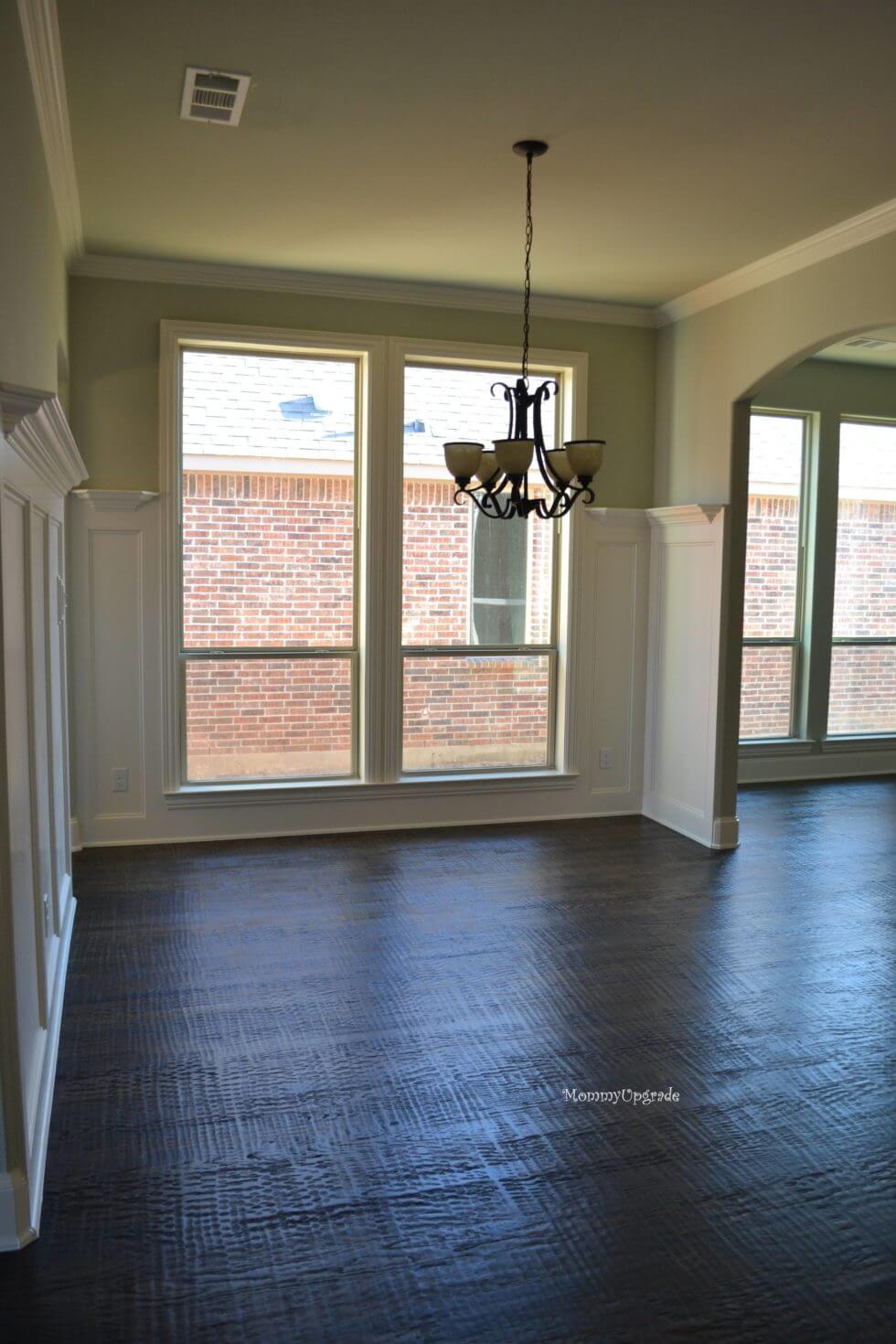 Sorry this is a little blurry, but it's a photo from the foyer looking up at the catwalk that leads to the upstairs rooms. This is the puggies favorite spot because they can see most of the house, and outside both front and back from here.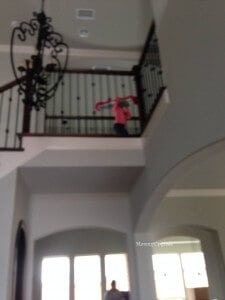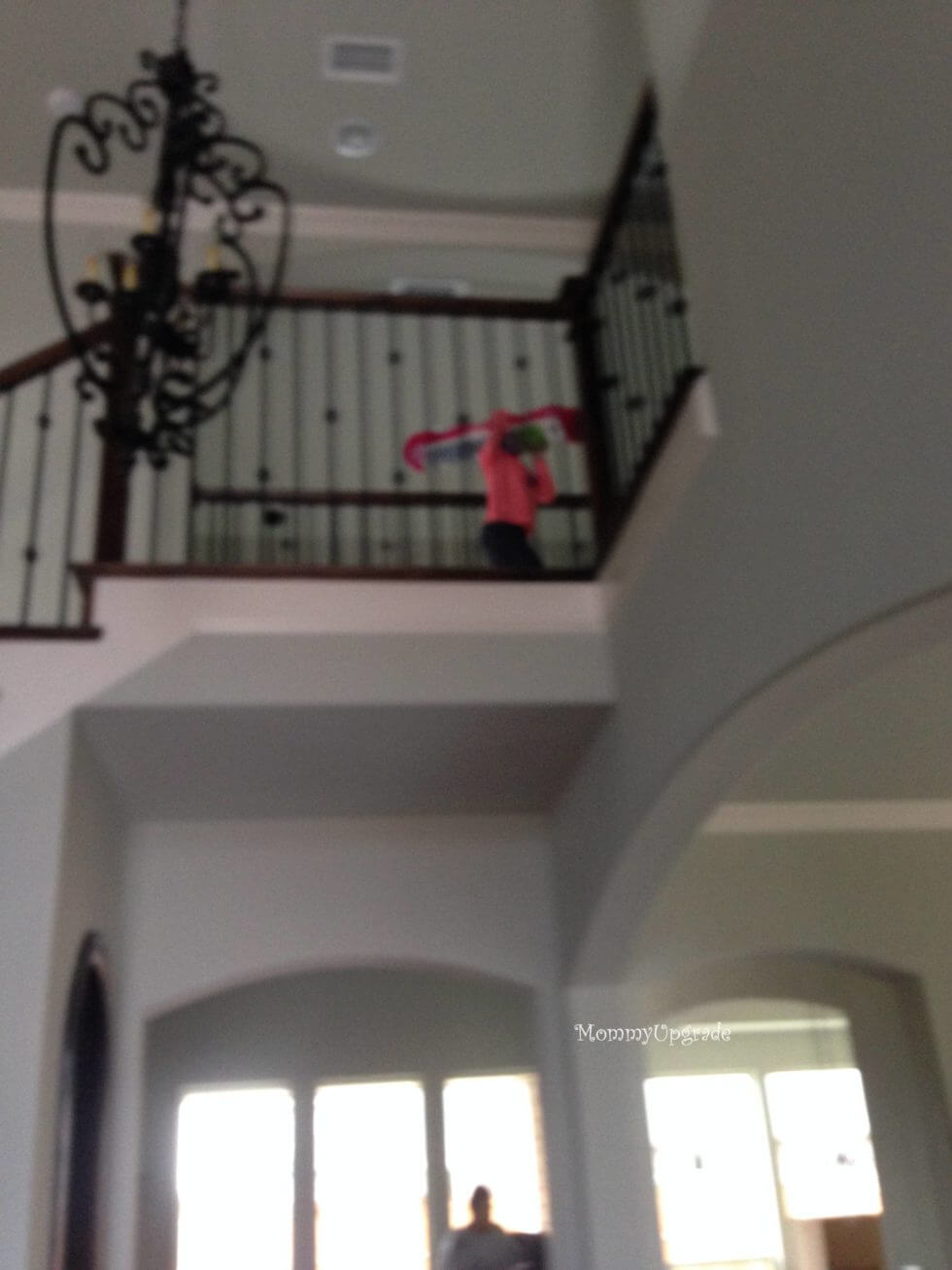 I know this doesn't look like much now, but it is the future home of our media room. We're such homebodies. Weekend night movies are our favorite and this room will be well loved.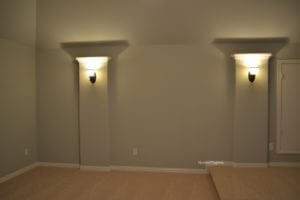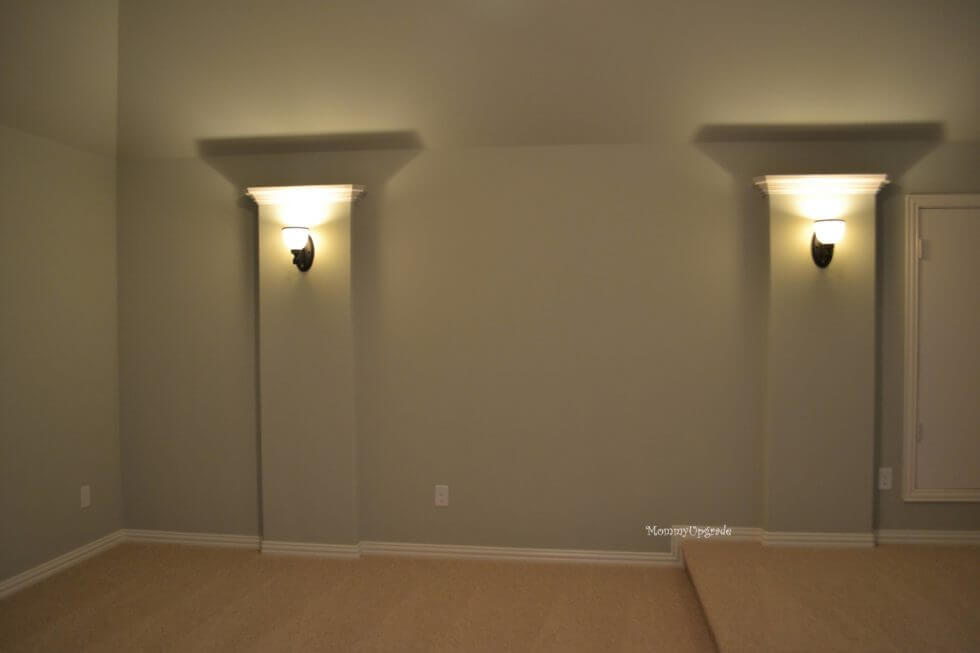 What's movie night without a little vino? My wine grotto might be one of my favorite customizations that we did. Yes, I sacrificed a coat closet but c'mon, it's Texas. How often will we need coats compared to how often we drink wine? Exactly.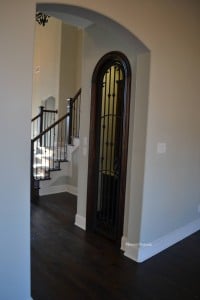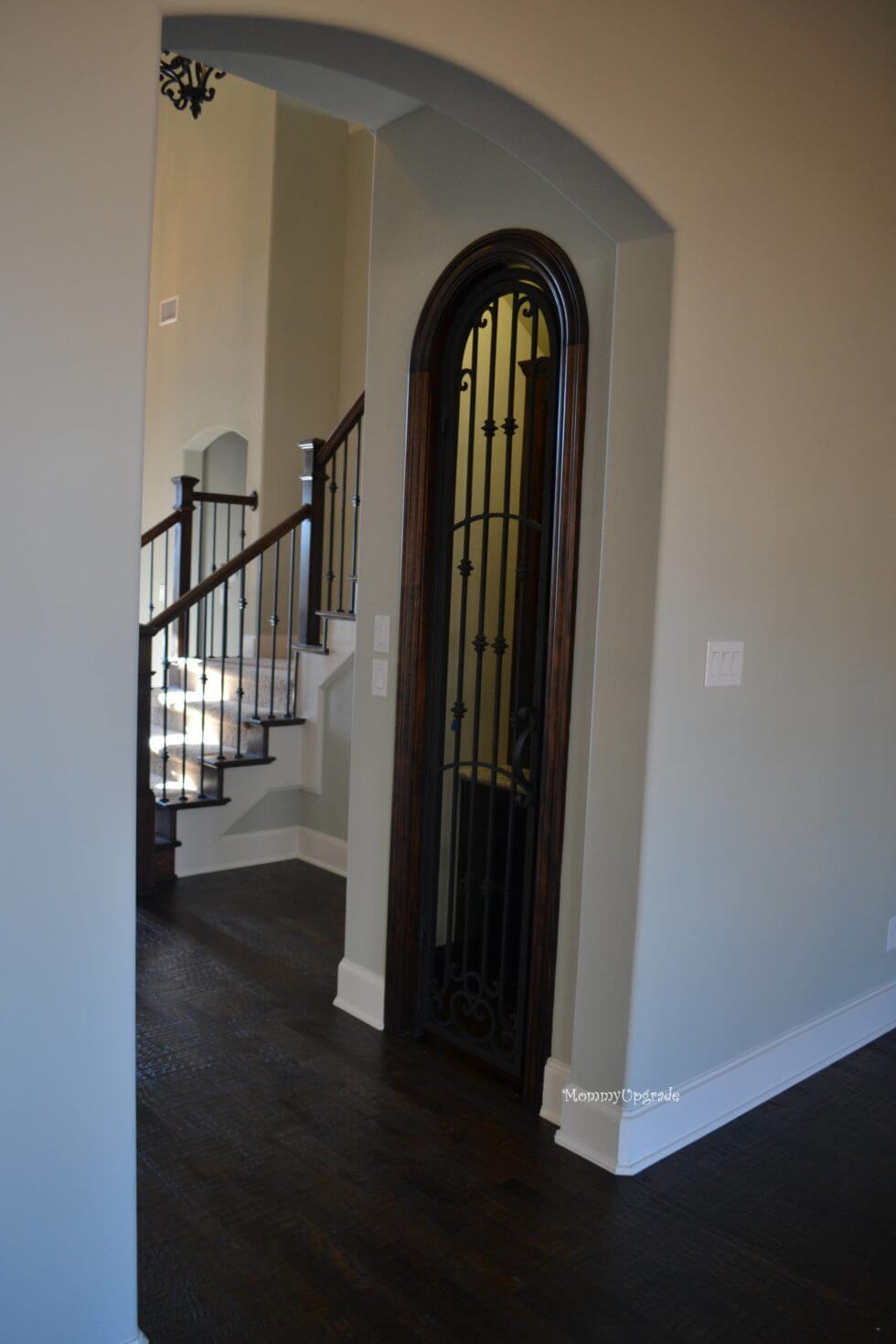 This is my view from the kitchen. The very first weekend we were here we went and got a 60 inch TV for that wall and it still looks tiny, lol. We didn't go the full ceiling with the fireplace so that it would be easier to hang things over it. I'm glad we didn't. I'm already having fun with my mantle and the pitiful few Halloween decorations I managed to scrounge up.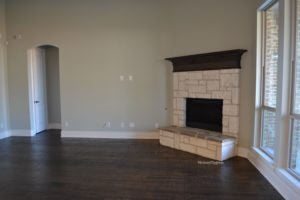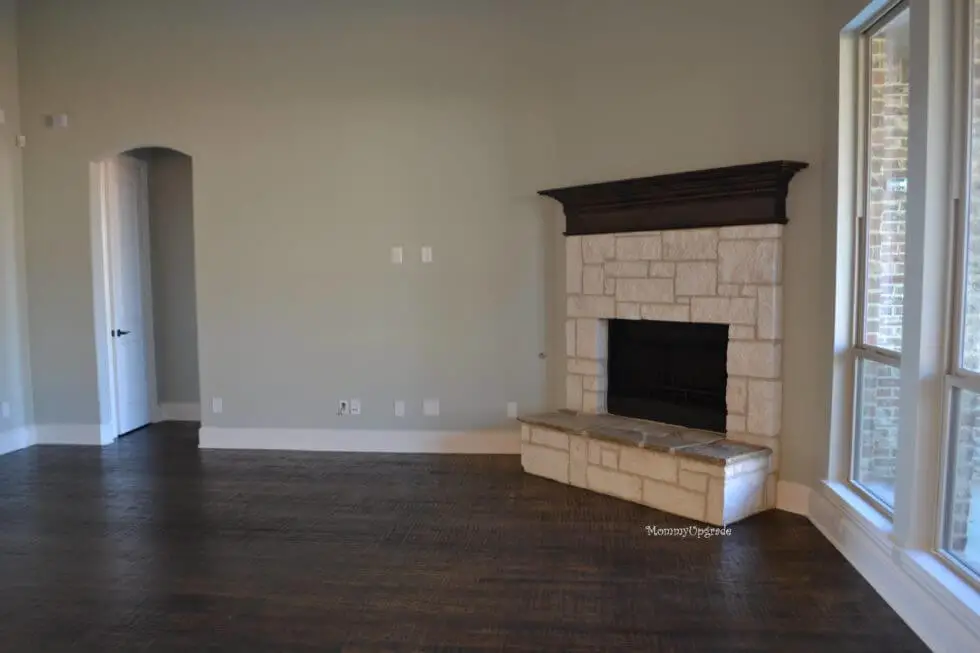 One of my very favorite rooms in the house, the master bath vanity areas. I love the way it turned out. See my chandelier? Having it on at night makes me feel like I'm getting ready in a fancy hotel and if you pinch me I'll wake up.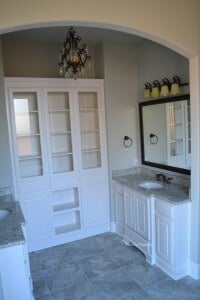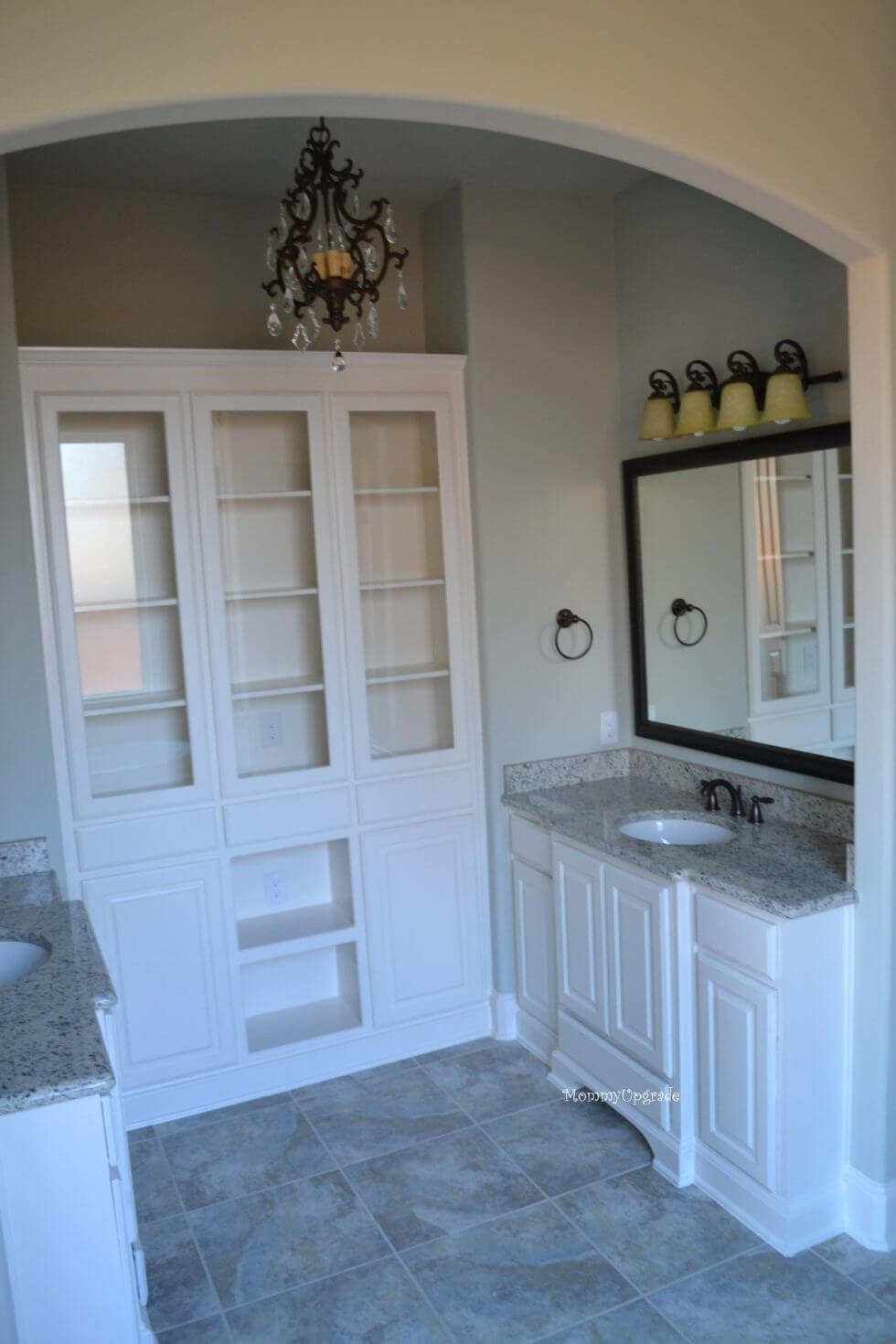 It's a little hard to see this but I found this awesome fleur de lis lighting fixture to hang over our breakfast nook.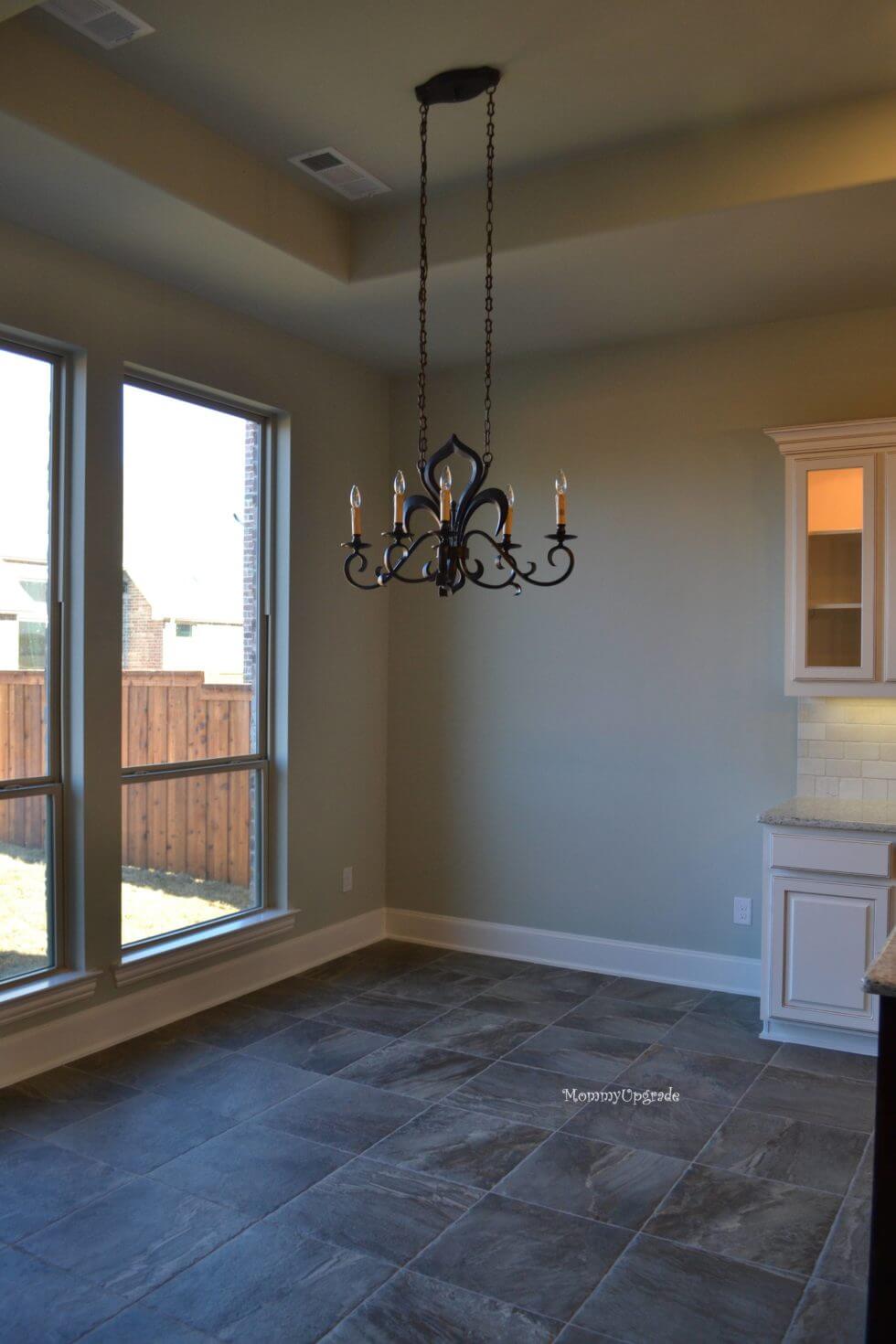 Speaking of fleur de lis… our backsplash was designed with iron fleur de lis tiles in it. It's kind of our thing, the Louisiana connection and all. You can see my pretty new stove here (again, how did I get so lucky? And why didn't anyone tell me how awesome this would be?) and a fun feature is that the corbels pull out to hold spices on the sides. The downside to all this is that I have to keep my cabinets inside neat since they have windows. Gasp.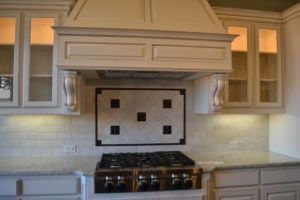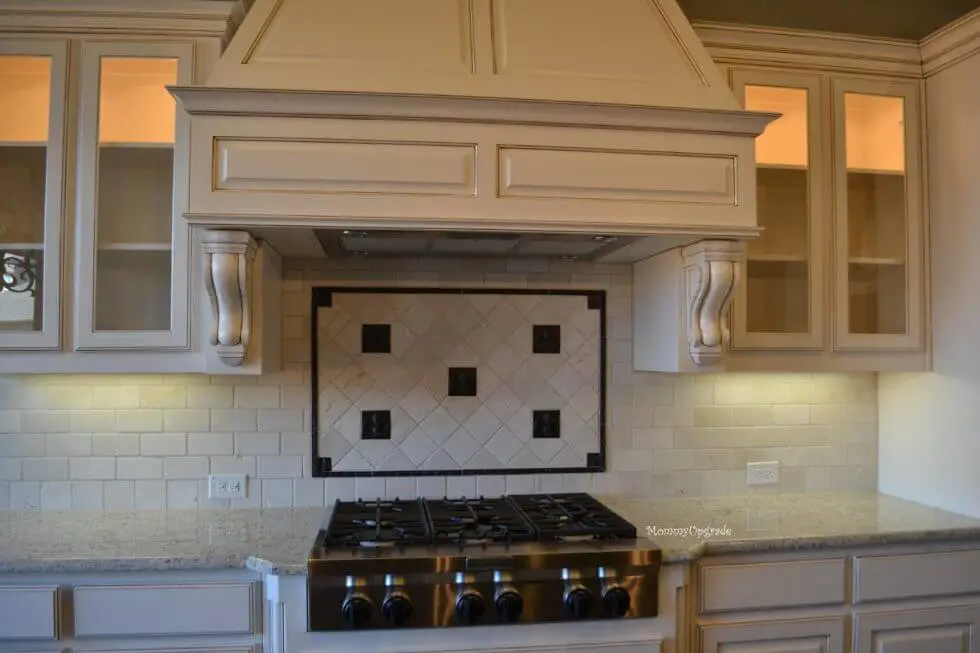 And the last thing I'll show you is my sink. I didn't think it was possible to love a sink, but I'm here to tell you that I do. It's granite with the hands-free sensor faucet which makes handling raw chicken a breeze. There will be a lot of cooking and baking going on in this spot. Come to think of it, that may have been the hubs plan all along…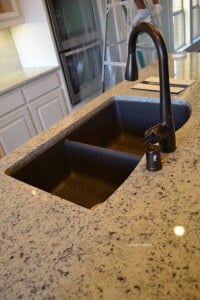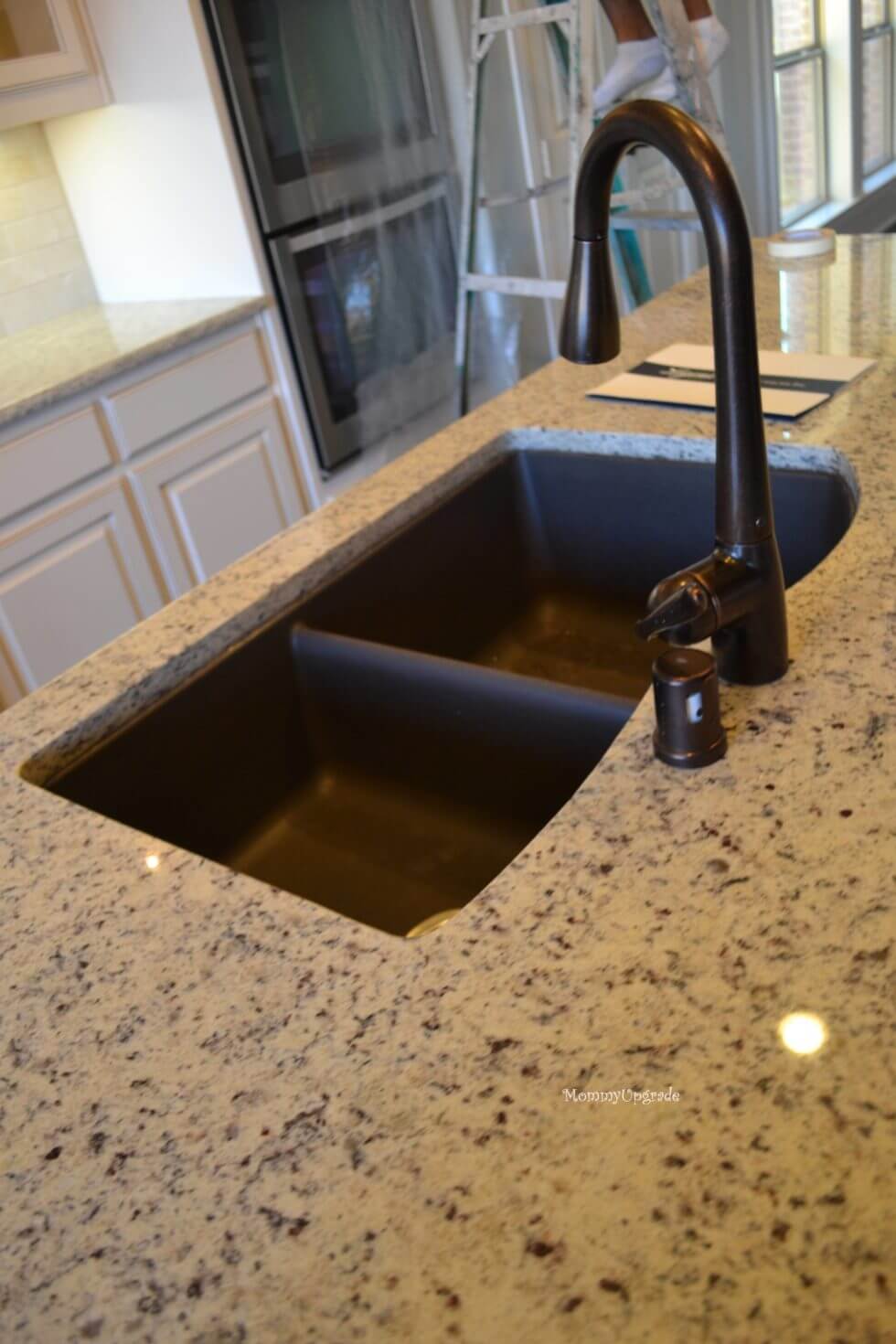 That's it for the highlights tour. We had a great experience building a home. I know lots of people say it's a nightmare, but I'd do it all over again and again. Thank you to my awesome realtor and long-time friend Heather Caine with Caine Premier Properties for guiding us along this journey,
and thanks to American Legend and Belclaire (Doug Smurdy in sales, Adam Hall our building manager, and Angela Clampitt in the design center) for our new beautiful home! We look forward to many many happy memories here. Oh, and for the special Tiffany vase — nothing says welcome to the neighborhood like a blue Tiffany box!