24 hours ago I was rubbing shoulders with Martha Stewart.
LITERALLLY.
See?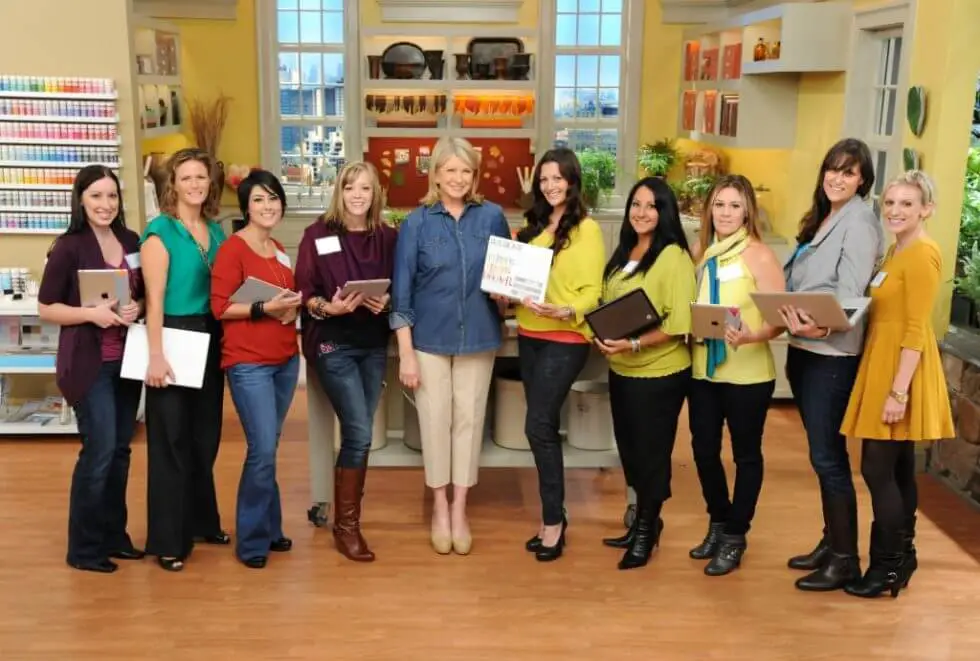 A little closer, shall we?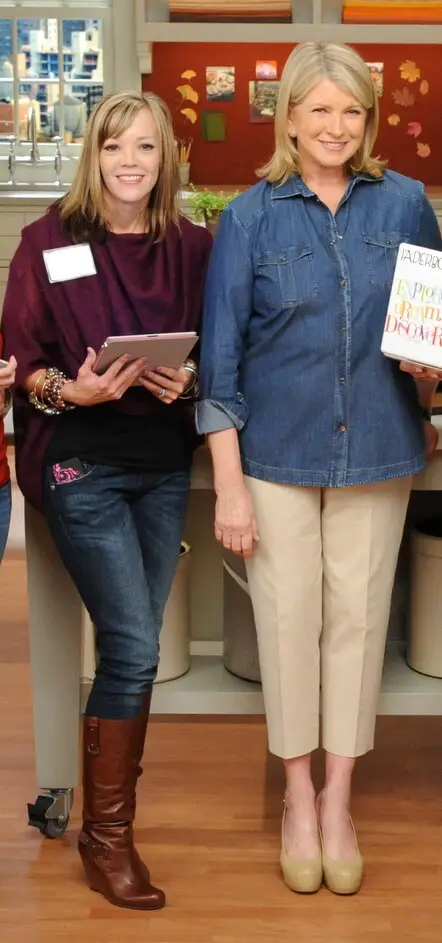 I am hoping she shed a little of her craft karma my way.
I'll need it because she said she'd be reading all of our blogs. YIKES.
Really, Martha? I hope you were being kind. Because, wow, the pressure. Princess Cupcake is really going to have to step up her technique knowing that this cultural icon may lay eyes on our projects. FYI: I WILL pass-out if she ever posted a comment. Guaranteed. Can you imagine?!
The right side of my brain has been creatively inspired by Martha Stewart for as long as I can remember, and the left side has been intrigued by her multi-media empire for almost as long. Getting invited to blog live from the show is nothing I could have ever imagined for a bucket list. Being able to share it with two of my best buds, was the cherry on top. A memory that I'll keep with me forever. And thanks to this new age of facebook and twitter, it was like having all my friends and family along for the ride. WAY cool.
My take-aways from this awesome experience are:
1) Martha is the consummate professional, perfectionist (duh) and endearingly personable. And she has impeccable taste in footwear.
2) Martha is 70 – and you would never, ever, in a thousand years, believe it. She is gorgeous. Even more so in person. It is as if time has frozen for her in her 30's.
3) Her staff – which was quite large – was friendly, precise, and empowered to get things done. It was a well-oiled machine, down to arranging the audience by color. No one was loafing, and everyone was smiling. With the exception of the guy who kept telling all of us to stay in our seats. He might have been a little annoyed with all the "documenting" we were trying to do.
4) I was surprised that there wasn't a Martha store that the set fed out to. You know like at Disneyland after you go on a great ride, it exits into the gift shop? Seems like a great opportunity for us to continue to invest in all things Martha Stewart, if even just a t-shirt so I don't have to make my own. And if not a store, a display of Martha through the years. That would've been fun for long-time fans to visit.
5) The unexpected benefit was being awarded new friendships. I met some amazing fellow bloggers that were among my group. I have a sneaking suspicion that this is not the LAST time I'll see you girls!
6) The excitement was intoxicating. I can only liken the withdrawl I feel today with the day after my wedding. Incredibly satisfying, but a bit of an empty… "hmm, what to plan now?" I'm confident that it's rude to ask for a repeat invitation, but really, can I come back Martha? Can I? Please?
Enough about me, here's how the day went from start to finish. Sorry, it's a bit long, but I have loads of photos to share too.
I barely slept the night before – terrified that we wouldn't make it up in time, or worse yet, we BARELY make it up in time and I would have wackadoodle travel bedhead on national television. Thankfully we stayed uber close to the Martha Stewart studio in Chelsea and hoofed there that morning – with a quick dash into a swanky two-story Starbucks (my home satellite office) We figured out pretty quickly that we were all to hyped up on adrenaline to eat our $5 pastries while we waited in line to get in.
The line had already gathered pretty well down the street when we got there. We weren't paranoid about line placement since I had been told that we were in a reserved section. It was Craft Week and we were "featured audience members." How cool is that?!
Bianca tried to high-five everyone, "HEY! WE'RE GOING TO THE MARTHA STEWART SHOW!!!!" while Molly and I whooped behind her. I seriously don't know how long the other guests had been standing there, but we clearly were going to have to liven up this party. We were thrilled to be there and our new friend, Samantha, who was in charge of crowd control, started calling us three "Texas." Uh, I guess because we were loud.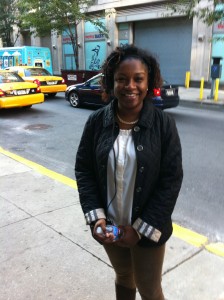 They let us in groups of 4, checked our names off the list, and we went through security to a holding area and coat check. We had a release form to fill out, a questionnaire about moss, (One of the featured guests was a "mossologist." No, I'm not kidding.) and a contact information form. The room had huge unframed images of Martha with her dogs, and magazine covers, and beautiful images to set the mood for what we were about to experience.
If you've ever seen the Martha Stewart Show, you'll recognize the next character to enter: Joey, her sidekick.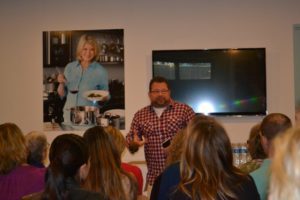 Joey, in his typical Jack Russell Terrier-style, warmed up the crowd by teaching us how and when to clap, when to OOOO, when to AHHHH and what not to do. This was important stuff, and I was beginning to wonder how I would be blogging, tweeting, clapping AND watching the show. He did suggest that we would be getting FOUR giveaways during the show – as opposed to the usual ONE. Awwweeesssooommmeee. I was ready to buy me a suitcase to haul home some swag.
The bloggers were all caroled in a group and we were led into the studio first. We had front row seats – with the exception of some limited floor seating for what I think were Hallmark studio execs and maybe some fans as well. Regardless, we had the best angle to view the many sets by sitting in their stadium style seating.
After we got all our technology settled, the Martha Stewart folks took us on a tour of the brand new kitchen set (We got to touch everything and even peek in the oven! A working washer and dryer…), draped in gorgeous MS paint from Home Depot and outfitted from Macys. It was like stepping out of your television set and into her home. Crazy cool, and EVERYTHING perfect. The staging kitchen was to the left with chefs scrambling to prepare everything last minute.
We then went into the craft area to see that every drawer was labeled and organized. I mean seriously, look at all the colors of paint! Wouldn't you love to get lost in a project with all these tools and supplies surrounding you?
Next we scooted over to the green house where Martha walks through for the opening of each show. I got the green light to go cheese it up by pretending to pot a plant. Of course the plant was real. Probably shriveled up and died after I touched my black thumb on it, but that's the risk you take when crazy craft bloggers go wild on the set.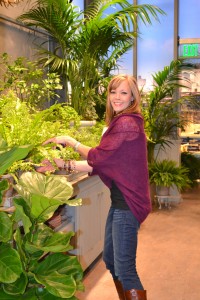 What isn't real are the city scape window scenes, but it still feels so – what's the word – I dunno, Martha. Every detail was attended to, as one would expect. Even our special reserved section of chairs had a perfectly packed totebag full of extra goodies exclusive to our blogging group.
Martha strolled effortlessly onto the set and gave a gracious hello to all the bloggers in the crowd. That was our 15 seconds of national television facetime and we were off to mad tweeting. HOLLA!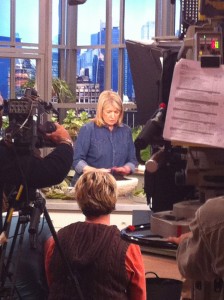 Queue up the first segment about the ombre photo mat craft that rowdy Louisiana blogger Jade Harrington (JaderBomb) sidekicked. When I could actually see the set around the honkin' big television camera and teleprompter, I swear it looked like Martha was talking straight to me. And only me. (Load romantic music) But really, I just happened to be directly behind that hot mess but I allowed myself the dilusion for a bit. Oh – and our first gimme was demostrated: Martha's awesome paper cutter. Woot! The Princess and I will put THAT to great use. Maybe for a PINK ombre photo mat of my Martha photo?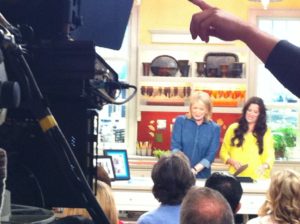 Then I started losing my connection with hootsuite and the internet in general. I began panicking about what was going through and what wasn't, shifting back and forth between the iPad and the iPhone. During my freakout, I barely heard what I was supposed to do with warm lentils to make a hearty salad. I did catch the second gimmie though: The magazine Whole Living, which has all the recipes inside so I can feed the hubs all healthy and stuff.
This was a live show so in between takes there was a lot of controlled scurrying around, everything was coordinated and calm. But with loud rockin' music to keep the energy level high. Martha was the queen, gliding from area to area, prepped to perform.
Next up was the "Moss Man" David Spain. Why yes, he was sporting a hat band made of moss as a matter of fact. If you were a Mossologist, wouldn't you?! I was preoccupied, still slamming my electronic devices into my thighs hoping they'd work, eyeing enviously the people around me with connections and half listening to the tales from the dark mossy side. Give me my connection – It was imperative that I share these moss facts! Did you know that moss was used as diapers in prehistoric times? Or that it was used as bandages during the Civil War? Or that even though moss is our first terrestrial being, it hasn't evolved over time? Moss is still moss, and indigenous to different parts of the county. I couldn't let Martha down. Tweet, darn it tweet! And hello, a third gimme: Our very own Moss Rock! I'll admit it is very cute.
On to the last segment with Home Depot's Russel Smith. He taught us how to remove sharpie from walls with just a little sanding, a little primer, a little Zevo Wow Plus and a little paint. A simply great technique to know when you have a 3 year-old little artist. By this point, I had conceded that the intermittent internet connection was a big tease and I chilled about continuing to post. And whammo, we got some Zevo for the road. Check that one TSA!
After the taping, we were led out of our seats again and back on the set. We stood just to Martha's left as she shot commercial teasers for upcoming shows (nearly all perfect on the first take, amazing). We stayed there while she took audience questions and we nervously wondered what was up next. Then they brought us back on the craft set to have our photo with Martha herself.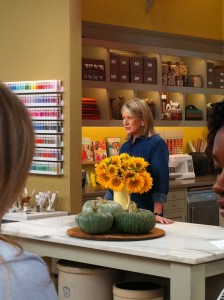 Photo with Martha. Fainting moment in 5, 4, 3, 2, 1…. Okay, so I didn't. But it was surreal. I usually try to say something witty when I meet someone a helluva lot more important than myself but words escaped me. Instead I thanked her for the experience (probably better to send a note don't you think?), and they took the shot you saw above incredibly fast. I was sure my eyes would be closed or I'd look as dorky as the photo that was on their website – can you say clueless? Nerd. I think we were all frozen with anxiety about being in the shadows of the lifestyle diva herself that no one moved an inch during the shot. I have to say it turned out great. The magic of Martha – again.
The staff reminded us of our special bags under our seats and that was it. Like any great party, we got a favor as we left: another bag with our four show give-aways. We all floated out the door, pinching ourselves and grinning like fools as we went back onto the bustling NYC streets.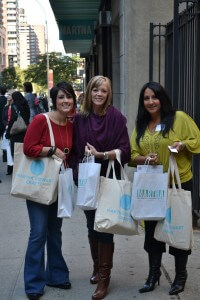 As we were wandering in the direction our hotel, we enveloped Julianne Smith, aka Garter Girl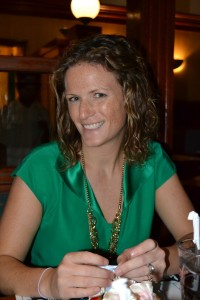 and herded her to lunch with us. We did a debriefing at Mustang Sally's over wine and eats, and admired her beautiful handiwork on these gorgeous custom garters.
The three muskateers had time for one more jaunt before leaving that afternoon so we jumped in a cab and went to Dylan's Candy Bar. How could we not? Look at these incredible photos.
I loaded up with gifts for the Princess Cupcake, the puggies and even the hubs, right after I had a Devil's food butter cream cupcake with a side of birthday cake ice cream. Bianca had a dish of pancakes and syrup ice cream (I am not kidding) and Molly, geez, I can't remember what cupcake ice cream combo she had but it was equally divine.
Belly full and arms loaded down with candy to go, Bianca and I accidentally went to Queens trying to get back to the hotel. Whoopsies. No worries, we had factored in subway error and the locals were very kind and rerouted us back. Off we went back to our hotel and Penn Station to catch our train to the airport.
Getting home was another story – but I won't taint the Martha experience with that nonsense. If you want to read my airline rant, "Falling out of #luv with Dallas' Little Darling: Southwest Airlines," visit HERE.
If you'd like to see more photos, I took a lots on this trip. You can view them on my flickr site.
To conclude, thank you Martha Stewart staff and Martha herself. When I submitted my entry a couple short weeks ago, I only hoped that I would have a glimmer of a chance to meet someone who has inspired me so greatly through the years. Not disappointed in the slightest, my craft crush continues. Here's to you Martha, for making the world a prettier, organized and well-fed place to live.