I have a really fun video to share with you today. It's a little peek into my crafting club called The Craft Exchange. I started it back in 2013, meeting several times a year to nerd out on crafting techniques and projects. Since I don't often share what we are doing so I thought that you might enjoy this little behind-the-scenes look. 
I should explain a little about how The Craft Exchange works. I offer the ladies a theme challenge for their projects and this round was National Parks. All of my talented members interpreted the theme in different ways (which I LOVE) and the result is 14 fabulous crafts — and one very long video so I can brag on them a bit. Here's the bad news: the video quality is terrible but you can see some pictures of the projects below and a brief description of each. It will give you an insight into the inspiration and techniques used. 
If you like national parks and feel inspired, there's some insanely fun stuff in here! So many wonderful items, that this post was becoming a monster so I split it into part one and part two. (Below is part one.) Hopefully you will find something in here to inspire you to try your own National Park craft. If you do, I'd love to see it. Tag me on any of my socials! 
Japanese Knot Bag with Explore Tags by Paula
The best laid plans! Paula's original idea was to make candles for our National Park theme, but that was derailed when she had a car accident on Mother's Day weekend. Thankfully — she's fine now (the car, not so much). But that detoured her project. Instead of candles, Paula enlisted the help of her mom to create these gorgeous Japanese knotted bags. Every one she made was unique to the recipient. For example, the pocket on the back of the bag she made for me was made from a square of suede that previously was a piece of my mom's clothing. I couldn't bear to throw it away so had given it to Paula to use to make something beautiful – and so she did!
Paula did not buy anything for this project. She used fabric she already had or repurposed items – like her son's black and white shirt that she repurposed into a bag for Sevi. (I wonder if she asked him first!)
Painted Glass Image of Iconic Smoky Mountain Tree by Cathy
Next up is Cathy who has the great fortune to live near Smoky Mountain National Park, the number one most visited National Park in the US. Entry to that particular park is free so Cathy and her family are frequent visitors.
Her project is painted glass pictures of the iconic Clingman's Dome tree which is a great favorite of natural and landscape photographers that visit the park. Cathy drew inspiration from Japanese anime and used a black Sharpie layered colors to create beautiful images of the tree in silhouette with a mountain backdrop.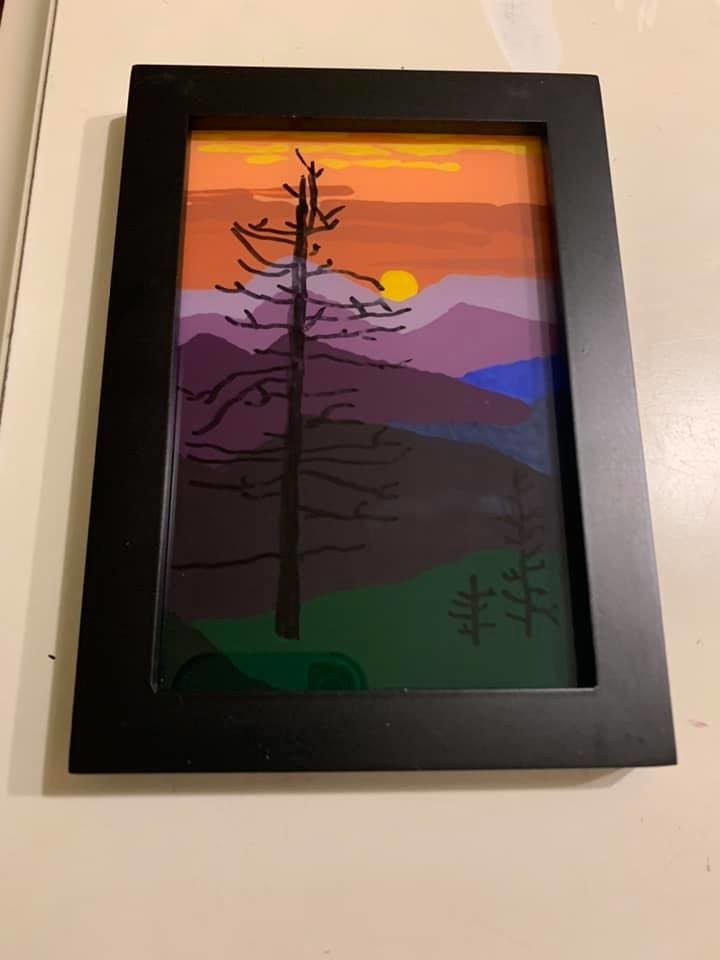 Cactus Pillows inspired by Saguaro National Park by Sevi
Sevi's artful cactus pillows were are inspired by walks in her favorite national park in Arizona. She made the first one of these many years ago for daughter Delilah's nursery so this craft challenge was an easy one for her to draw inspiration for. Sevi used different fabrics including a multi-colored patch fabric and the snazzy green one like in the picture.  The pillows were made free-form, without a pattern, so each one is different. How cool is that! I am thinking I may pin some antique brooches to mine.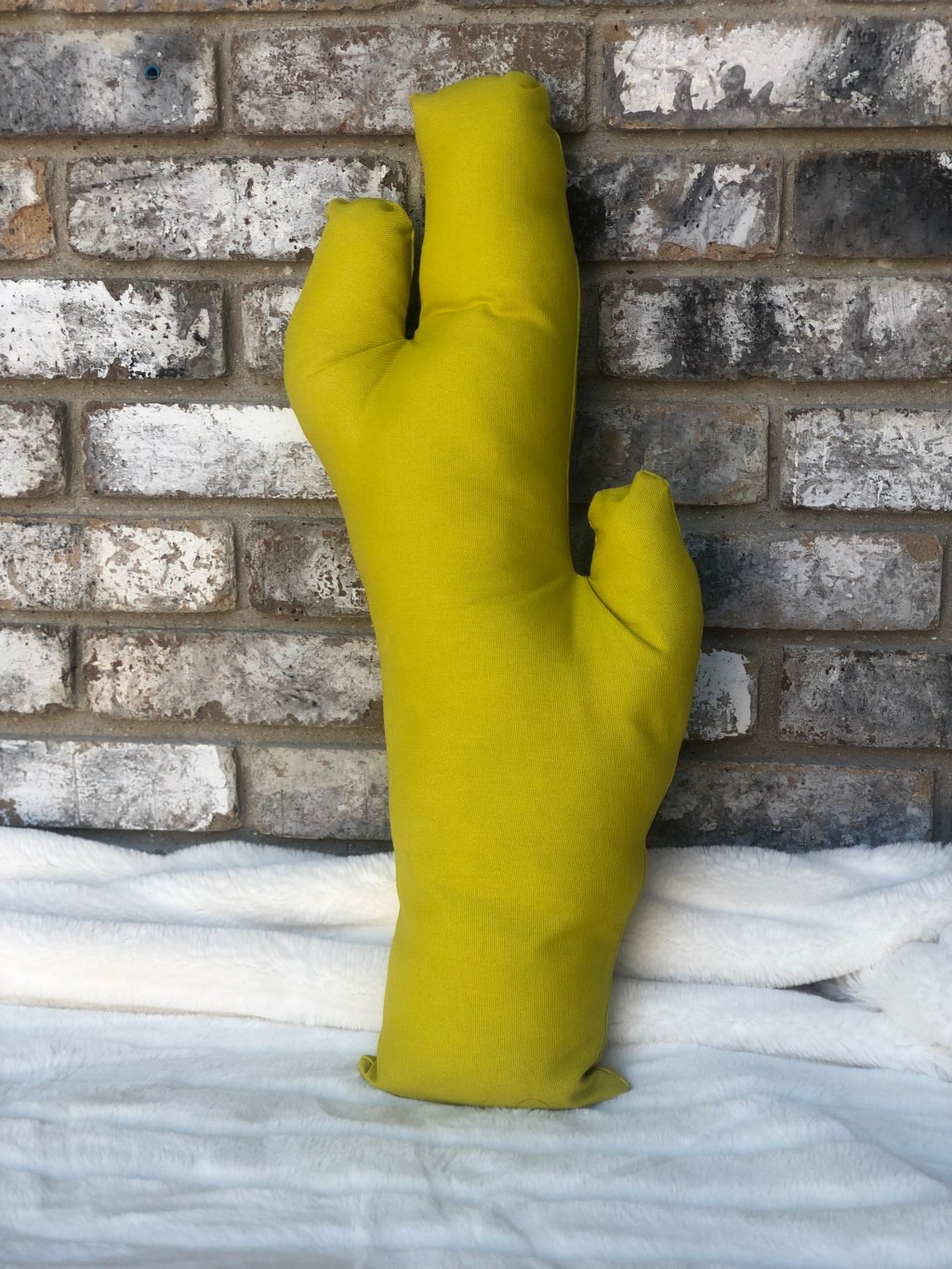 Mixed media paintings inspired by several National Parks by Brittany
Brittany is a mixed-media artist who is typically more comfortable painting abstractly. To meet the theme, she challenge herself to come up with a more realistic rendering of images of national parks. She found inspiration from historic photographs of National Parks in an old book called, "Scenic Wonders of America."
As a mixed-media artist, Brittany pulled out all her supplies. She used acrylic paints, oil pastels, and chalk pastels. She works in layers and likes to doing lots of subtle texture in her work.
Also in Brittany's packages were a few photographs taken a few years ago at Haleakalā Crater in Maui.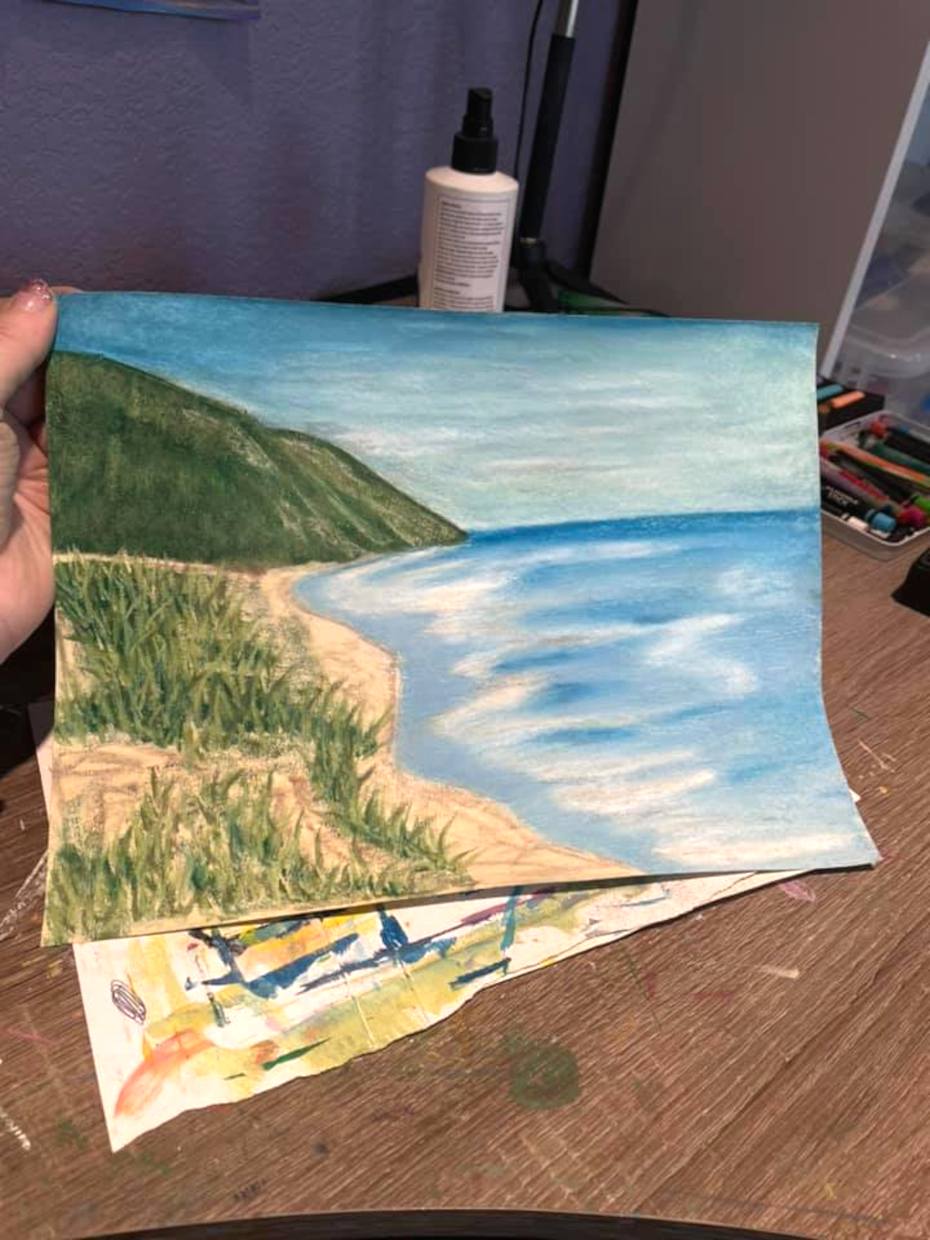 National Parks Travel Notebooks by Kayte
Next up is Kayte and she made us all a set of FIVE of the cutest Travelers Notebooks! All that is, except for our special guest Delilah who got Snail Journals because she is raising snails. As you do.
These booklets are a real treasure. They are a standard size that fits perfectly in the popular leather or fabric traveler's folders. Four of the five notebooks has a fun graphic of a different park on the front while one of them is covered in a pattern of park images.
To make the perfect corners, Kayte used a handy machine called a Crocodile Corner Chomper which creates perfectly finished corners at either inch or a half-an-inch. And in making the books Kayte found that a jeans needle in size 1,10.18 was ideal to stitch the binding. Yes… she stitched the pages together and everything! 
Mandela River Rocks inspired by Smoky Mountains National Park by Leslie
Leslie also lives in Tenessee and her craft was inspired by a very special event that happens only in the Smoky Mountain National Park (and a very few other places in the world). That is the mass synchronous firefly mating that takes place over a span of three weeks between the end of May and the beginning of July, brightening up the night sky in a million tiny dots of glowing light.
The result is the most beautiful painted mandala glow-in-the-dark rocks! The paint she used to create the rocks will fluoresce even after being exposed to sunlight. This was the first time Leslie had done the mandala style dot painting and she says it was a very therapeutic process and plans to make more. They finished them with a sealer so that they could sit outside in the elements. 
There was a lot of ooohing and ahhing going on. We all loved them even before we knew they'd glow in the dark!